My WorldReflections
My WorldReflections was hatched to share my love of culture with others and for me to relive good memories. I decided to write and present photos and, someday, videos about subjects I care about, using material from a variety of time periods and sources.
Devotion
Devotion: "the act of dedicating something to a cause, enterprise, or activity : the act of devoting." (Merriam Webster)
I begin my journey with a webbook titled Devotion. Devotion is a subject that has long interested me. In my travels I was enlightened by some of the places I visited, especially those where people gathered, and in many cases still gather present day, to feed their spiritual appetite. All of these places had a calmness about them. Some were extraordinarily beautiful. Devotion seeks to communicate enough about places I feature for you to sense their significance and otherwise enjoy the photos.
Part One of Devotion is about Myanmar. The name of the country was changed from the Union of Burma to the Union of Myanmar in 1989 in recognition that there are many cultural and ethnic groups in the country, Burmese being one. (The name was subsequently changed to the Republic of Myanmar.) The name Myanmar means a union of people.
Being in Myanmar is tapping into "devotion on steroids." There are thousands of ancient sites created as an expression of faith that are still visited.
Devotion Part One: Myanmar
Chapter 1: Shwedagon Zedi Daw
Shwedagon Zedi Daw is the most important Buddhist pilgrimage in Myanmar. Also known as the Shwedagon Pagoda, this place of great spiritual significance is in Yangon, Myanmar. It is ancient, beautiful, mystical and a touch overwhelming. I loved it, for all of that, and to be with the multitude of other people that were there to express feelings and wishes and gain strength.
I lived in Seattle and I occasionally made day and overnight trips to Mount Rainier, which is about 50 air-miles from Seattle. Seattle is at sea-level; the peak of Rainier is at 14,410 feet. Rainier is a massive volcano visible from a long distance. Strangely, as one gets closer to the mountain it stops getting bigger and begins to appear smaller. As more of the mountain drops out of one's line-of-sight there is less of it. Visiting the Shwedagon is a little like that.
Shwe means "gold" in Burmese, and Dagon means "three hills," the ancient name of Yangon City where this pagoda/stupa is located. According to legend, Shwedagon Zedi Daw is at least 2,600 years old. Official documents attesting to the pagoda's age are lacking. In the early years the pagoda was a humble stupa eight meters high. Today, after several significant incarnations, the Shwedagon stands almost 110 meters tall. To offer perspective, its height is almost 20 yards higher than the length of an American football field stood on end. To say that the Shwedagon dominates the Yangon skyline is the definition of understatement. I took these two photographs through a glass wall of a restaurant on the top floor of our hotel.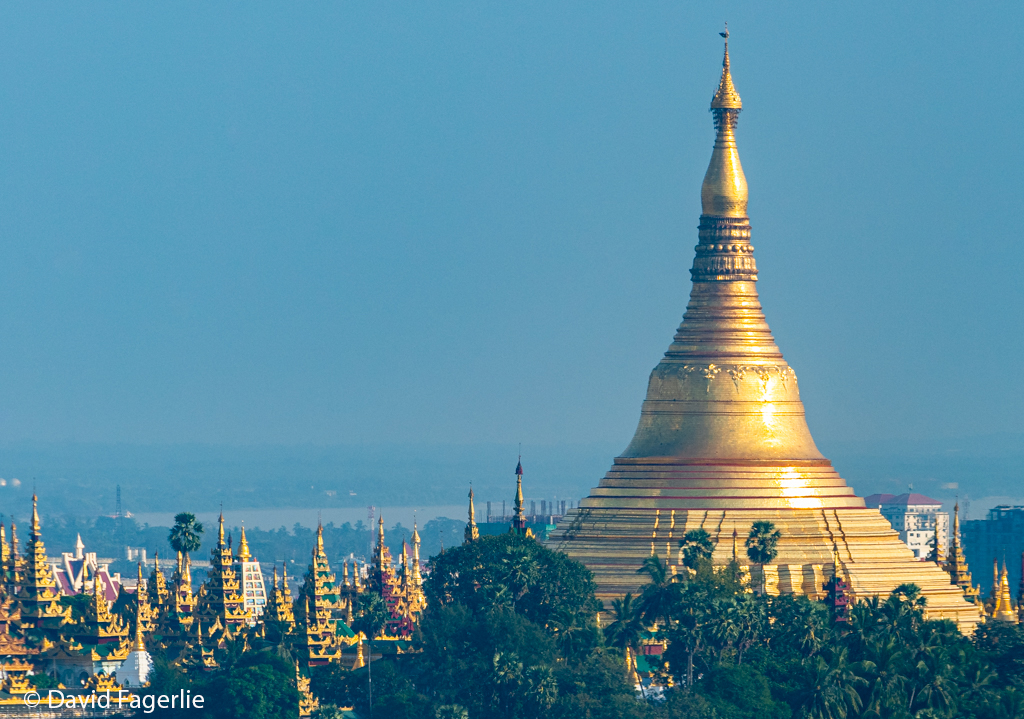 Legend has it that merchant brothers, Tapussa and Bhallika, the first two disciples of the Gautama Buddha, received strands of hair from the Buddha and gave them to King Okkala who enshrined them at the Shwedagon along with relics from three previous Buddhas. (Before my visit to Myanmar I did not know some cultures believe there was more than one Buddha!)

The first mention of the pagoda in the royal chronicles dates only as far back as 1362 CE when King Binnya U raised the pagoda to 18 meters after it had suffered years of neglect and disrepair. From 1454 until 1471 Queen Shin Sawbu raised the pagoda to a height of 40 meters and gilded the structure. She donated the equivalent of her weight in gold and her son-in-law donated gold in the amount of four times his weight for that purpose.
Inscriptions document a list of repairs by King Dhammazedi from 1471 until 1492, the year of his death.
The pagoda suffered damage from a series of earthquakes, the greatest damage from a quake in 1768 that brought down the top of the stupa. In 1775 King Hsinbyushin raised the pagoda to a height of 99 meters. In 1871 King Mindon Min added a new hti (umbrella), bringing the height of the pagoda to almost 110 meters. The perimeter of the base is 1,420 feet (almost 433 meters).

The Shwedagon Pagoda that stands today is gilded with 8,688 gold bars around the lower part of the stupa and another 13,153 gold bars around the upper stupa, roughly equal to 90 tons of gold. The hti (umbrella) of the stupa is encrusted with 4,531 diamonds, the largest of which is 72 carats. Above the hti are another 5,448 diamonds, 2,317 rubies, sapphires and other gems. At the very highest point is a single 76 carat (15 gram) diamond.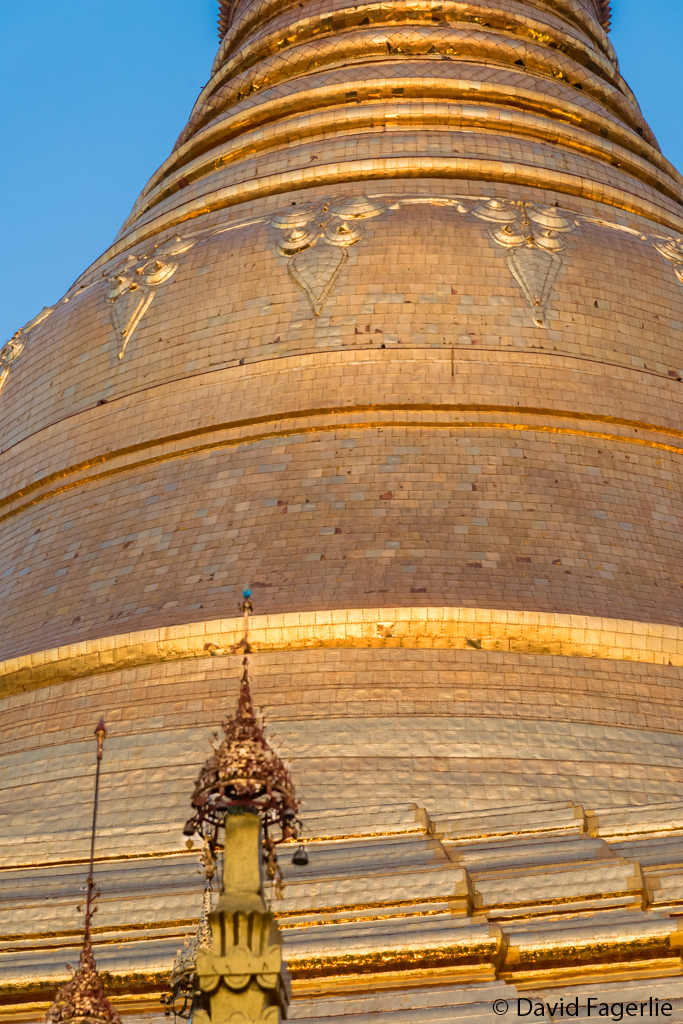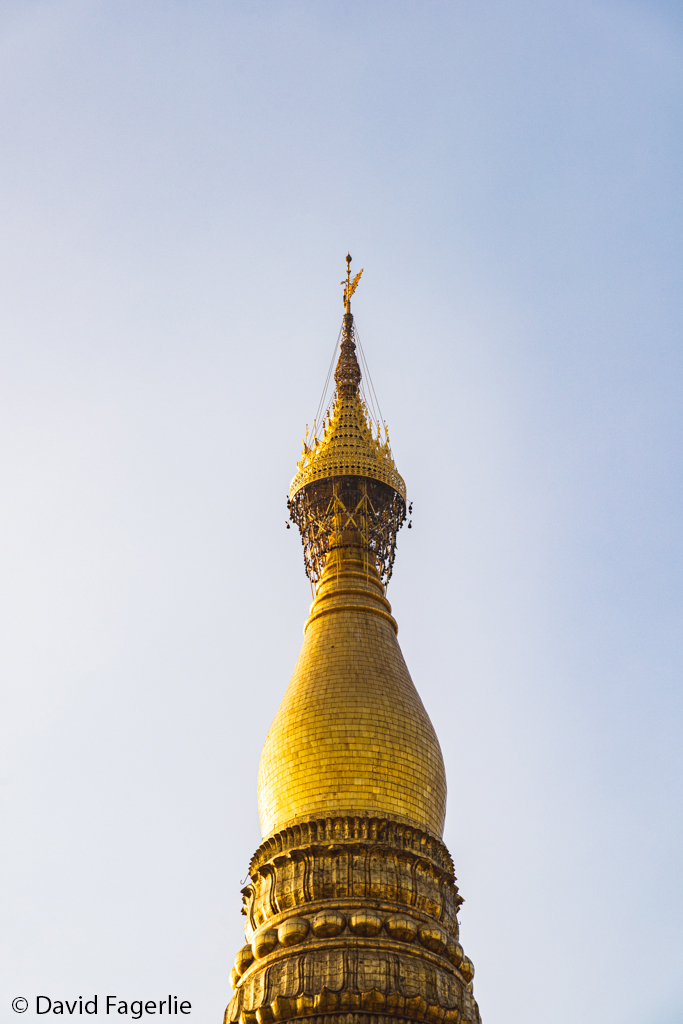 Here is a photo-of-a-photo of the top, above the hti of the pagoda.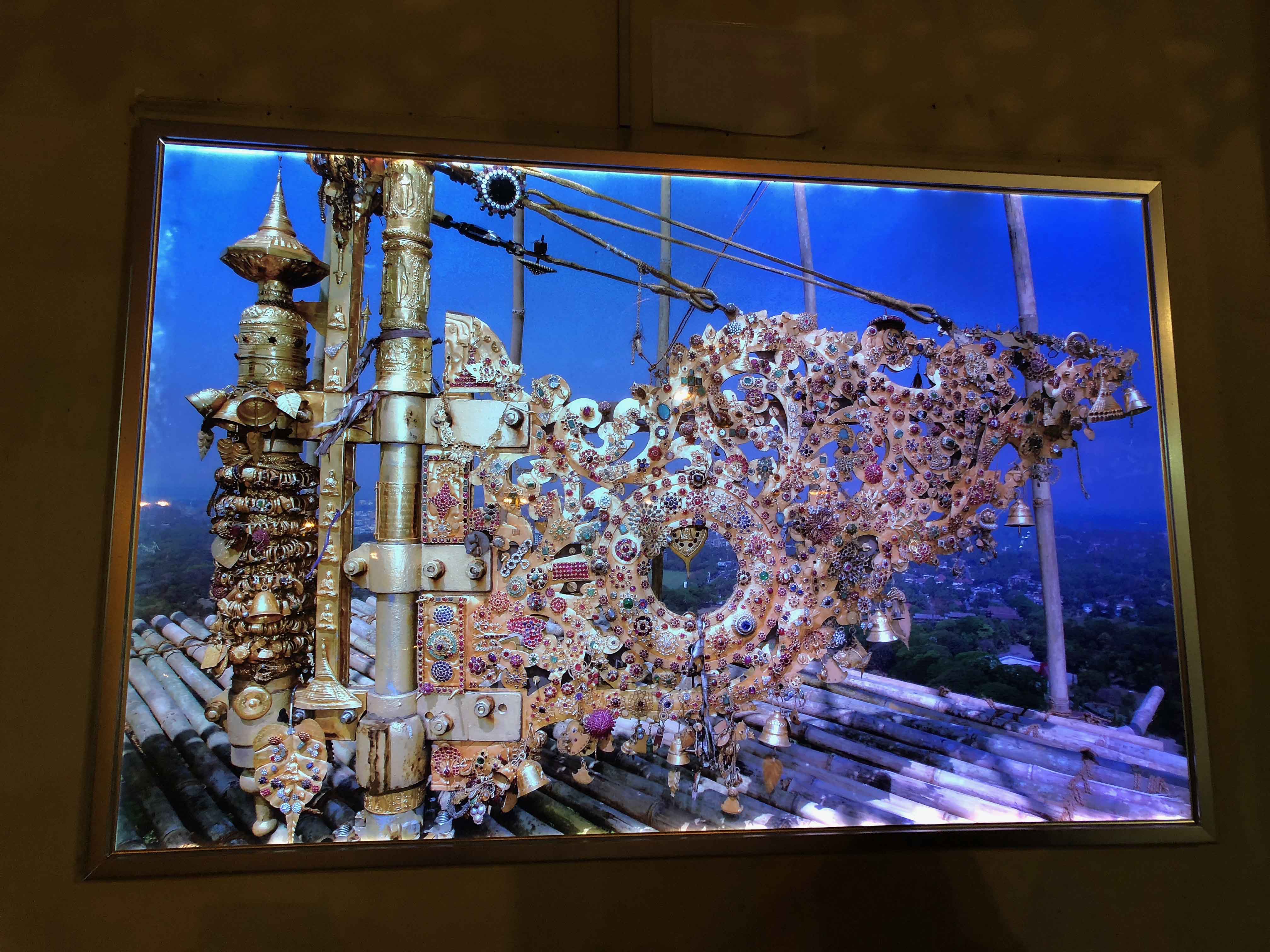 At the entrance to the temple we paid a small visitor fee and removed both shoes and socks. The practice of removing shoes at holy sites is common throughout Asia. In Myanmar even socks are considered disrespectful at holy sites. Our guide had packages of damp wipes for us to clean our feet upon exiting. I highly recommend that!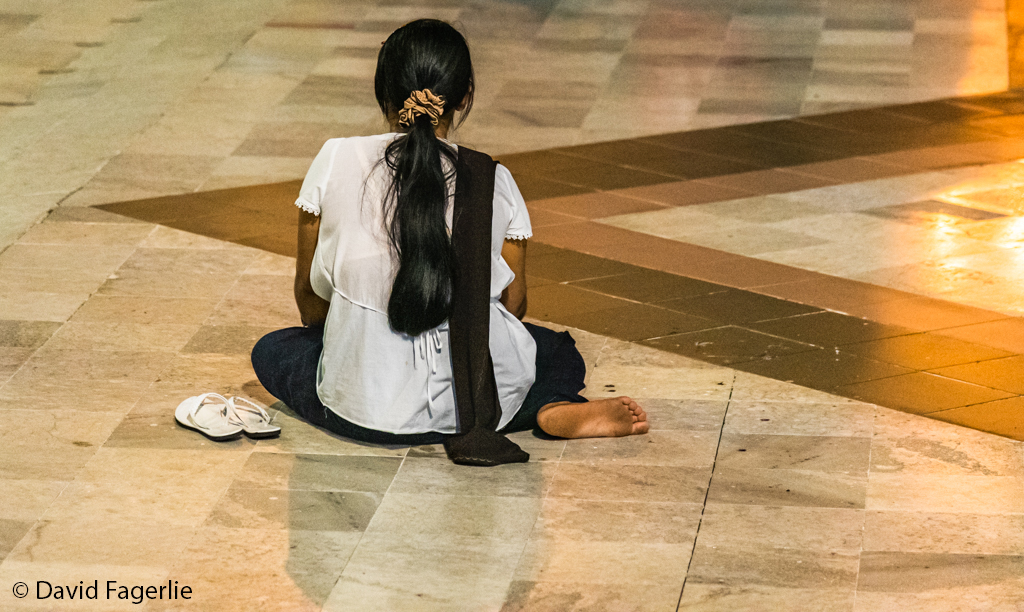 As we got closer to the pagoda we mingled with the multitude of others making their way along the wide pathway. It was a quiet walk. Talk within groups was subdued. After a few minutes the surrounding foliage and structures gave way to a huge plaza where people were enjoying their experience of being at Myanmar's most holy Buddhist temple. From the plaza, we could see the pagoda.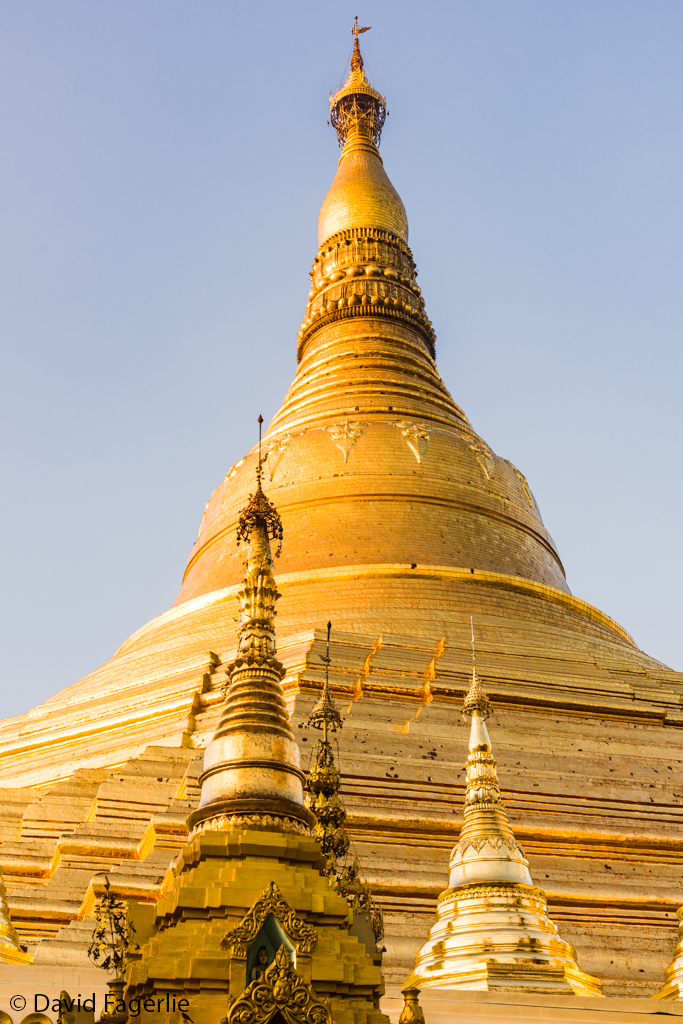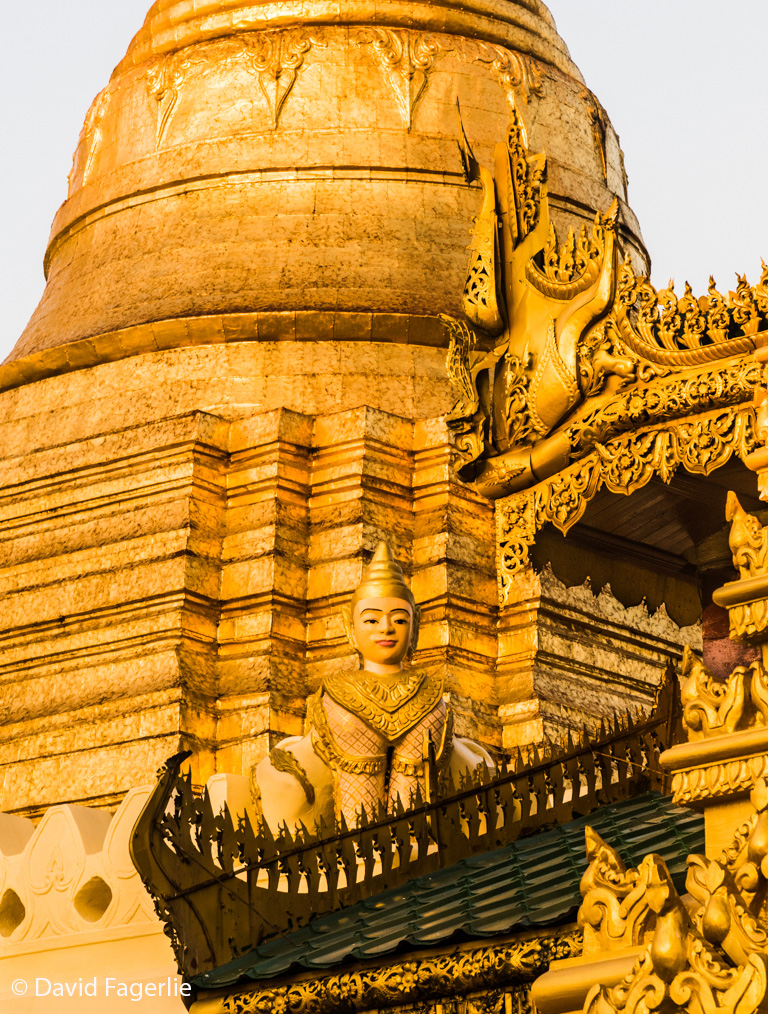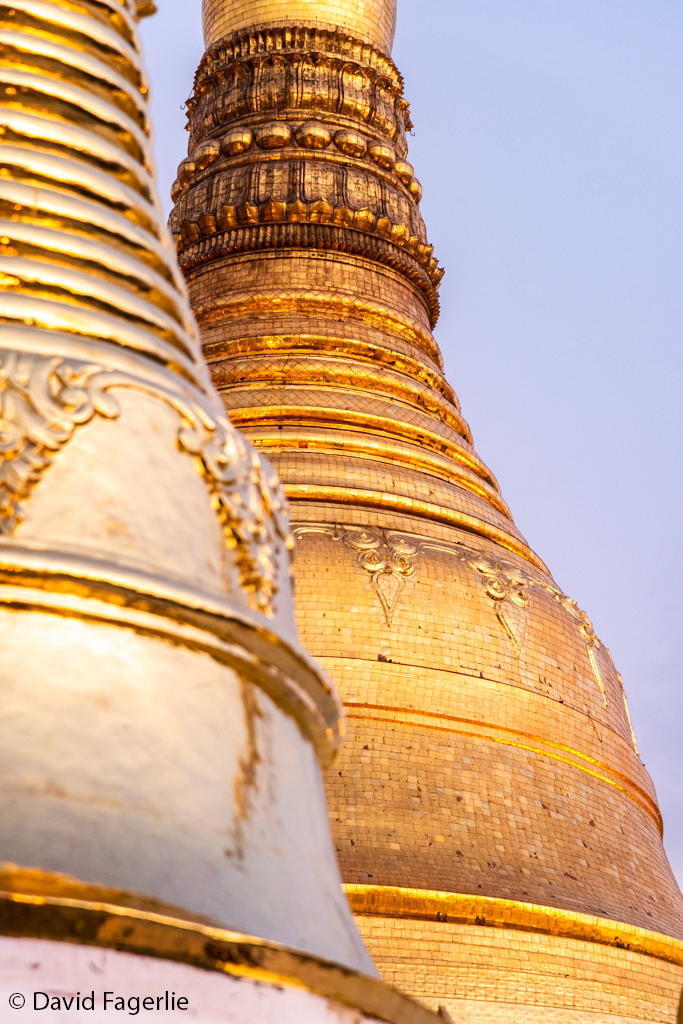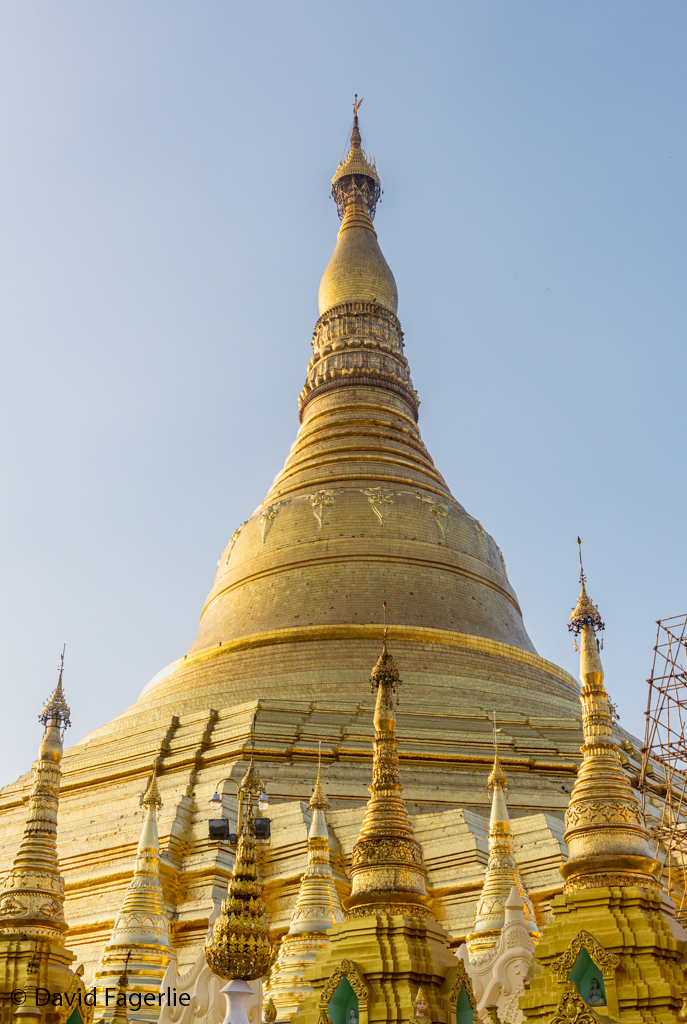 Surrounding the Schwedagon Pagoda are 64 additional pagodas on the 114 acre site.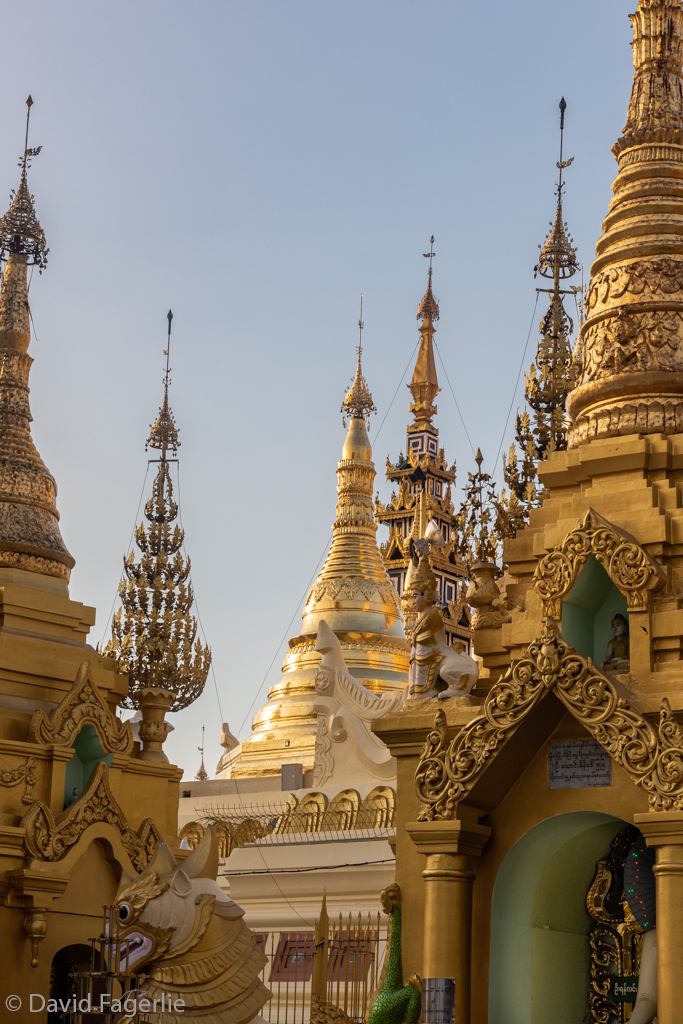 It didn't matter that I was not raised in the Buddhist tradition. I easily slipped into a contemplative mood and consuming wonder that I sensed was in everyone else.
Every day, a large group of volunteers of mostly women gather to sweep the floors at the temple. They are "making merit," a fundamental concept of the Buddhist tradition that good works pay-forward for good luck for those making merit and people they care about. Younger volunteers scrubbed clean the plaza floor.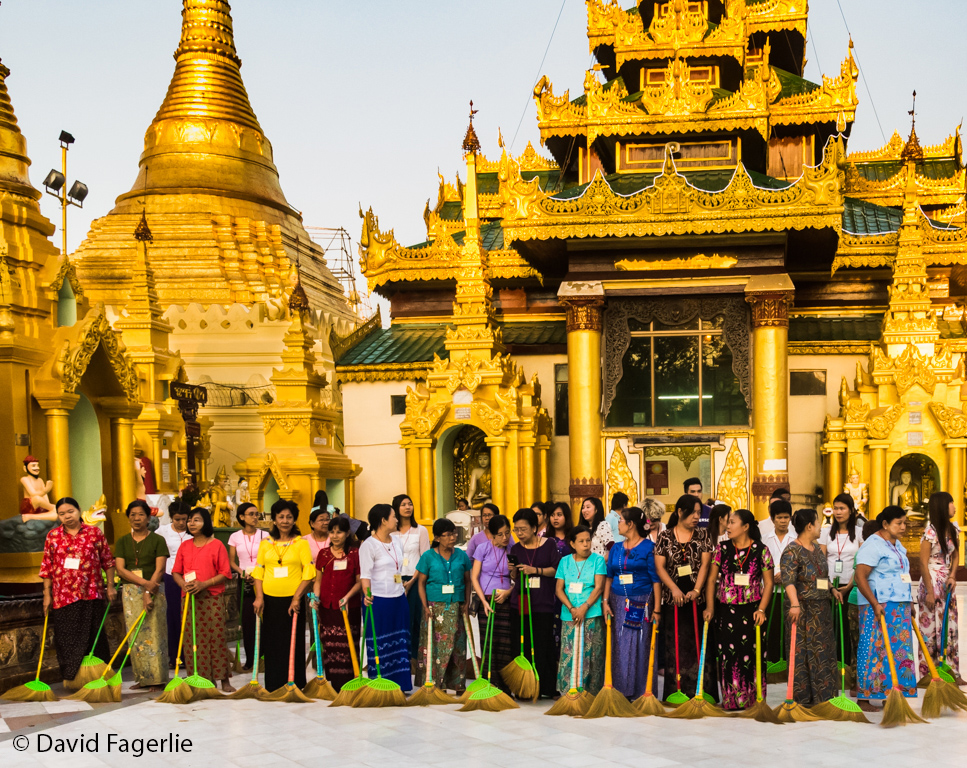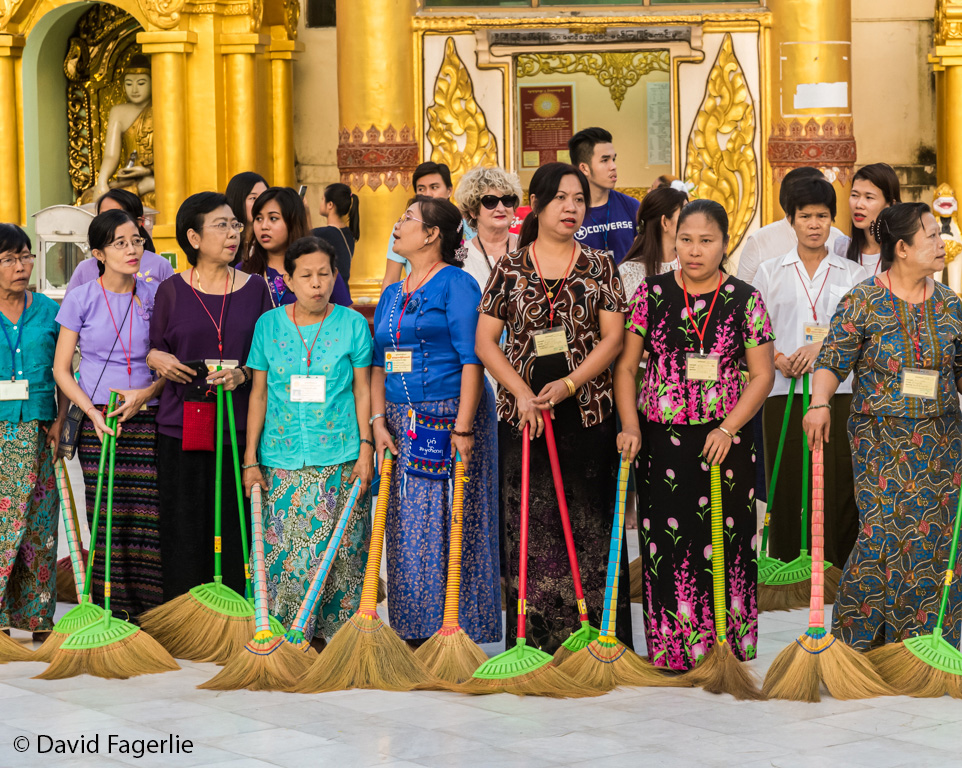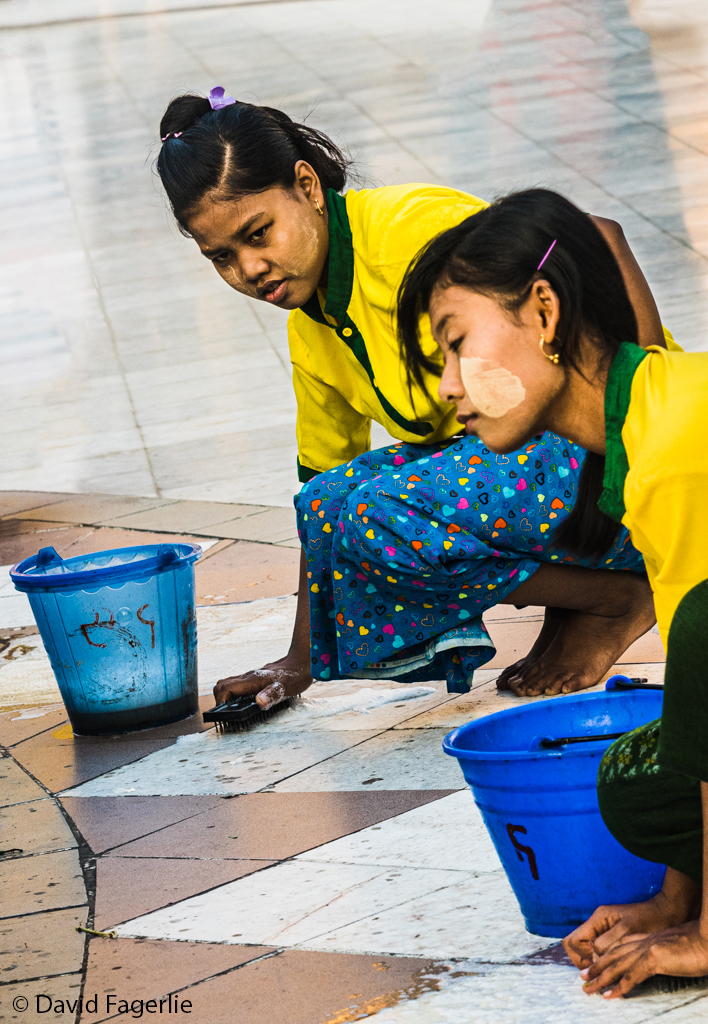 Surrounding the pagoda are stations where one can ask for blessings.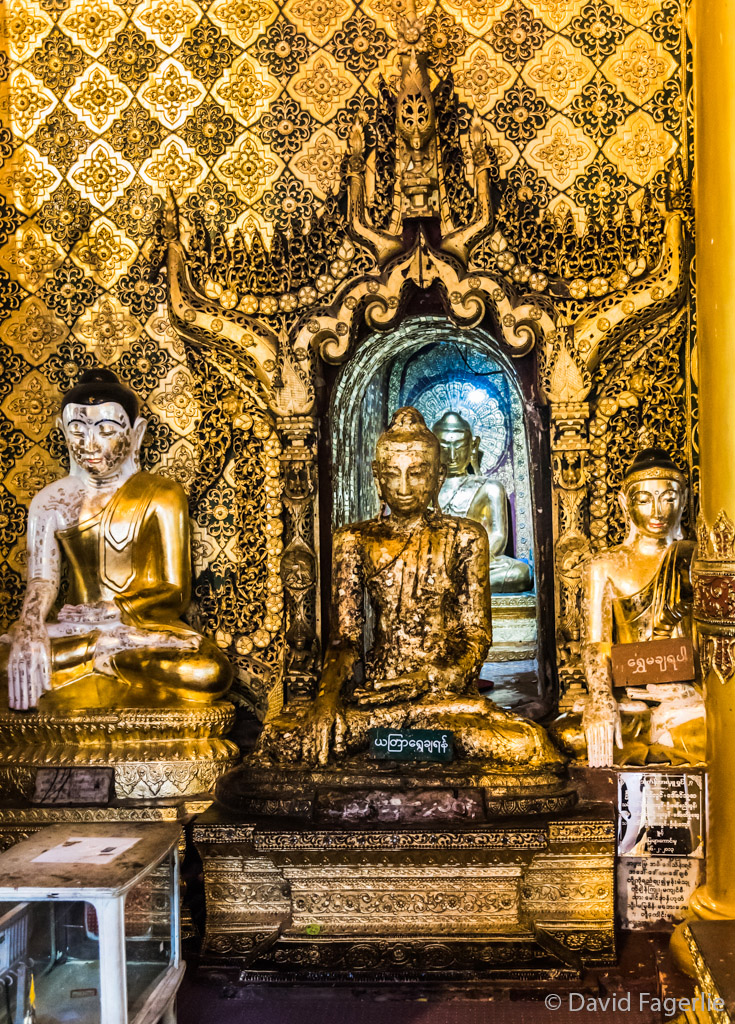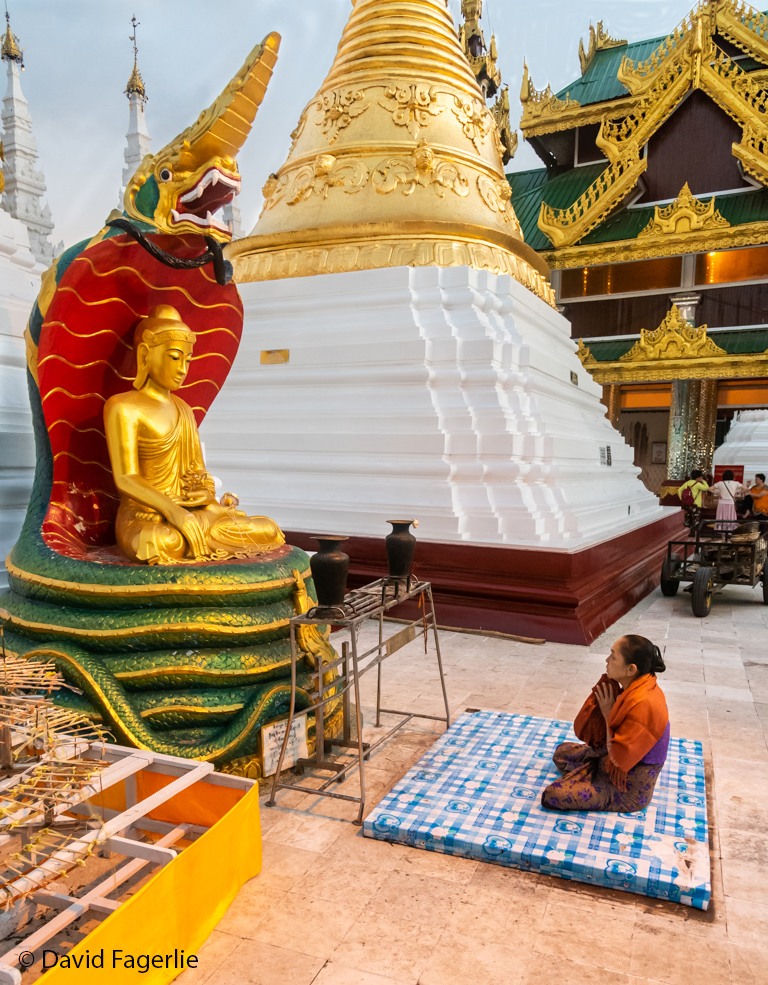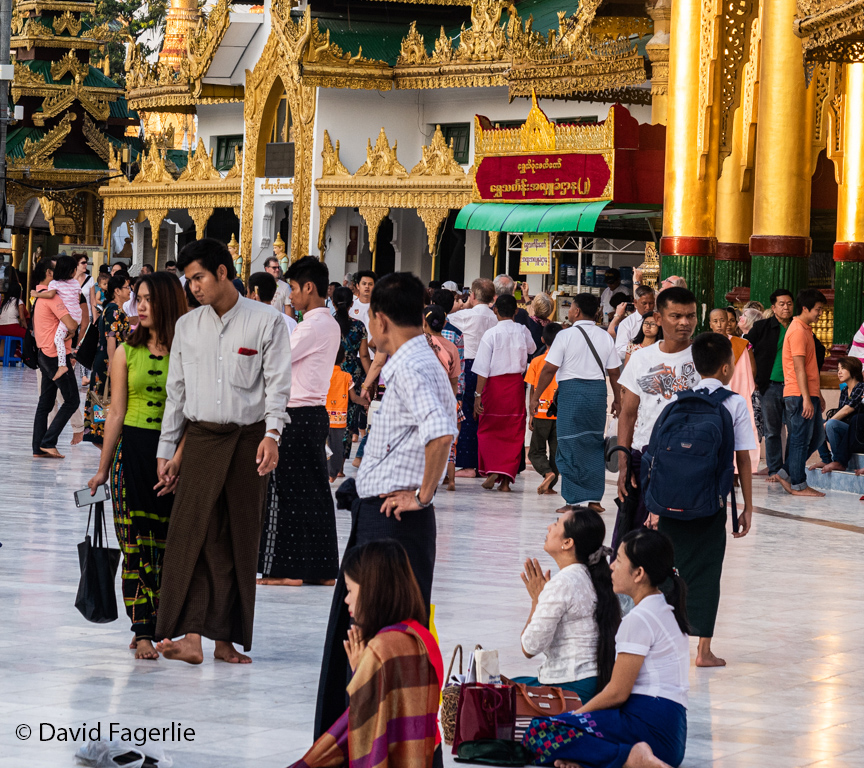 Some stations are designated by day of the week. Most Burmese people are Theravada Buddhists and many also follow practices from Hindu astrology, which recognizes the planets of the Sun, Moon, Mercury, Venus, Mars, Jupiter and Saturn. Burmese astrology also recognizes planets named Rahu and Ketu. It is important for local people to know on which day of the week they were born so that they know their planetary post. At Shwedagon there are eight day-stations/posts, each named for a planet and identified with an animal that represents that day. Wednesday is divided by AM and PM to accommodate two planets. The animals are: Sunday - a garuda, which is a bird-like creature; Monday - tiger; Tuesday - lion; Wednesday AM - tusked elephant, associated with the planet Rahul and the time of the Budda's birth; Wednesday PM - tuskless elephant; Thursday - mouse; Friday - guinea pig; and Saturday - nāga, half-human half-serpent. I was born on a Saturday so I am half-human half-serpent, perhaps not a surprise to some?

In a clockwise direction the faithful walk around the stupa looking for their station. At each station there is a large bowl of water and a cup. Pouring a cup of water over a Buddha image at the station is a physical motion that asks for blessings and good fortune. My wife is Thai and a Theravada Buddhist. Born on a Wednesday morning she poured water at the tusked elephant station asking for a blessing of success at a back surgery scheduled in Bangkok in the near future.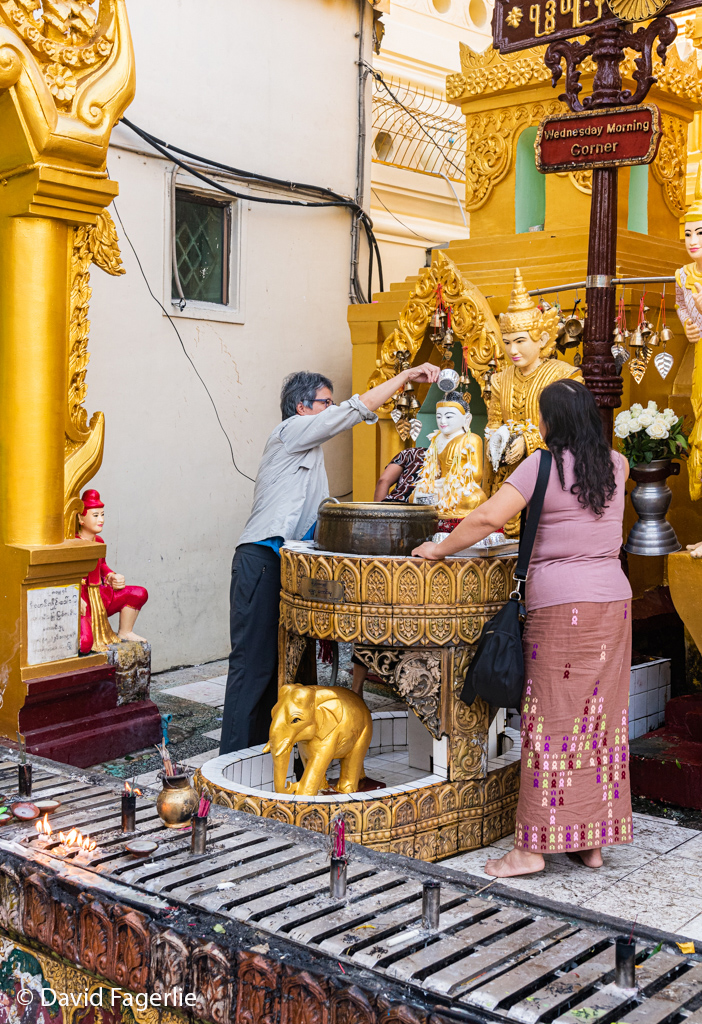 It is traditional in Thai culture, and I expect in Burmese culture as well, to make a promise when asking for blessings at a temple to be carried out if the blessing is received. Typical promises are to return to the temple to give thanks and/or to make a donation to the temple or other charitable cause. The surgery was successful. As she promised, my wife returned to the Shwedagon in Yangon to give thanks.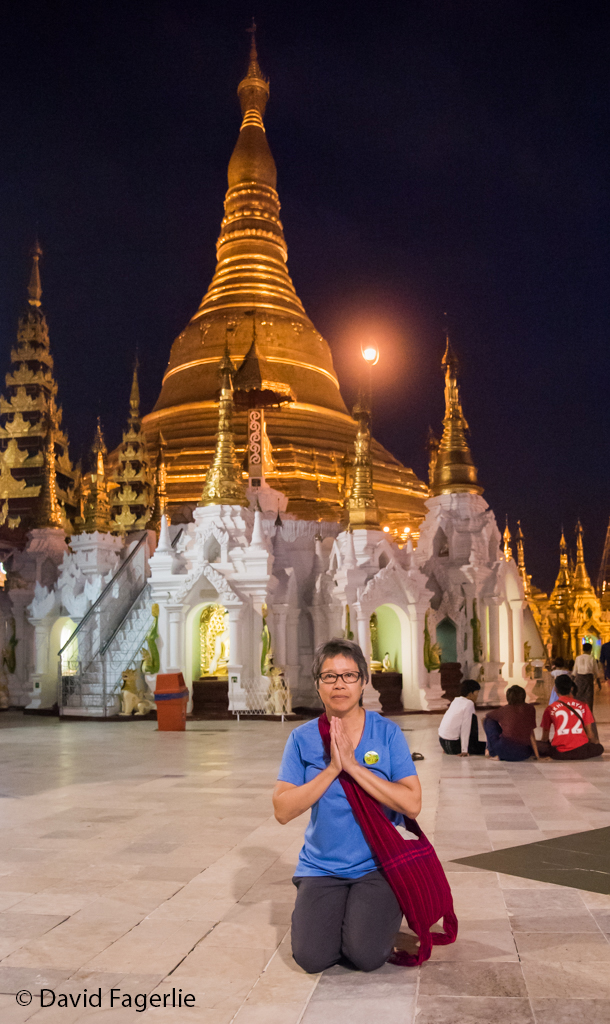 In this photo a woman is asking for a blessing at a fertility station.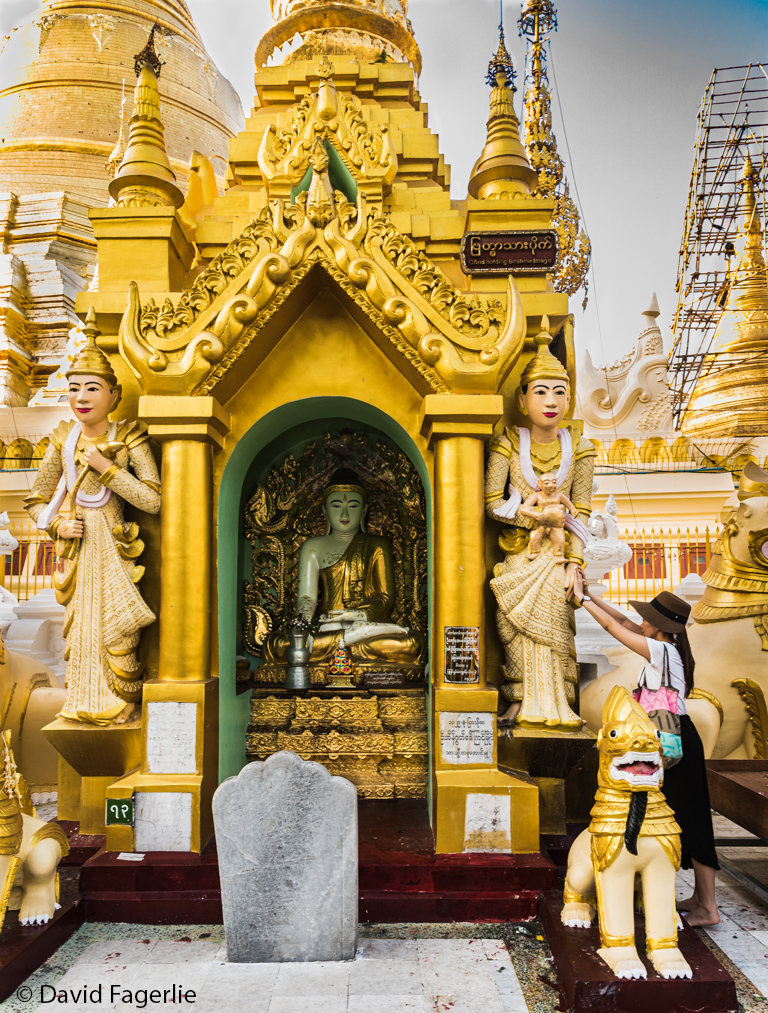 As the sun goes down the Shwedagon transforms in color and mood. Soon, there are many more people. The calmness of the Shwedagon increases as the sun disappears and colored lights accent the gleaming beauty of this place. Green and blue lights illuminate Buddha images.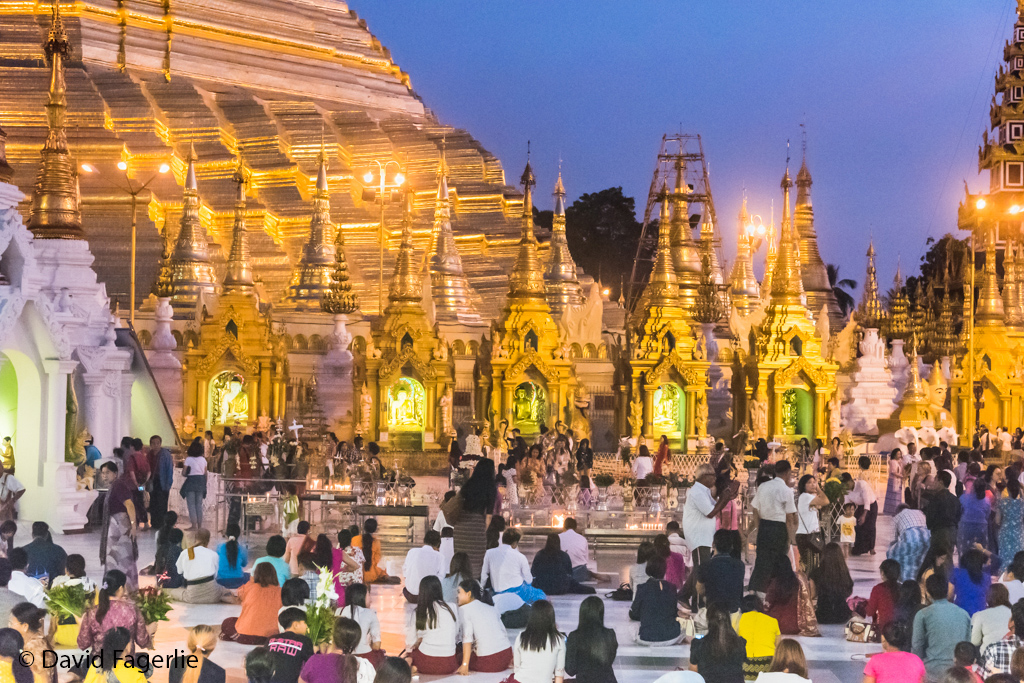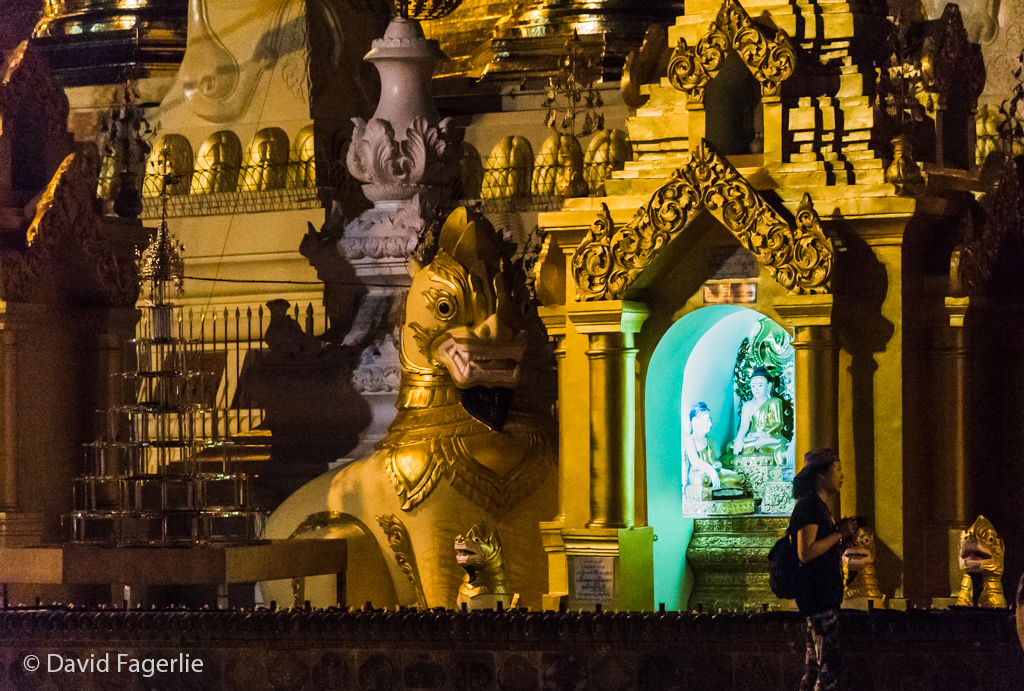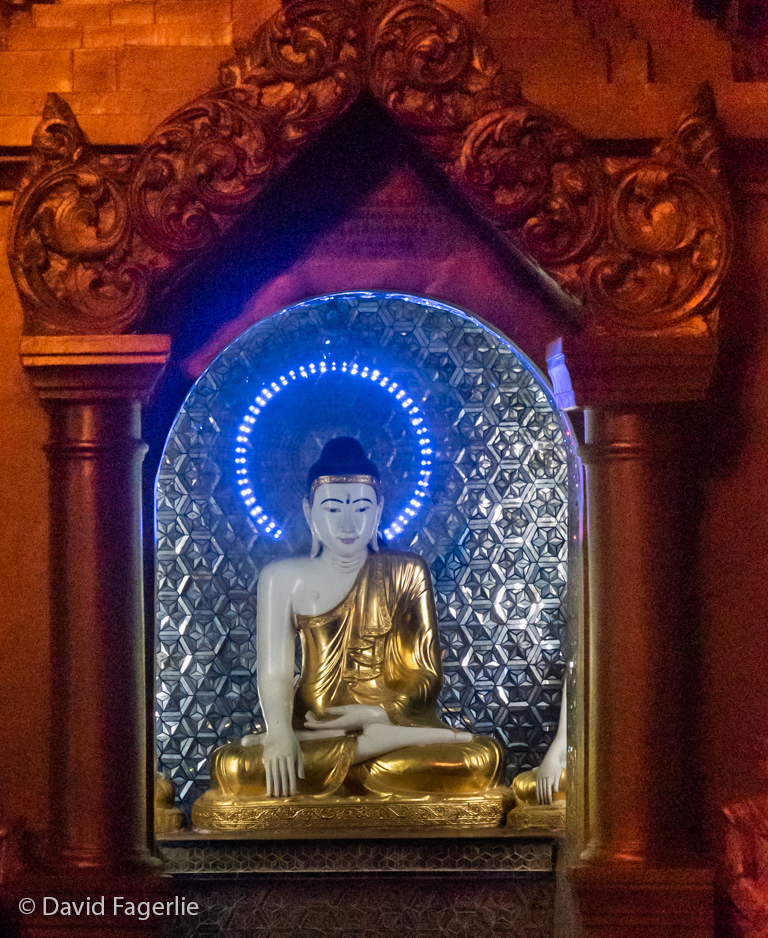 To see the images of this chapter, and a few more, in higher resolution check out the Shwedagon slide show in Galleries on this website. Click on the first image to start the sides. In the upper right corner is a square button that will activate a full-screen view and a play button if you want the slide show to be automated. Use arrow keys on your computer or swipe on your tablet or phone to manually move through the show. You can access the gallery for this chapter directly by clicking HERE. Enjoy, and thank you for visiting this inaugural chapter of My WorldReflections.

Coming next week, on Monday – Chapter 2: Kyaiktiyo Pagoda and Golden Rock.