Ecuador – Part 8: Cuenca
Chapter 9: The Roses
Although Ecuador occupies just one-percent of the planet's surface it is third as an exporter of cut flowers, behind the Netherlands and Columbia. The rose industry in Ecuador is relatively new, starting in the early 1990s. In 2017 exports were worth $890 million, up from $806 million the year before.
Ecuador has the best roses. No other country can match Ecuador for quality. The roses grow more slowly than elsewhere, fifteen weeks versus the typical eight weeks in other countries. This results in greater development of color in the rose heads which are much larger. The image below demonstrates blossom size compared to Columbia, Holland and Africa.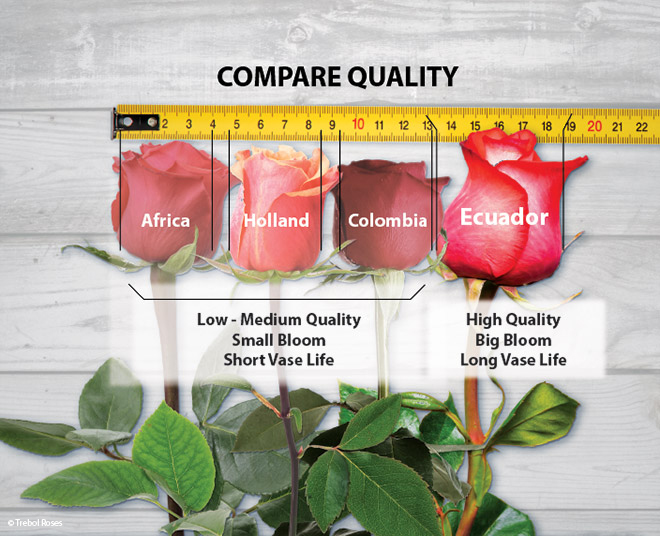 Stems of Ecuador roses are sturdier and grow perfectly straight to a height of as much as five feet or even more. The blooms last much longer than roses from other countries. Because of the cooler temperatures at elevation there are fewer bugs that might damage the plants resulting in less use of pesticides.
All of these desirable characteristics of Ecuador's roses are the result of growing conditions. Ecuador is on the equator. The roses have a full twelve hours of daylight to absorb the sun's energy and develop. Because the sun is directly overhead there is no tendency for roses to bend toward sunlight to the north or south. The cooler temperatures found at 8,000 to 10,000 feet encourages the roses to grow more slowly resulting in studier stalks and larger blossoms/heads. There are many colors and shades of colors. Bi-colored roses grow exceptionally well due to the colder temperatures at night which allow for changing tones along the outer edges and inner half of petals. Here's proof.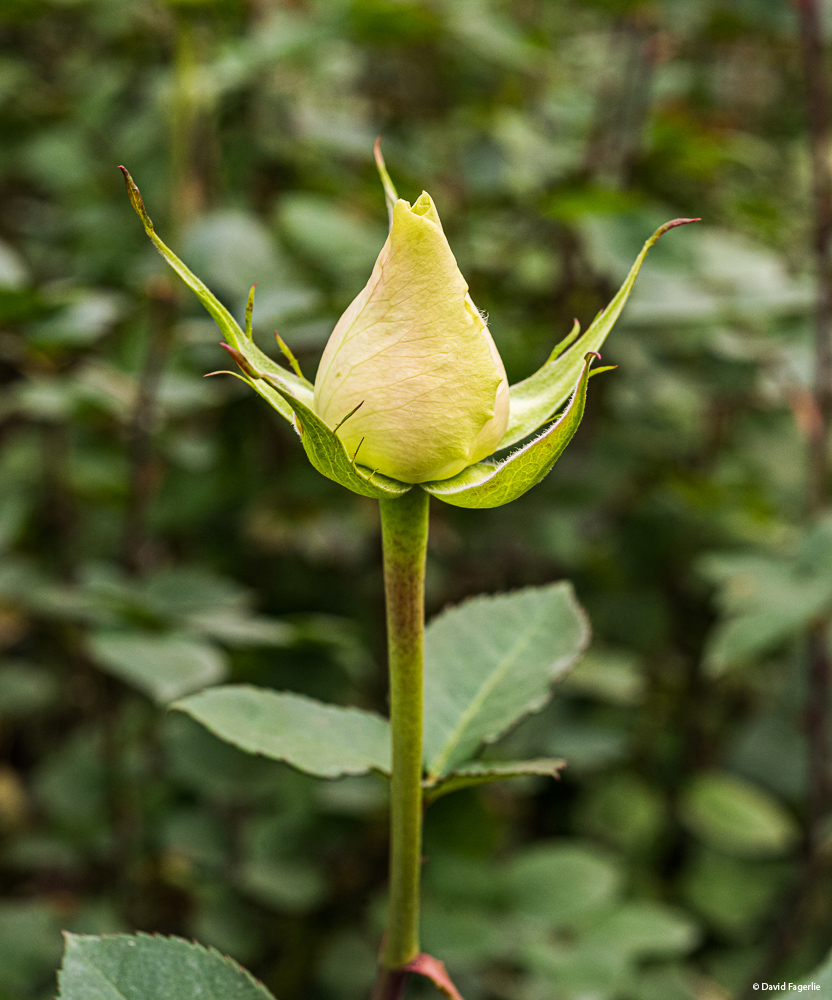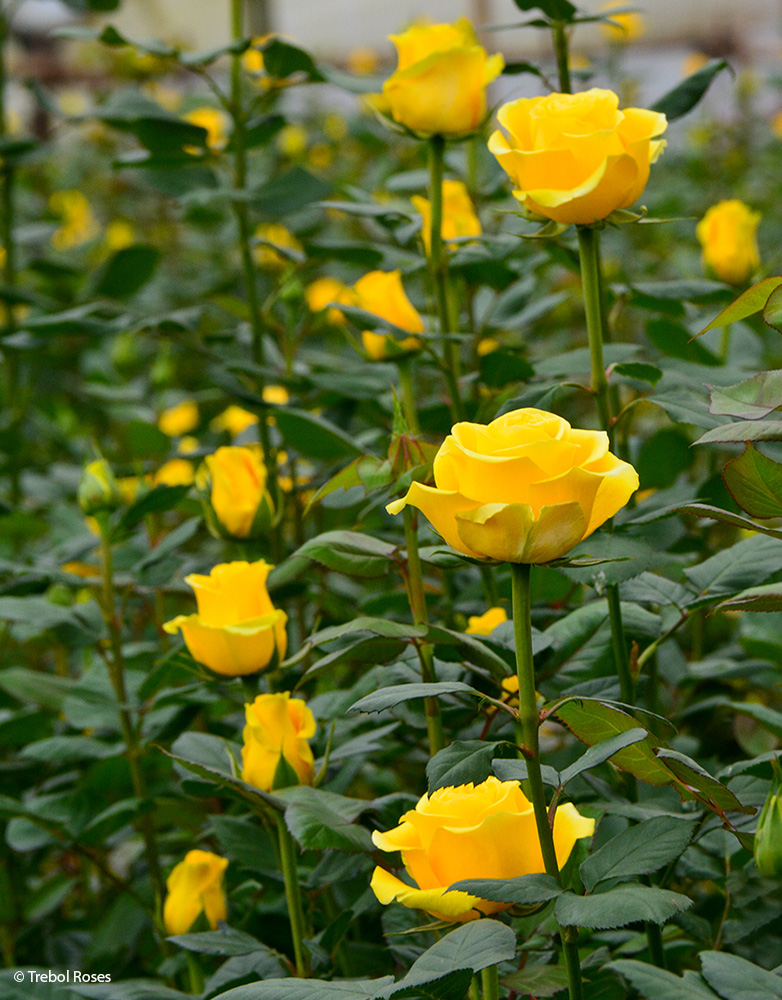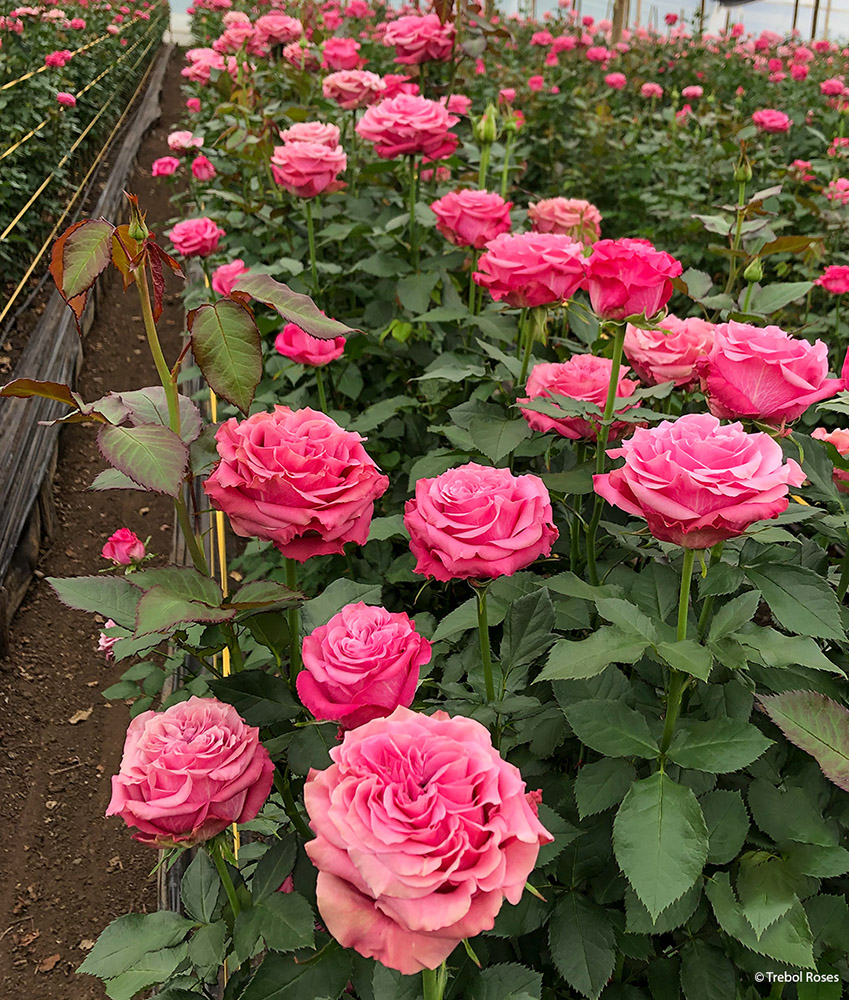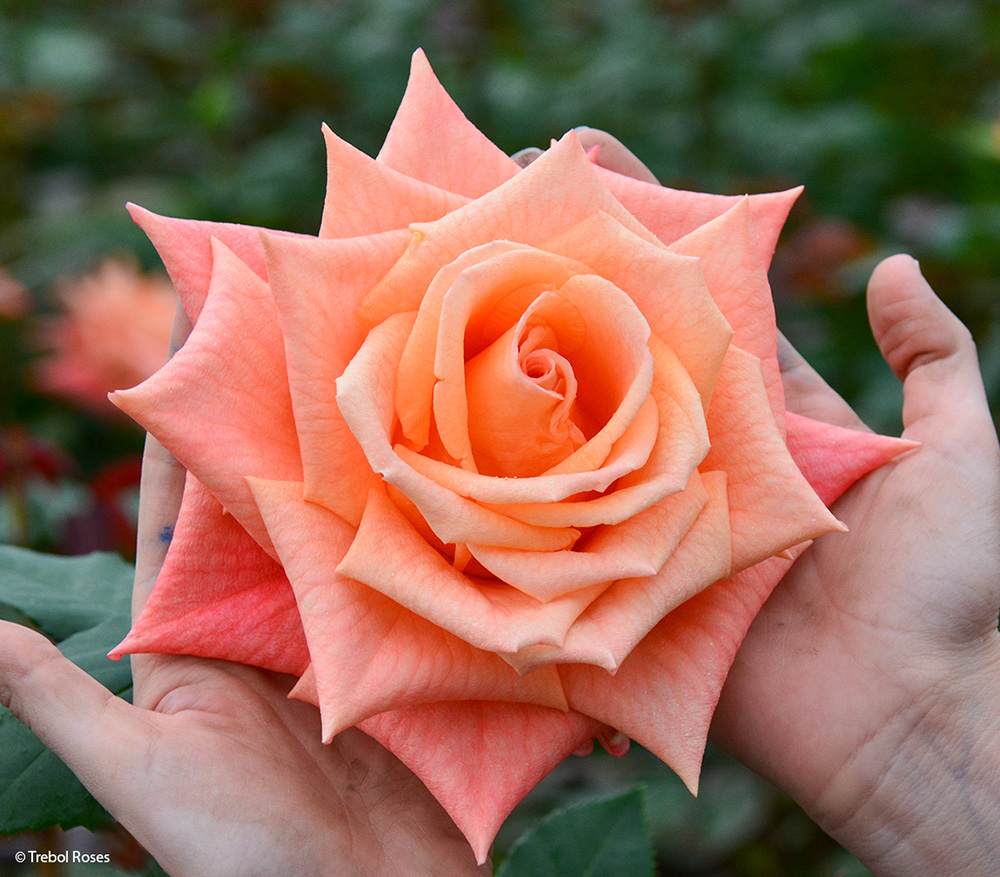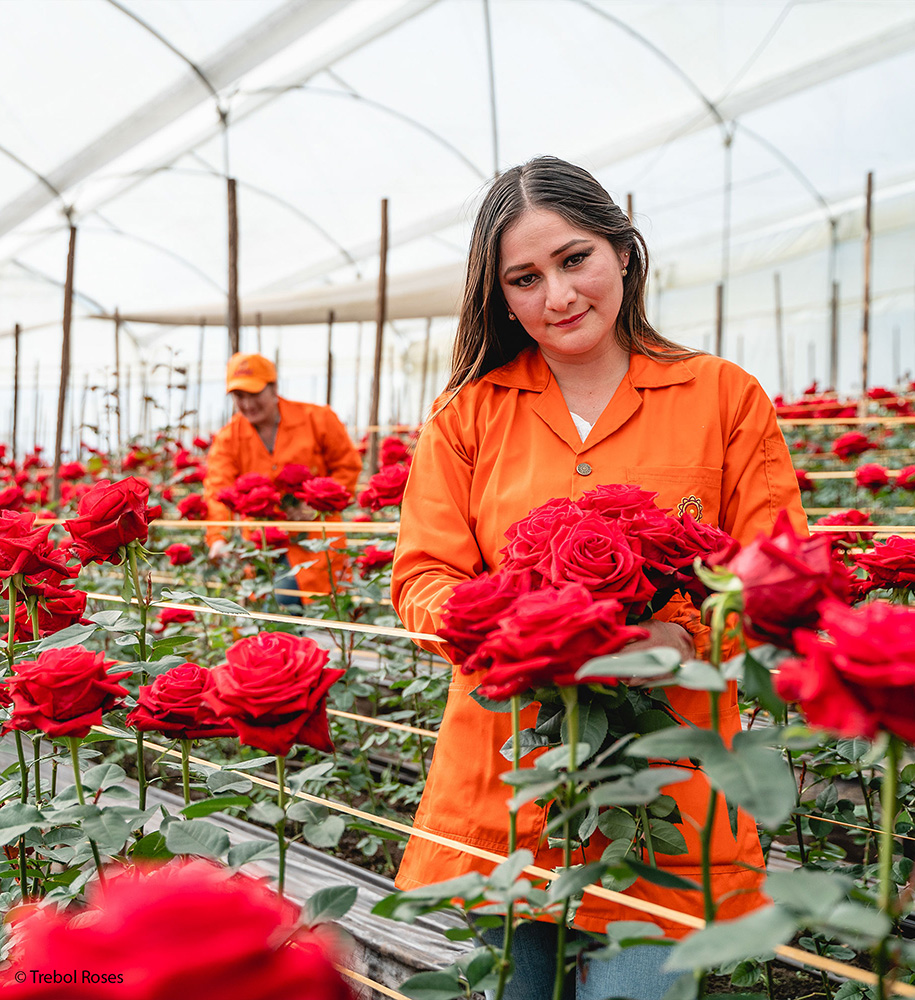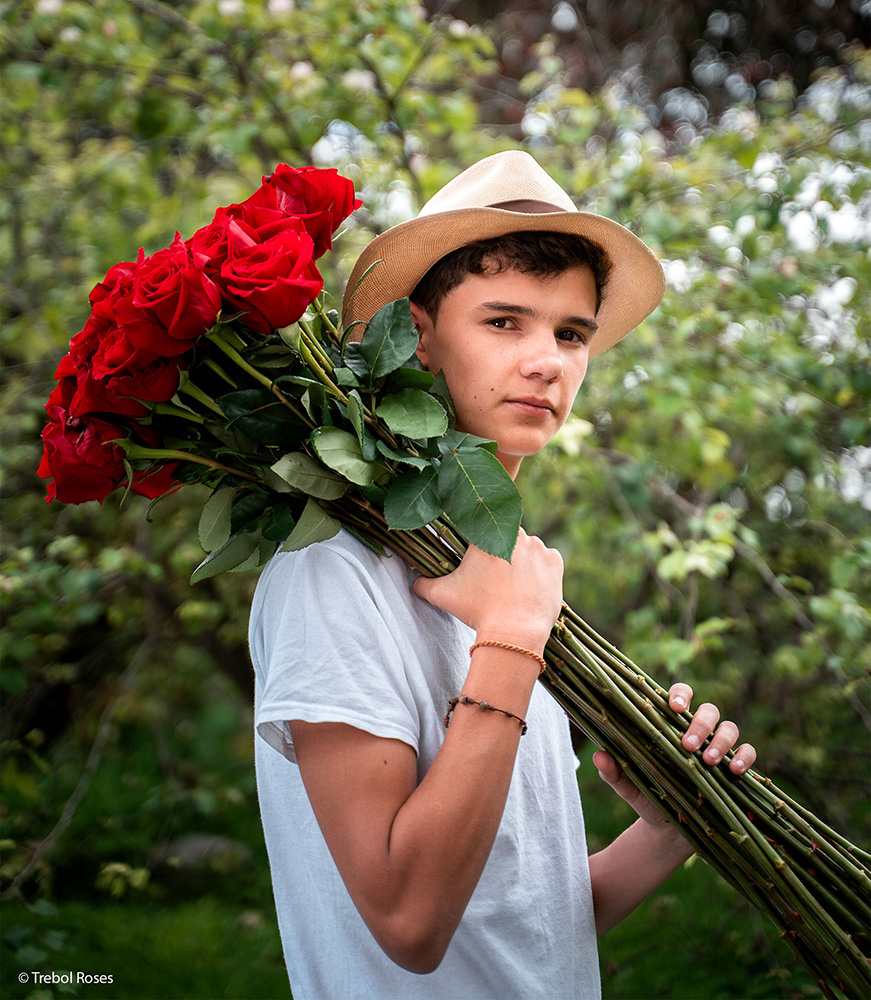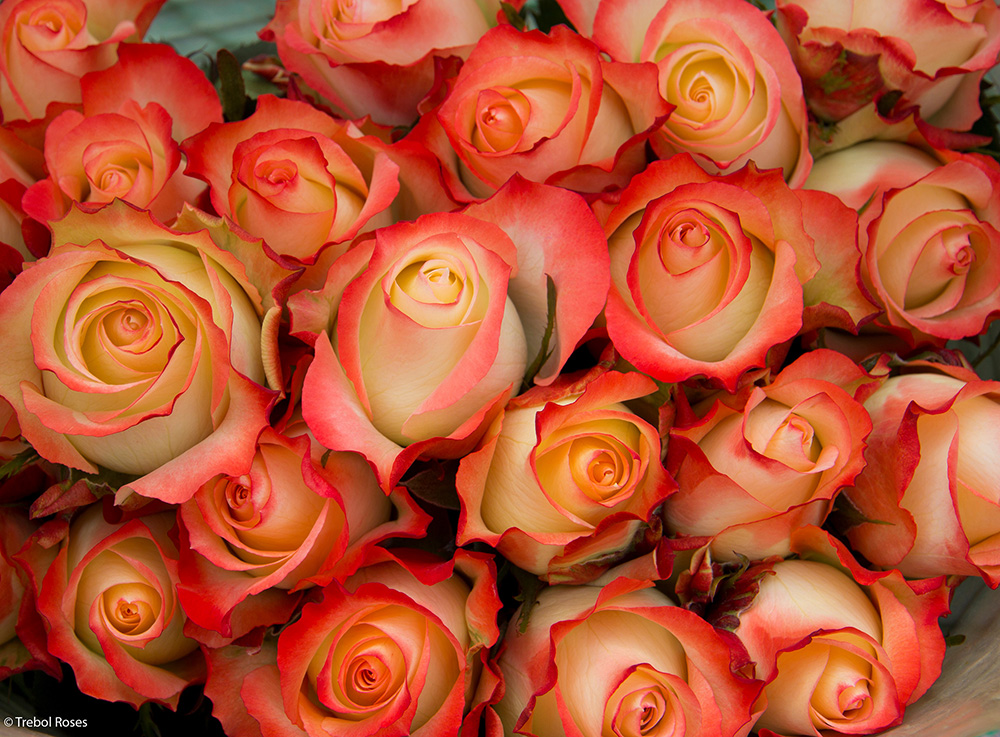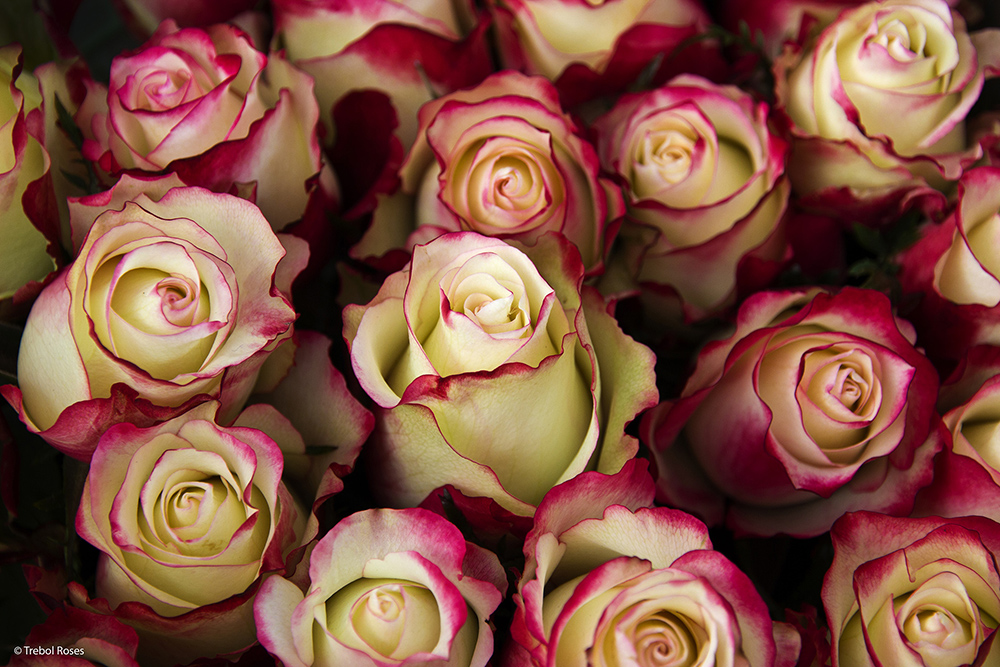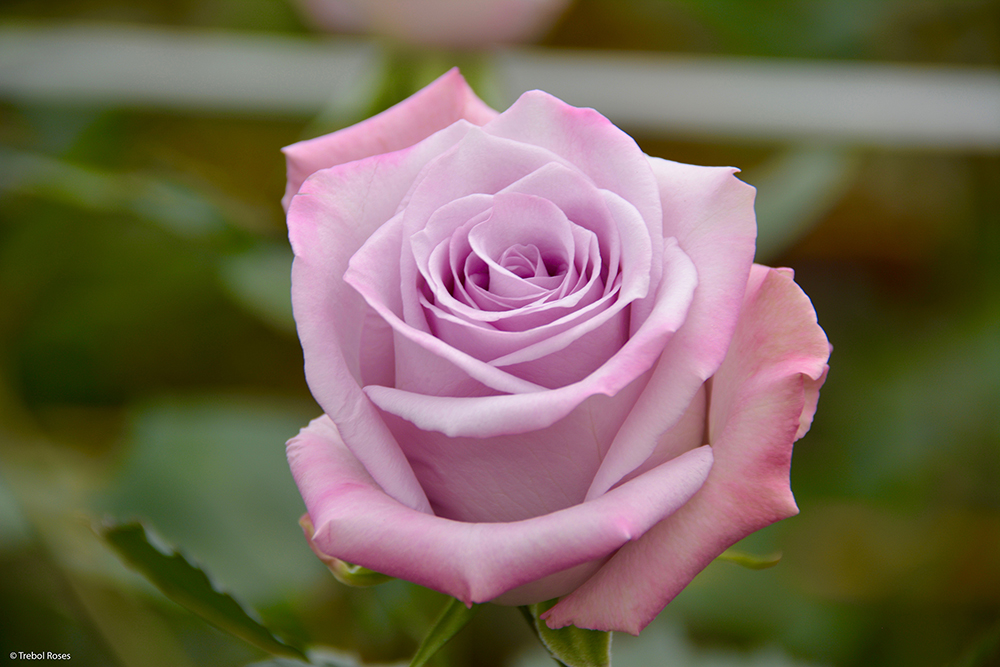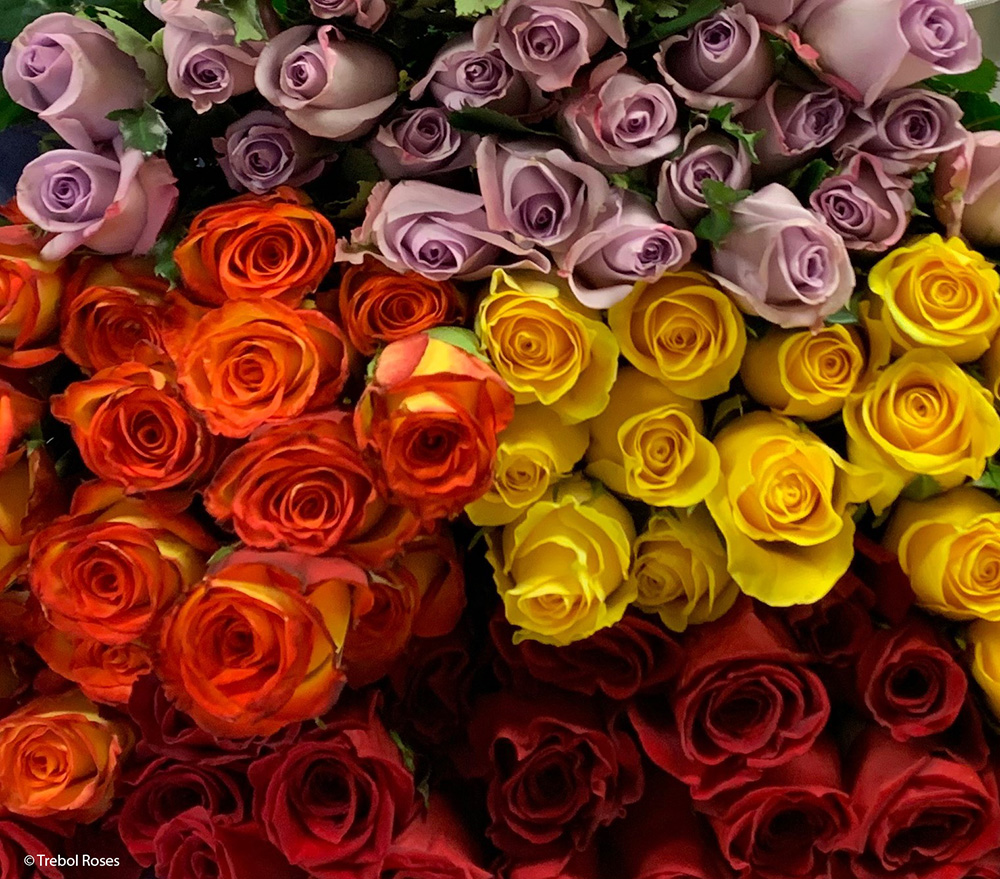 In 1899, at the age of 20, William Wood left the USA with a group to work on the La Nariz del Diablo railway in Alausi. You saw this railroad in Ecuador, Part 6 Chapter 1. He married in Ecuador and had a daughter named Julie Wood (pictured below).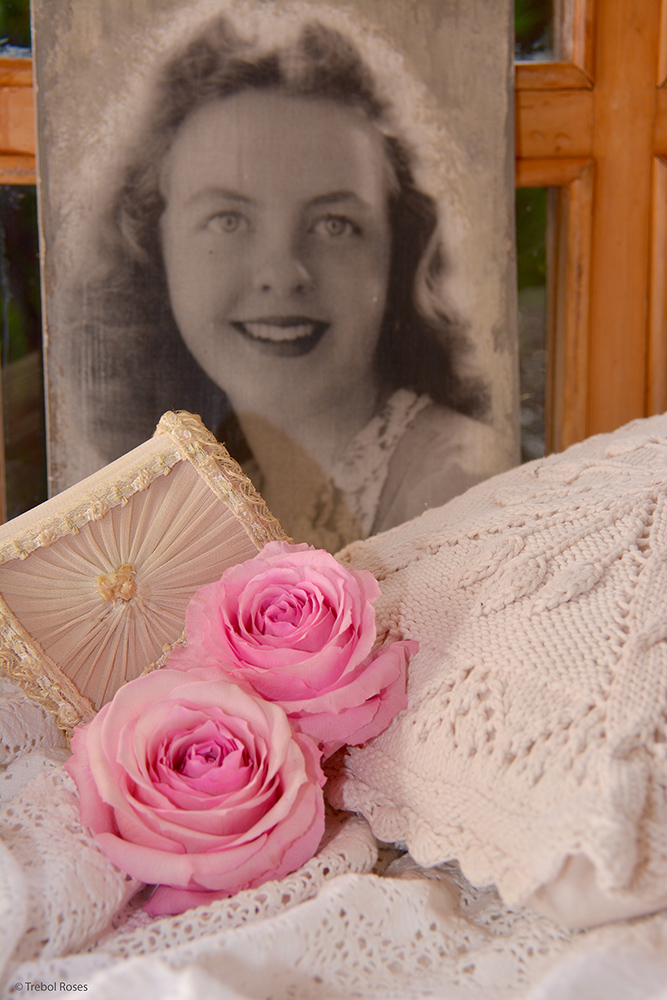 Julie had a daughter, who had a daughter named Rosana. Rosana's great-grandfather on her father's side, Federico Malo Andrade, was born on July 5, 1859. In 1877, he traveled to Paris and London to study economics and law. At the age of 27 he returned to Cuenca to settle permanently. At that time he began his life in public service. Malo was the Mayor of Cuenca, professor of French and English at the Benigno Malo School, director of the Benigno Malo School, president of the Municipality of Cuenca, president of the Liberal Party of the city, governor and senator. Malo collaborated in the installation of a branch of the Central Bank of Ecuador in Cuenca. Malo married his first cousin, Leticia Andrade, in 1888.
Malo owned Federico Malo & Co, an export and import company established in Cuenca, through which he exported panama hats starting in 1904 to London, Paris, New York and Hamburg. Malo also imported to Cuenca many technological innovations including the first automobile in 1912, the first typewriters, the first phonograph, the first electric light bulbs and more. By 1909 Malo was one of the wealthiest and most important businessmen in the city. In 1913, Malo founded the Azuay Bank, Cuenca's first bank and in 1919 he founded the Chamber of Commerce of Cuenca.
Places in Cuenca that bear his name include Federico Malo Street, Federico Malo School, the Federico Malo Masonic Lodge, and the old Federico Malo House at 9-52 Bolívar Street.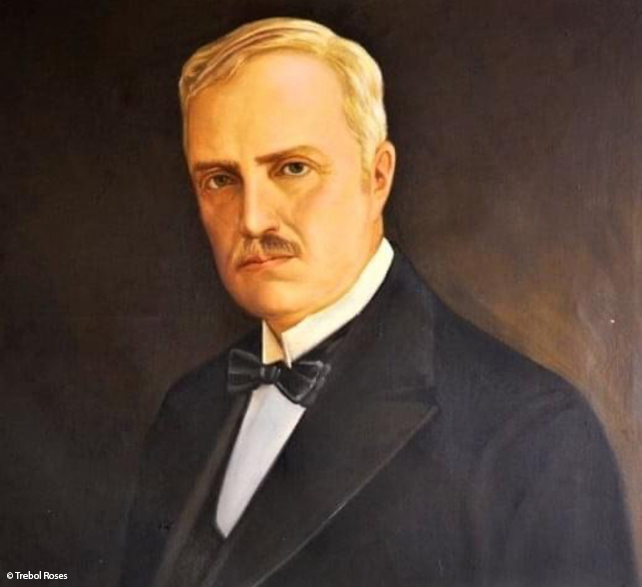 The photo below is a car he imported from France in 1912. It was the first car in Cuenca.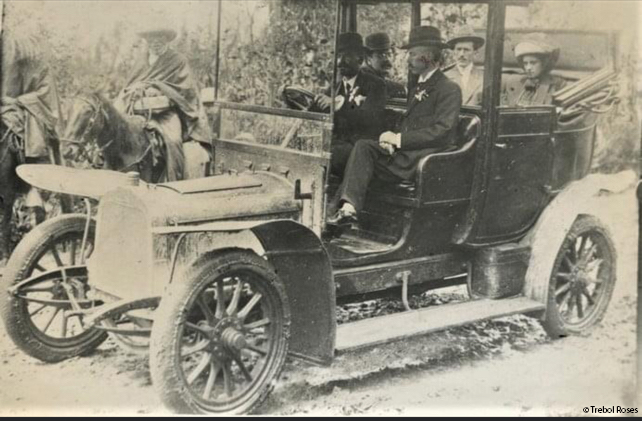 This is Malo's home on Bolivar Street. He needed a lot of space; he and Leticia had nineteen children.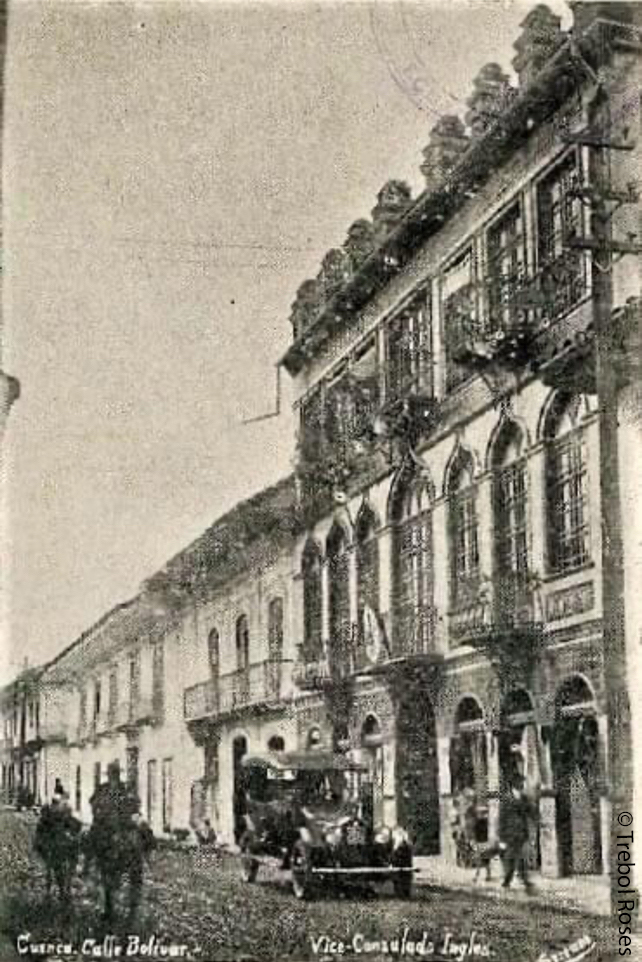 In 1910 Malo purchased a huge plot of land, about 1,250 acres, north of Cuenca at 2,950 meters/9,678 feet. There he established a dairy farm. Federico Malo died on February 14, 1932. Malo was known to be a friendly man who made many charitable donations. Poor people in Cuenca left on his grave a crown of roses with the note: "To the father of charity in Cuenca."
Over the years most of the land was sold off. The farm today is located 40 kilometers north of Cuenca on 120 hectares/296 acres of land. The farm has continuously operated as a dairy farm since the early years. In 1997 two of the more entrepreneurial members of the family, Rosana Malo and her husband Juan Carlos Véles, succeeded in convincing the family to set aside 12 hectares/29 acres to develop a rose business. Juan Carlos' younger brother José married Rosana's youngest sister Suzy six years after Rosana and Juan Carlos were married. José manages the dairy farm that milks 120 cows twice daily. The rose company, Trebol Roses, is the largest producer of roses in southern Ecuador. Juan Carlos is the general manager and Rosana is the sales manager. Other family members also are involved in the business. The family rose business now sells 600,000 stems monthly.
From the beginning, Rosana and Juan Carlos set a high standard for rose quality, customer service and employee relations. They now employ 120 staff at the rose farm, 75% of which are young women from the countryside. According to family testimony, in the beginning all of the workers came to the farm by walking. After a while, they came riding bicycles. Then they came on motorcycles. Now, the farm doesn't have enough parking spaces for all of the cars that workers own. Many employees have been with Trebol for more than 20 years.
Trebol Roses has the BASC seal (Business Alliance for Secure Commerce), a business alliance that promotes secure trade. In collaboration with governments BASC members discourage smuggling and drug trafficking. Trebol also has the Flor del Ecuador certification that affirms Trebol's procedures mitigate environmental impact, encourage the use of renewable resources, demonstrate a commitment to continuous improvement and guarantee a safe and healthy work environment.
Juan Carlos took me and my wife to visit the farm. From Cuenca it is a winding mountain road uphill most of the way with beautiful views. Near the farm Juan Carlos stopped the car so I could take this photo of the church at Biblian. (You saw this church close up in Ecuador, Part 5 Chapter 1.)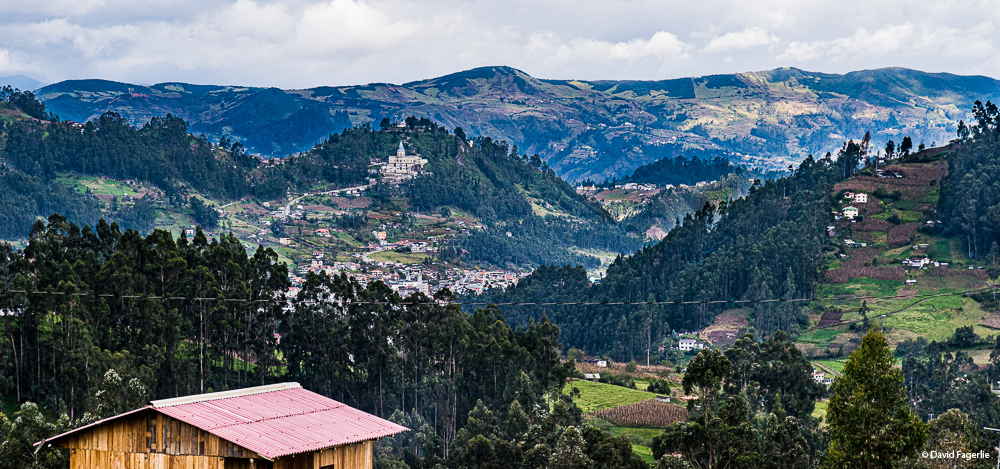 We entered the farm by driving through a security gate that is staffed 24 hours. A few minutes later we approached the parking lot next to the farm's hacienda.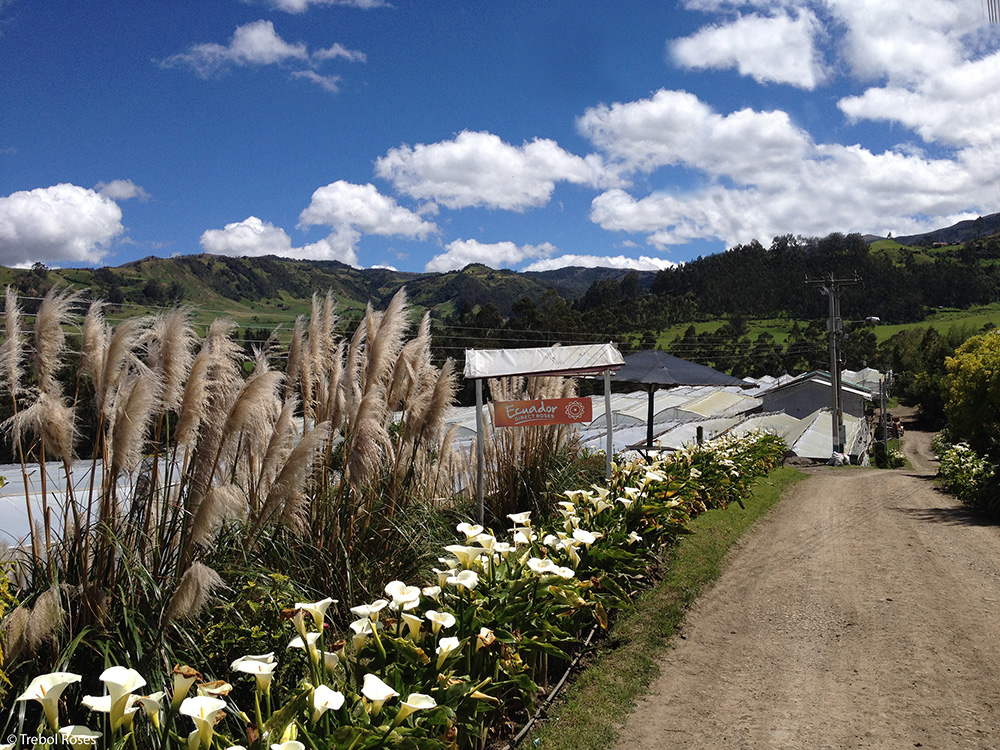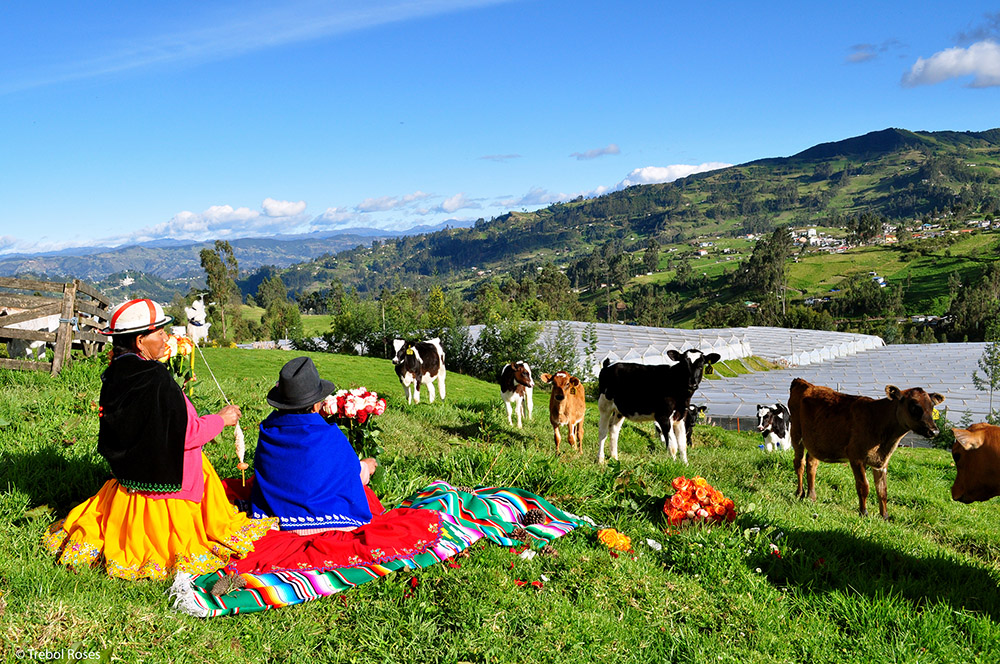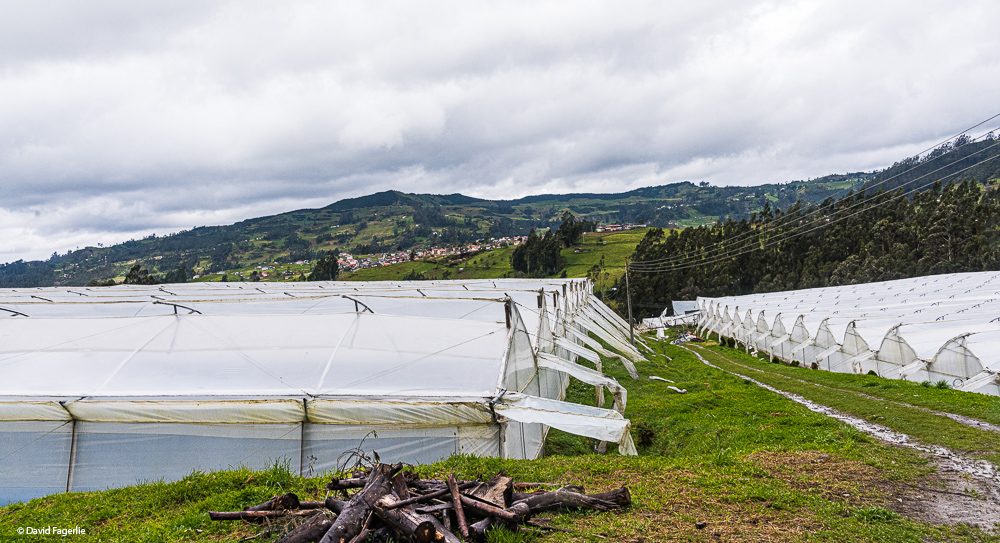 The long white buildings you see are made with wood or metal supports and covered with plastic. They are greenhouses where the roses are grown. The greenhouses soften the sunlight, keep the roses warm in the daytime and cool at night. They also keep out pests. Greenhouses like these pepper the landscape throughout the Sierra between Cuenca and Quito.
The hacienda is a beautiful home that is large enough to host groups, many that are there to learn about the rose business and tour the farm. Here are photos of the house. The last photo in the series is me and Juan Carlos waiting for a cup of exquisite Ecuadorian coffee.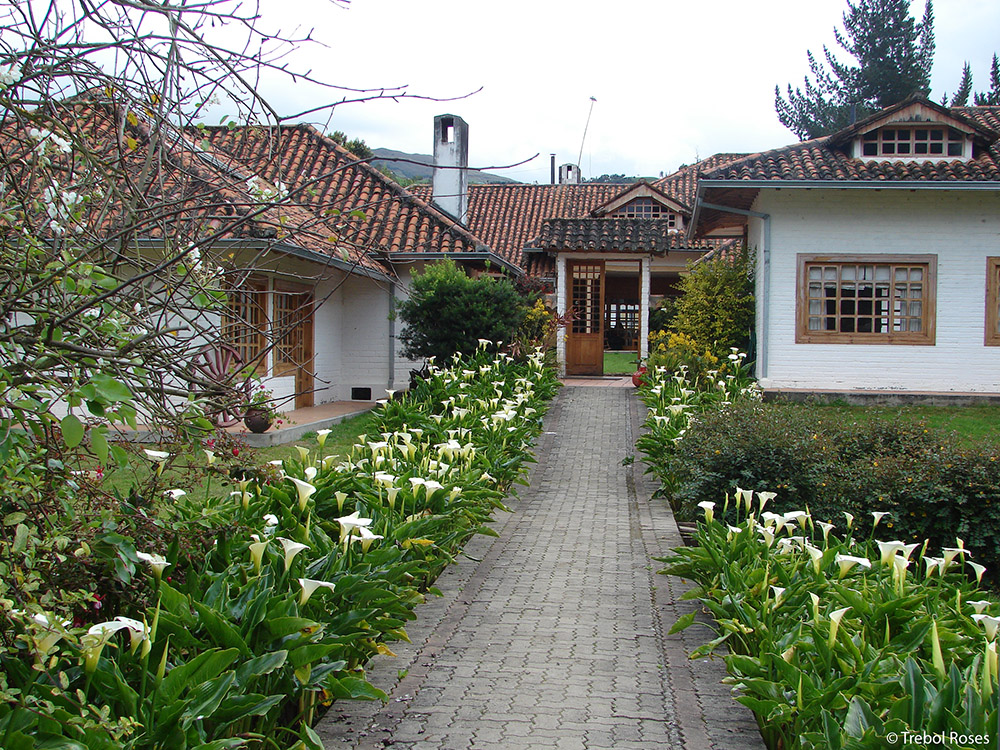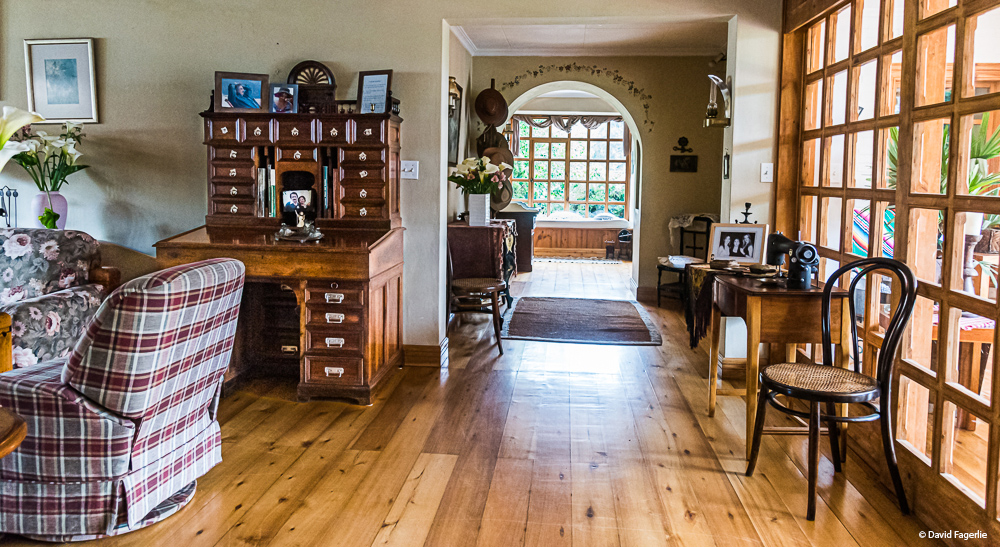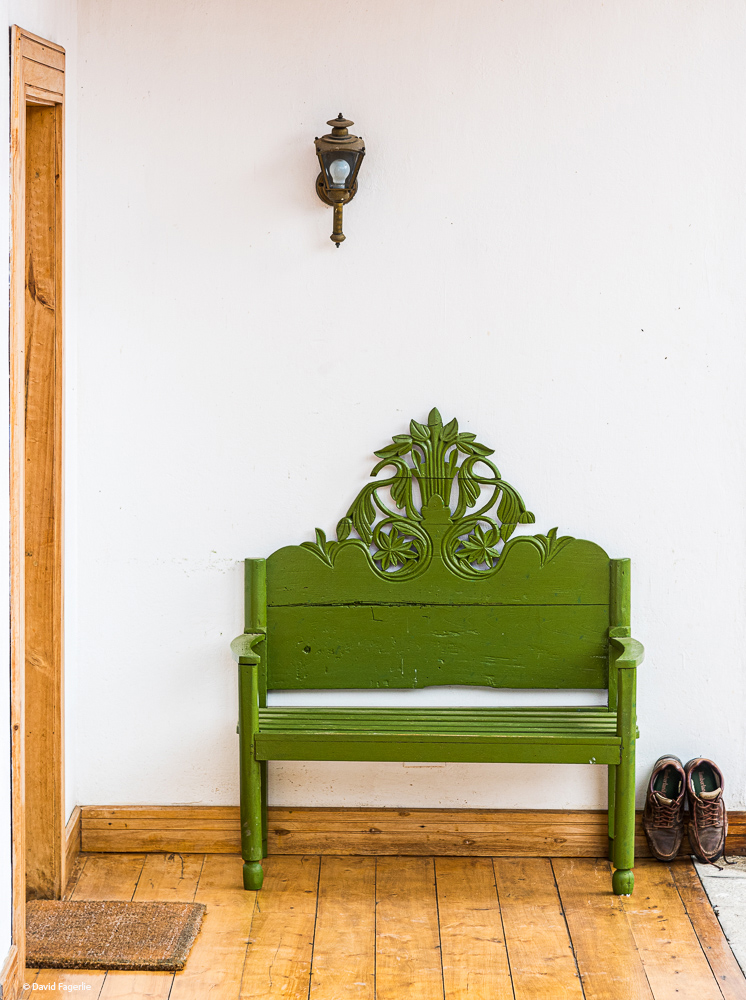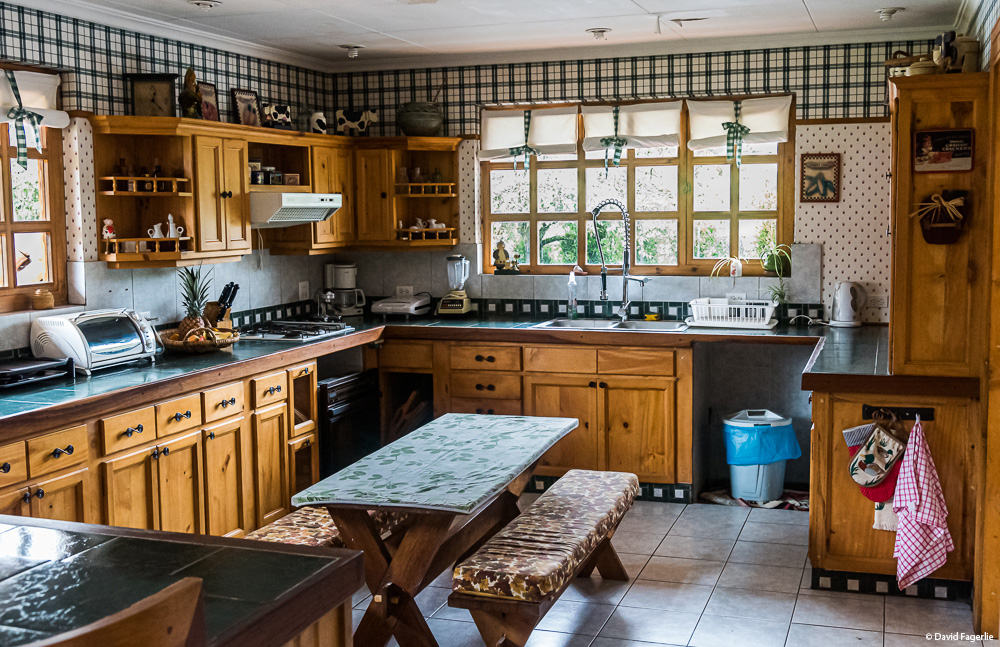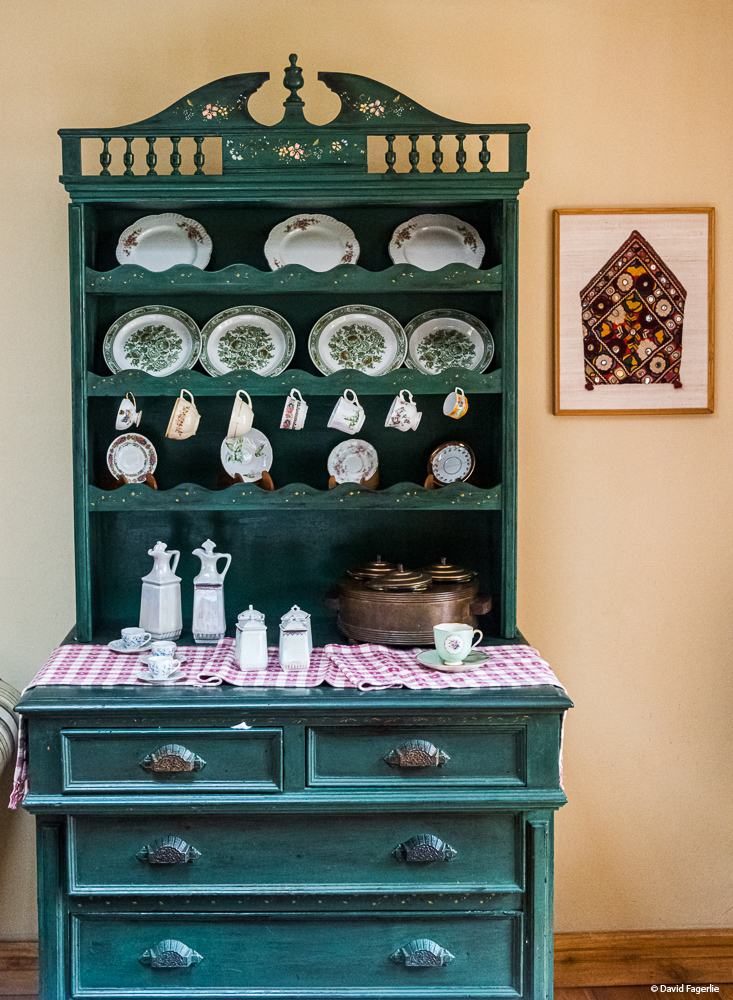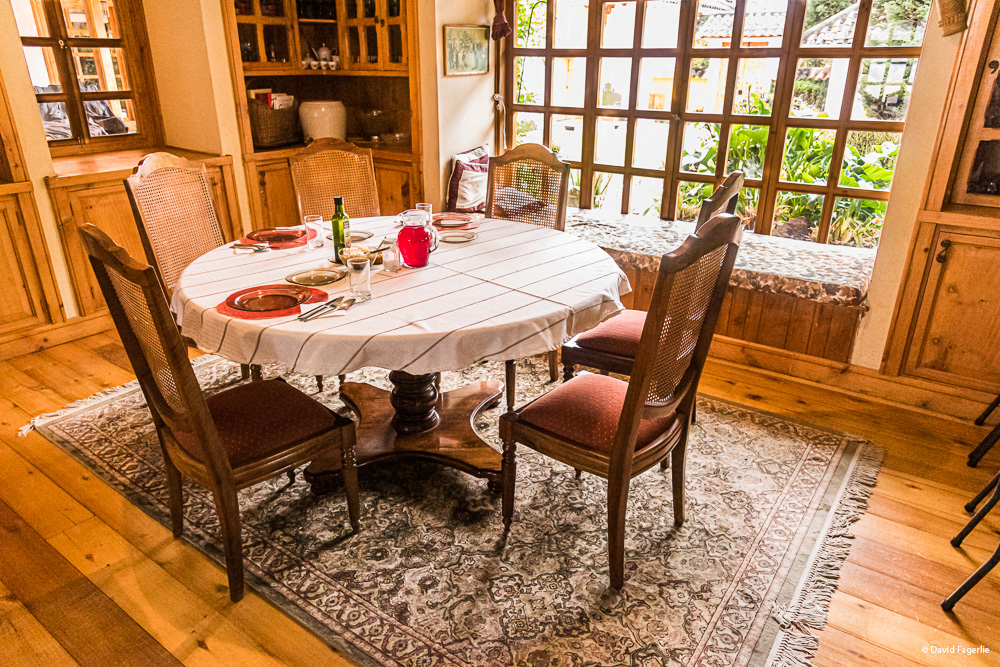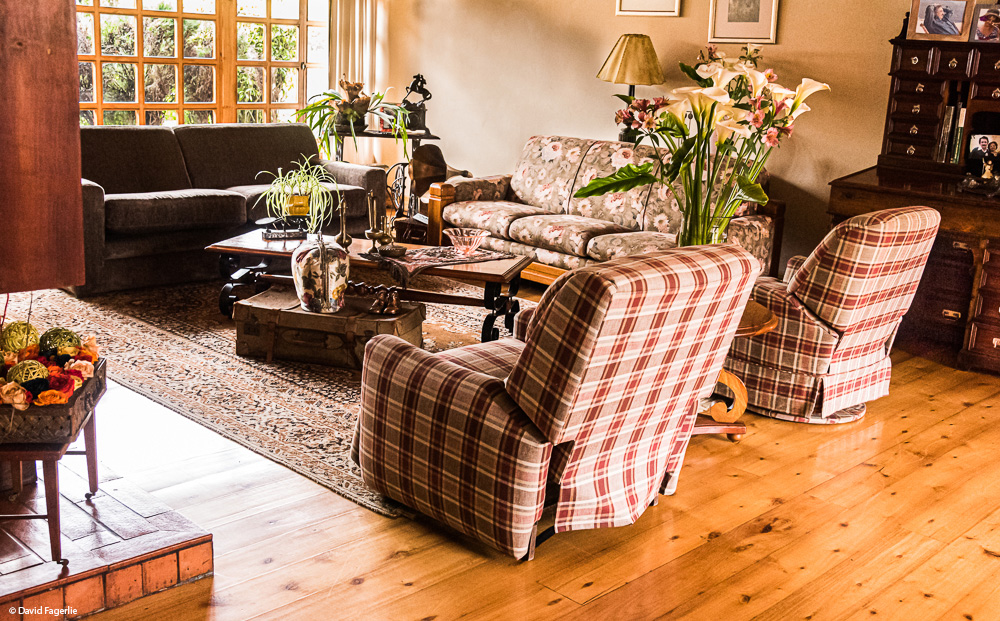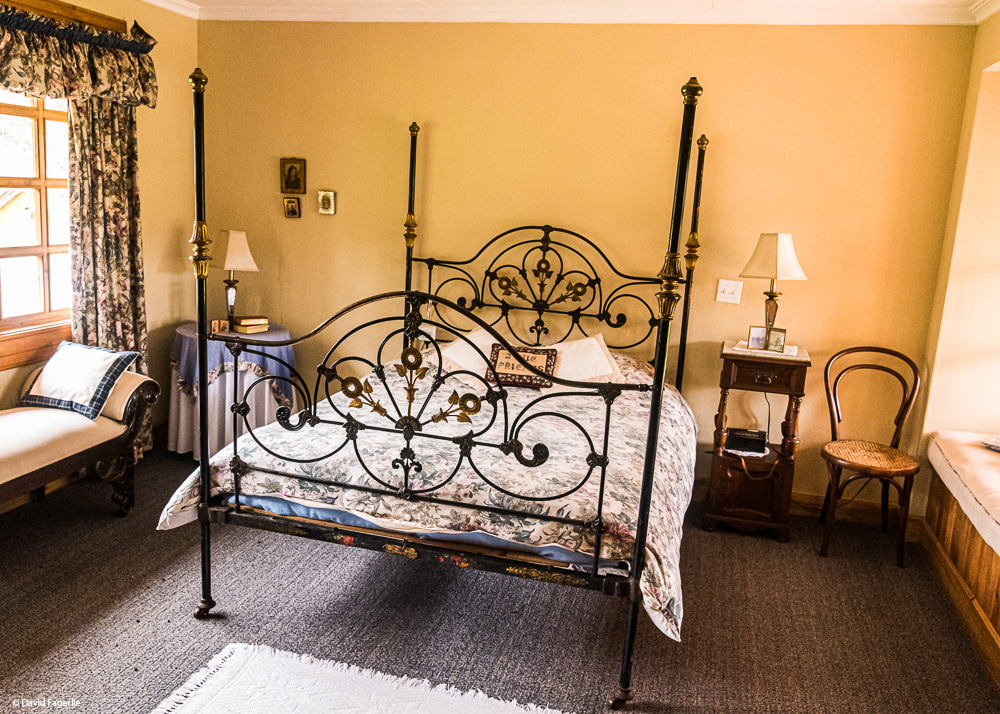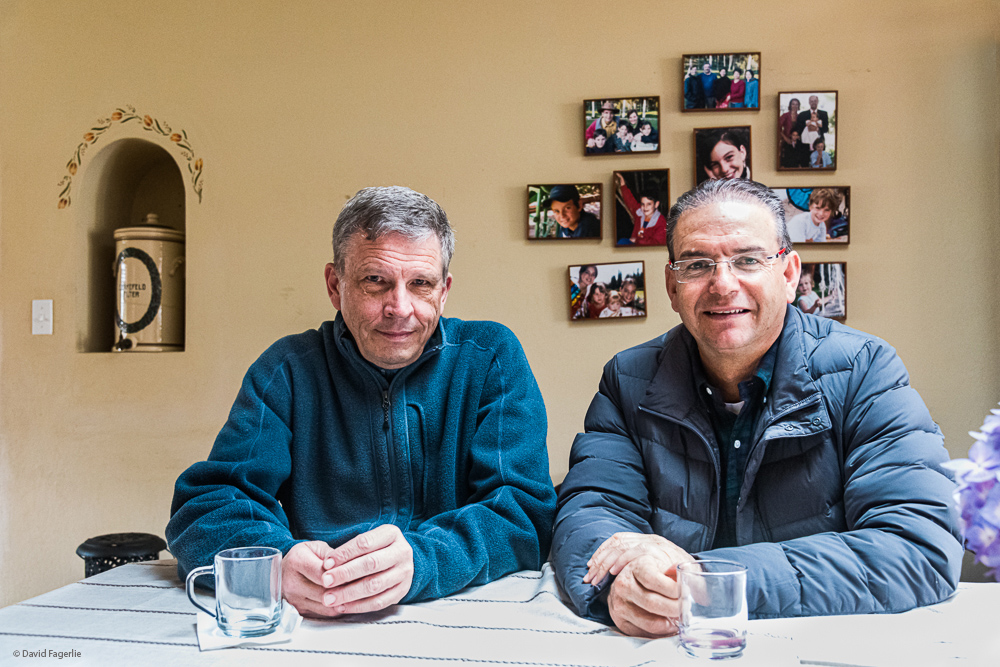 Here are some photos of roses growing and being harvested and photos of the other flower Trebol sells – hydrangea.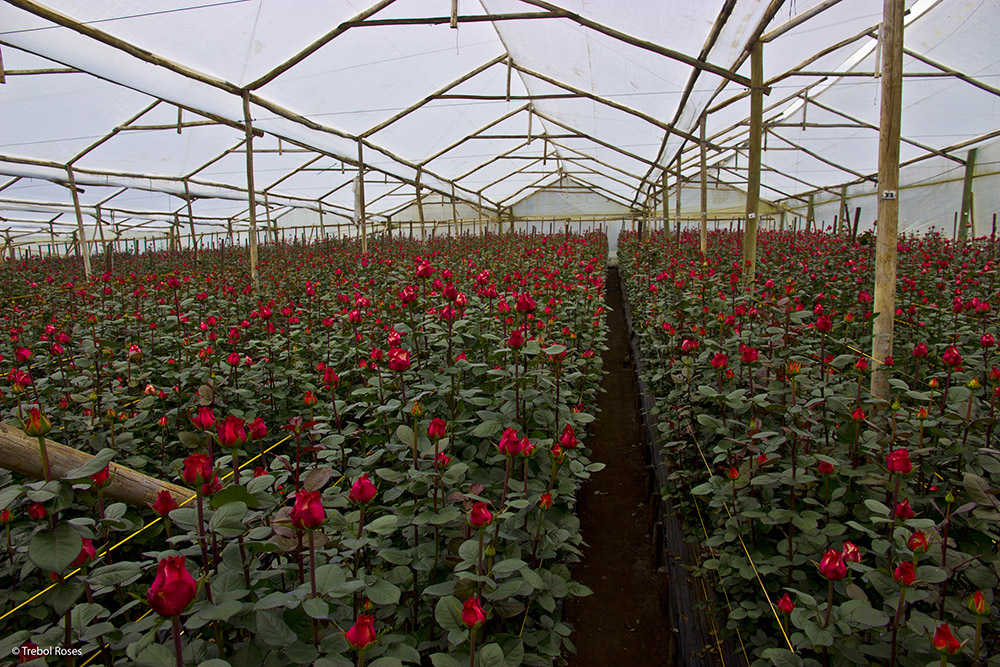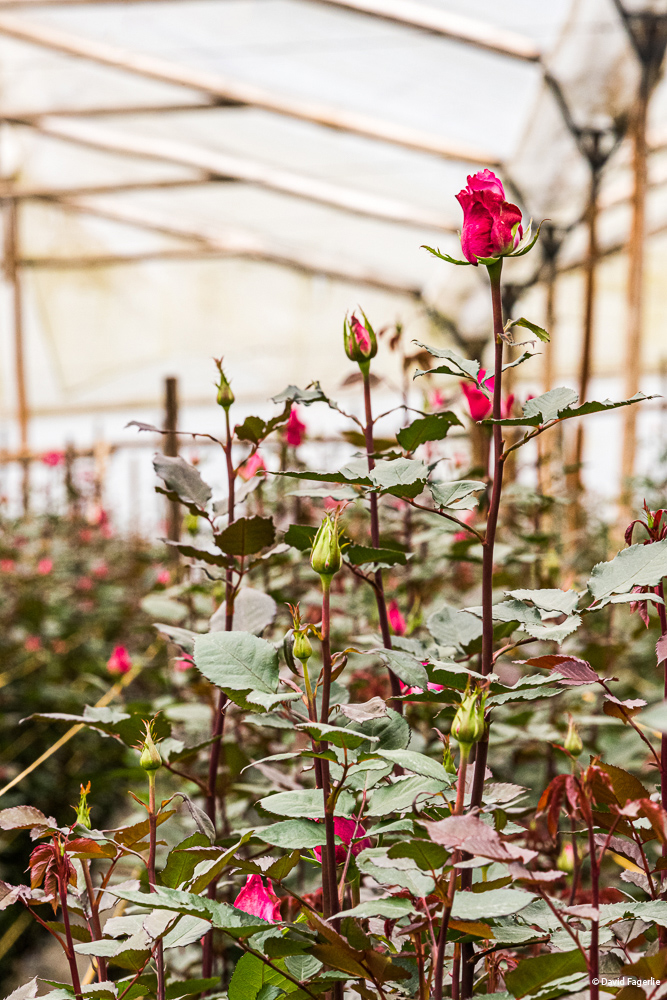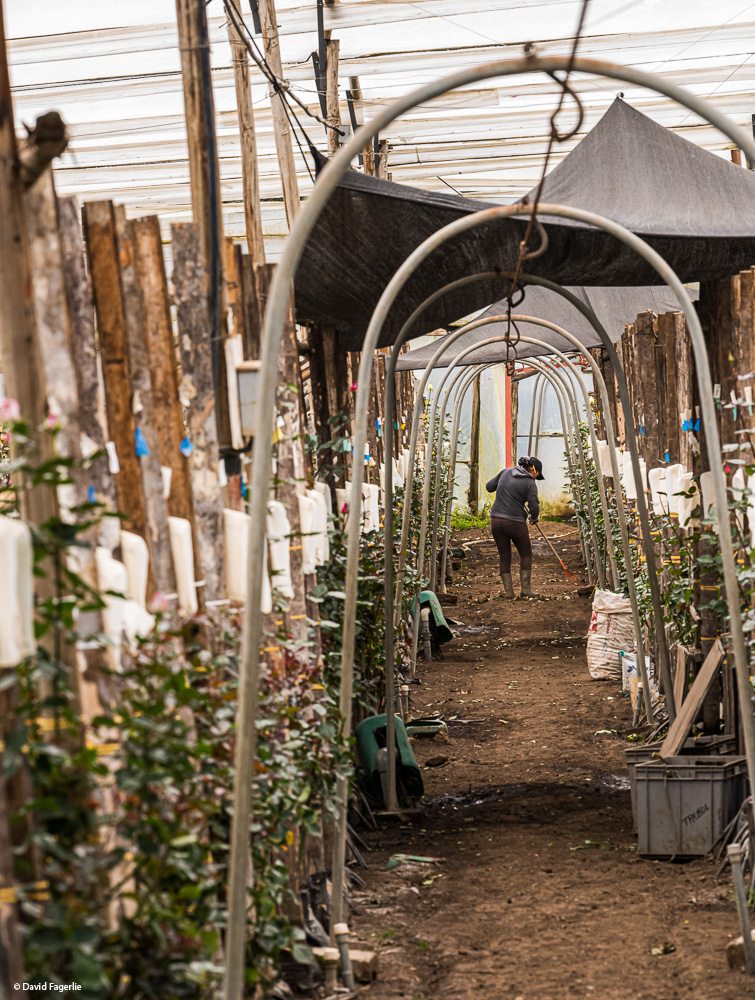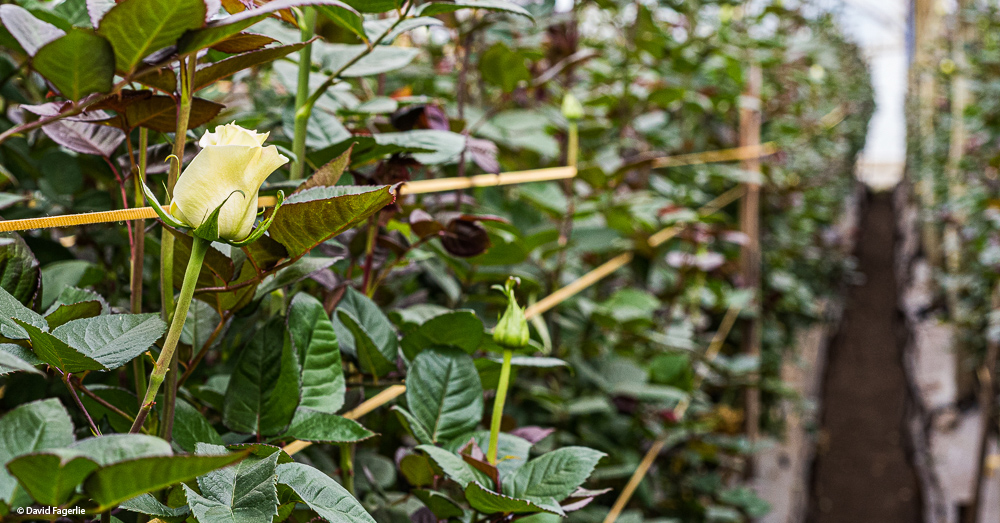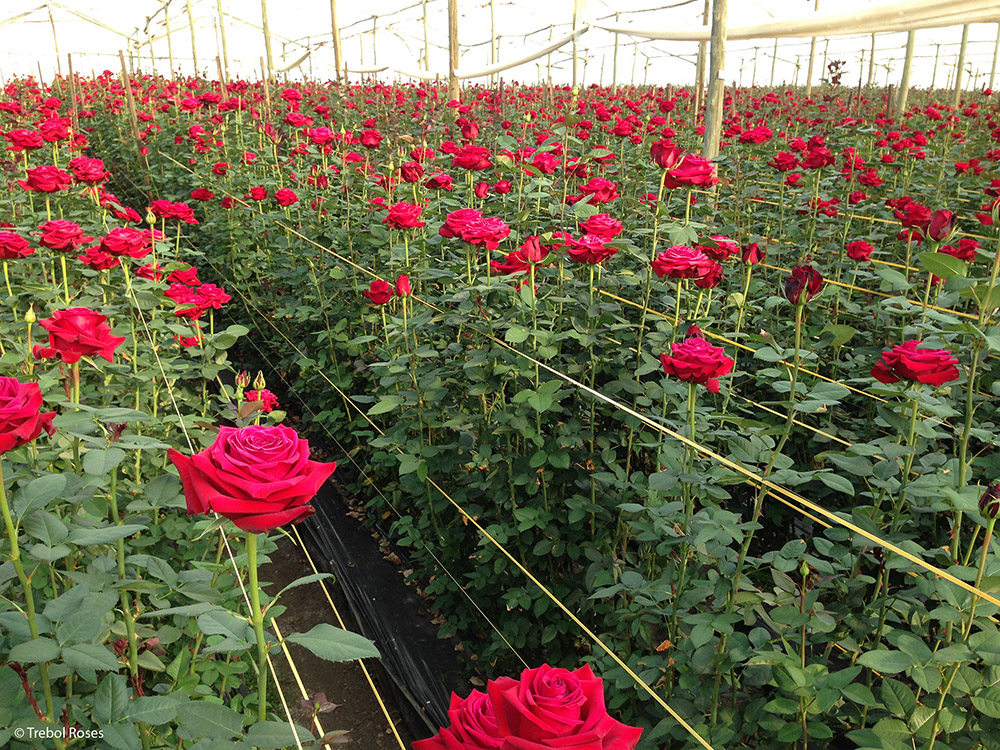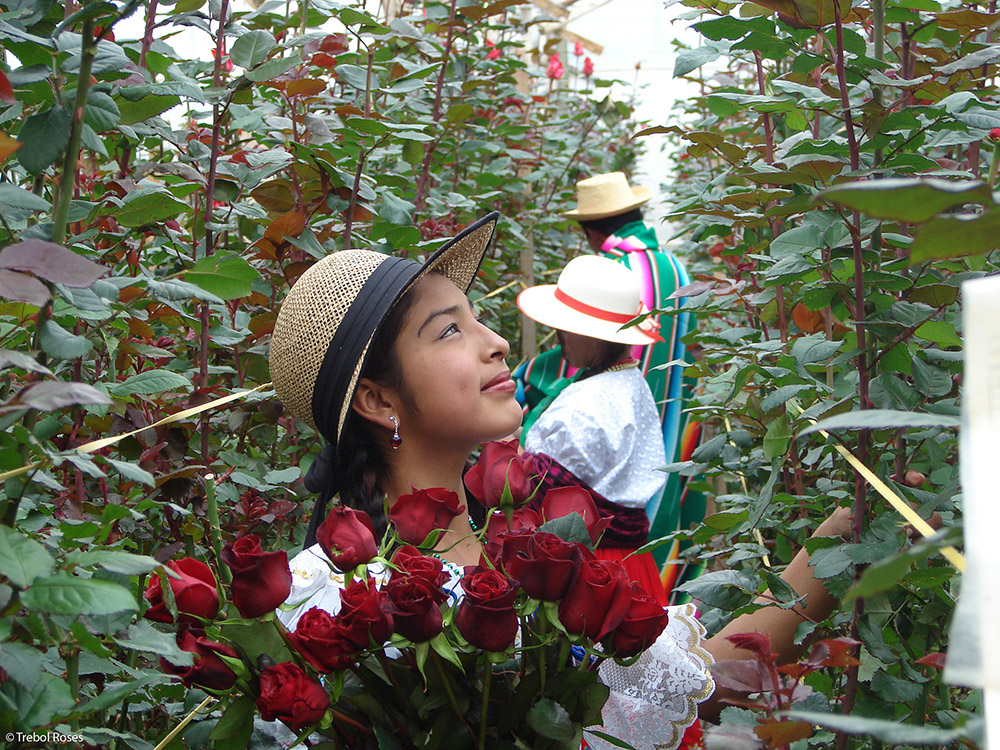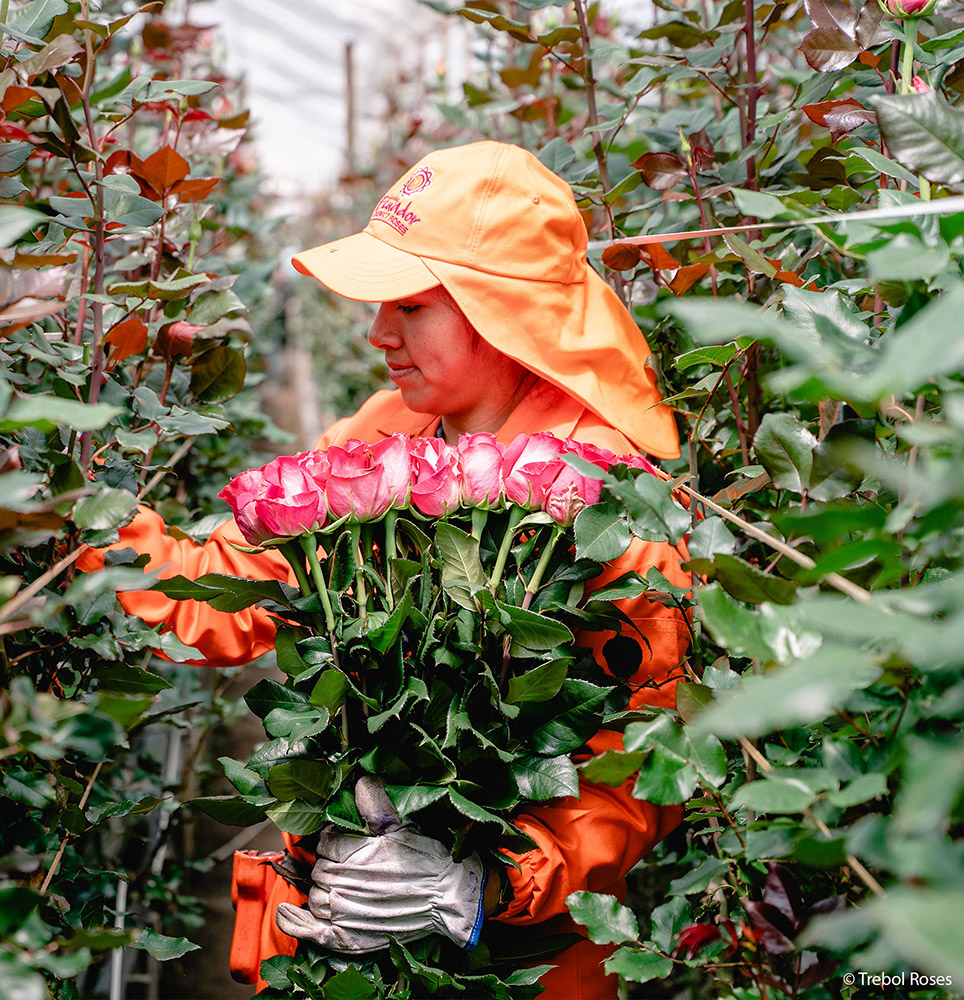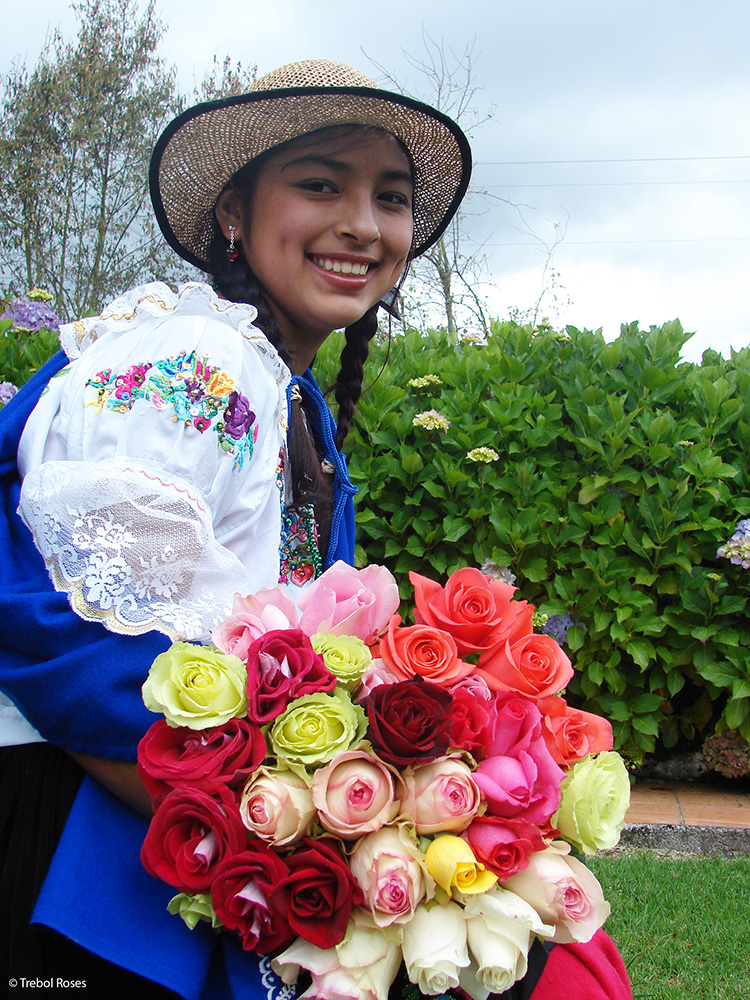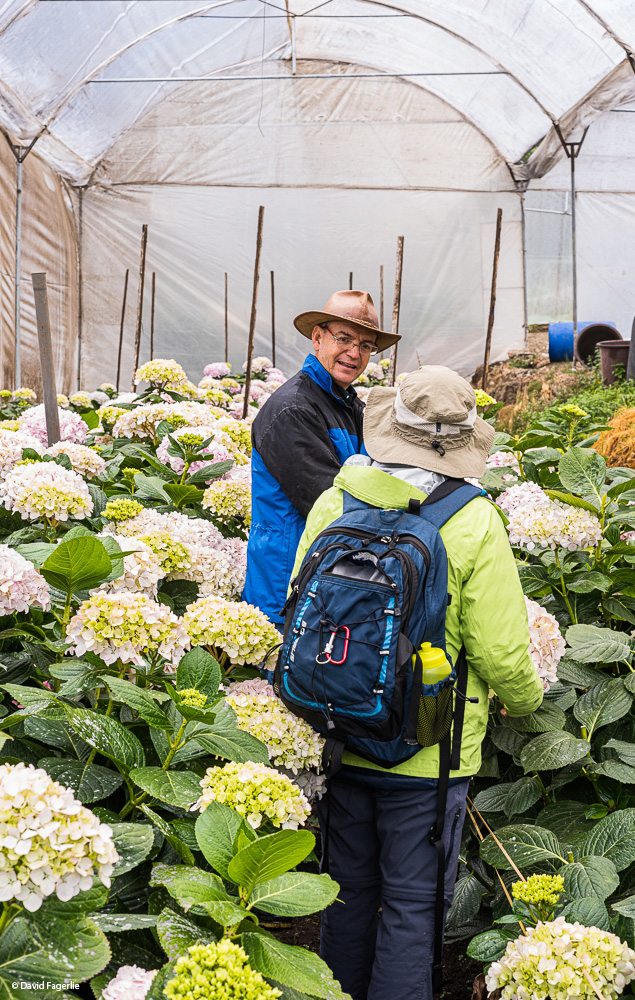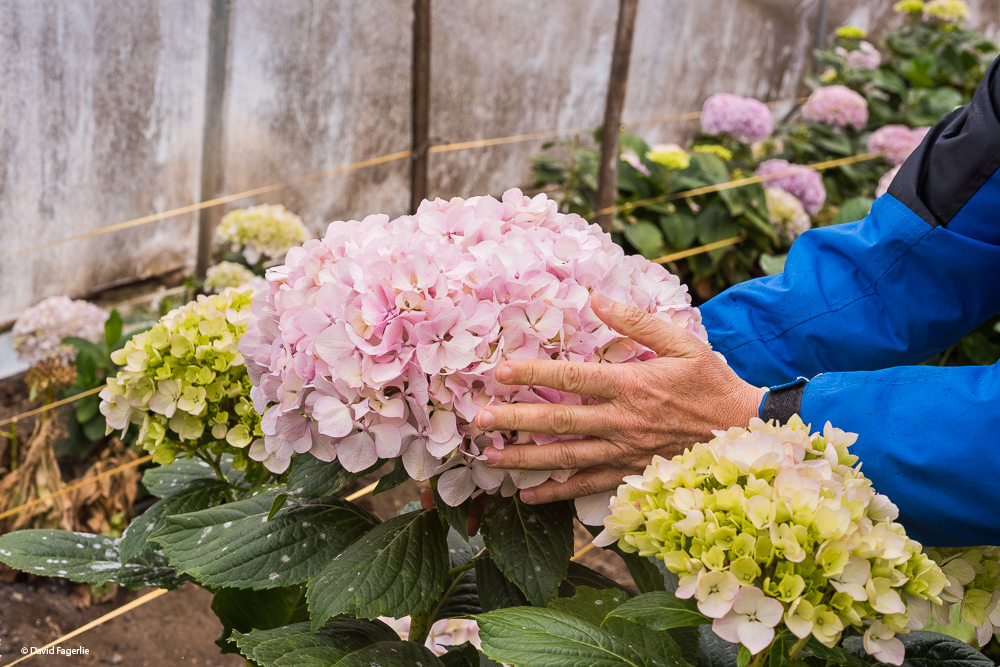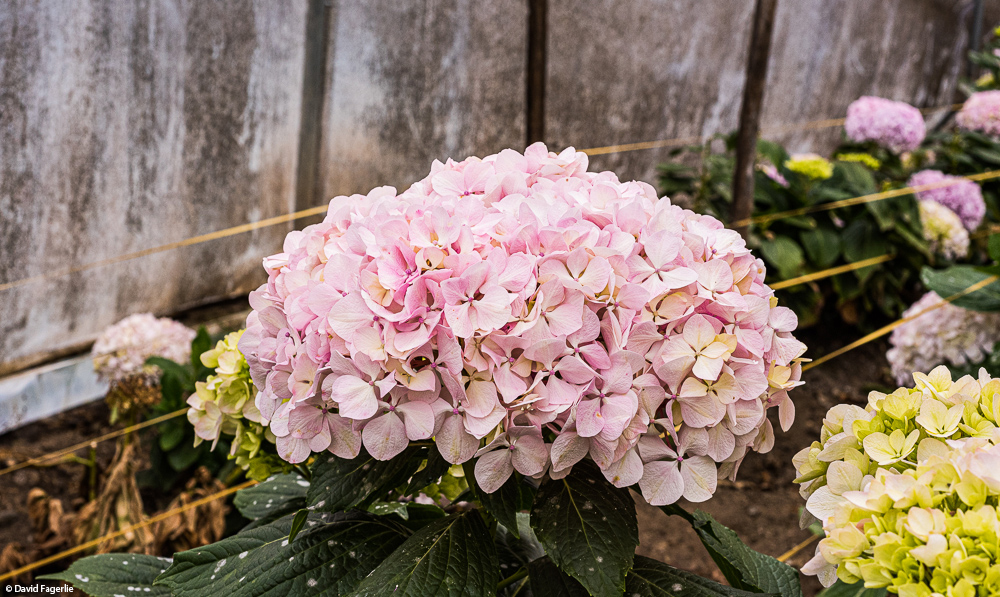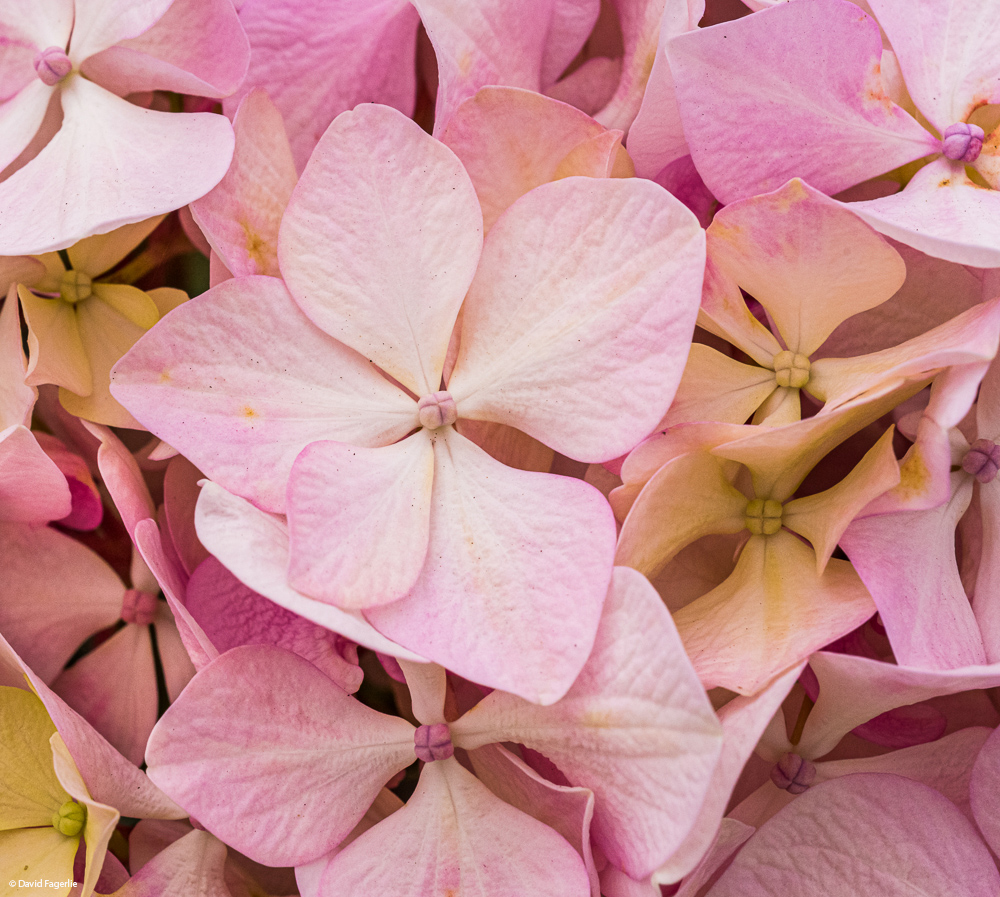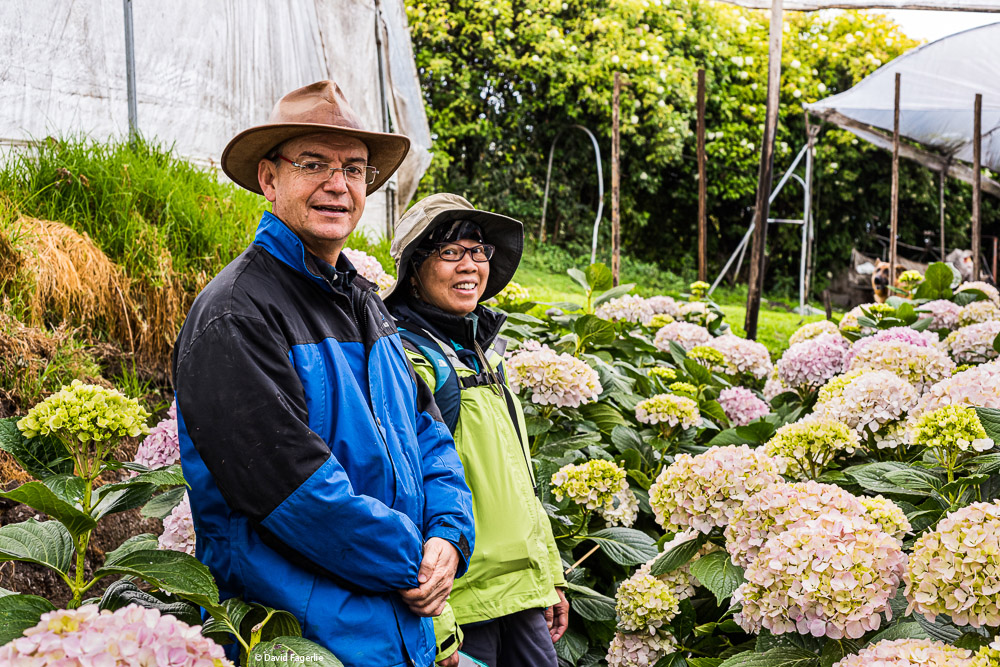 The rose beds are hydrated with mountain spring water and maintained with organic products, controlled temperatures and fertilizers made from the waste of the flowers and dung from the dairy business.
Presently, the farm breeds thirty varieties of roses including both trendy and classical colors. Every year some varieties are discontinued and new ones are planted in order to provide customers with the latest and most popular varieties. Casually, Juan Carlos said, "We are in the fashion business." I had not thought about roses in that way. Juan Carlos went on to say that each year management must decide what colors will most likely be popular two or three years later because of the lead time required to meet market interests.
Each market has its own preferences, specifications and expectations. The Russian market looks for fresh cut roses with long and strong stems 90cm or longer, big heads, abundant foliage, and bright and deep colors. By contrast, the Chinese market prefers dyed-tinted roses with its corporation colors and 60cm stems. An elegant rose color for them is black. Just imagining the requirement to make decisions about what the Russian, Chinese and American markets will want three years later is enough to make my head hurt.
When the rosebuds are ready, they are cut by hand. After the fresh cut, roses are immediately hydrated and cleansed with natural solutions to prevent infection. The next step is classification, where staff accept only the most premium blooms by head size, color, stem length, and health.
The packaging process that follows is both delicate and strict, in which the roses are wrapped in micro-corrugated cartons. The foliage is covered with a cap to prevent dehydration and physical damage during transportation.
Each bunch is then identified with a barcoded label that identifies variety, size of stem, processing date, number of stems per bunch, and the person who packaged them. Once packaged, the roses are moved to the cold room for temporary storage until the second day when they travel to Quito and then on to Trebol's customers. During the entire travel process the roses are closely monitored in cold chambers. This delivery system creates a true farmer-to-customer relationship.
Trebol Roses, founded by Rosana's father and Juan Carlos, is an Ecuadorian company established in 1997 under Ecuadorian laws. When Rosana's father passed away in August 2007 his portion of Trebol was inherited by Rosana and her youngest sister Susy, the sister that married José, Juan Carlos' brother.
Ecuador Direct Roses is an American company headquartered in Florida which operates within United States laws. The company was founded by Rosana and Juan Carlos in November 2016 to make it possible to offer florists and individual customers in the United States fresh-cut flowers with farm-direct service. This cuts out intermediaries and further guarantees both quality and a longer vase life of the flowers. Four-to-seven days after customers make an order the flowers arrive at their doorstep. The vase-life of Trebol Roses handled by Ecuador Direct Roses is at least two weeks and up to three weeks for some rose varieties. Here are some pictures.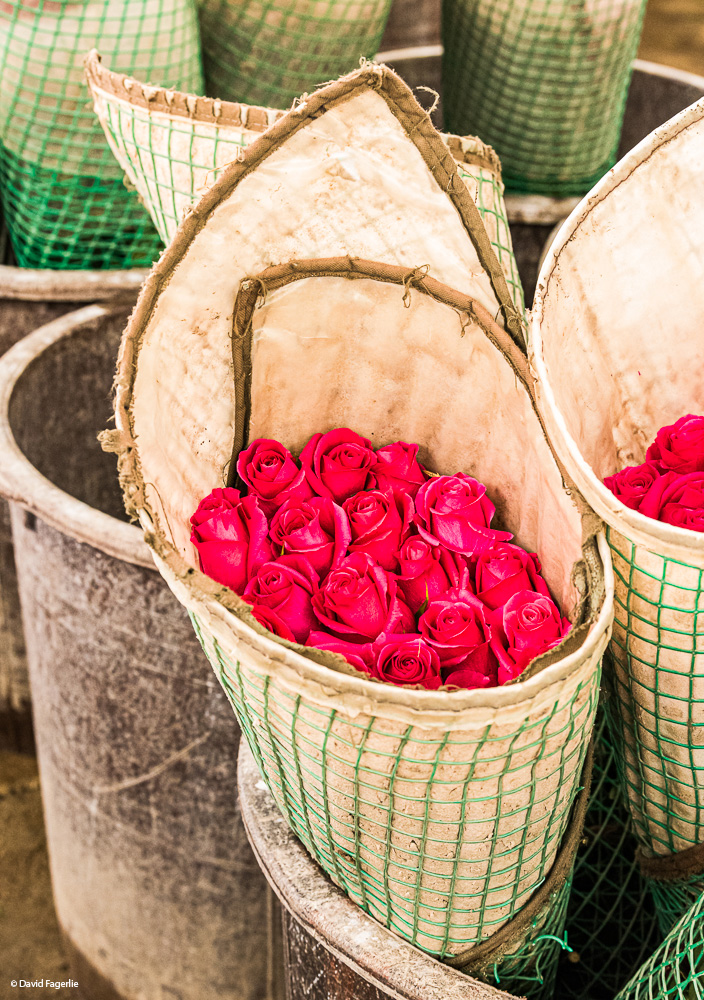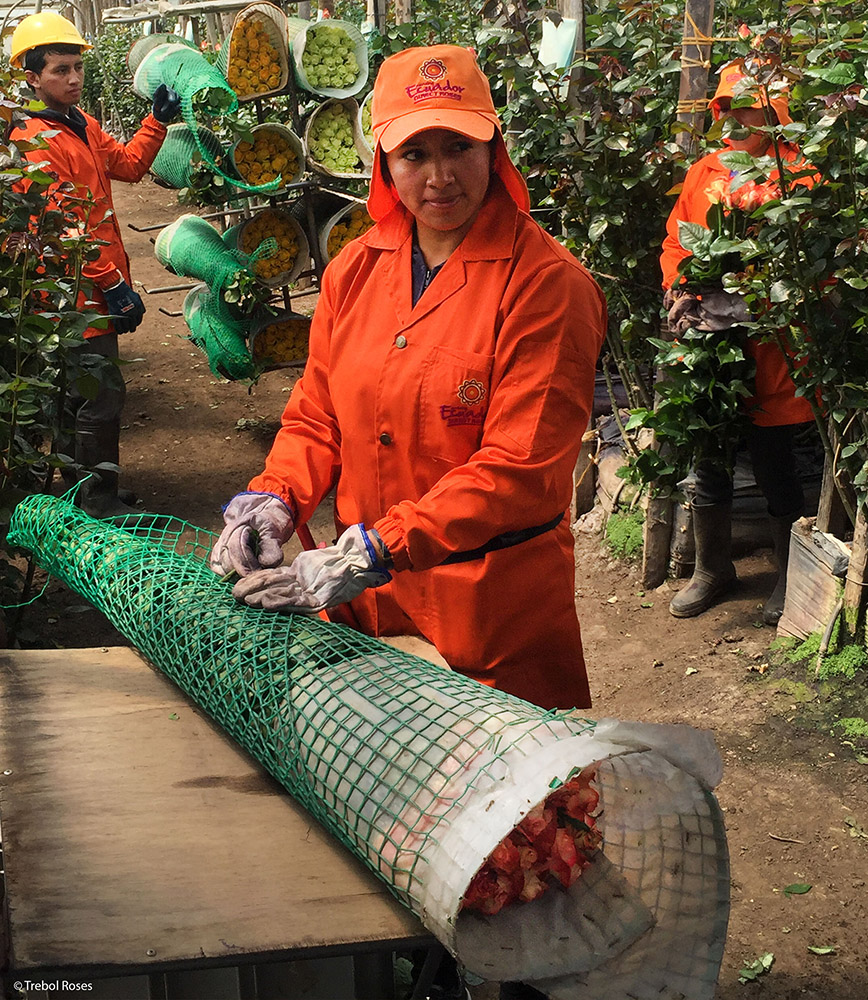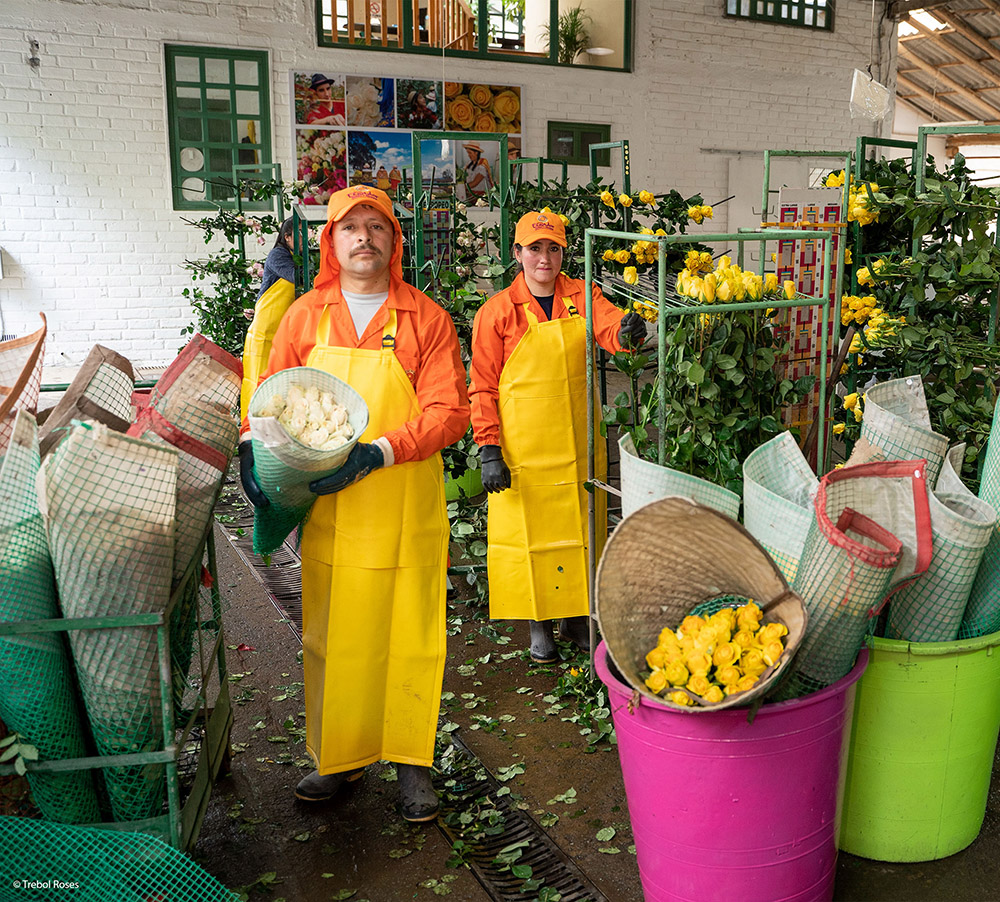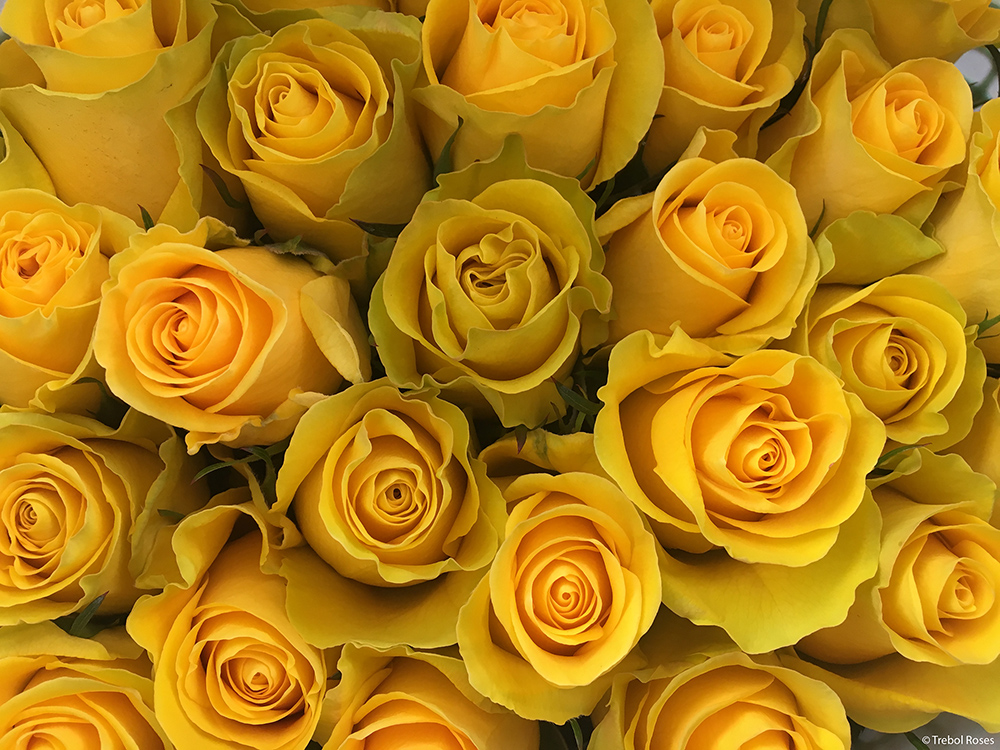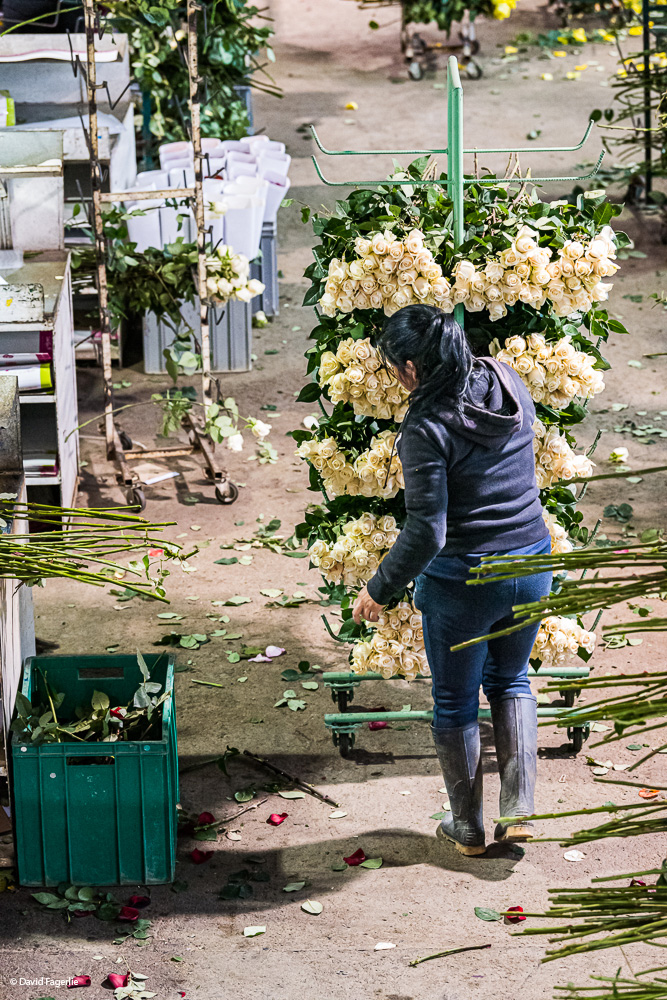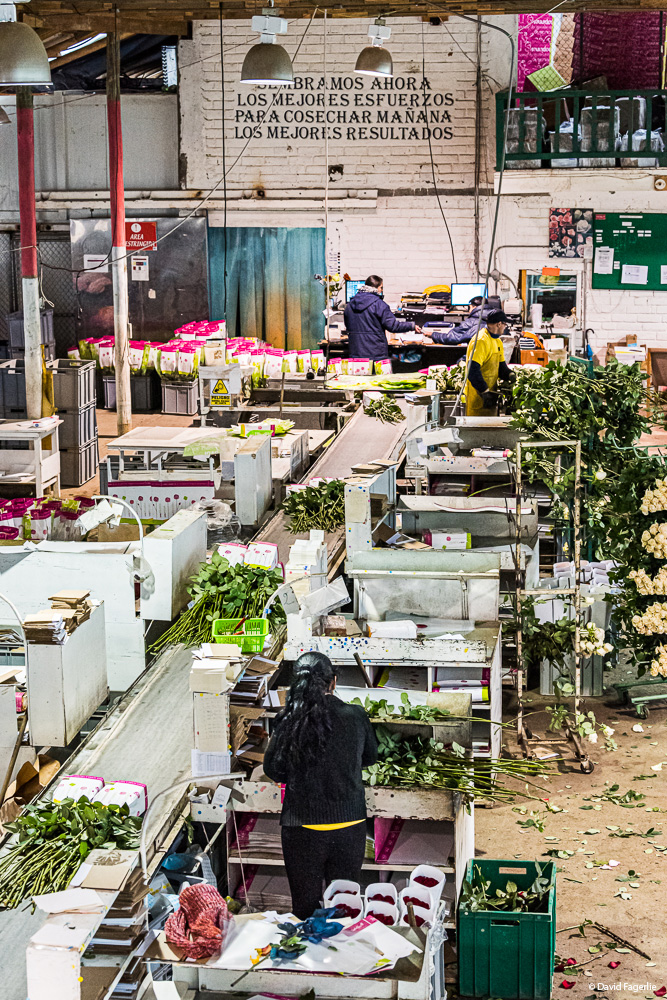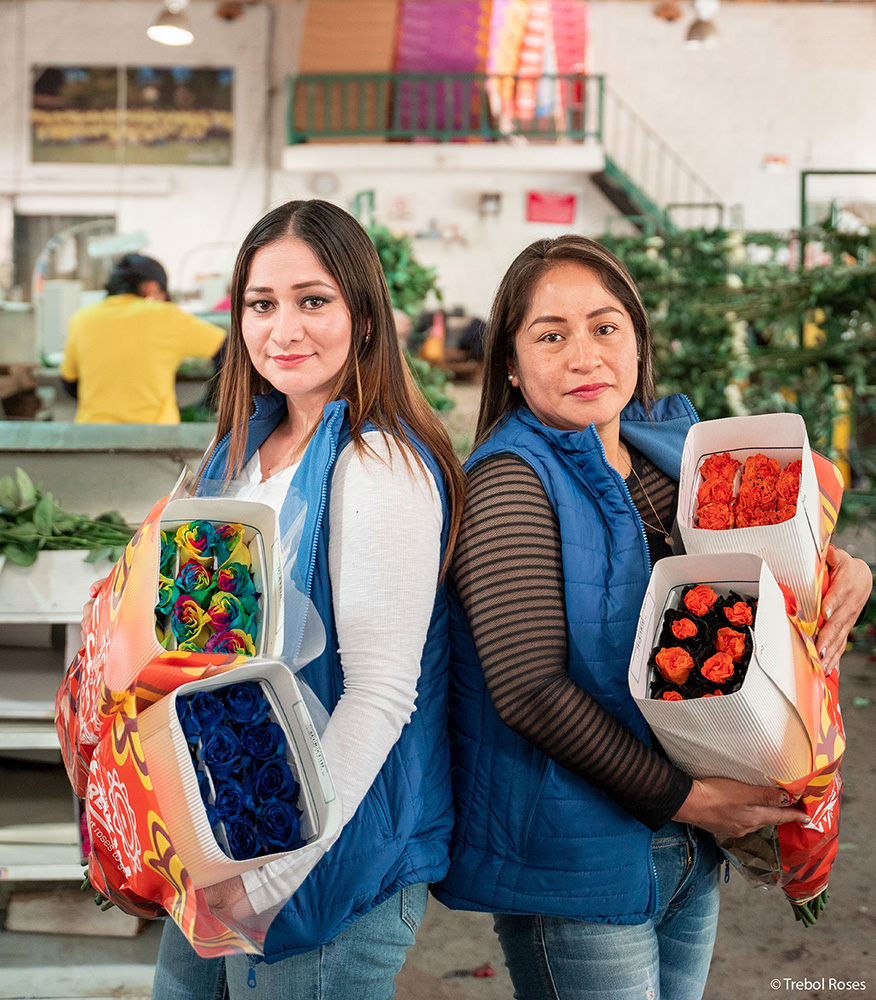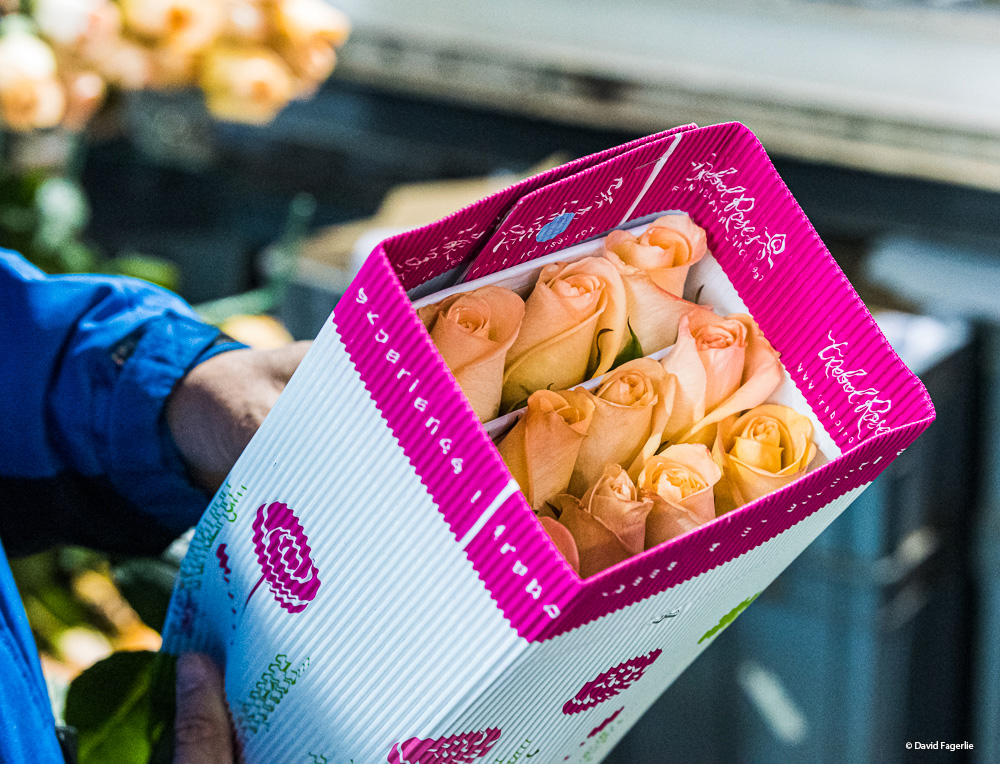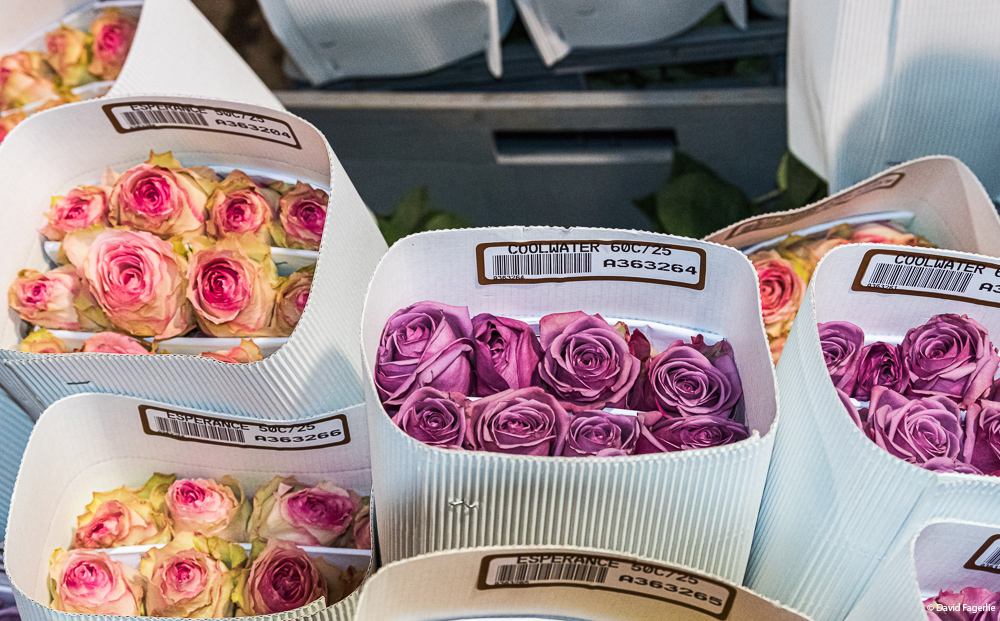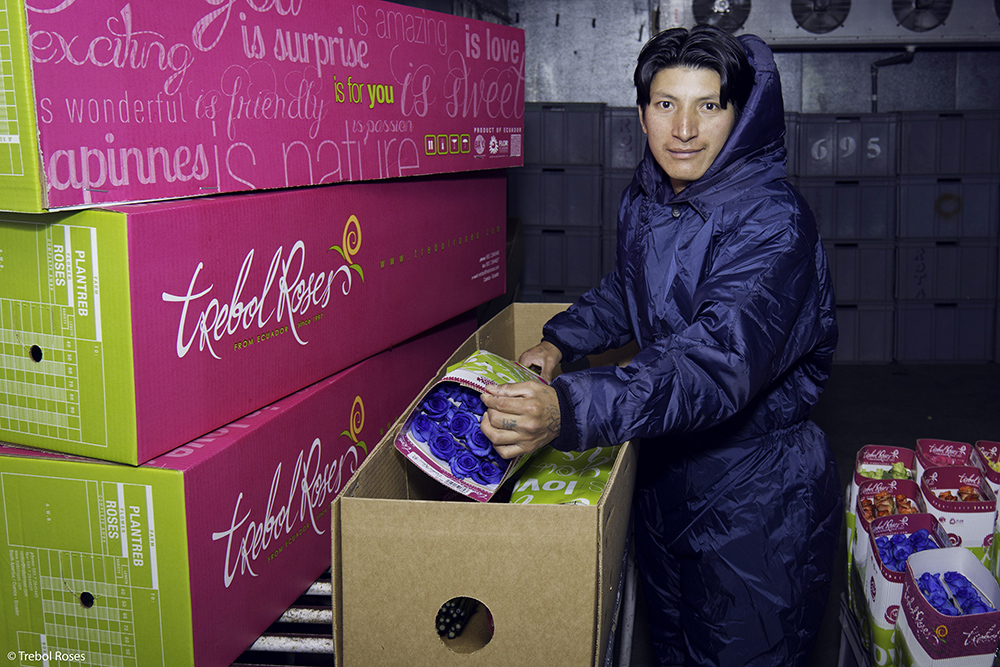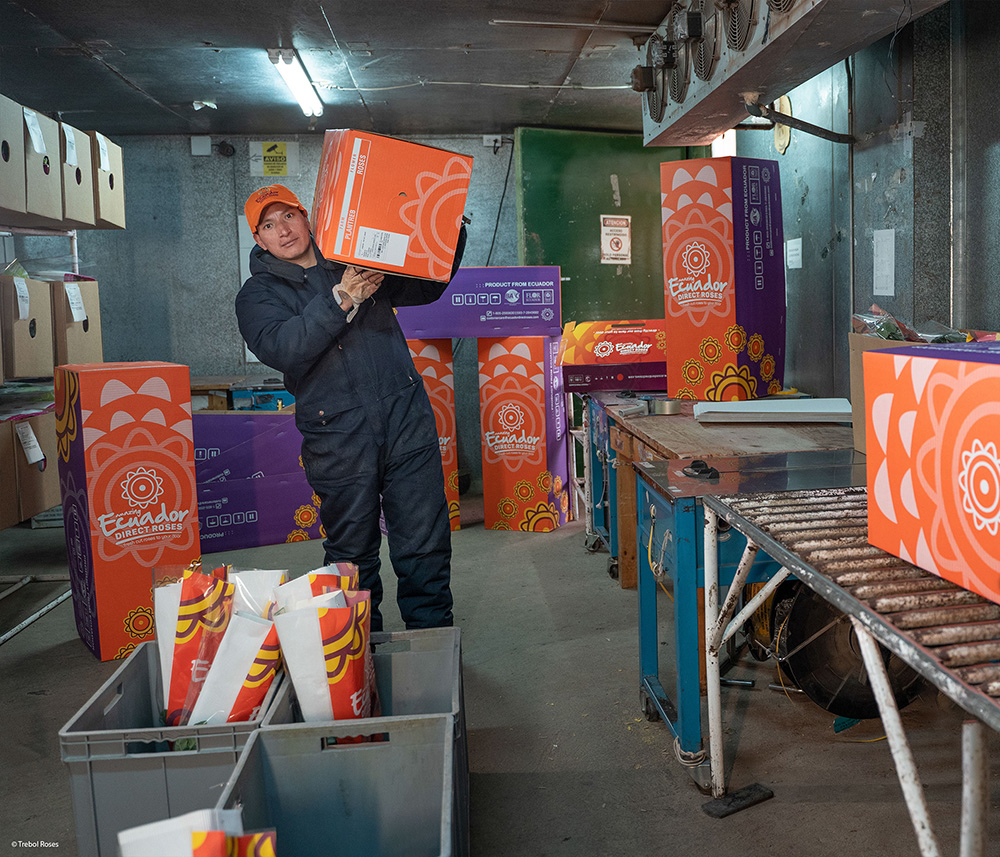 Nowadays the range of colors and styles that can be created is virtually infinite. Colors can be added to pedals during the growing process by splitting the stem and inserting each split into water with a different color. The finished product is multicolored roses, like these.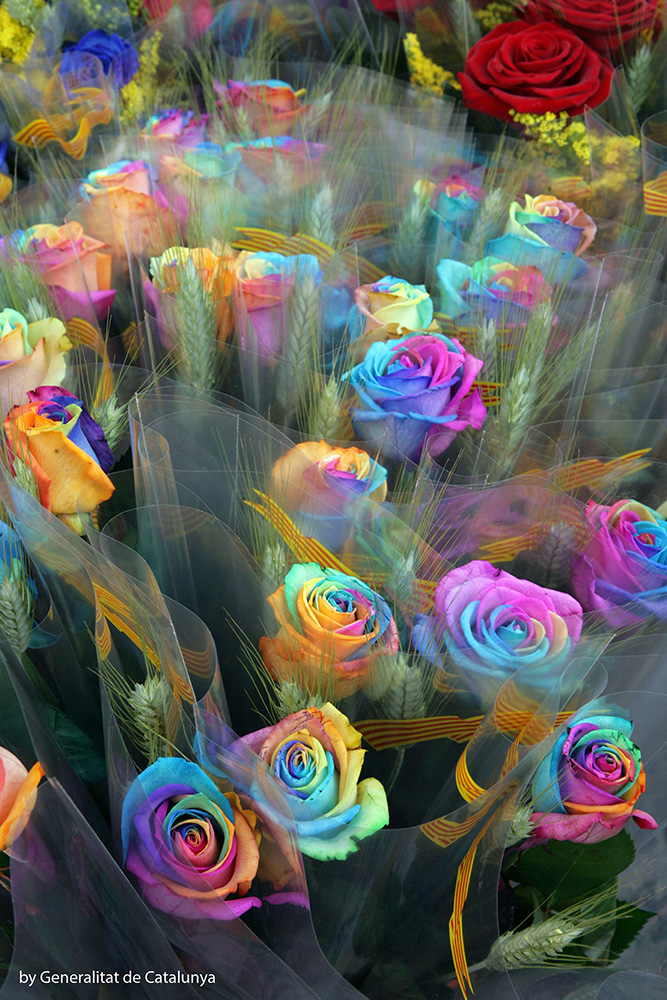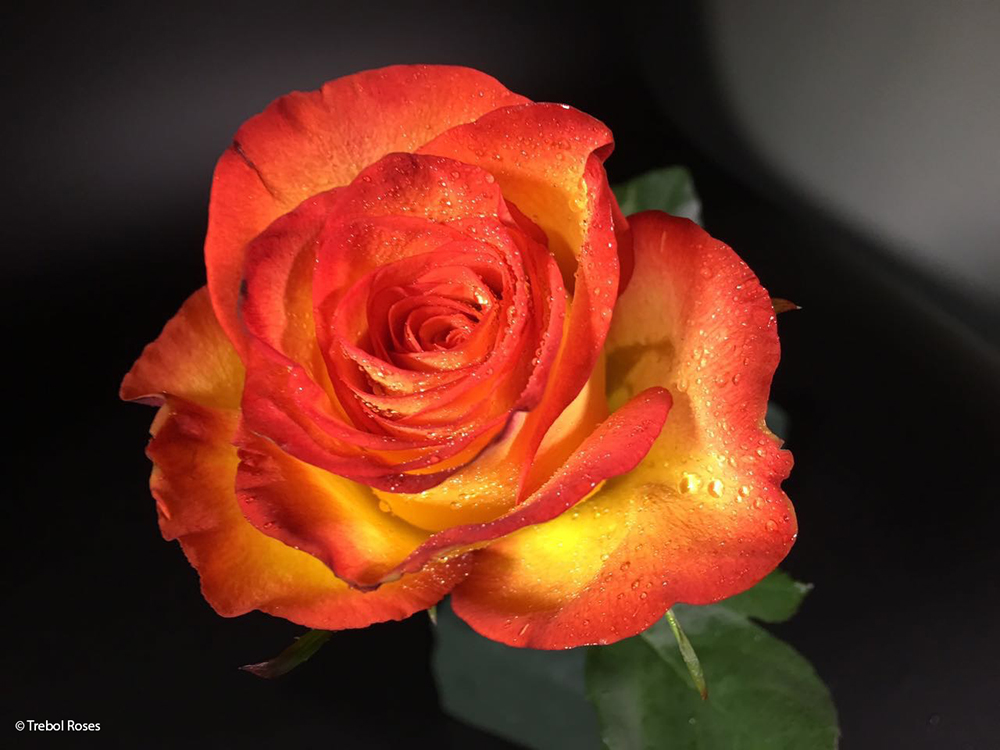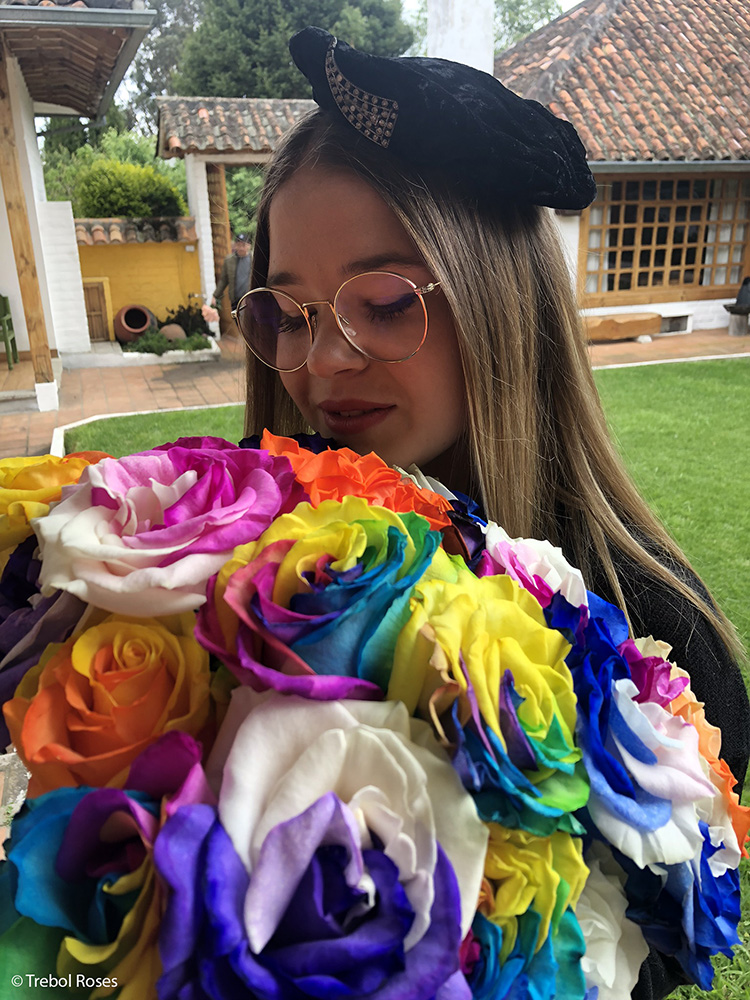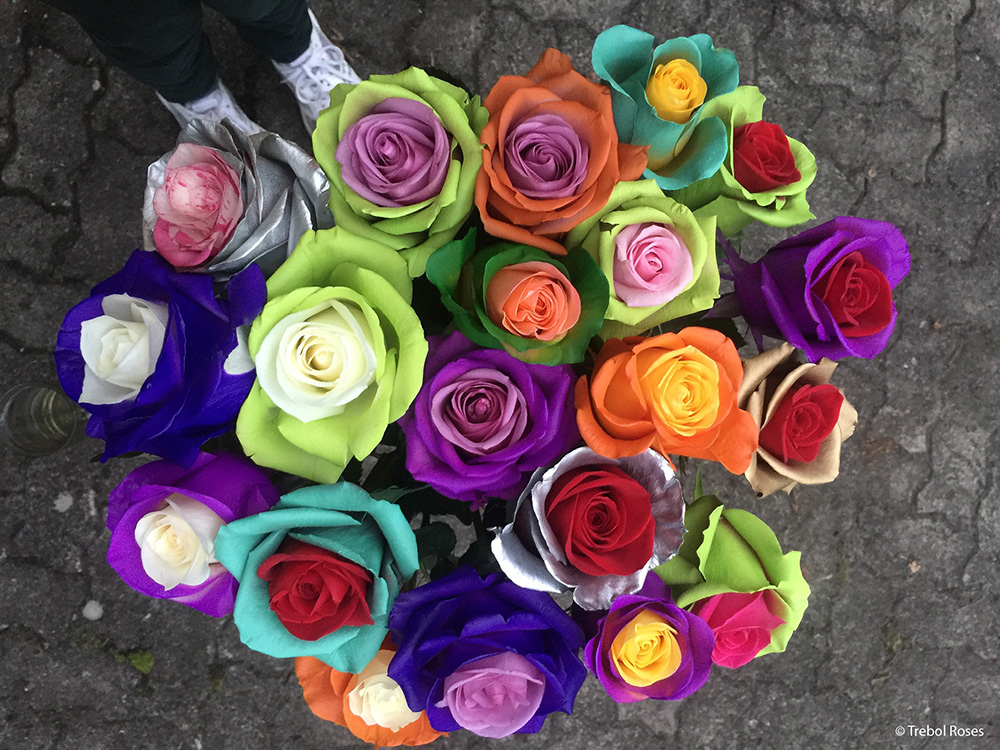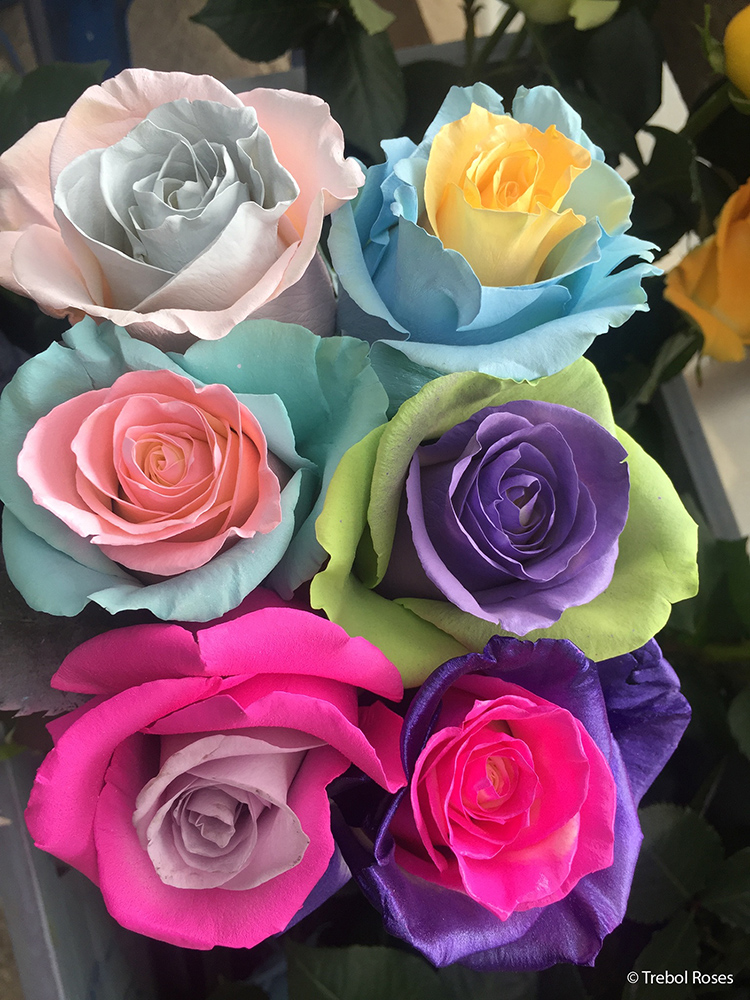 In addition to coloring in the growing process roses can be painted with an airbrush by artisan staff at Trebol.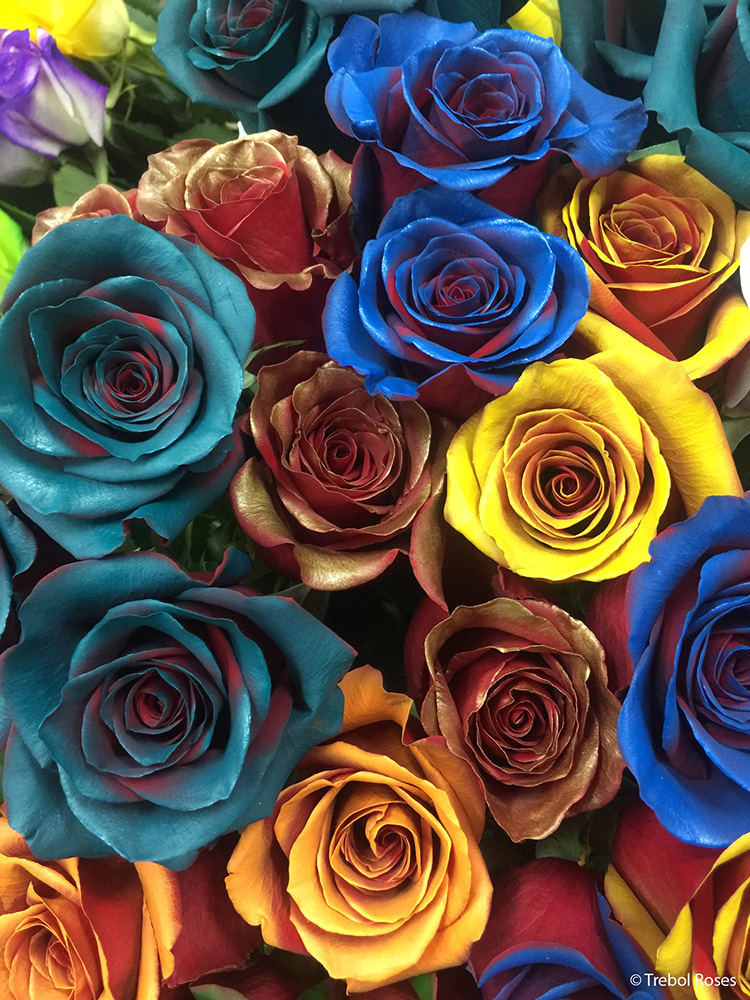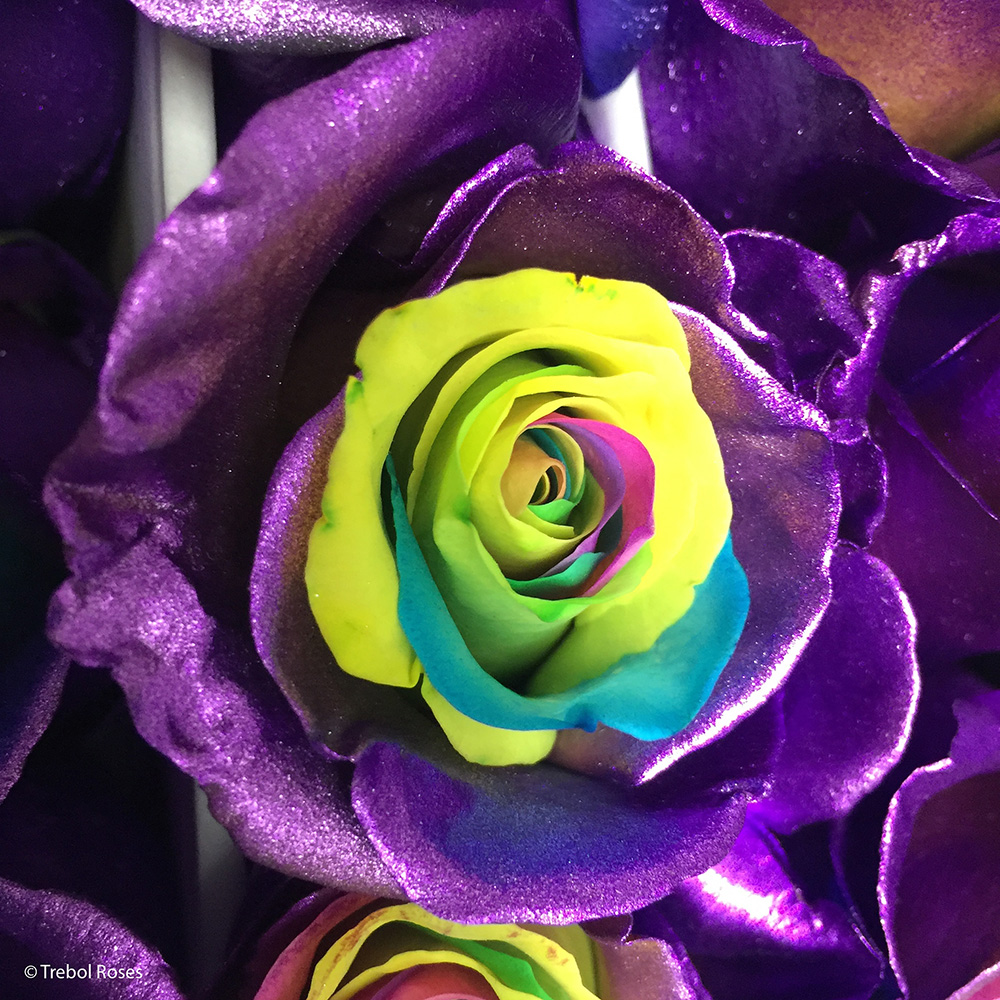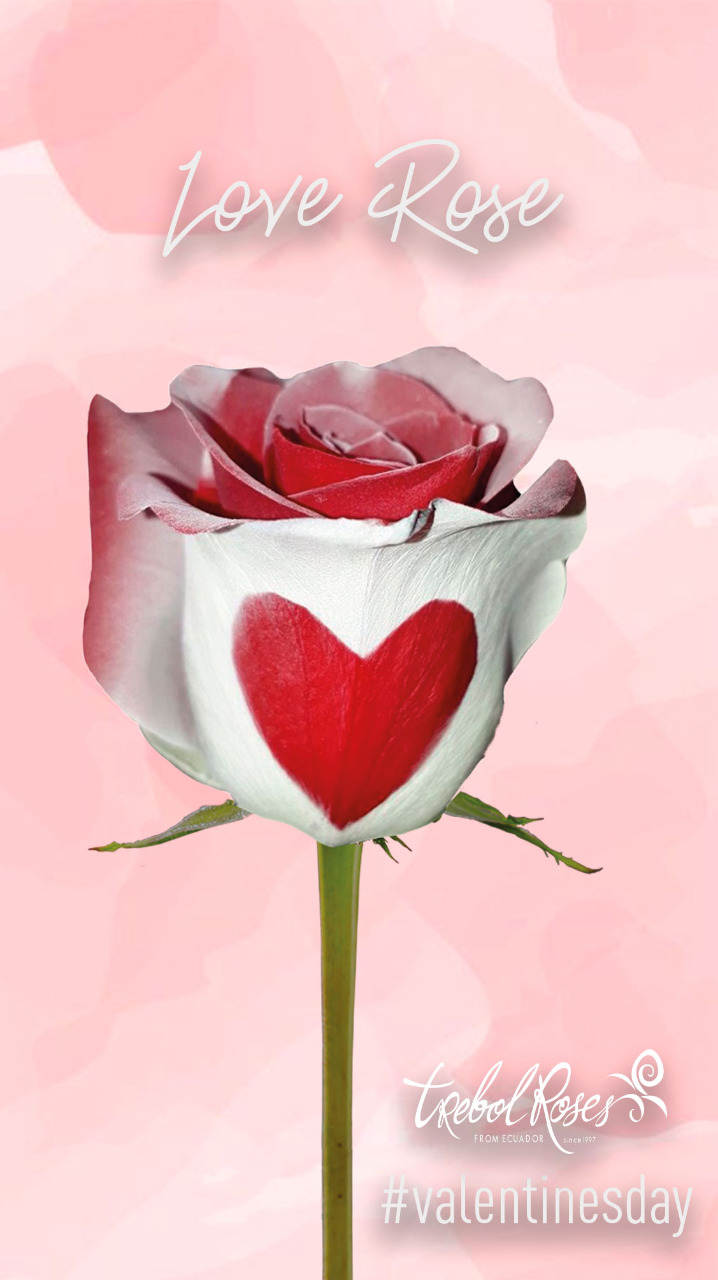 There was a serious illness in my family; Rosana brought me these.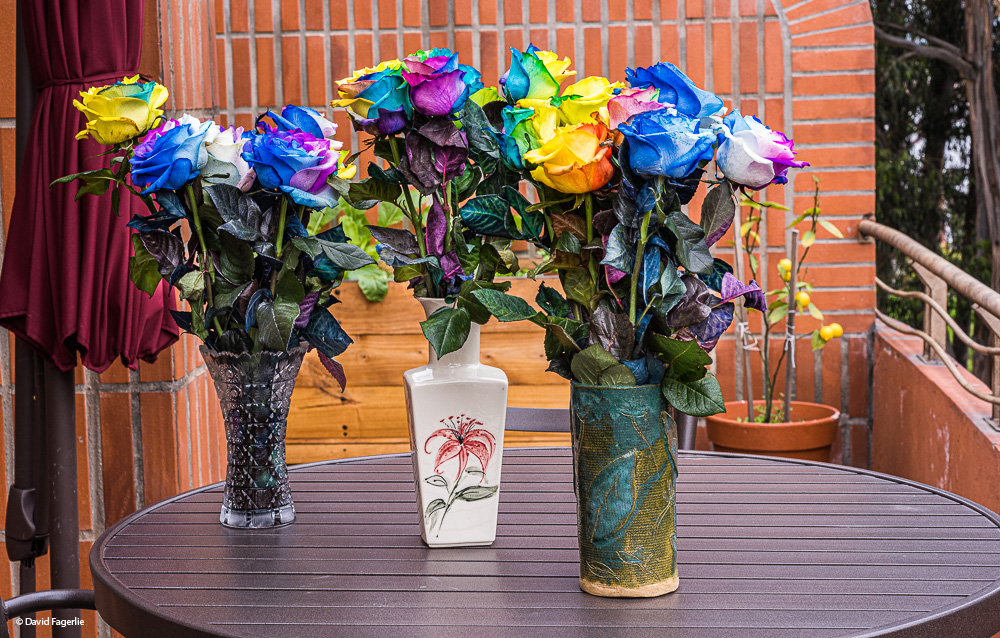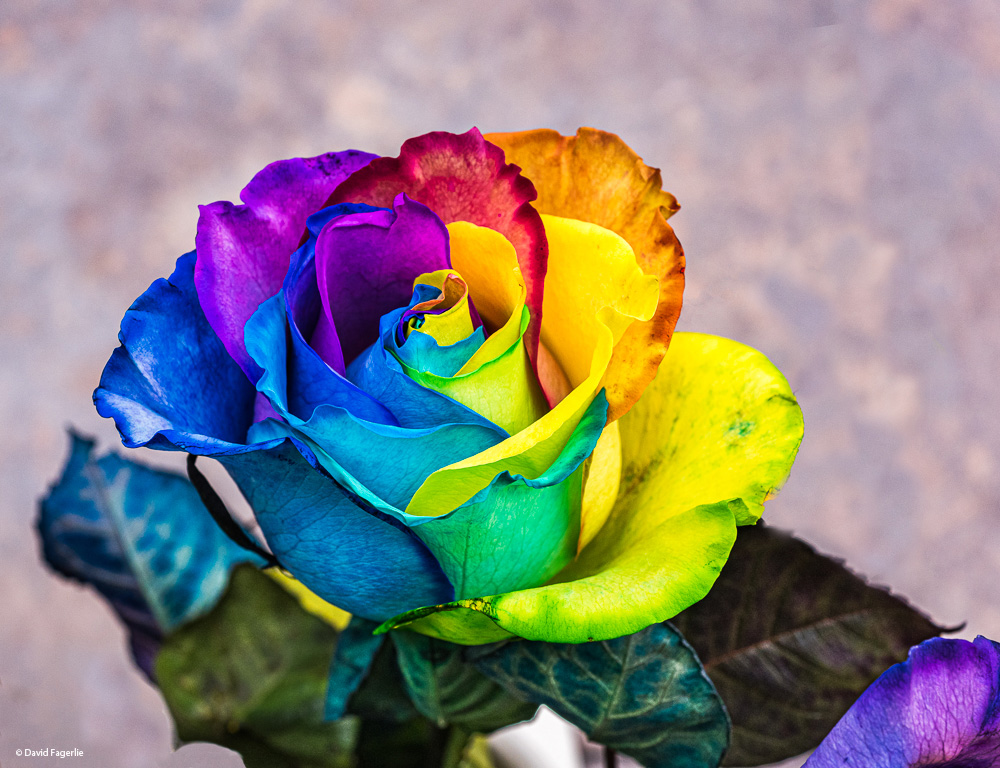 From that bundle of roses I created this photo. Cool, eh?

I suppose Rosana knew what would happen when she gave me so many roses with a color scheme that I had never seen before? At first, I was overwhelmed, in a good way. It gave me warm feelings. That is what roses are supposed to accomplish, don't you think?
Fast forward in time, I sent an order of roses to my mother for her ninetieth birthday. I could not be there in person so I made this kind of splash. She lived in an assisted living facility. Ecuador Direct Roses worked with me to make sure the roses arrived on her birthday. Receiving a hundred or so roses overwhelmed her, in a good way. I am told she gleefully gave out roses, the most beautiful roses possible, to everyone she cared about in the building, the staff she especially liked and so on. She told me it was the best birthday present she had ever received. Weeks ago I ordered roses for my sisters. I ordered 125 roses divided between four differed colors, some exotic, for $155.75.
You can do that too. Currently, the minimum order to get free shipping is only $112 dollars. That amount delivers about 125 roses depending on the style of roses that you want. They ship like this...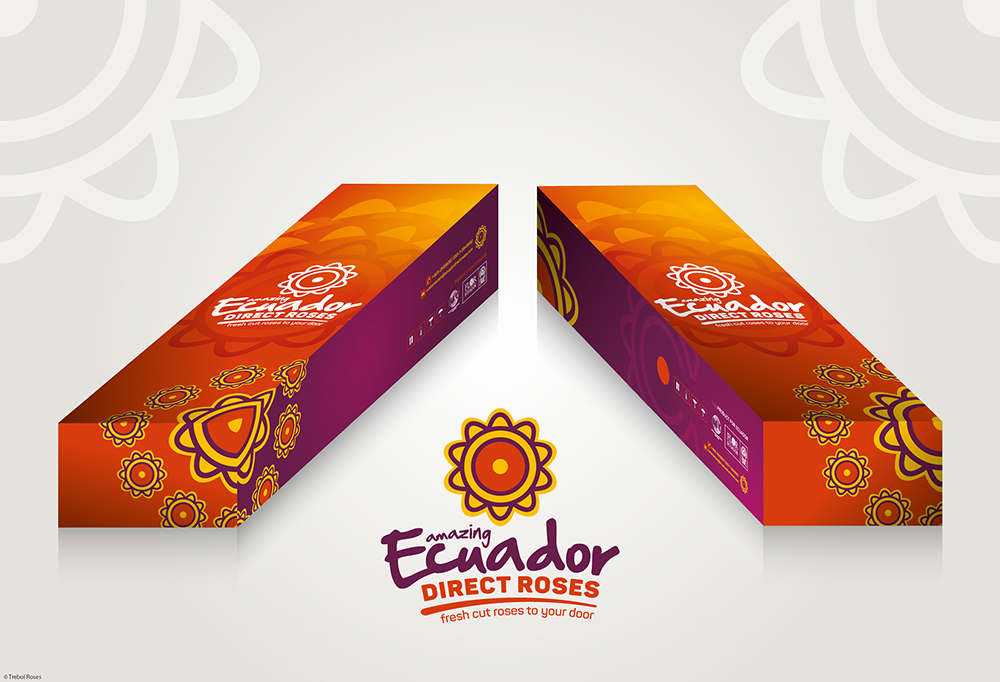 … and arrive like this in seven days or less.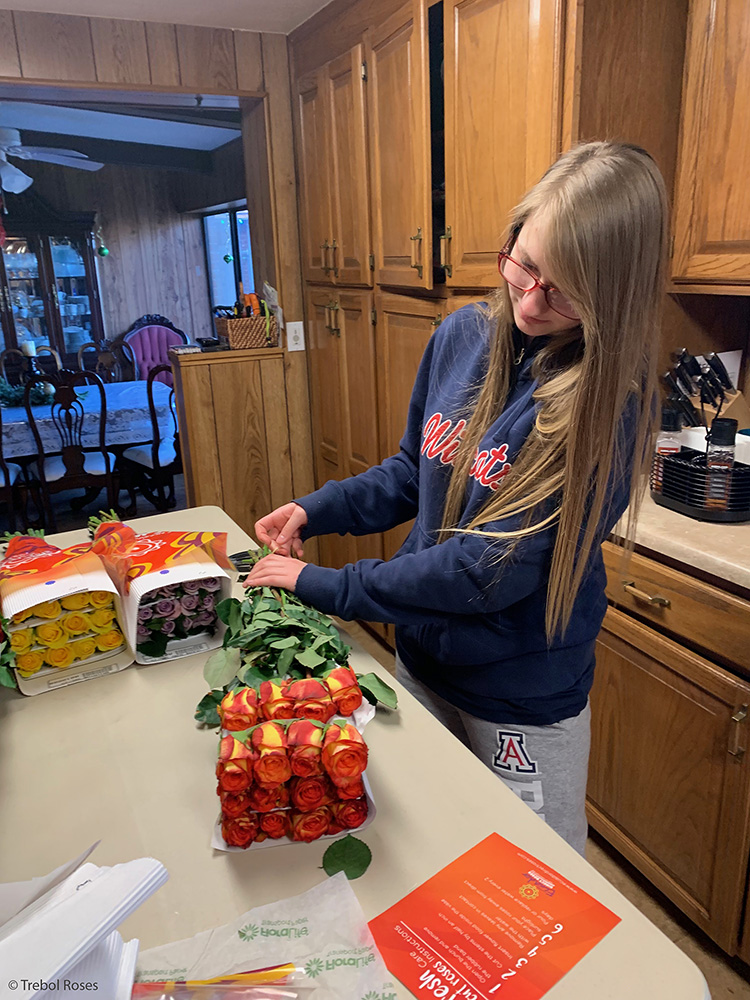 You can order flowers from the USA based Ecuador Direct Roses website:
https://ecuadordirectroses.com/
Or, you can contact them by phone or WhatsApp:
Toll free from the USA:
(786) 352-8398
WhatsApp number:
+593 998-698-663
Phone from outside of the USA:
+593 728-43682
You will be well taken care of by Rosana and Juan Carlos, pictured below, and their staff.
Most of the images in this chapter can be seen in higher resolution by clicking HERE.
Next week we look more closely at the Catholic Church in Cuenca. Stay safe out there.