Ecuador – Part 6: Avenue of the Volcanoes
Chapter 2: Quilotoa to Puyo
The day after we met the newborn llama we headed to Quilotoa Lake. Quilotoa is a high altitude lake that sits at an altitude of 3,914 meters (12,841 feet). Its caldera, now filled with water 820 feet deep, was created about 600 years go by a cataclysmic eruption. Pyroclastic flows and lahars (fast moving mud slides created by a volcano) reached the Pacific Ocean. Airborn volcanic ash was deposited throughout the northern Andes. The two mile wide caldera was too wide for me to photograph with the lenses I had back then. Good news…photographer Annom had the right lens. There are hiking trails around the lake. After viewing the lake for a while I hiked around to the left of the view point, gaining another 500 feet or so of altitude. I walked alongside small farms, more like "hobby farms," with a llama or two and even an alpaca.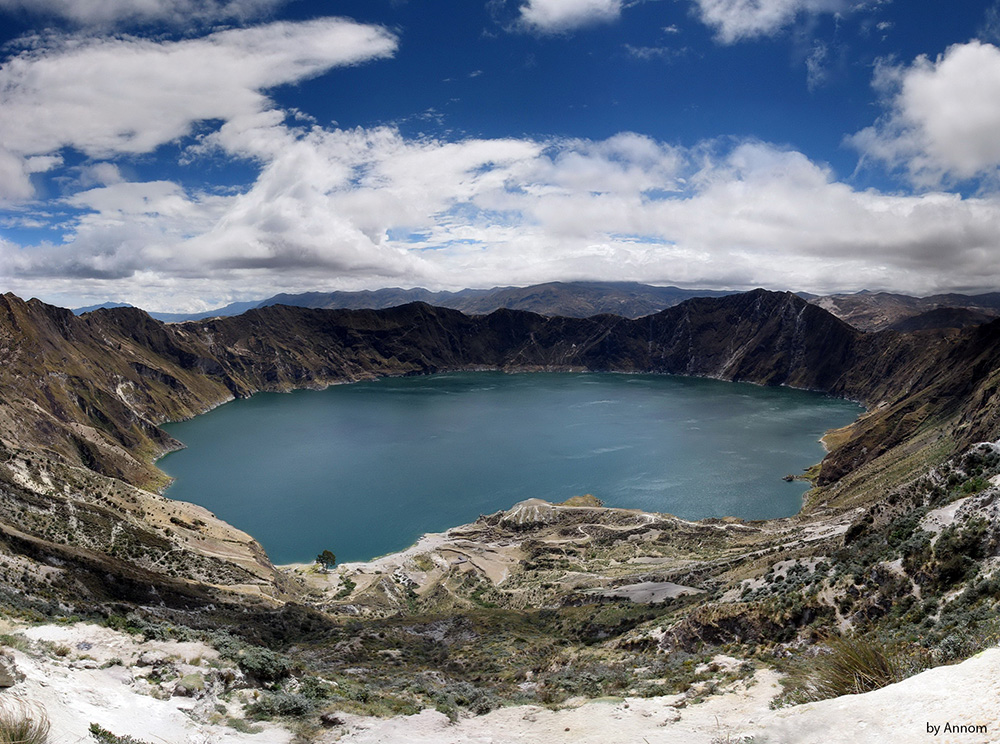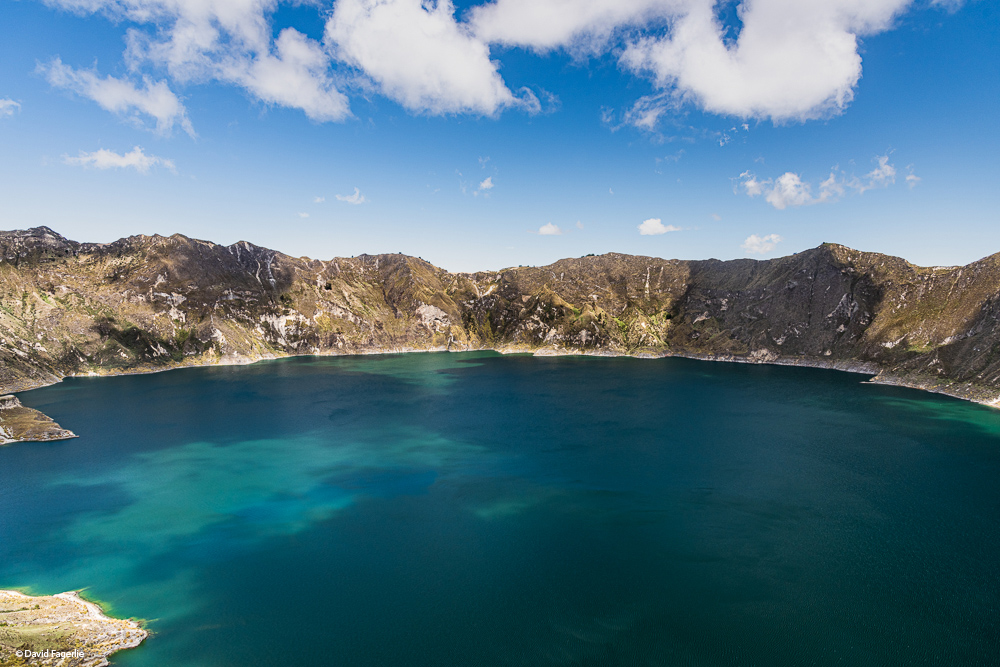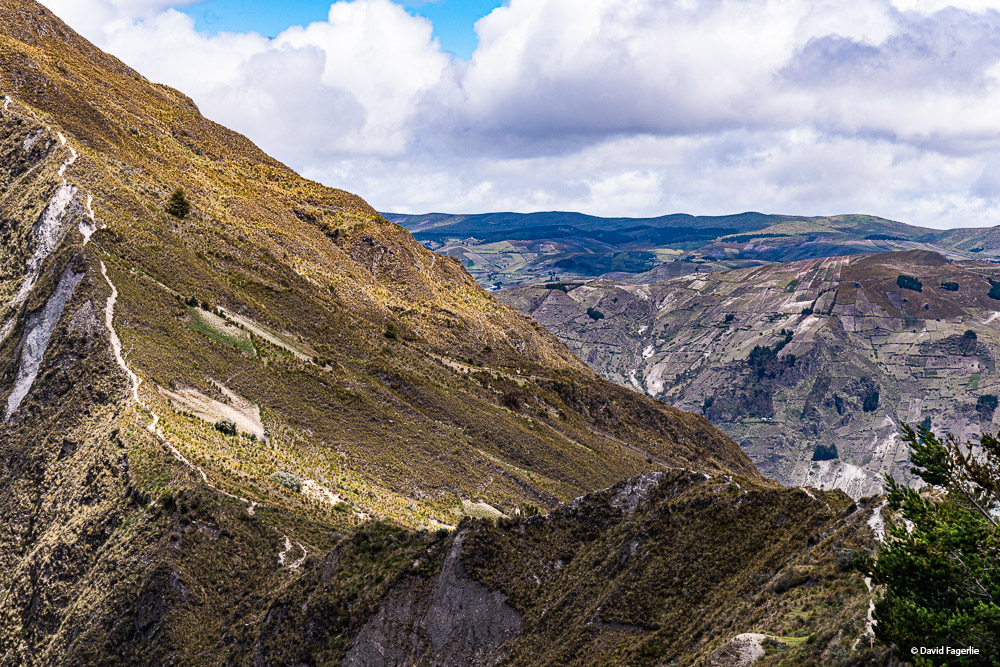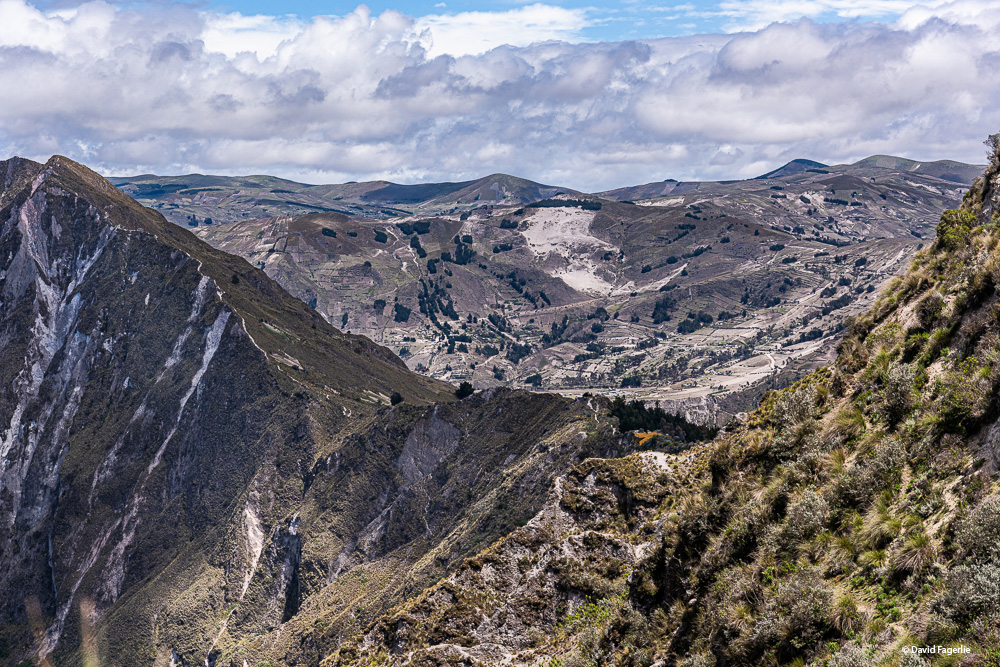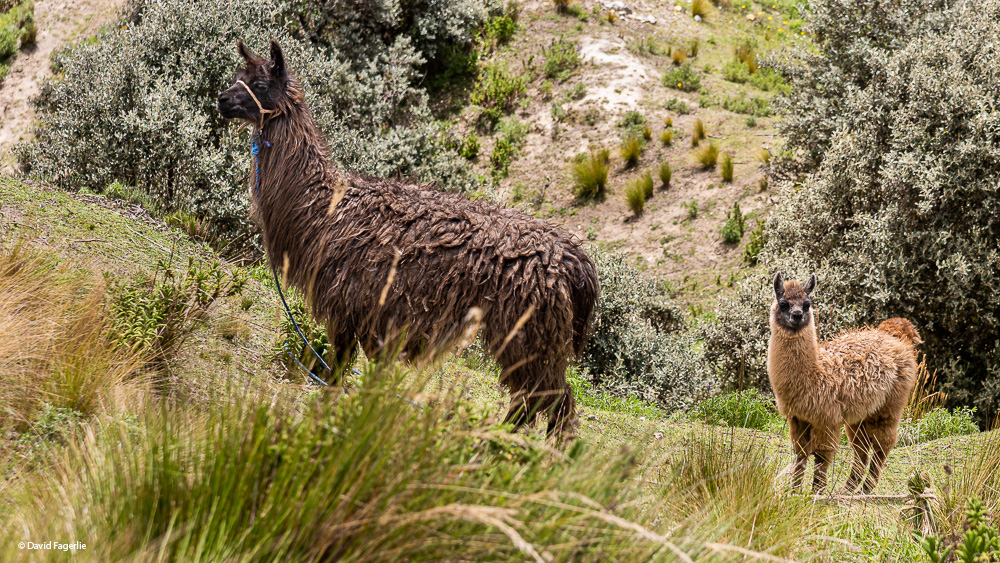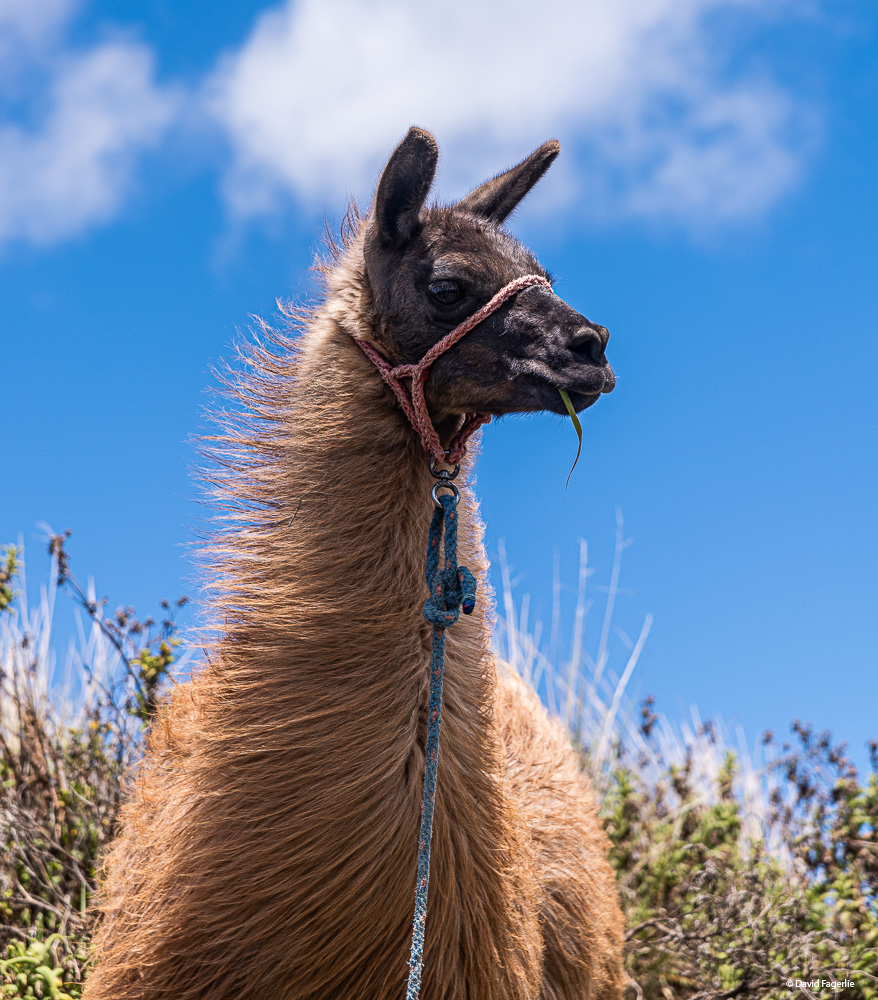 After we left Quilotoa we pulled over at a small park for pictures as the dynamics of this view were captivating. In the next shot note the deep carve out, I suppose formed by rushing water at another time, with mountain peaks and farms around it.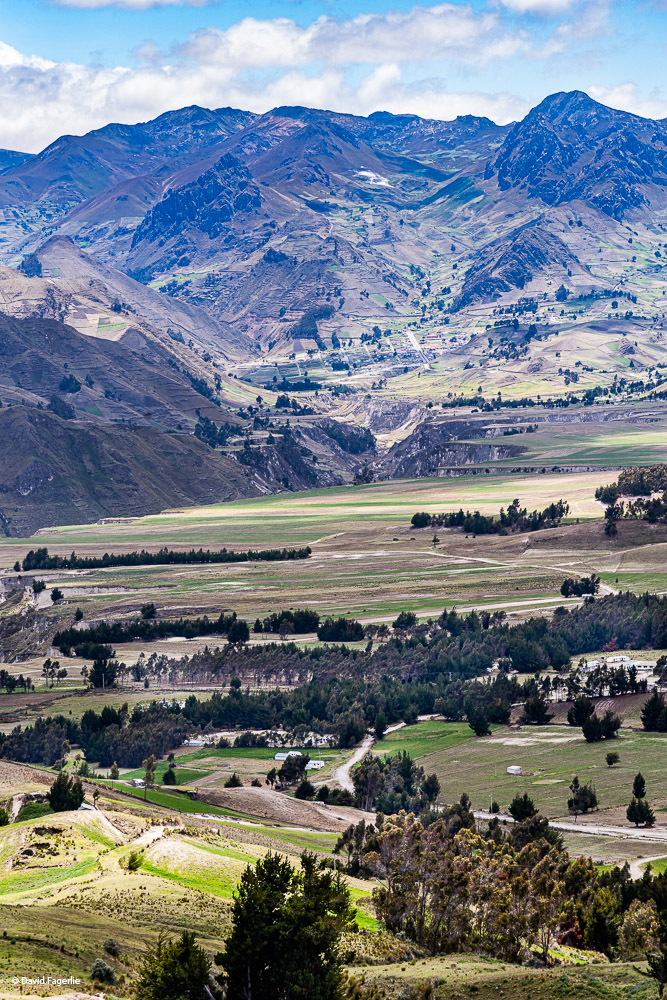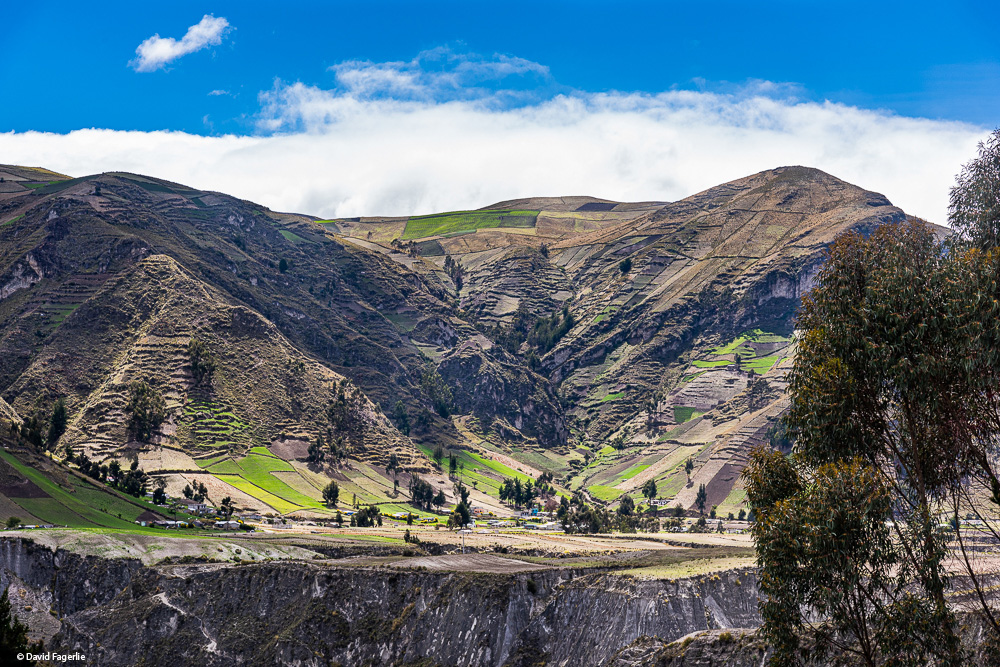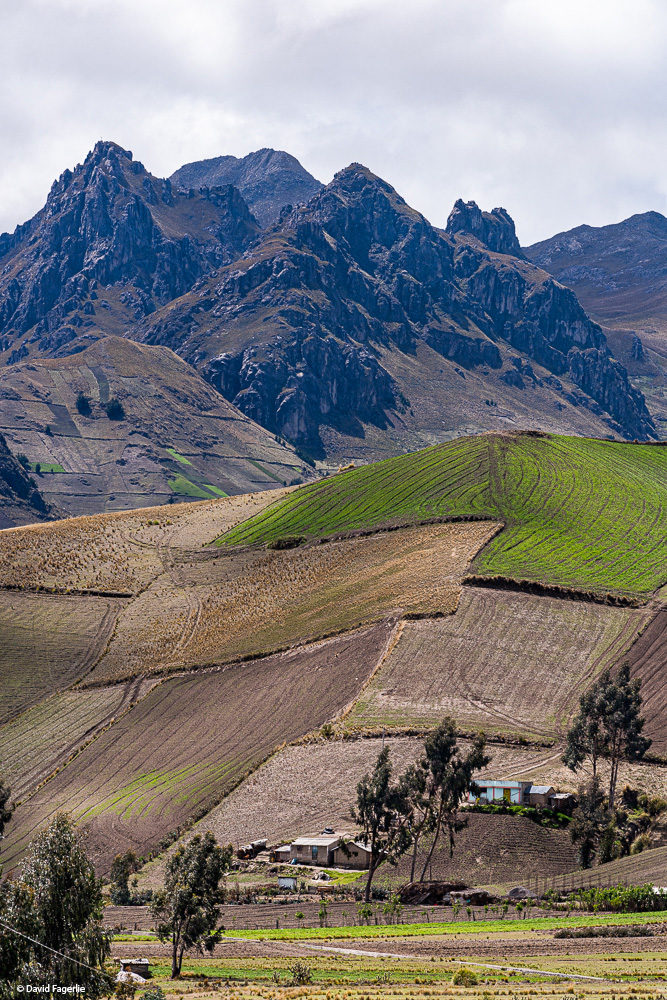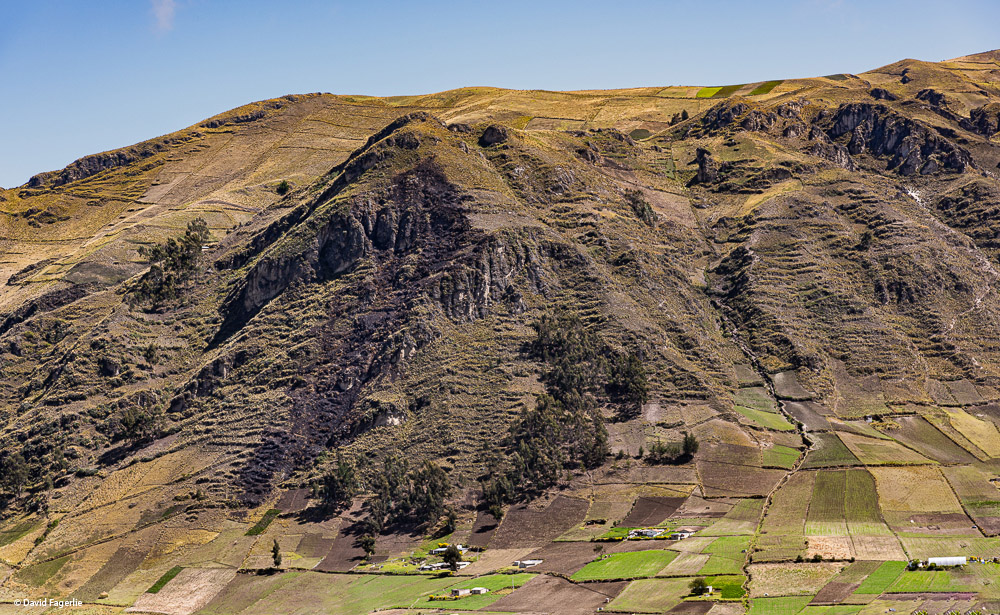 Not far from Chimborazo, Ecuador's highest mountain, is Cotopaxi, Ecuador's second highest peak and the most active volcano in Ecuador. "Cotopaxi is an active stratovolcano in the Andes Mountains, located in the Latacunga canton of Cotopaxi Province, about 50 km (31 mi) south of Quito … It is the second highest summit in Ecuador, reaching a height of 5,897 m (19,347 ft). … Since 1738, Cotopaxi has erupted more than 50 times, resulting in the creation of numerous valleys formed by lahars (mudflows) around the volcano. The last eruption lasted from August 2015 to January 2016. Cotopaxi was officially closed by the authorities to climbing until it reopened on October 7, 2017." – Wikipedia
"According to locals who speak Quechua [also spelled Kichwa], "coto" means neck and "paxi" means moon. This refers to the crater of Cotopaxi that looks like a crescent moon. The mountain was honored as a 'Sacred Mountain' by local Andean people, even before the Inca invasion in the 15th century. It was worshiped as 'rain sender', which served as the guarantor of the land's fertility, and at the same time its summit was revered as a place where gods lived." – Wikipedia
There is something mystical about Cotopaxi; the name comes up often in conversation, always with a sense of reverence. The mountain is a perfectly shaped cone, like Mount Fuji in Japan, but much larger.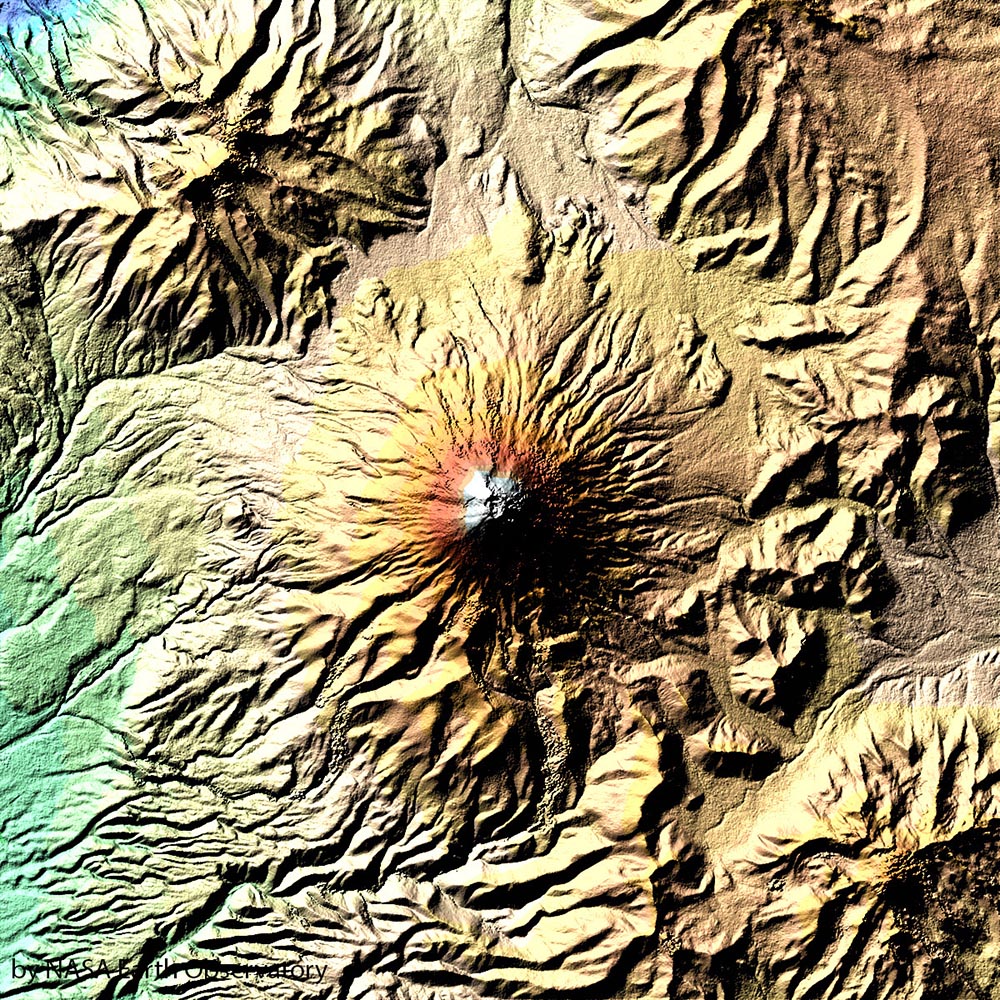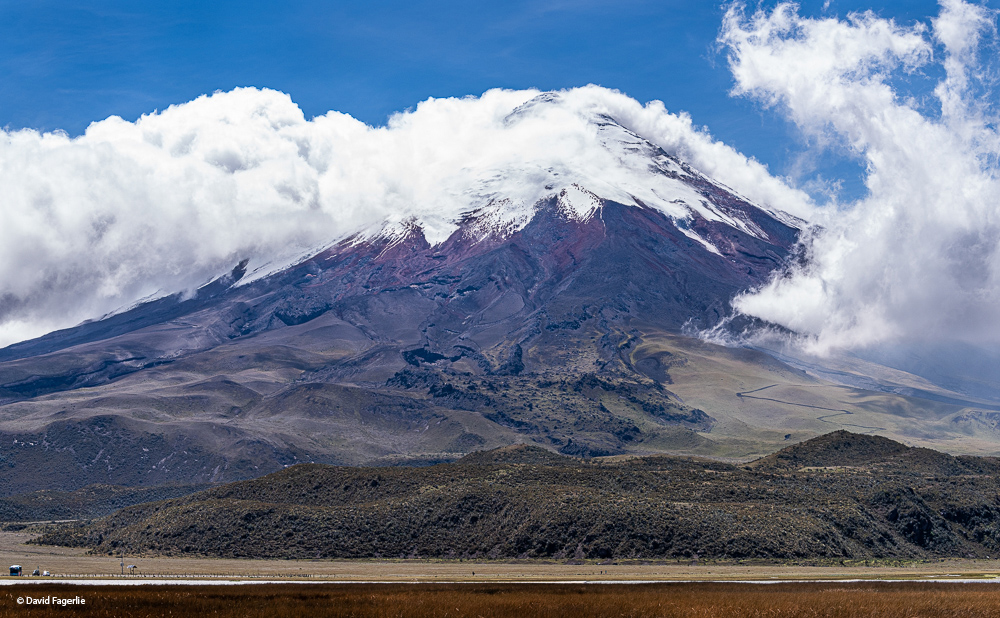 "In 2015, two large phreatic (steam) eruptions on the morning of August 14 marked a new phase of volcanic activity. The volcano remains in a very abnormal situation. In August, 2,100 earthquakes were recorded and emission rates of sulfur dioxide reach approximately 20,000 tonnes per day (19,700 long ton/d; 22,000 short ton/d). The government estimates some 300,000 people are at risk from the volcano in the provinces of Cotopaxi, Tungurahua, Napo and Pichincha." – Wikipedia

The people of Quito have the pleasure of views of Cotopaxi from their backyards. They are also in constant danger of the volcano's future behavior. I remember the eruptions of 2015 and the concern of Quito's residents that eruptions could cause them great harm. They might have breathed a sigh of relief in 2017 when the most recent eruptions subsided. However, there is the constant concern in the back of their minds about global warming. In recent years the glaciers on Cotopaxi have been receding at an alarming rate. Because water flowing off Cotopaxi is Quito's water supply this is an alarming trend.
We did not hike up this mountain but I enjoyed the scenery around it. I noted with interest a horse and cows in the park. It is federal law that once an animal wanders into the park it cannot be forcibly removed.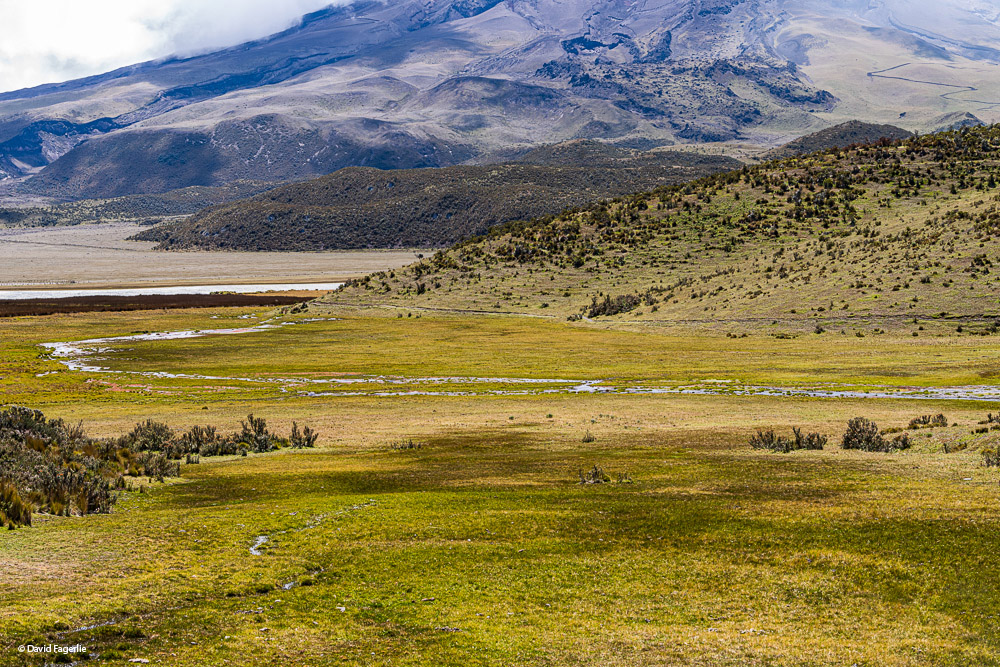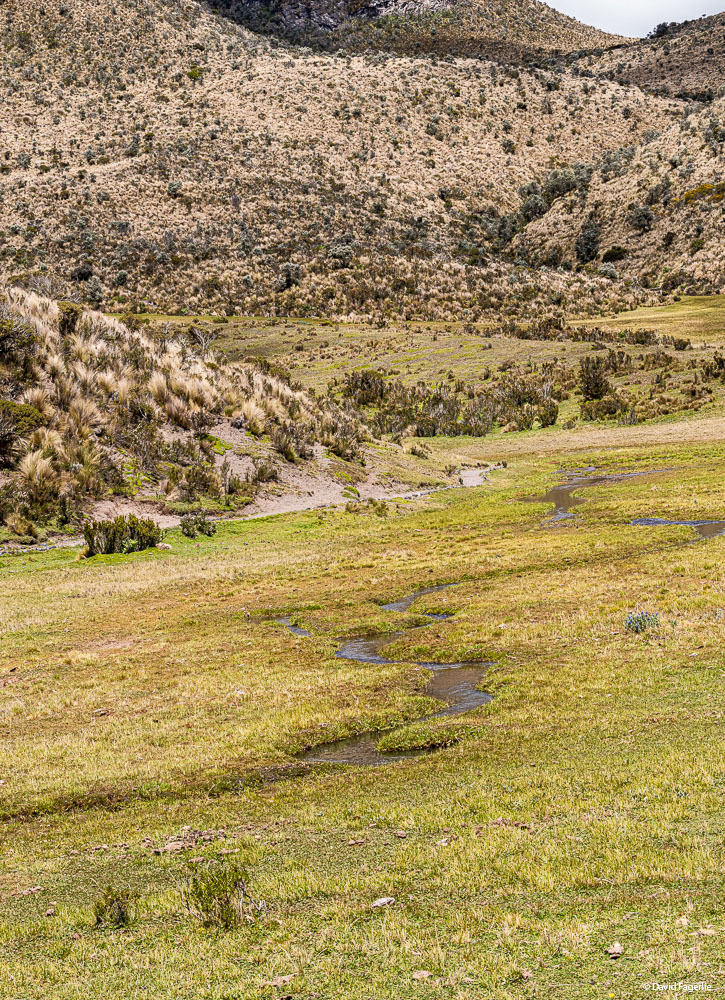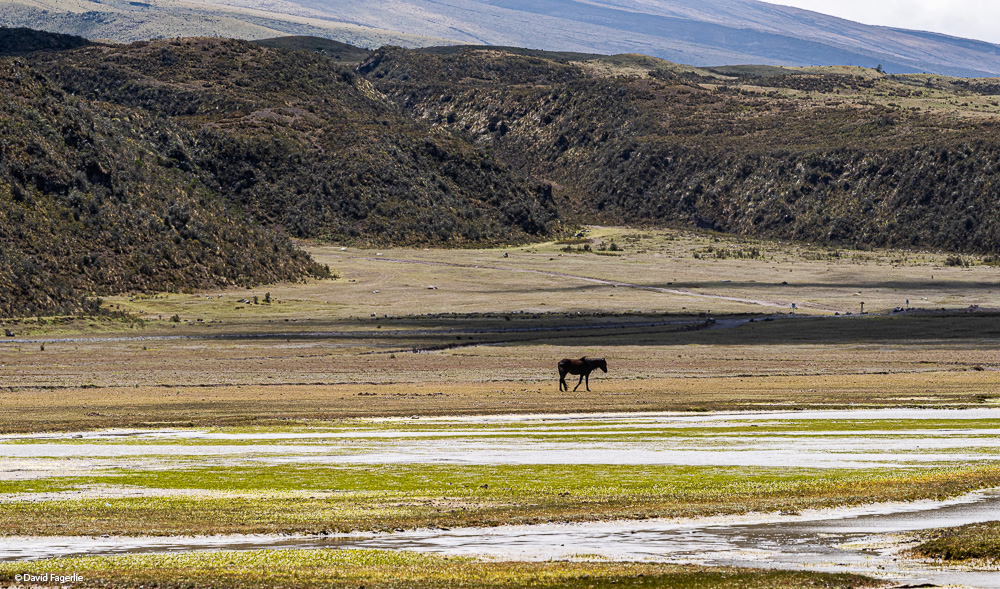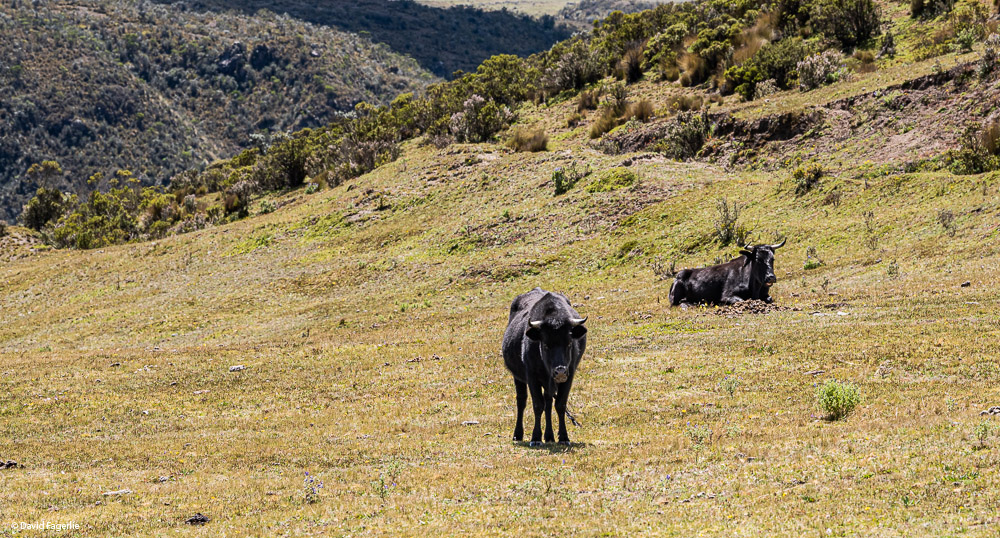 Leaving the park, we stopped at a restaurant. This was the view from there. Note to the far right a large rock protrusion. Our guide told us that the protrusion was the edge of the mountain in ancient times. It is estimated that Cotopaxi reached a height of 60,000 feet back then; a series of eruptions lowered it to what you see today.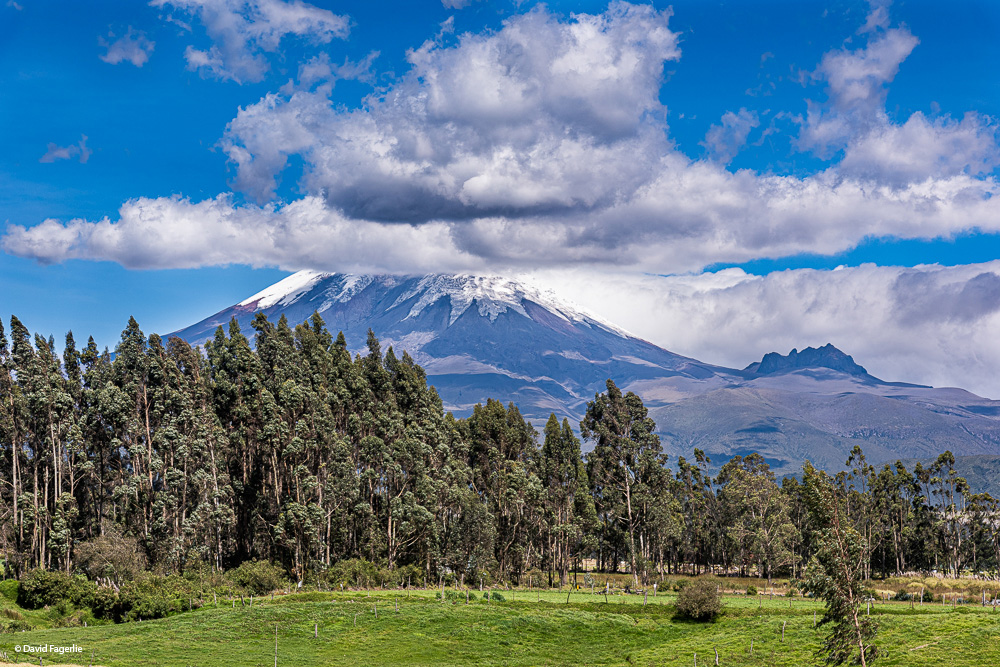 At the restaurant.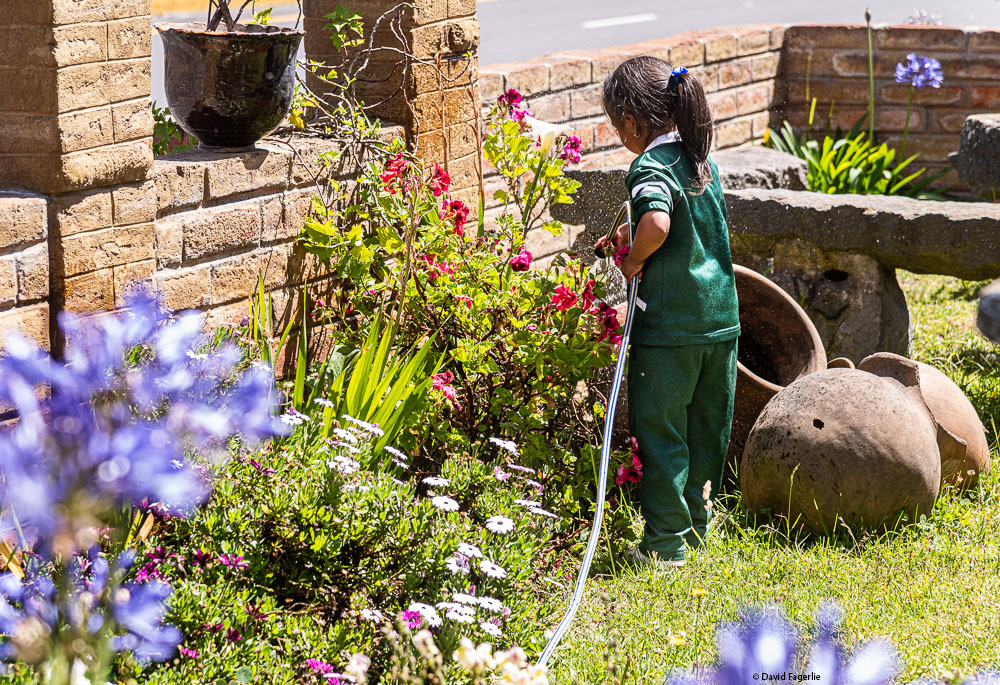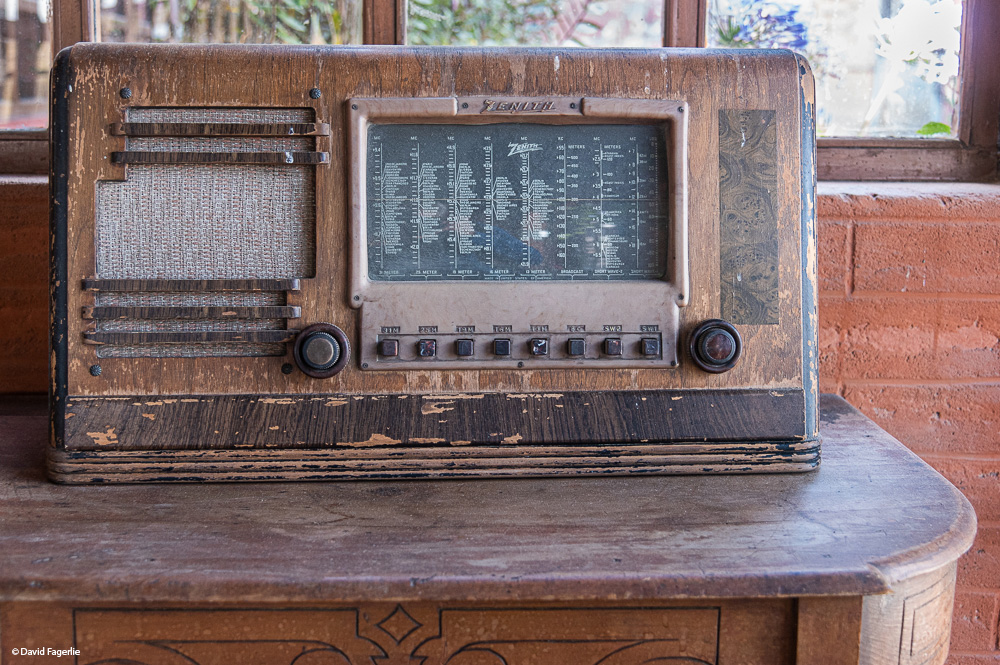 After downing some food we headed to the city of Baños de Agua Santa (Spanish for Baths of Holy Water). On the way we made a few stops. We first stopped at a thatched roof one-room home of a man and his son. He raised guinea pigs, known in Ecuador as cuy, to be sold as food. (More on cuy later.) The animals had the run of the house, which was the size of a large bedroom.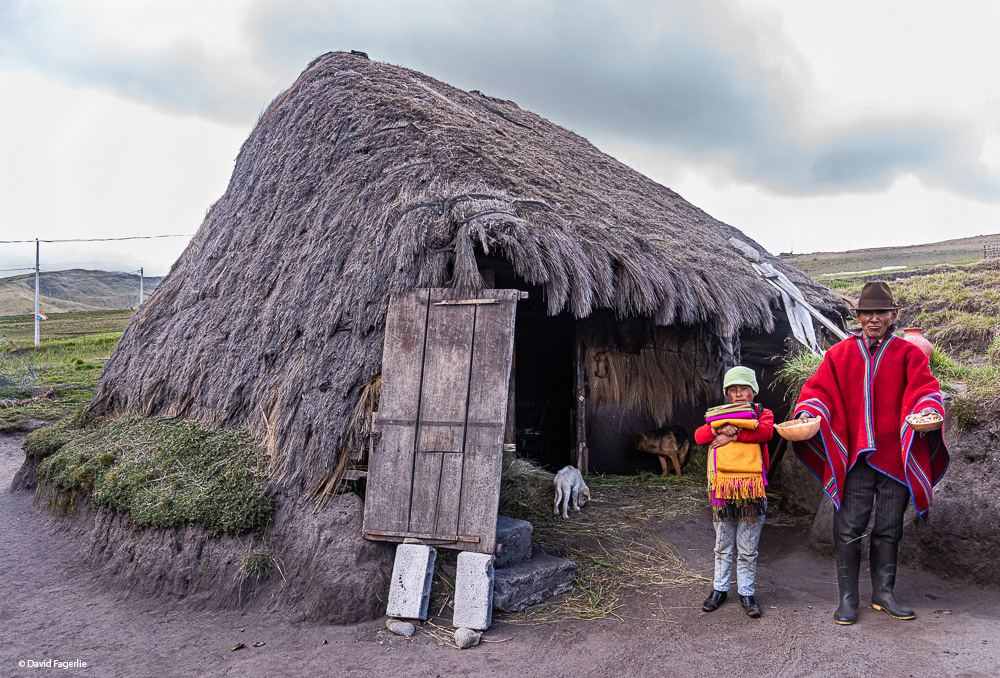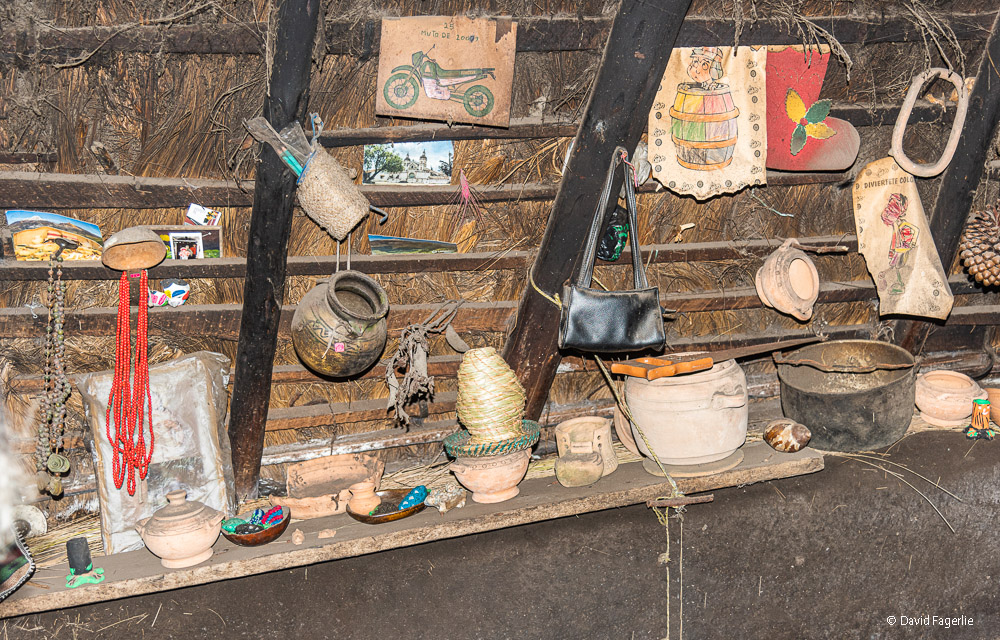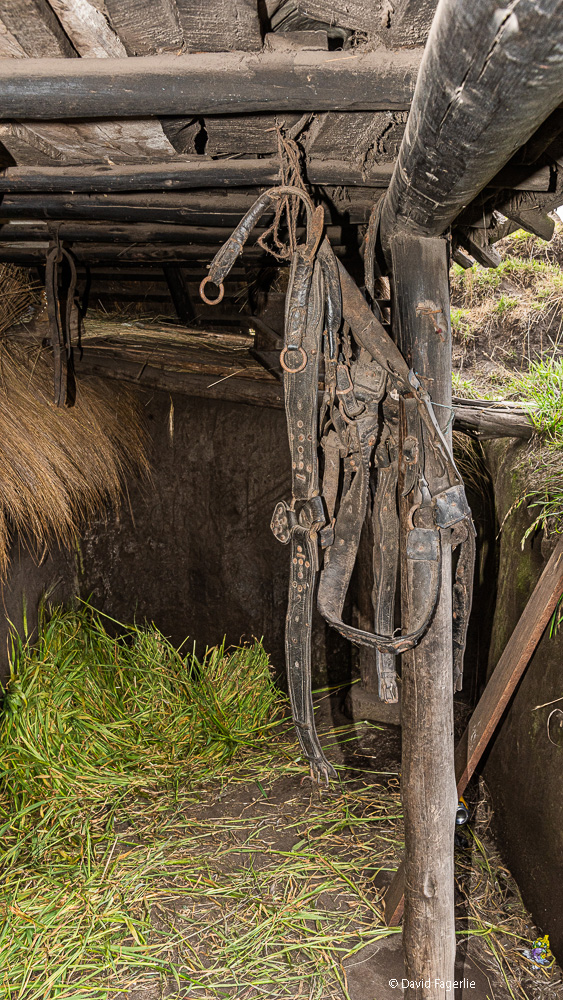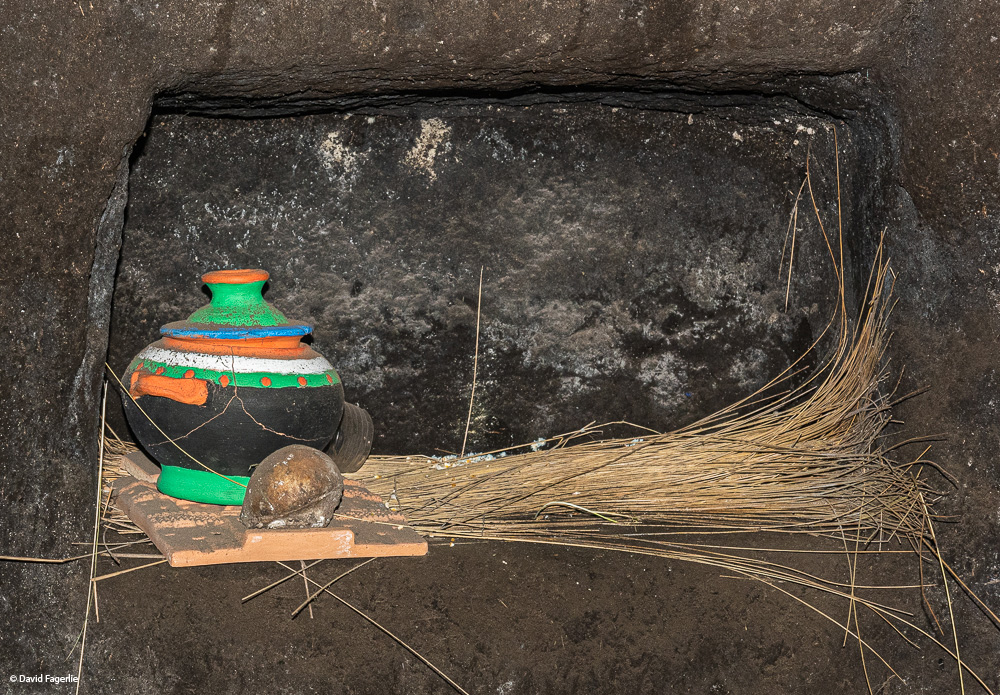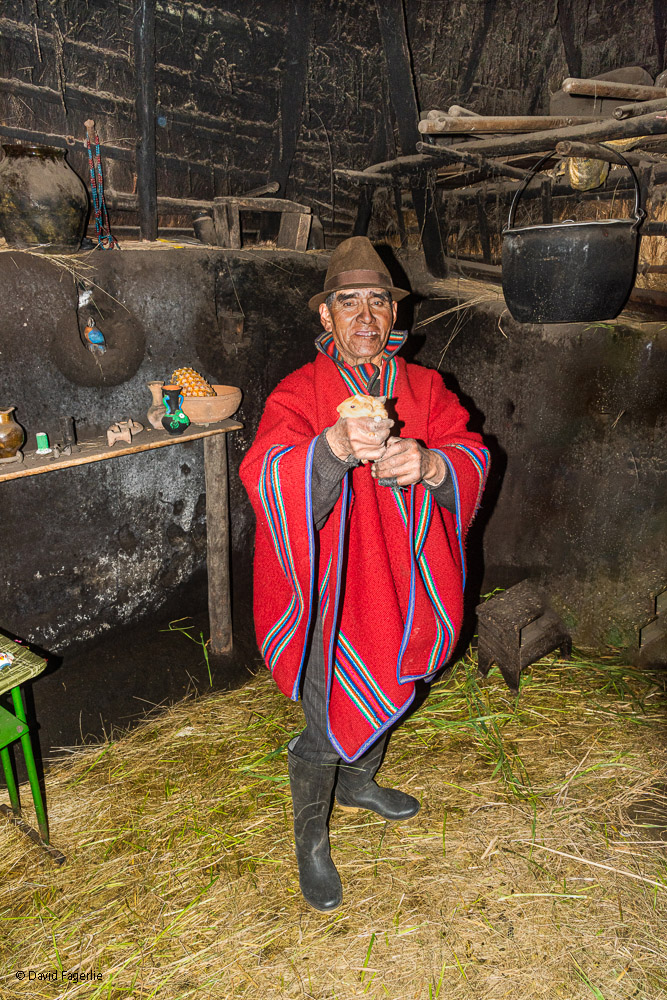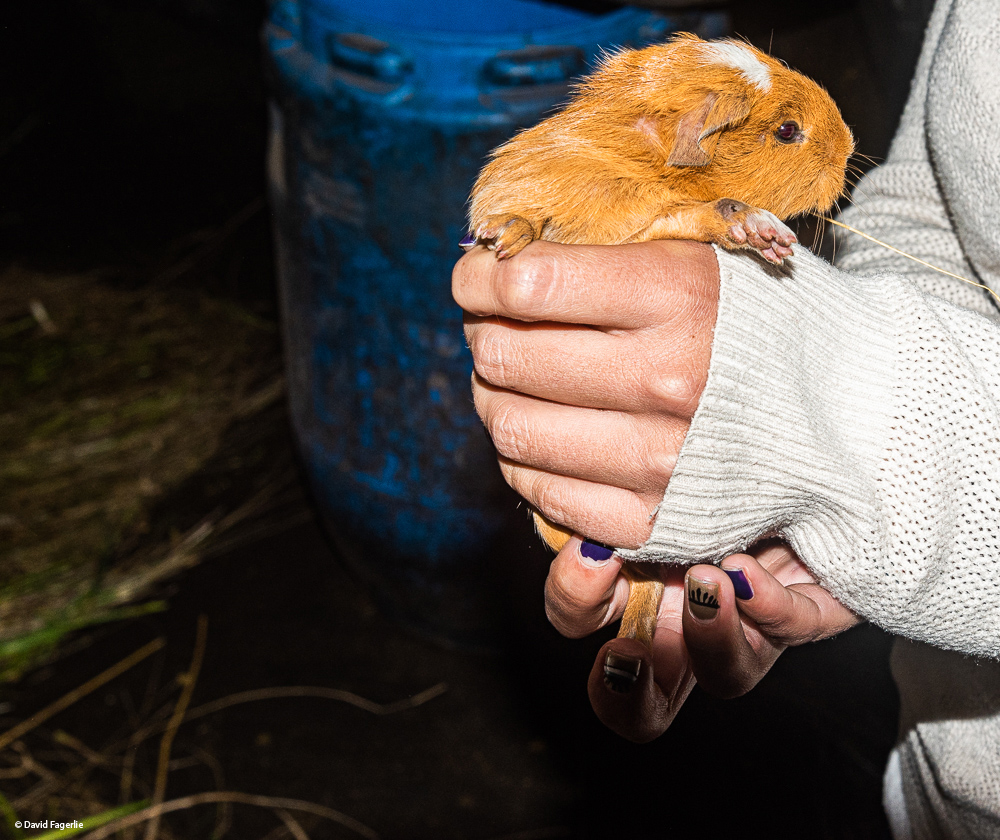 Maria Jose took us to the home of friend, an artist, who lived in a garden of sorts. We bought some of his paintings.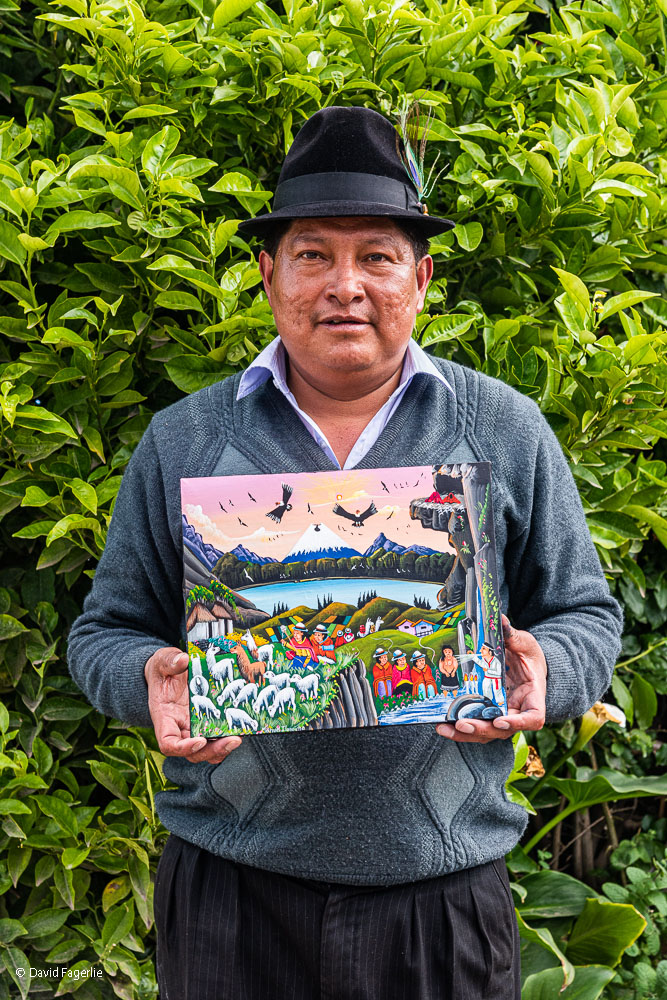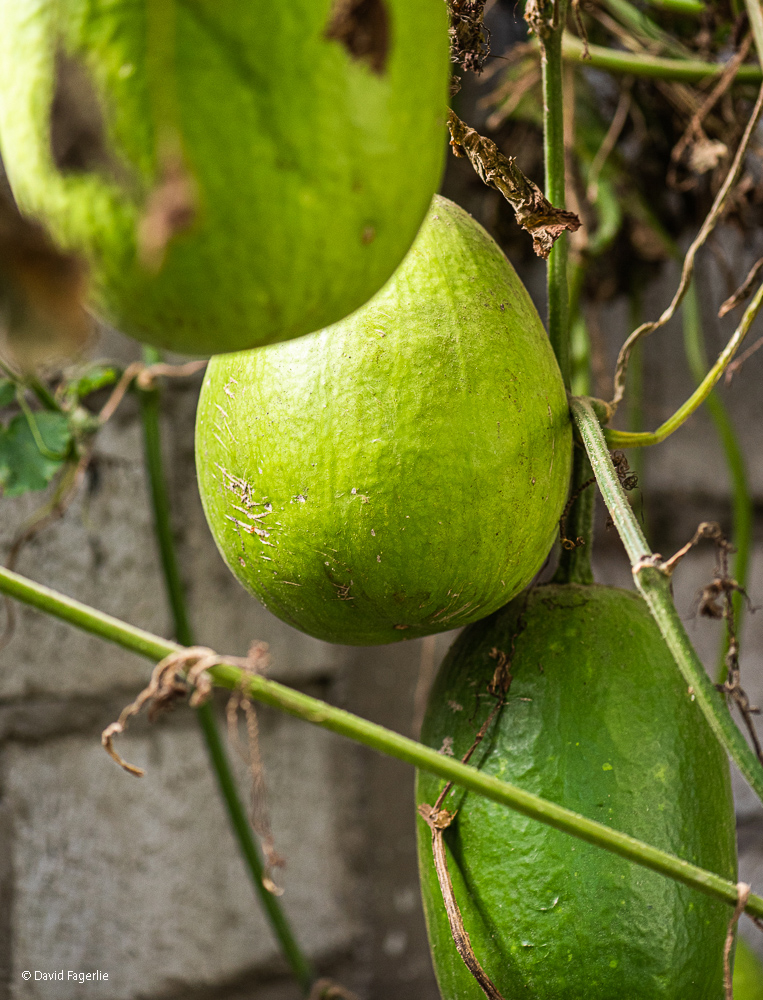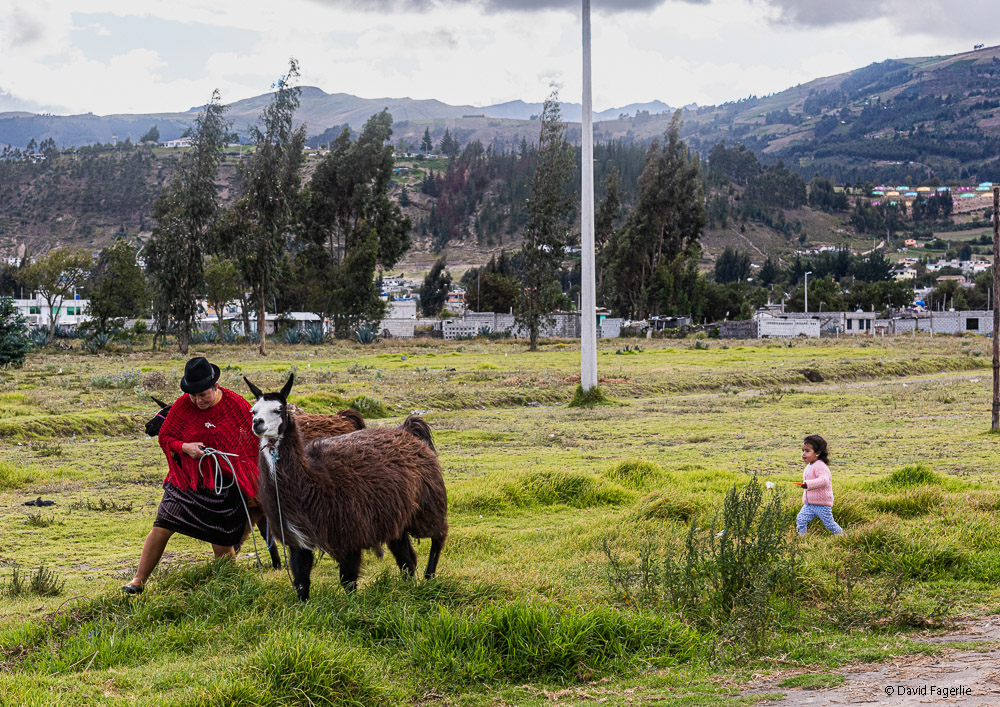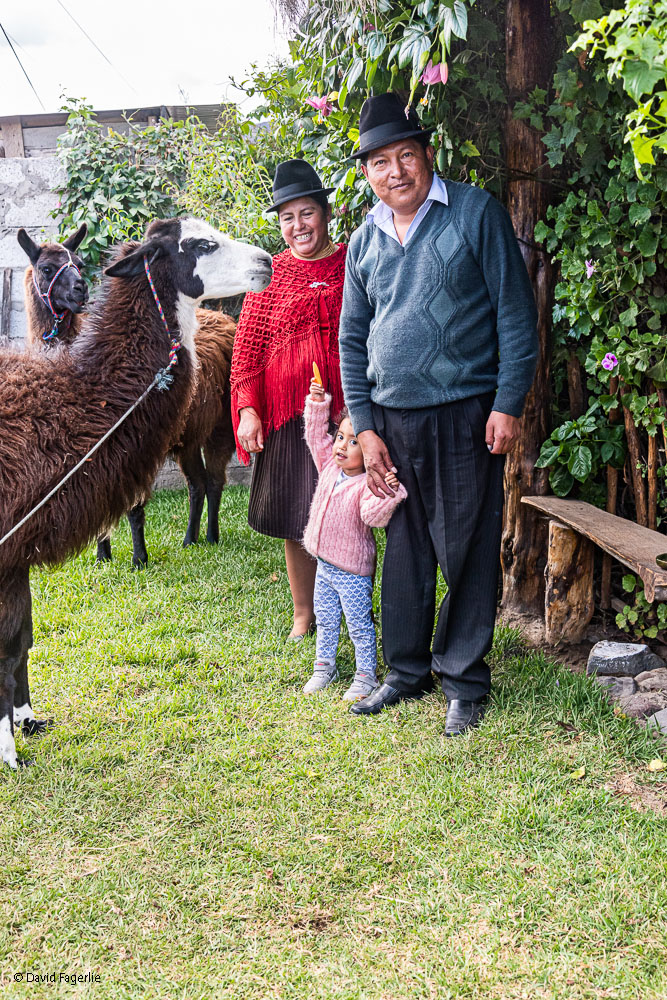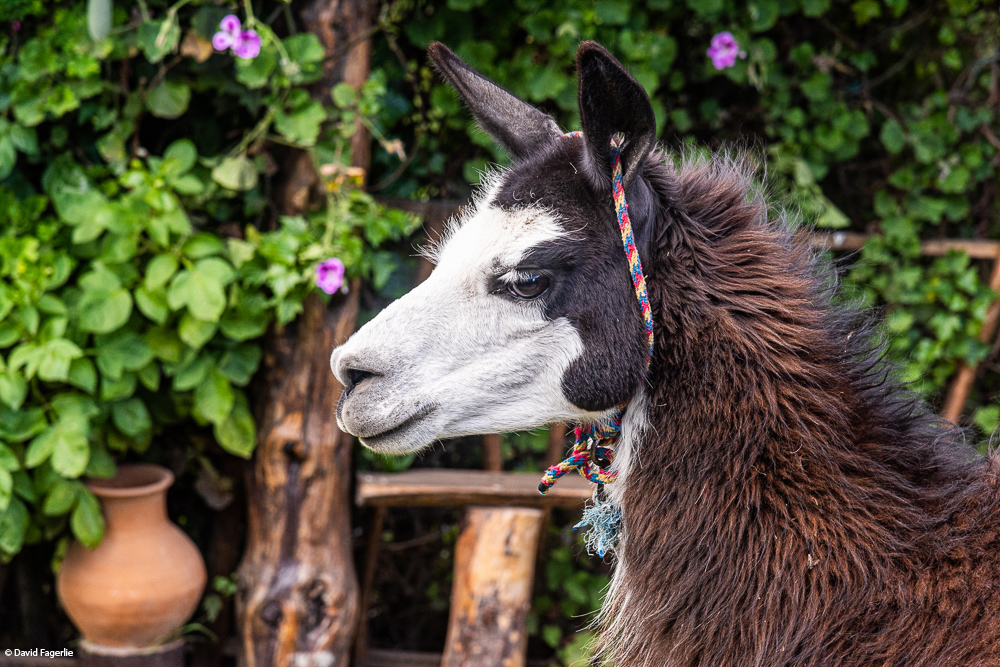 Finally, we visited the home of Vicki, an agave farmer. She harvested the juice for a variety of beverages including tequila, syrups and skin creams. It takes about seven years for an agave plant to reach sufficient maturity to be harvested. To harvest the juice, the center section is removed and the juice can be scooped from the plant for days as the liquid continues to surface. After that, the plant is done and farmers replant it. The weaving Vicki made reminded me of one of my favorite artists, MC Escher. I bought it.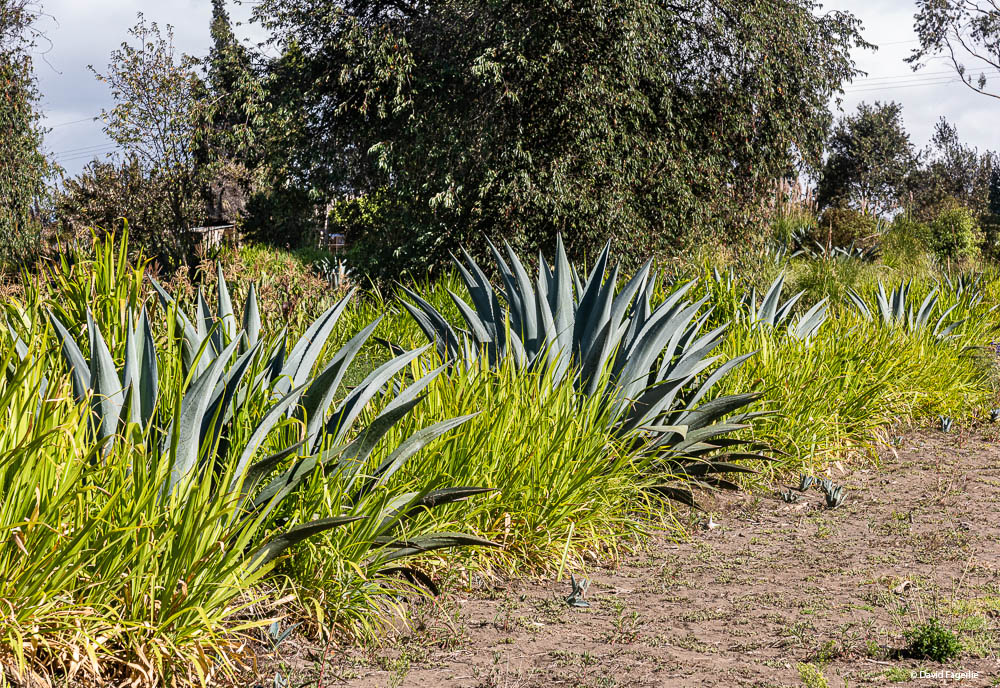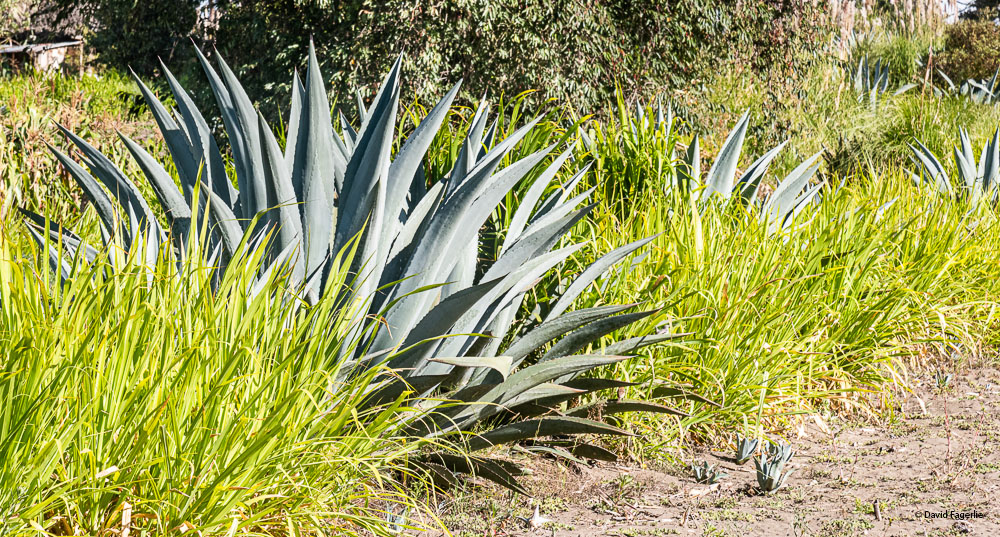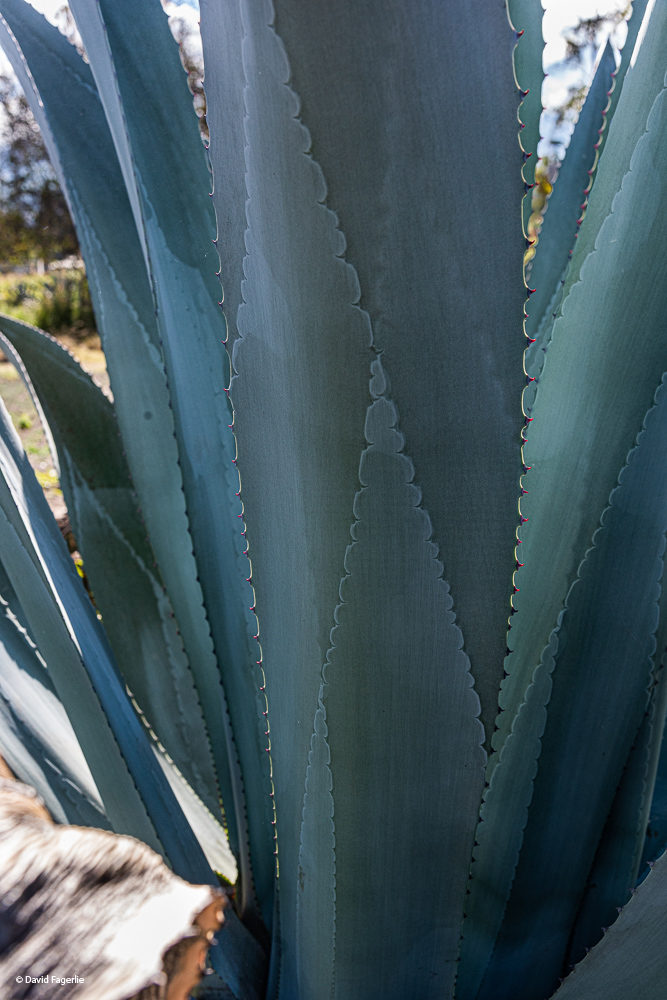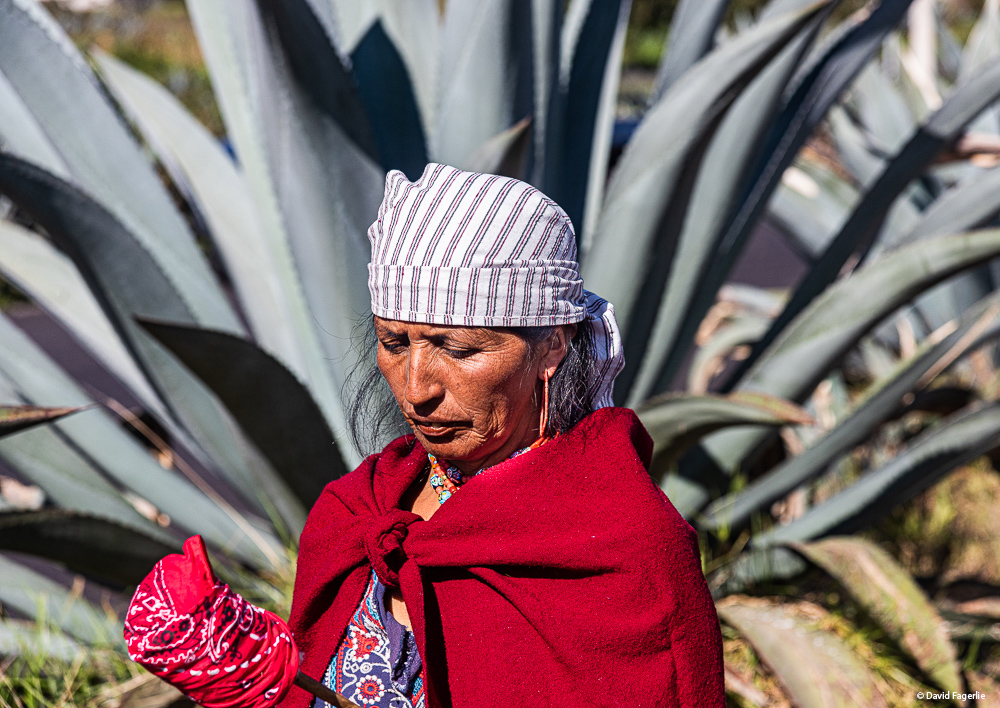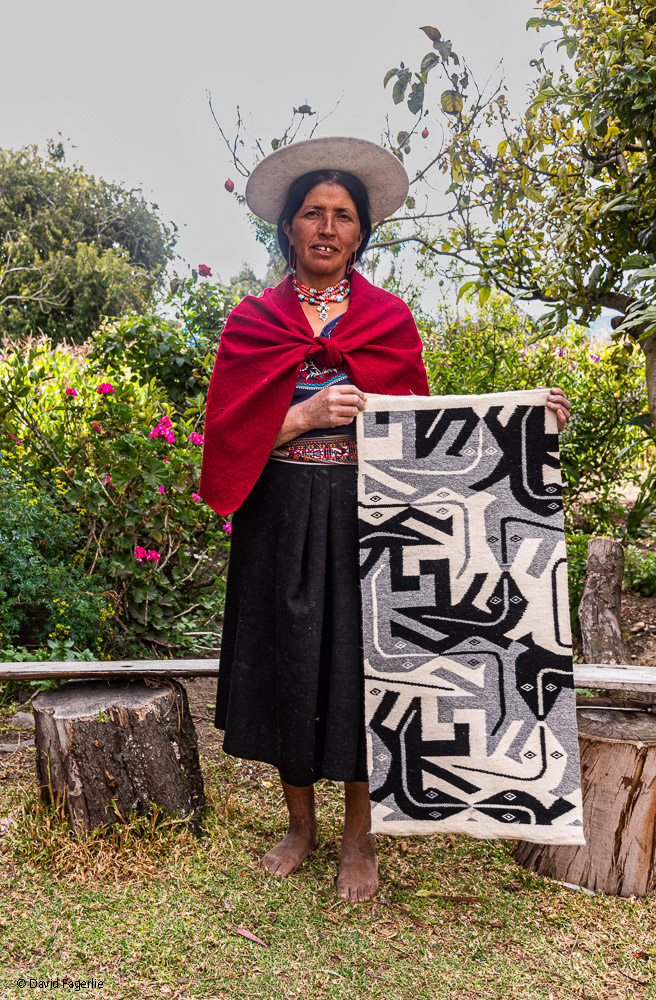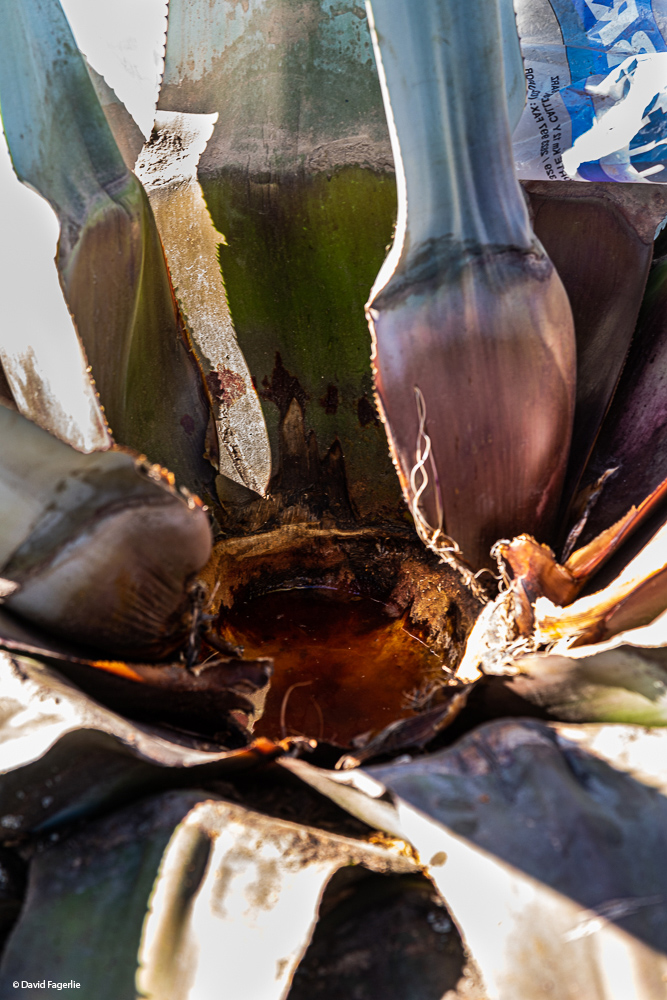 Our guide.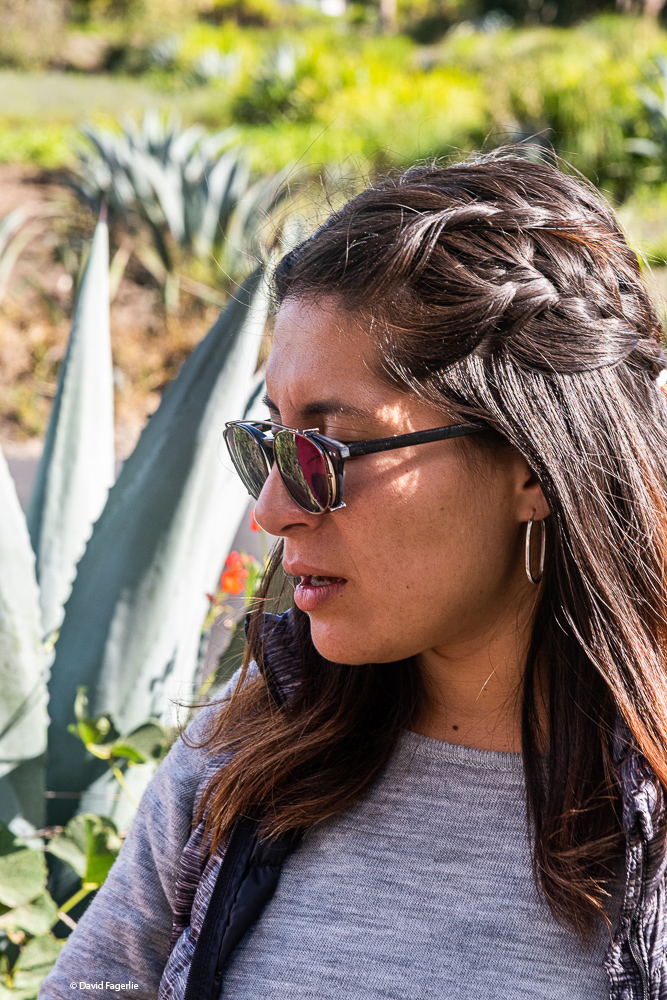 In the next two photos, notice farms on the mountain slopes. I have seen mountain ridges that were more or less 7,000 feet high, blanketed by clouds from the Pacific Ocean. I was at 13,000 feet at the time and mountain tops with farms on their slopes rose through the clouds to about 15,000 feet, sparkling in the sunlight. Wow, what a sight!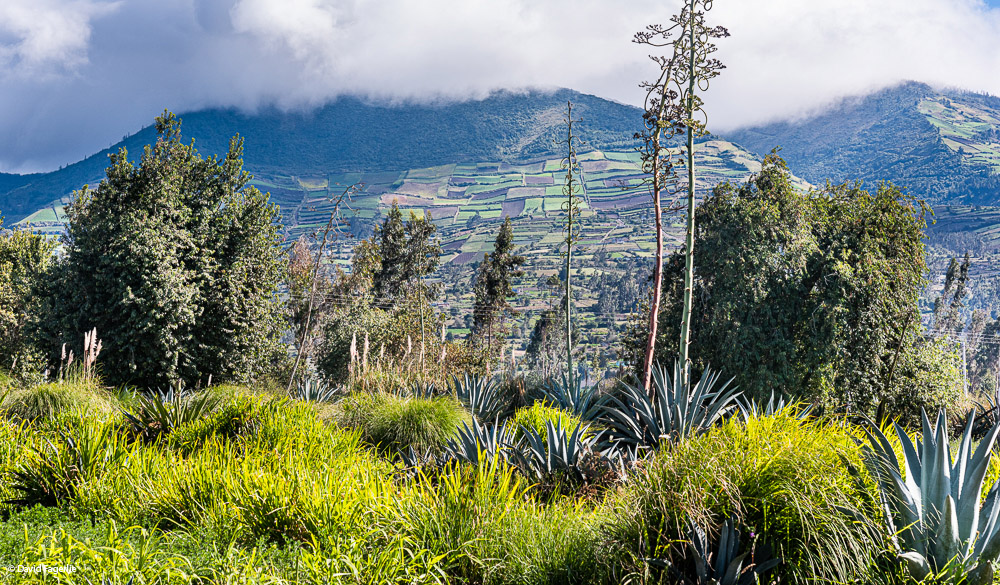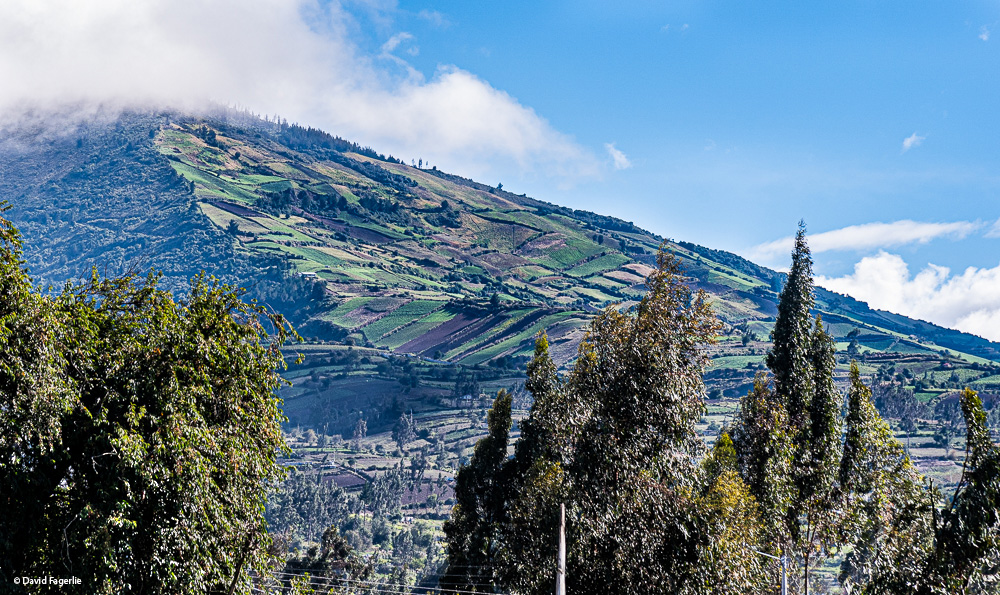 Eventually, we made it to the city of Baños, a destination known among young thrill-seekers worldwide. Located at an altitude of 1,820 meters (5,971 feet), Baños is on a ledge in the foothills of the volcano Tungurahua, that is only eight kilometers away.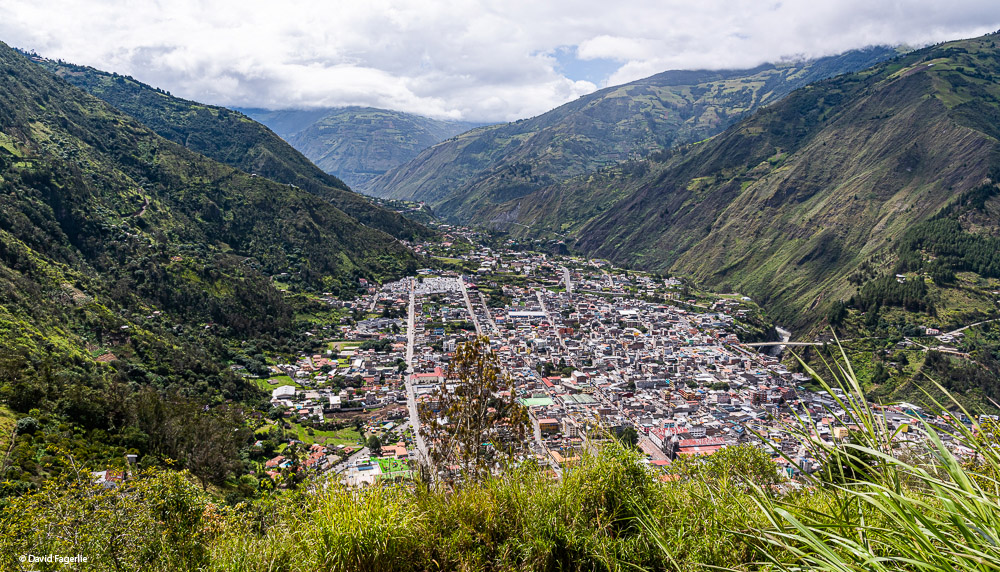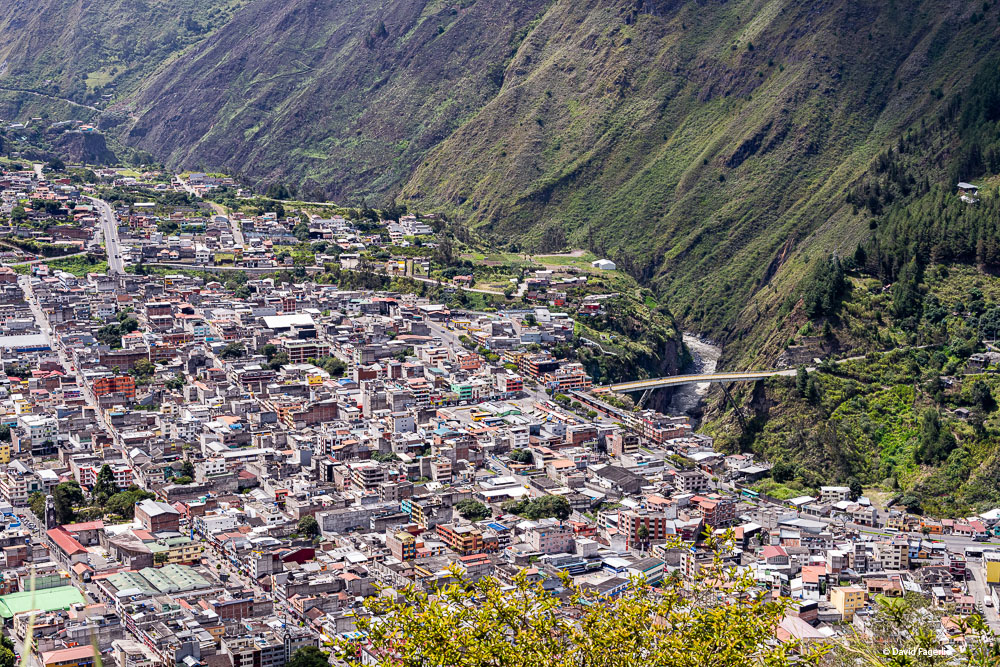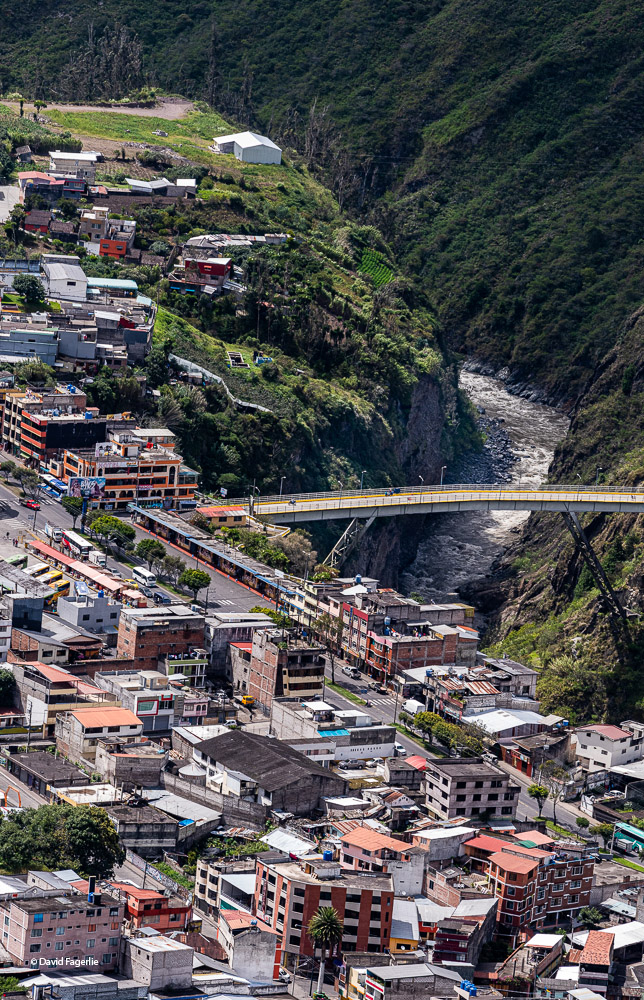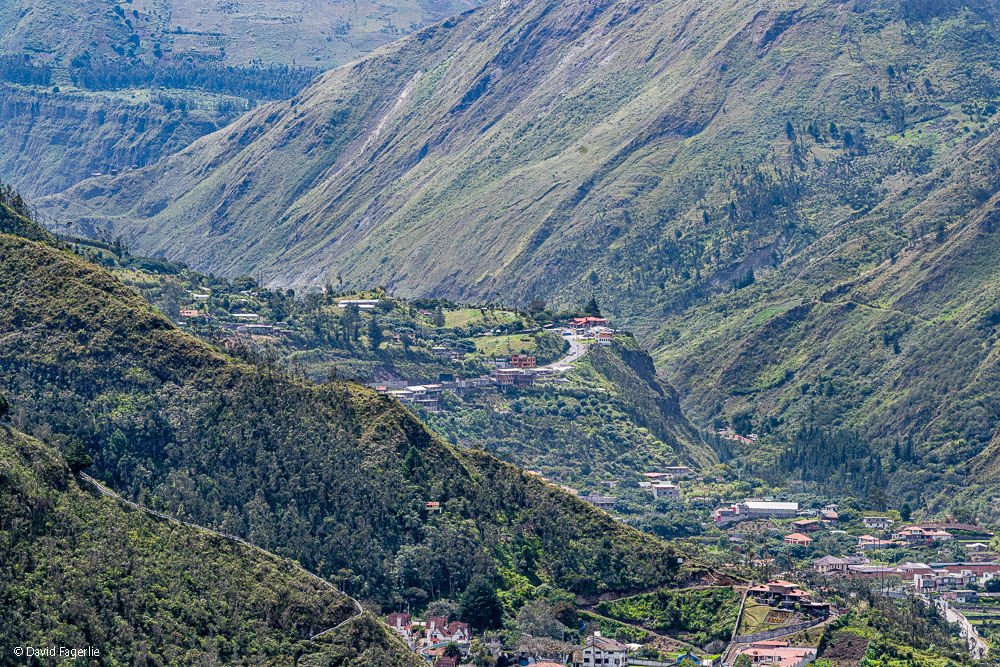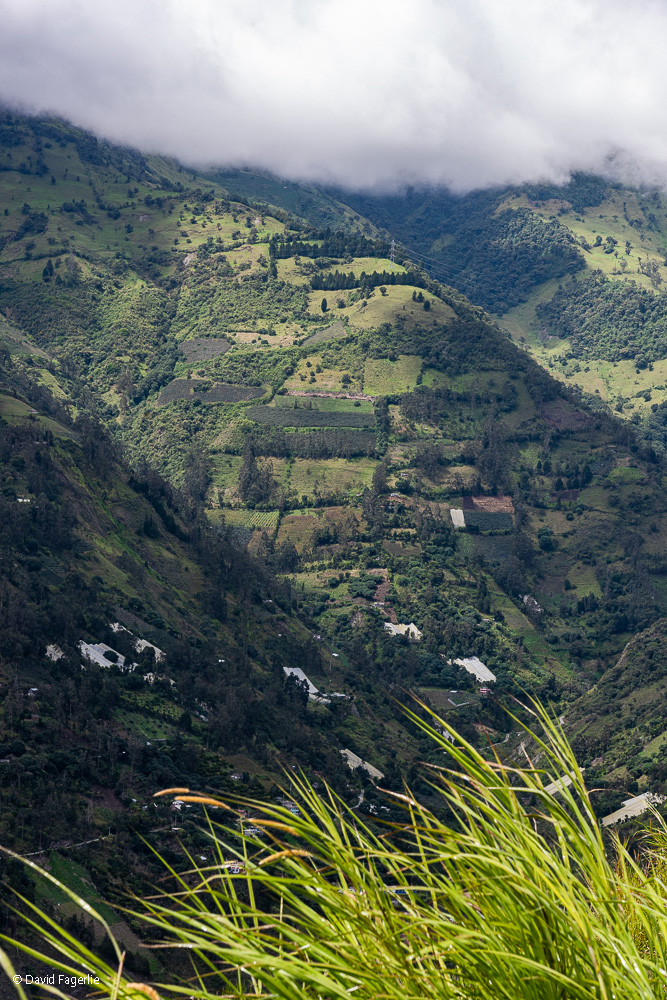 The name of the mountain comes from a melding of two Quichua names – tunguri, meaning throat, and rahua meaning fire. Tungurahua is the "throat of fire." For as long as I lived in Ecuador there were frequent reports of Tungurahua threatening an eruption and sometimes smoke, ash and even lava would flow from its caldera. While I was in Cuenca residents around the volcano were briefly evacuated and there was a warning that Cuenca could be covered in ash should activity increase. Heat from the mountain provides for hot baths in Baños. The volcano entered an eruptive phase in 1999. Here is a photo of Tungurahua erupting then. (This photo is low resolution only.) The next photo is the mountain in 2011.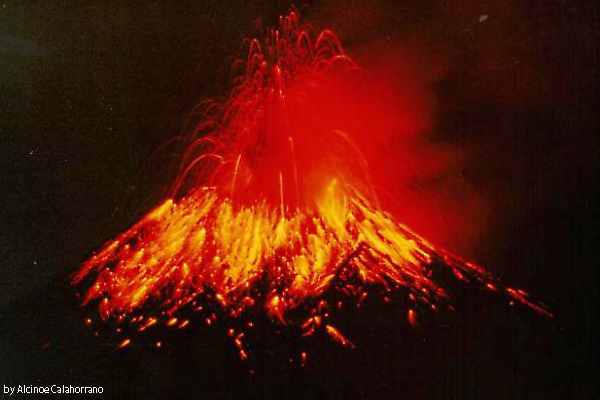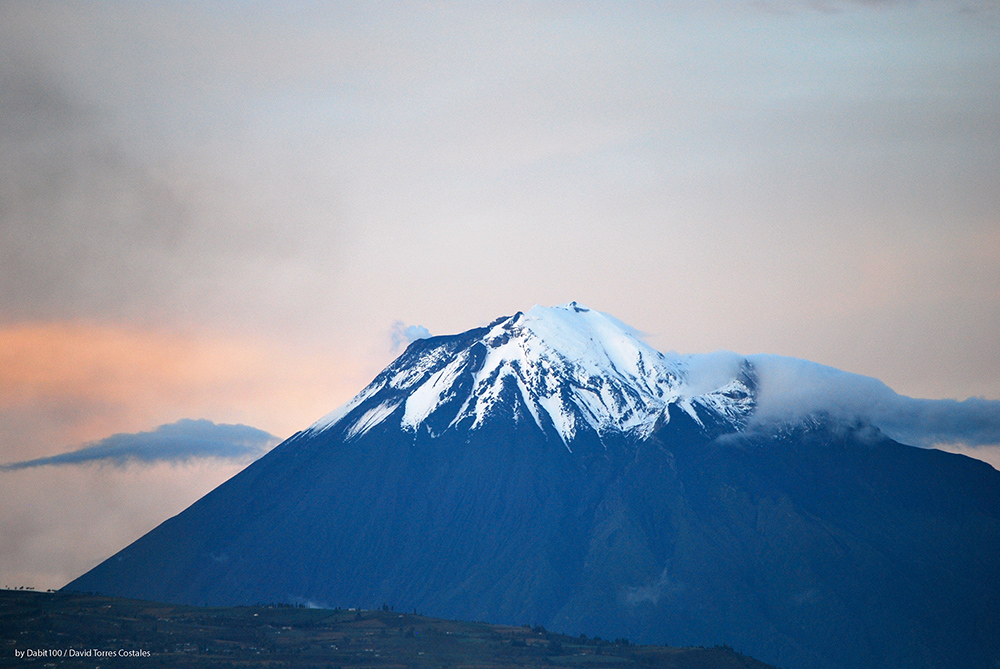 "Towering over Baños is a menacing volcano dubbed Mama Tungurahua who the indigenous Quechua have long believed to be akin to a debaucherous woman. Promiscuous and pretty, she captures the hearts of both men and women alike with her spellbinding allure. However, legend states that, like many beautiful women, Mama Tungurahua has a bit of a temper. When she doesn't get what she wants, she becomes furiously enraged and spews hot ash and lava high into the air in a spectacular and terrifying display. The last time this wanton woman had a major temper tantrum was back in October 1999 when a major eruption caused the entire town to evacuate [for weeks]." – Culture Trip
"Baños is a popular tourist destination in Ecuador due to its natural environment (it is home to more than 60 waterfalls) and its adventure sports. Locals and visitors alike undertake rafting, kayaking, canyoning, bridge jumping, hiking, biking and horseback riding." – Wikipedia
Wikipedia didn't mention zip-lining. There are zip-lines after zip-lines. The town itself is fun. Maybe there are too many vendors of sunglasses and trinkets; but, there is an upbeat energy and some great hotels and restaurants to serve the tourist crowd. Here are some images. Included are a few photos of the cathedral, La Basilica de Nuestra Senora del Rosario de Agua Santa and the Court of La Iglesia de la Virgen de Agua Santa.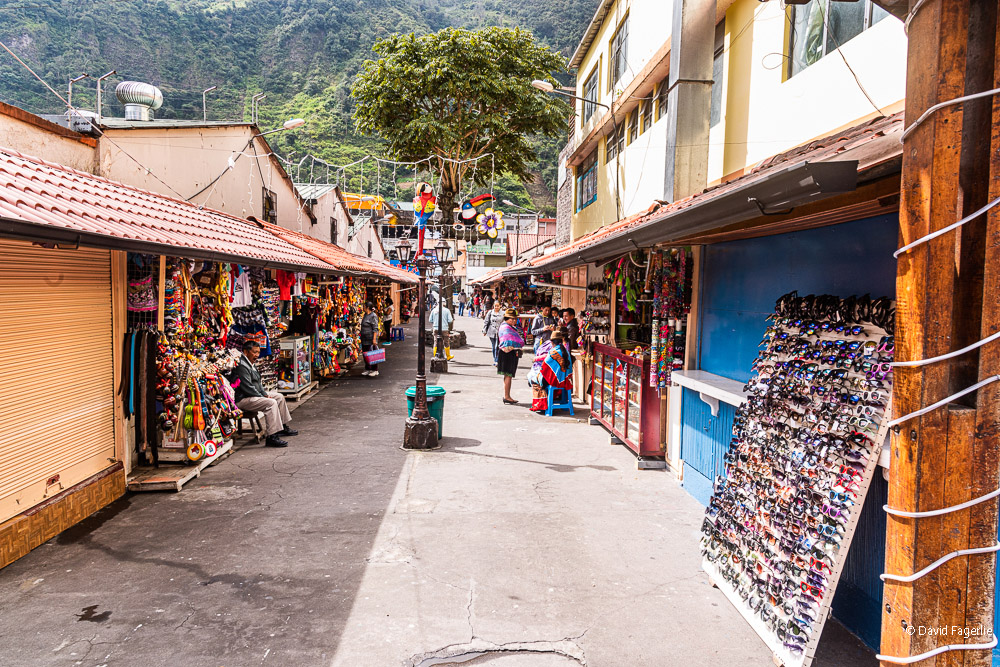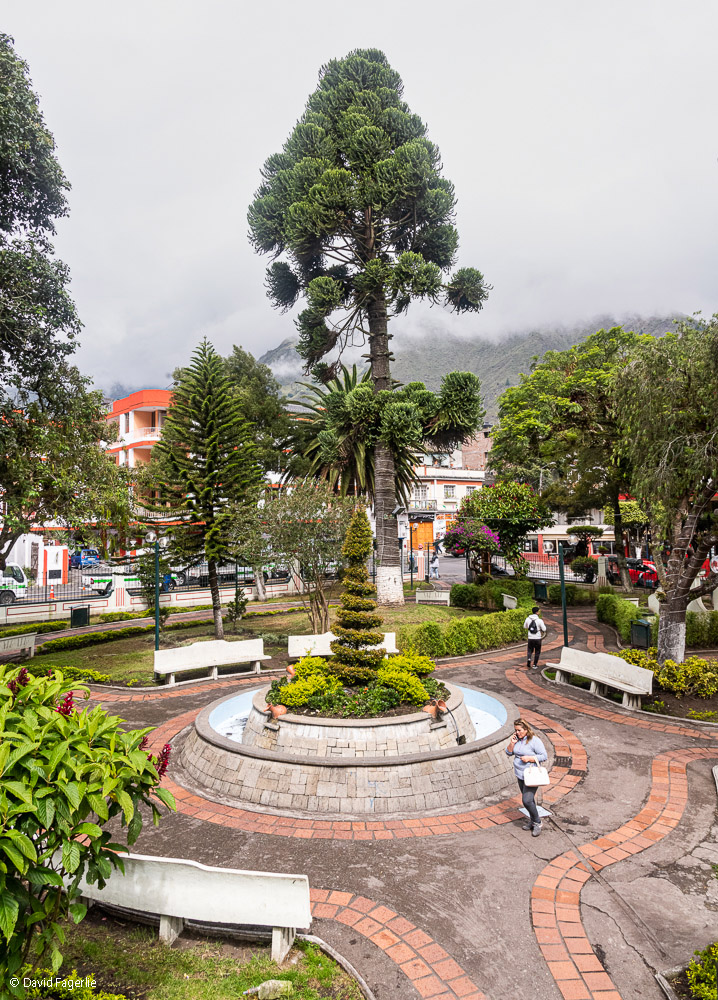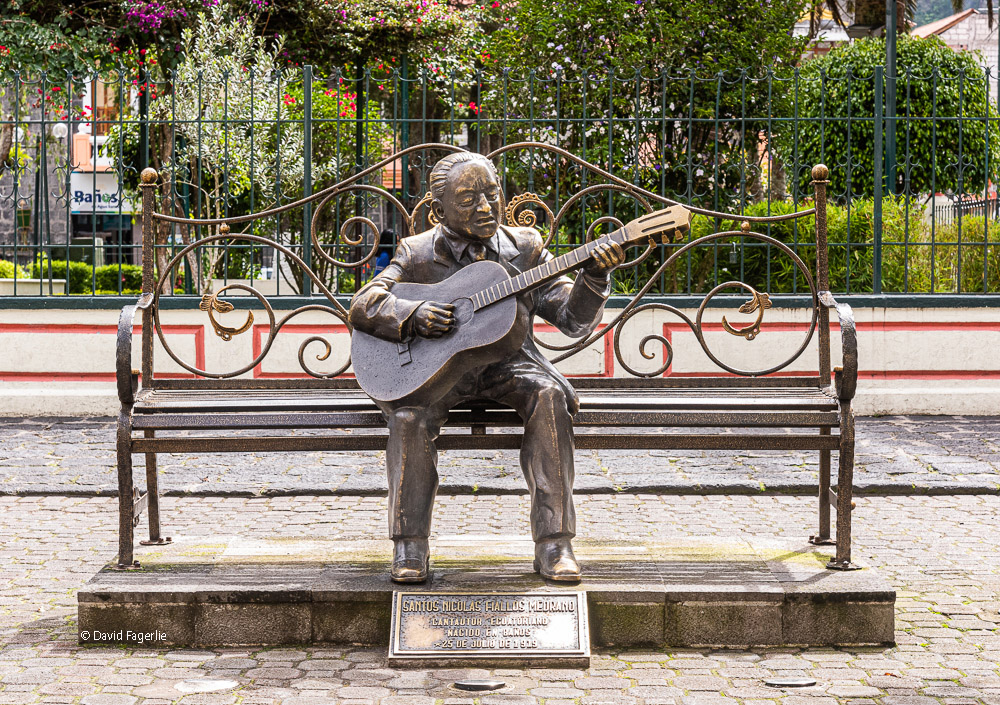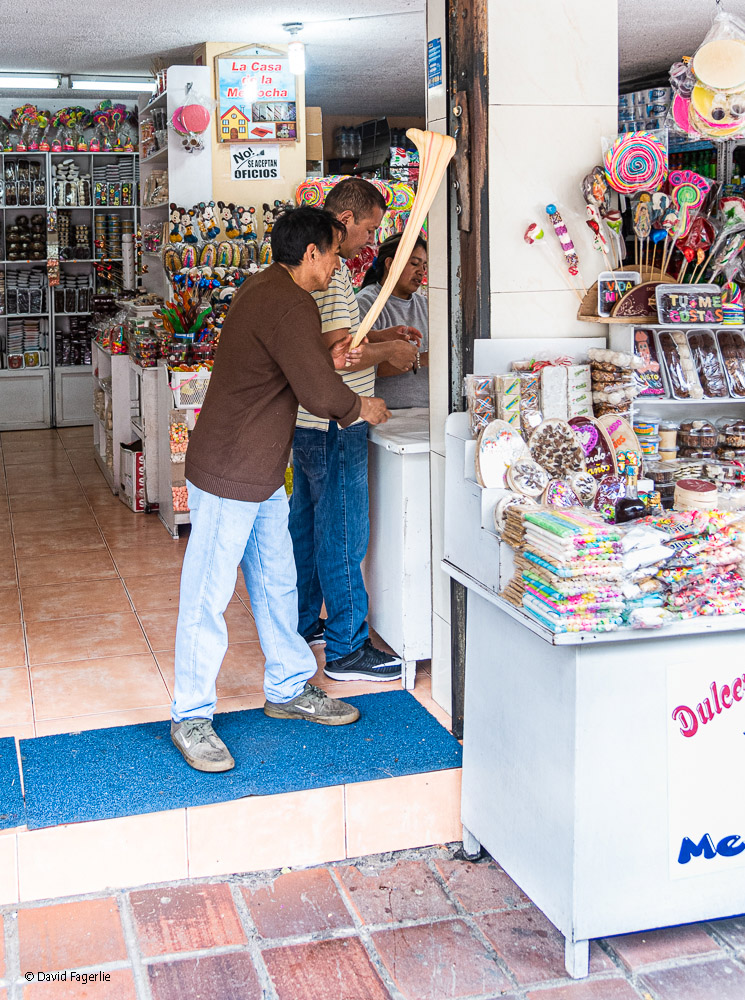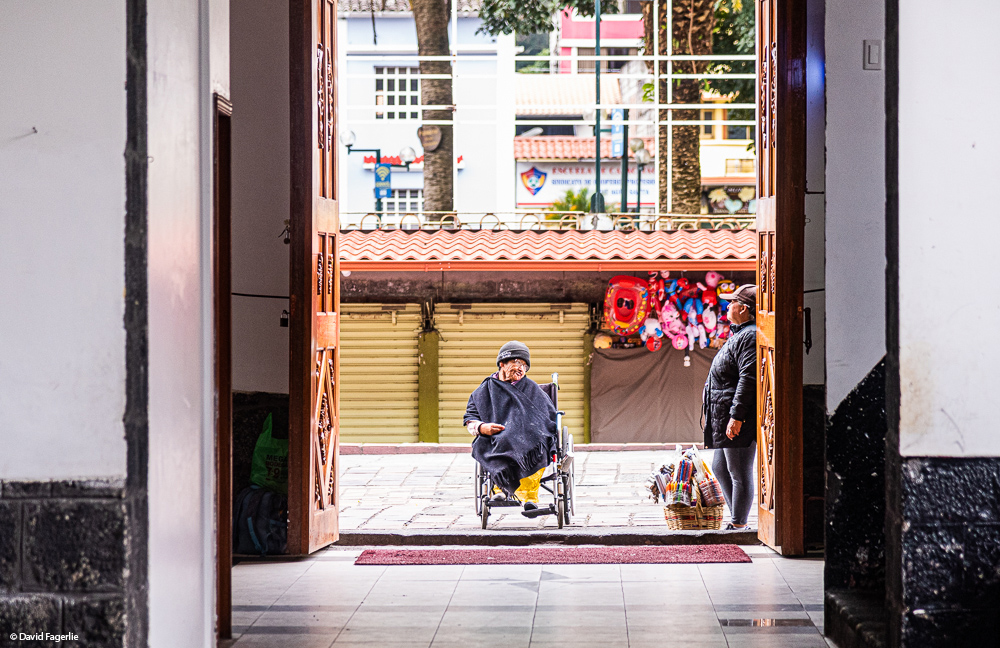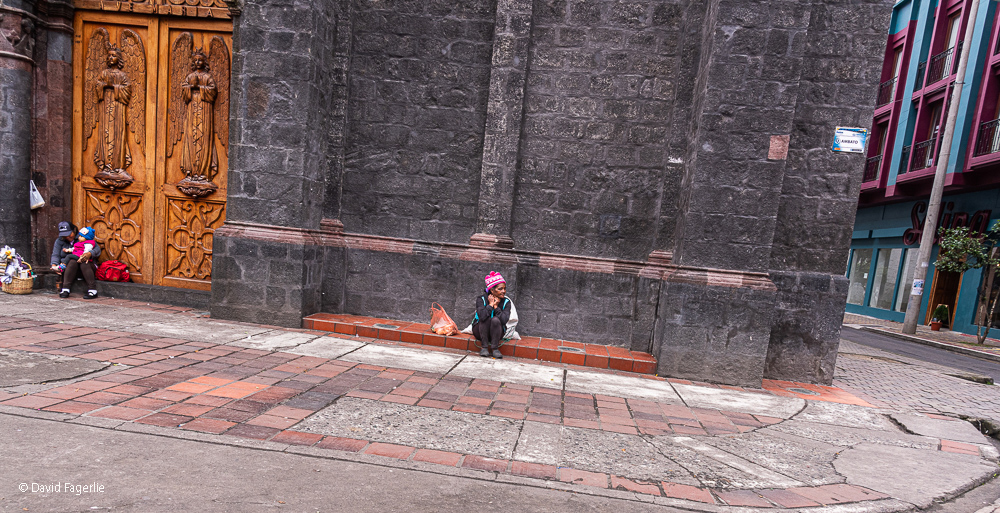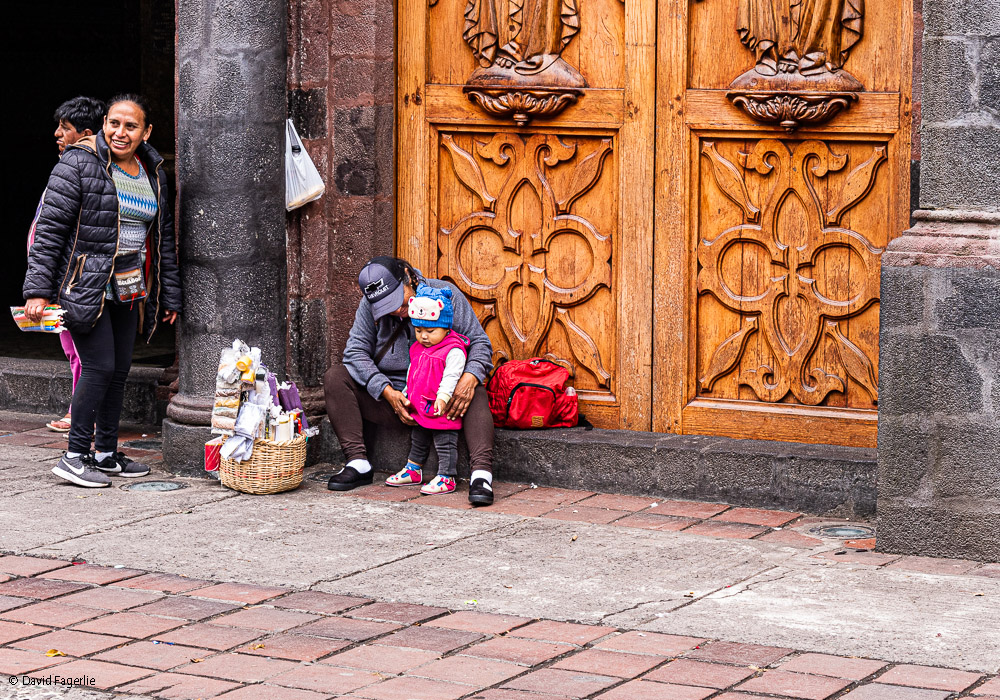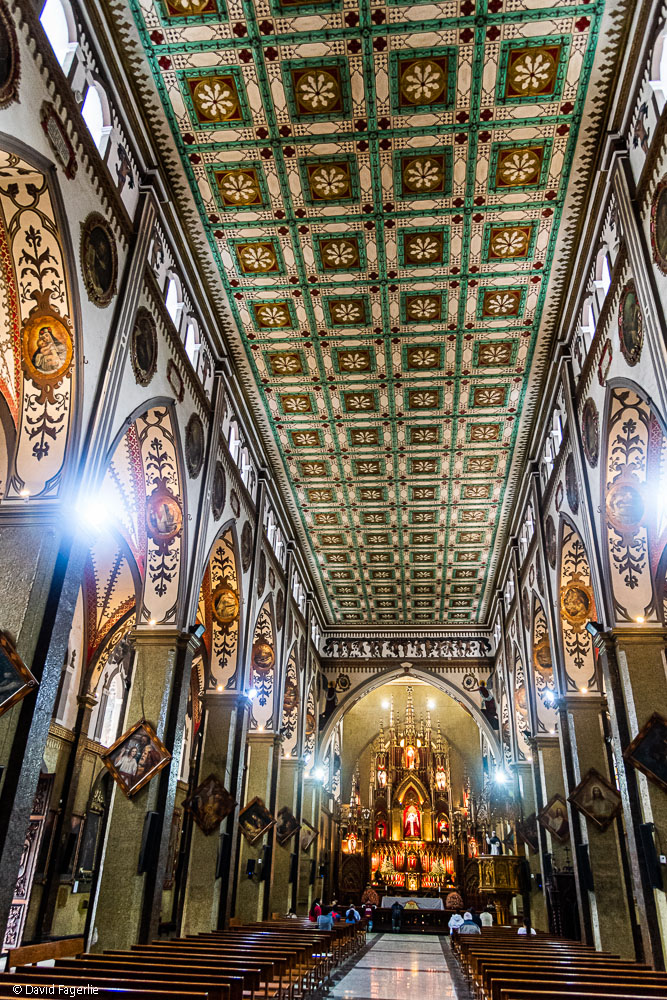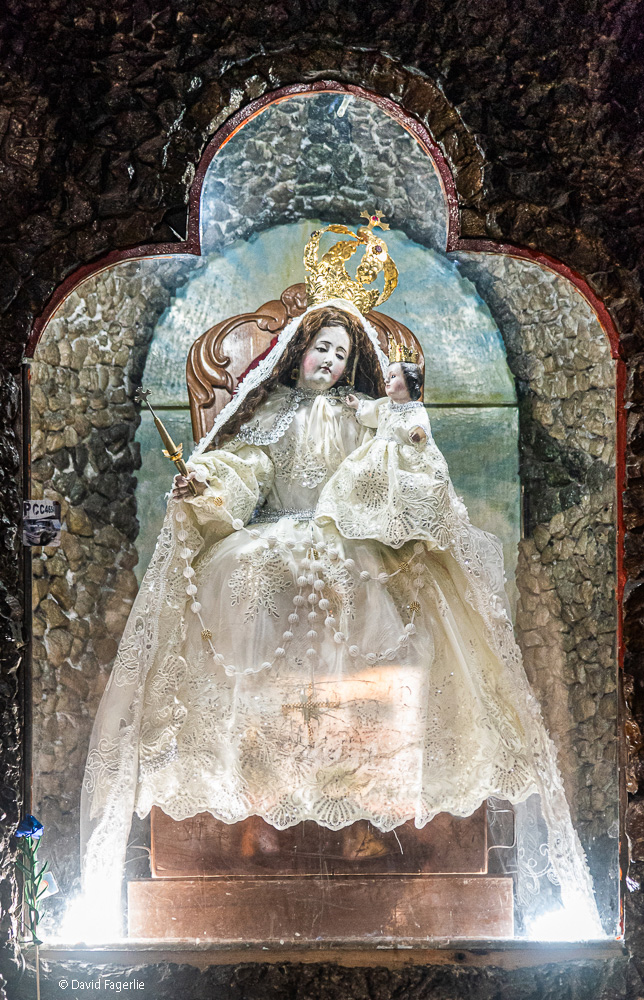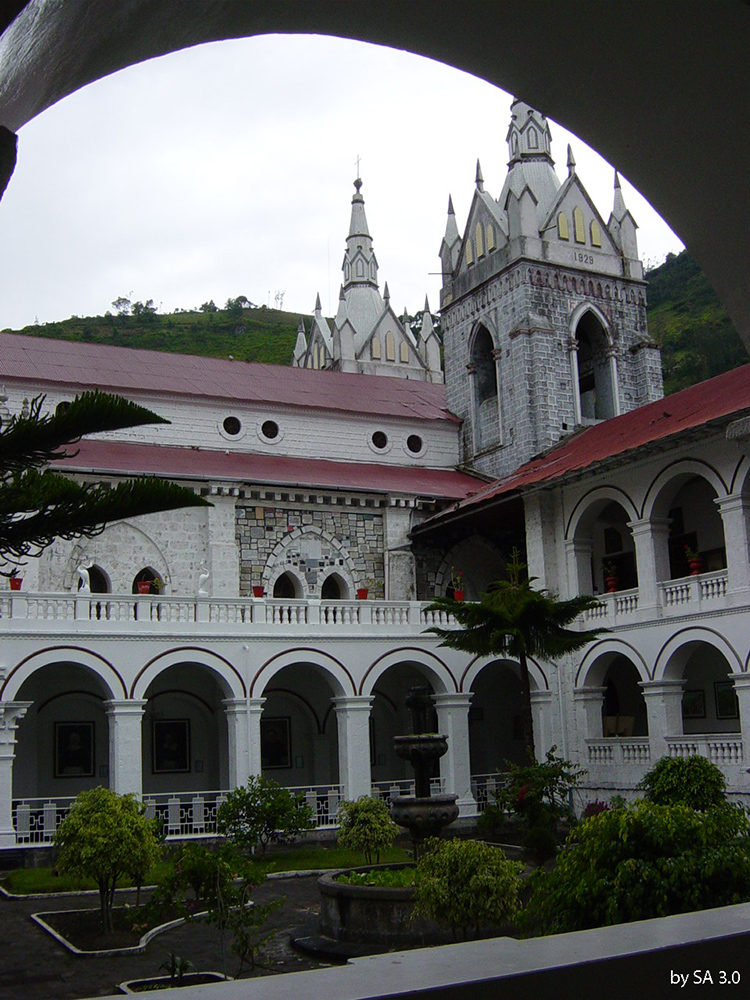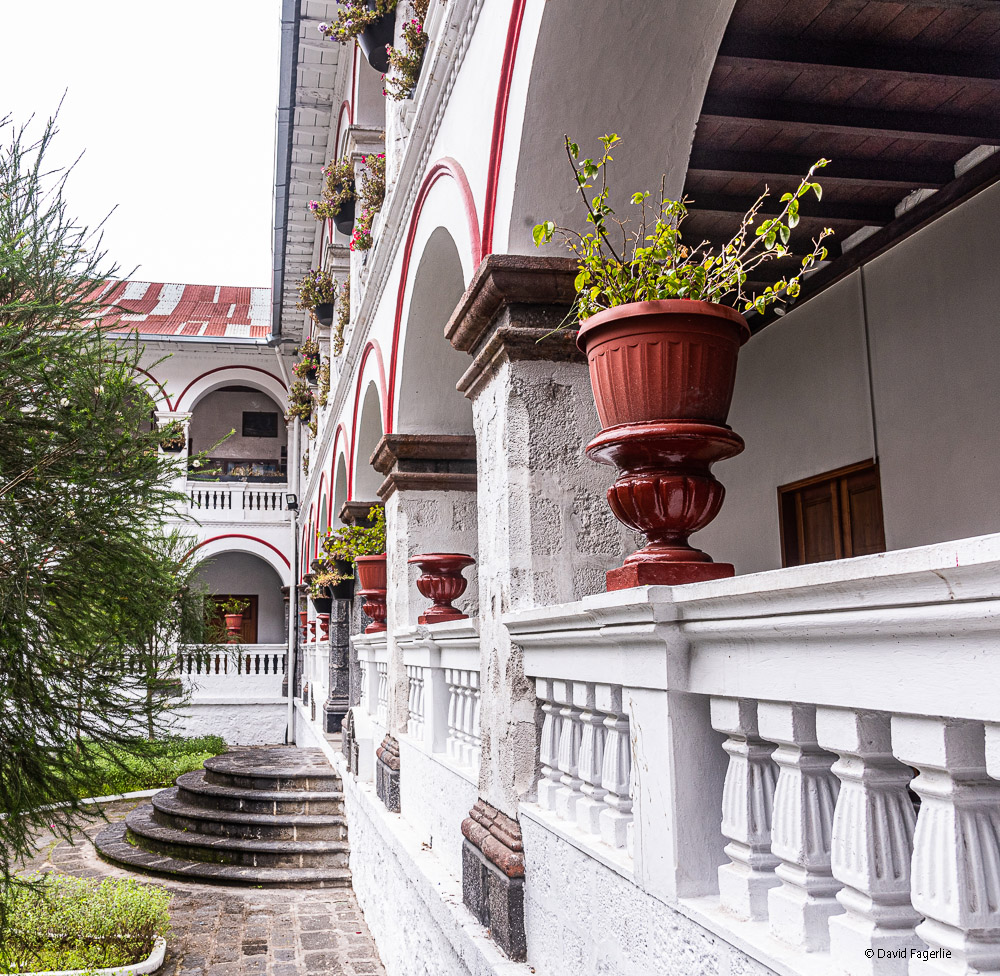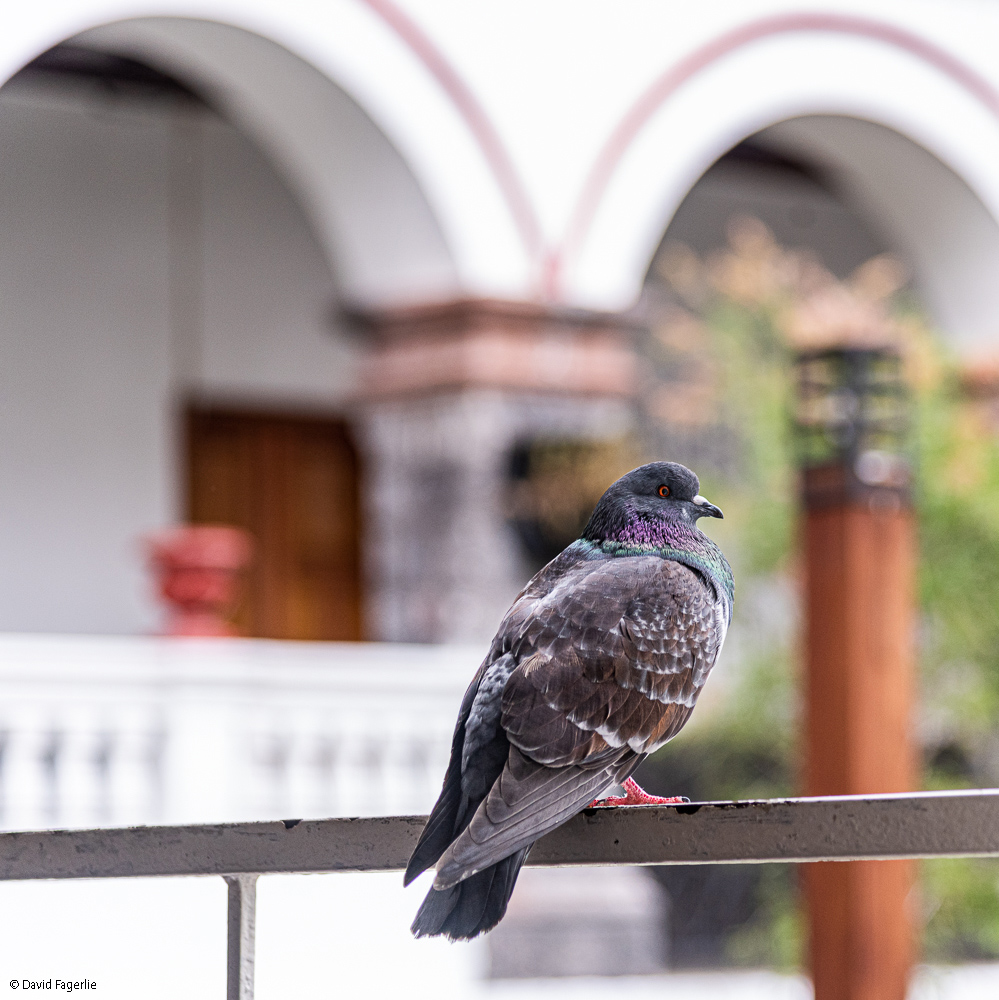 Some of the waterfalls in and around Baños are spectacular. They gush with huge volumes of water, at least all that I saw. It makes sense. Baños is the last city before the Oriente (Amazon) and it channels its share of the water flowing down the east side of the Andes (the continental divide). The first big waterfall we saw was impressive, I thought.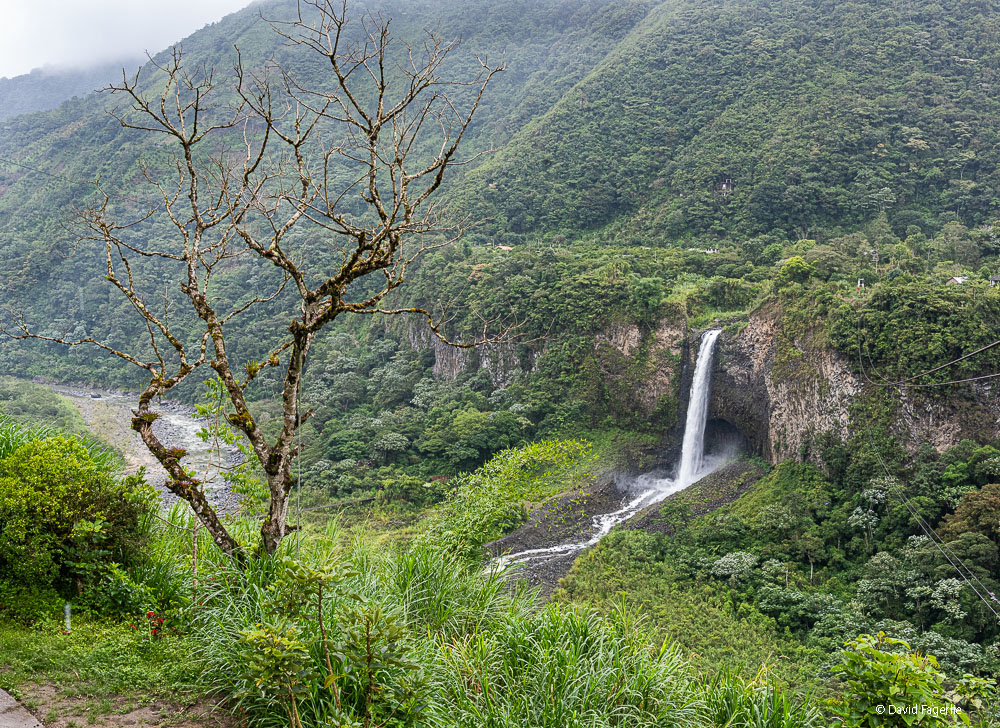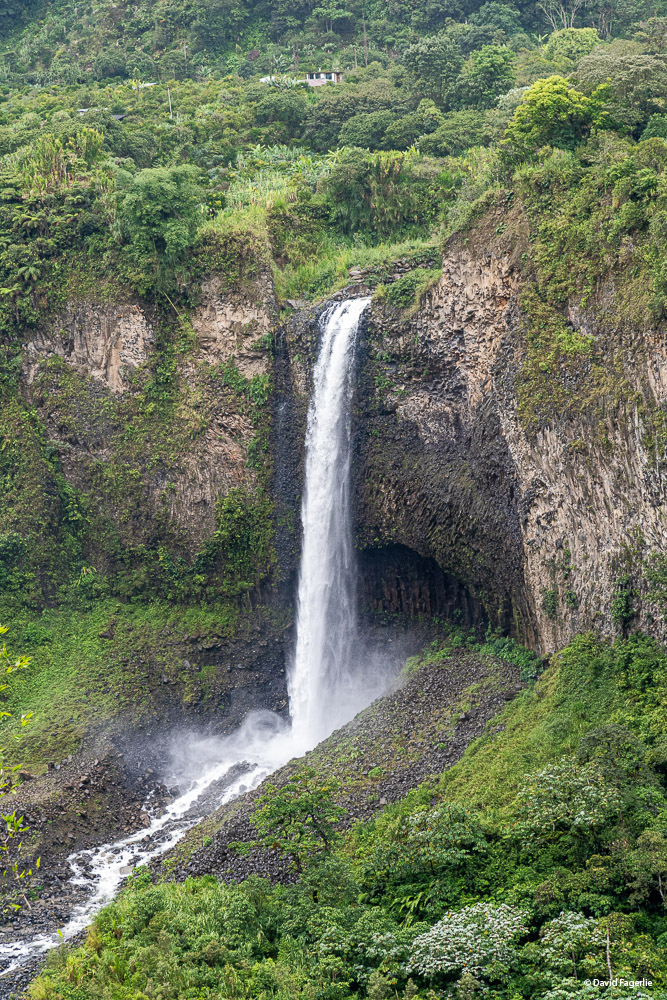 Later, we headed out to see another waterfall. At the entrance we paid one-dollar per ticket to get onto the trail. The trail to the waterfall had beautiful and interesting plants.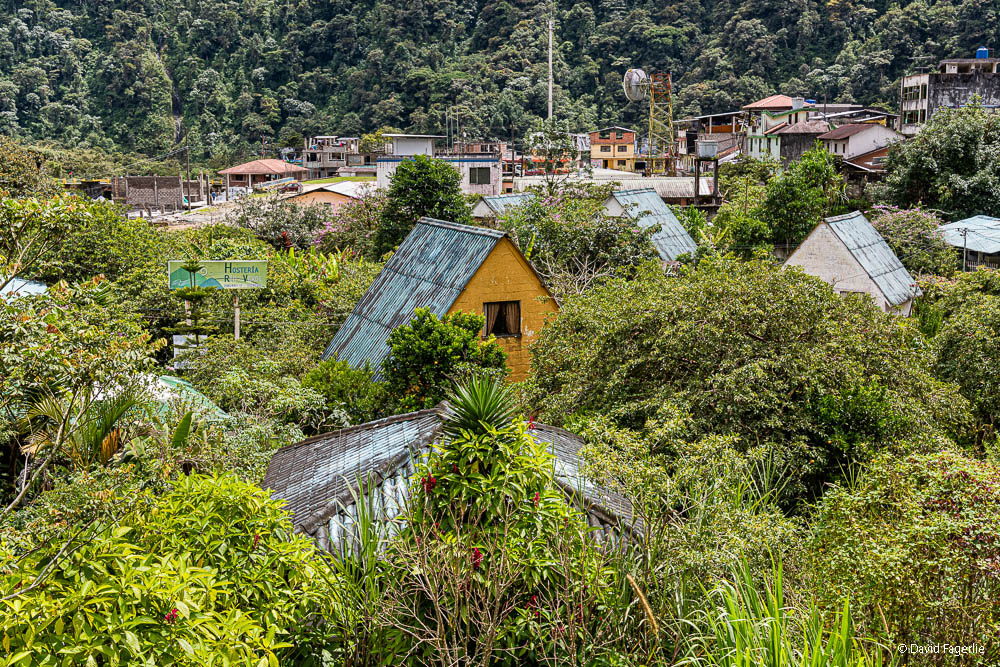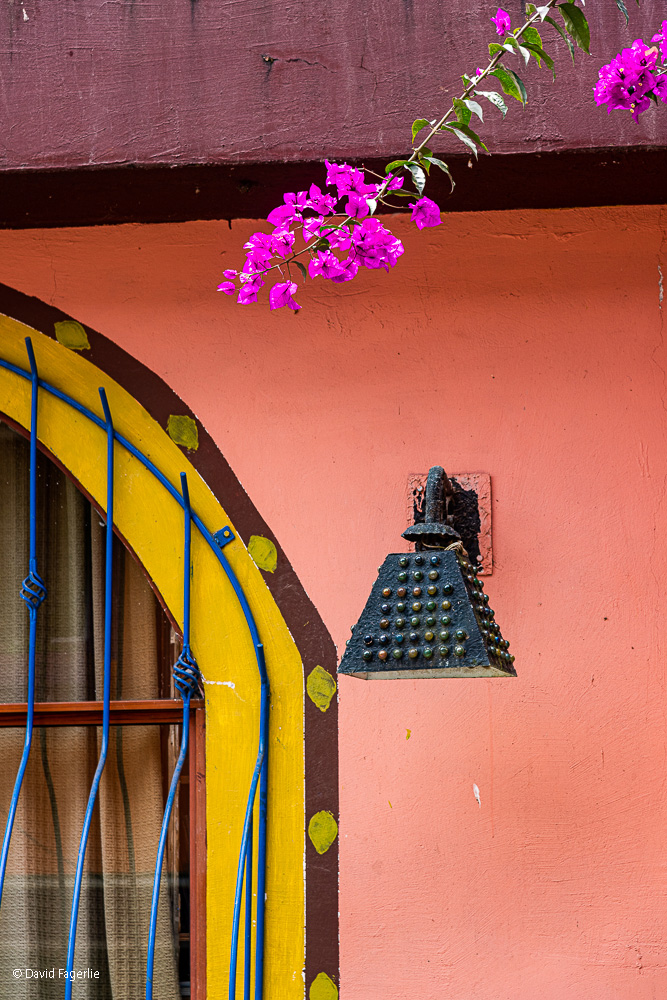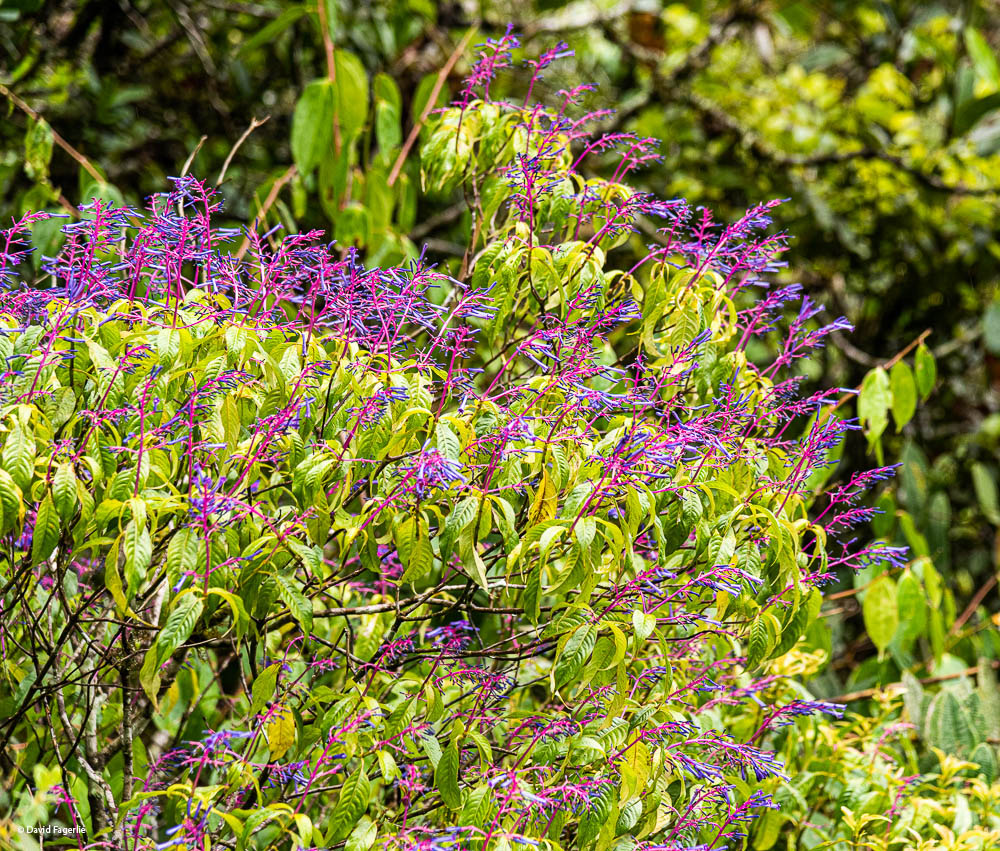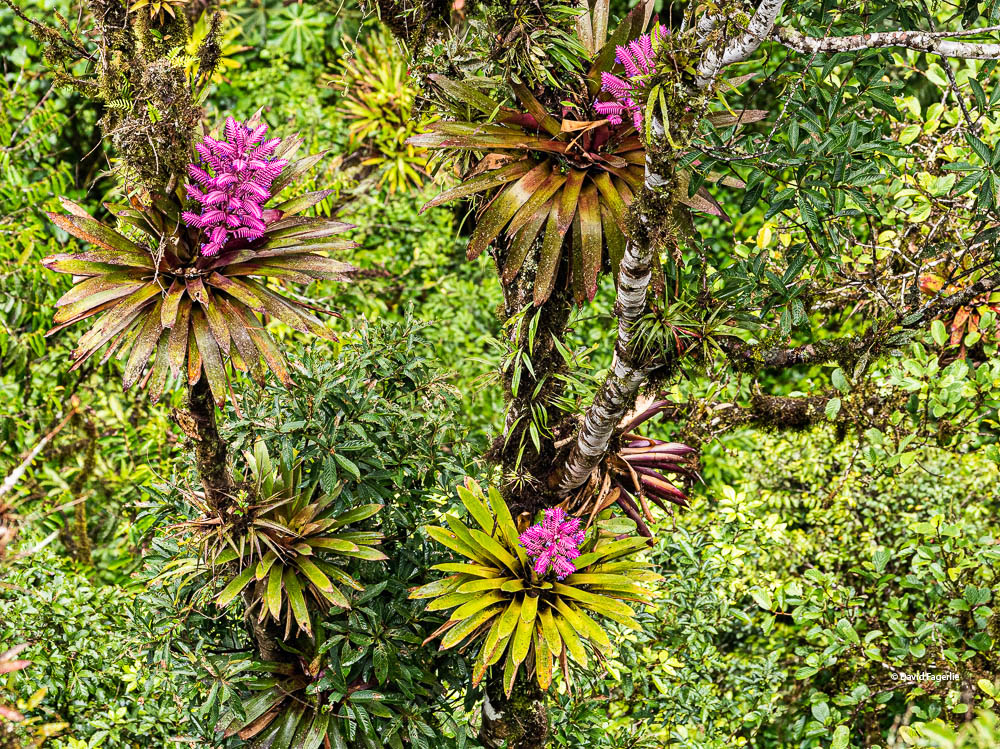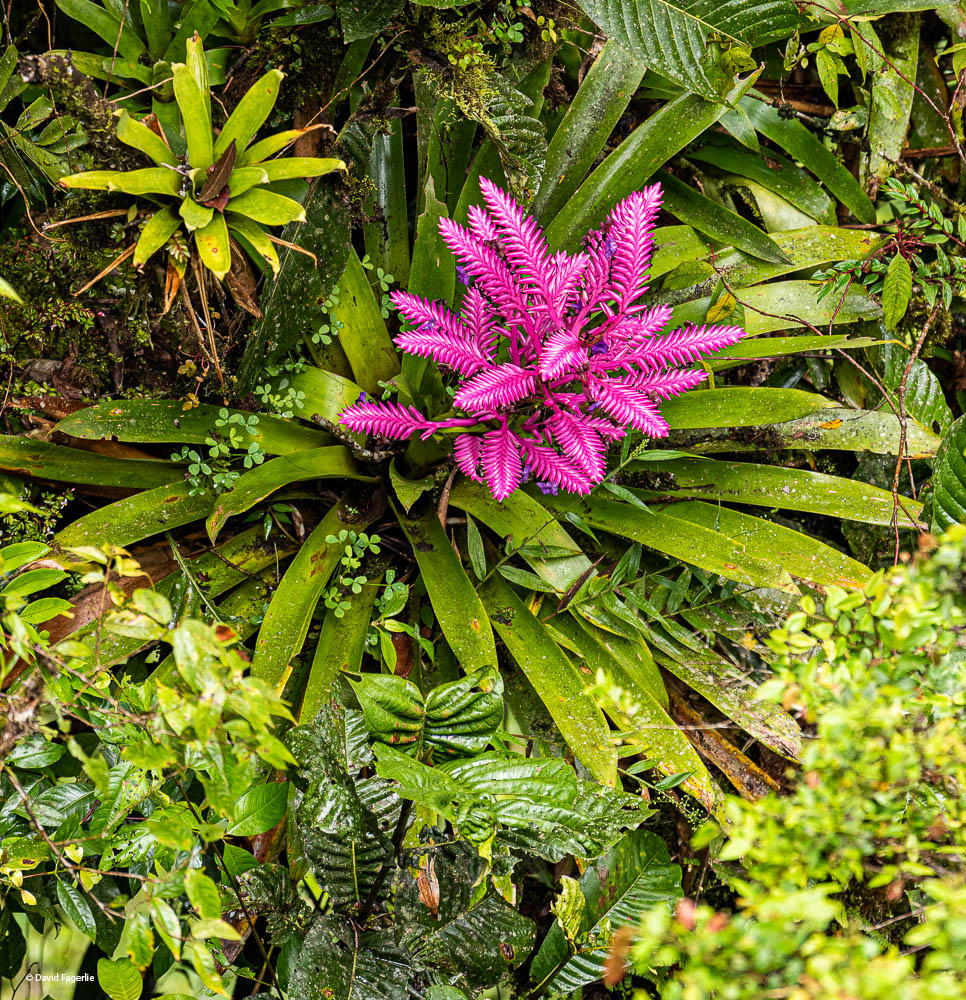 In a while we were walking along a massive volume of water moving very fast. I loved the volcanic rock, polished by the river.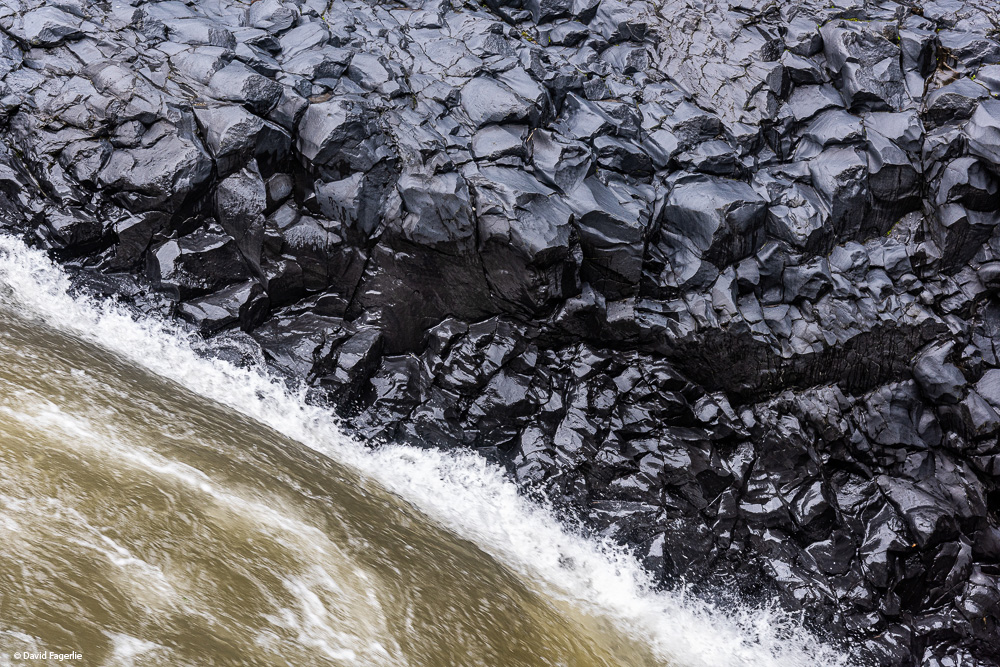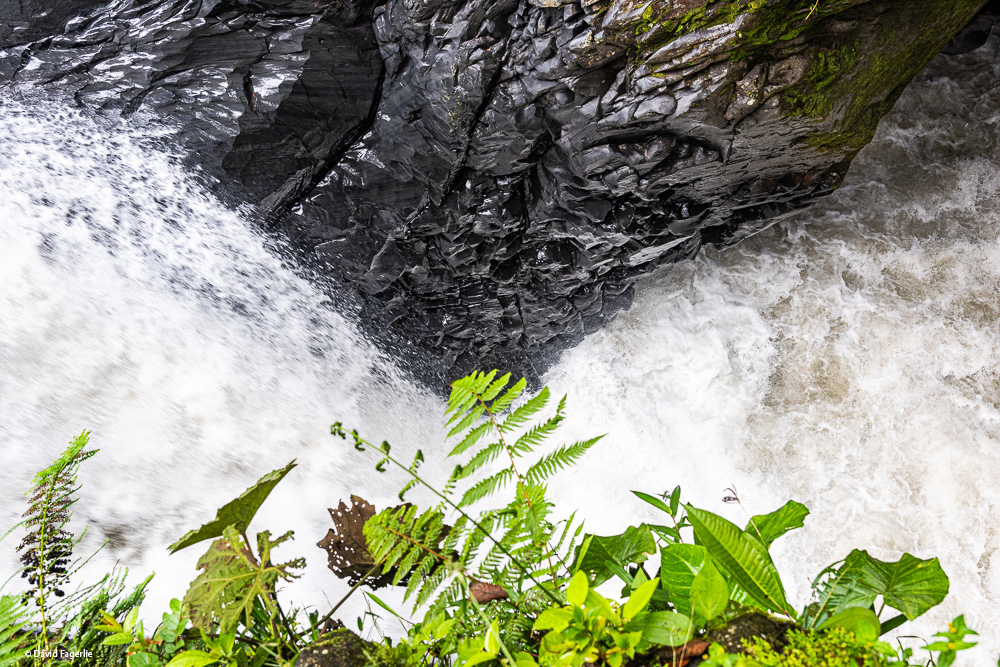 The sound of the waterfall became louder until there it was. The magnitude of Pailón del Diablo (the Devil's Pan) set me back and it was impossible to frame in my camera with the lens that I had back then. If you visit and want to see all of it, bring a raincoat.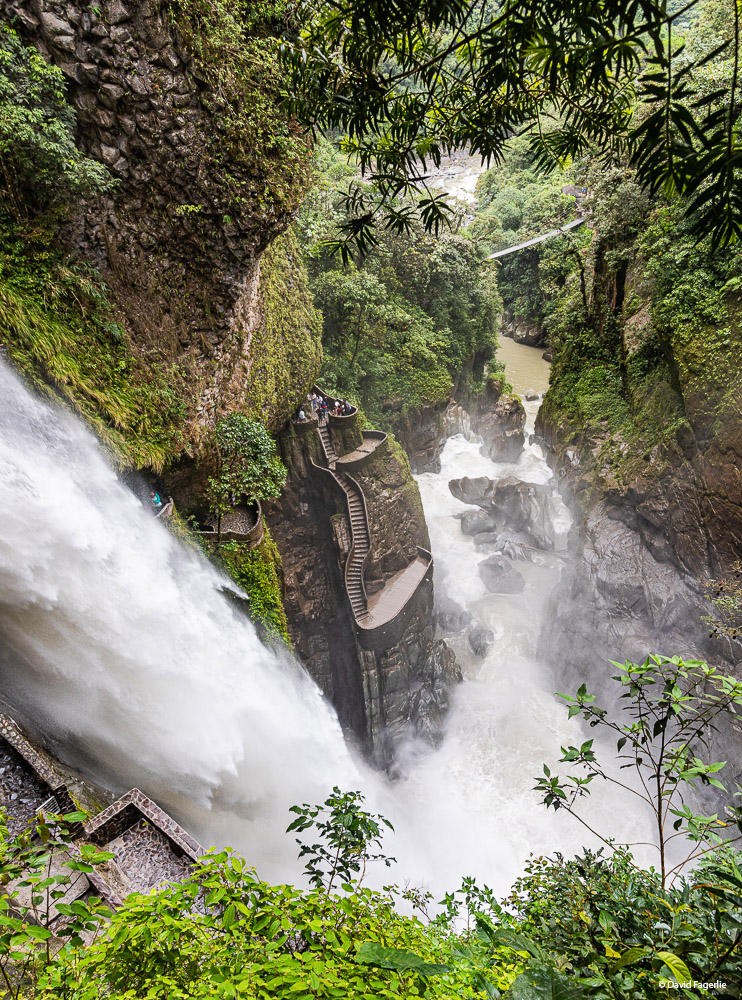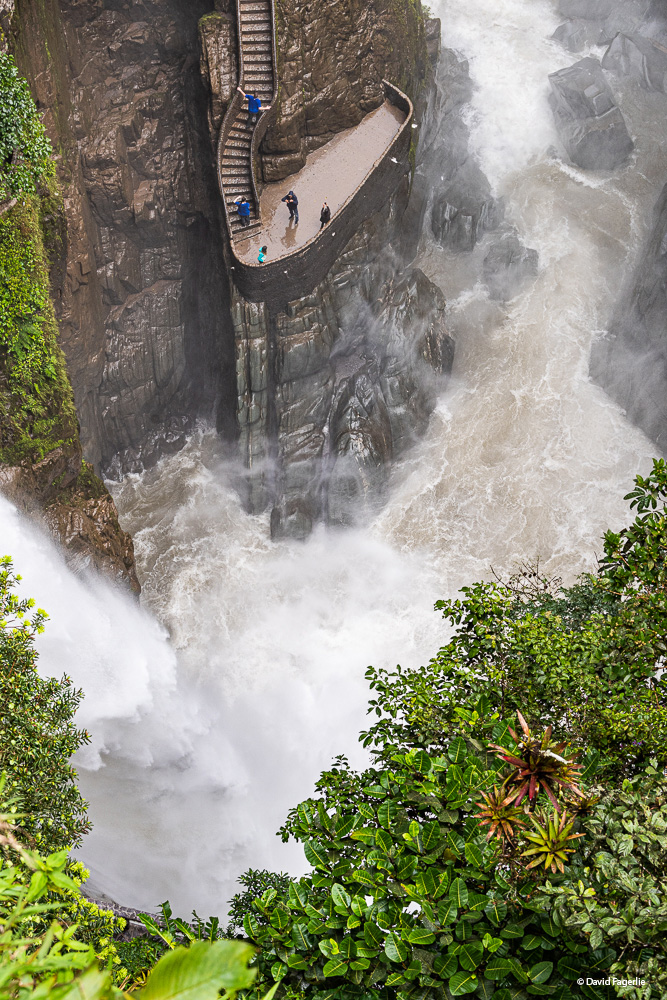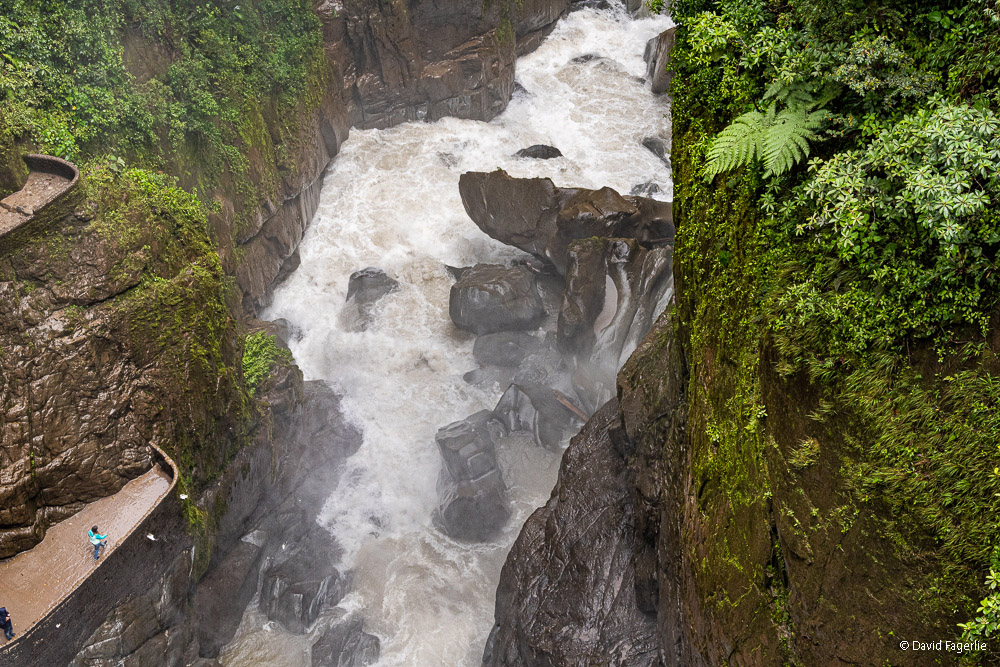 We were so close to the Oriente we made a short trip down, and I mean way down, to the community of Puyo. The area we visited didn't have much see; however, the kids and their pets made the trip worthwhile.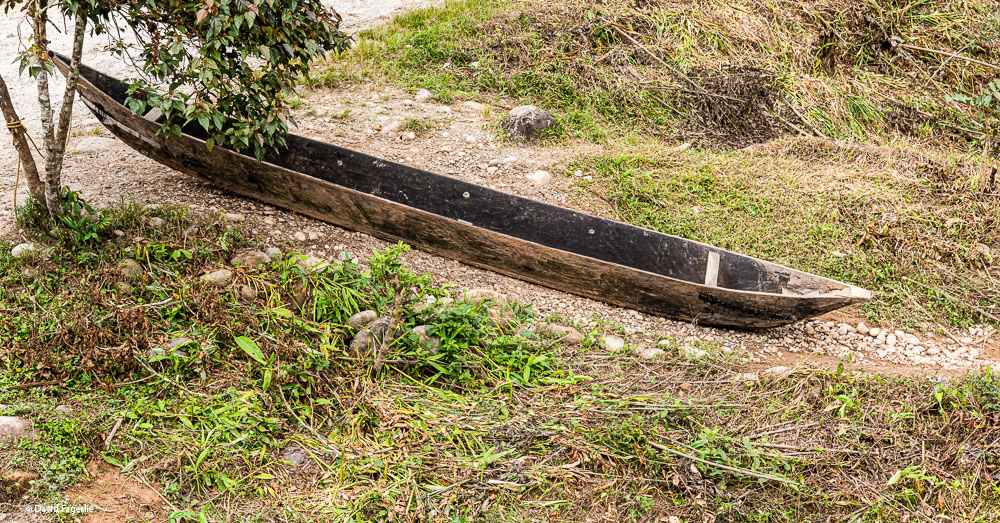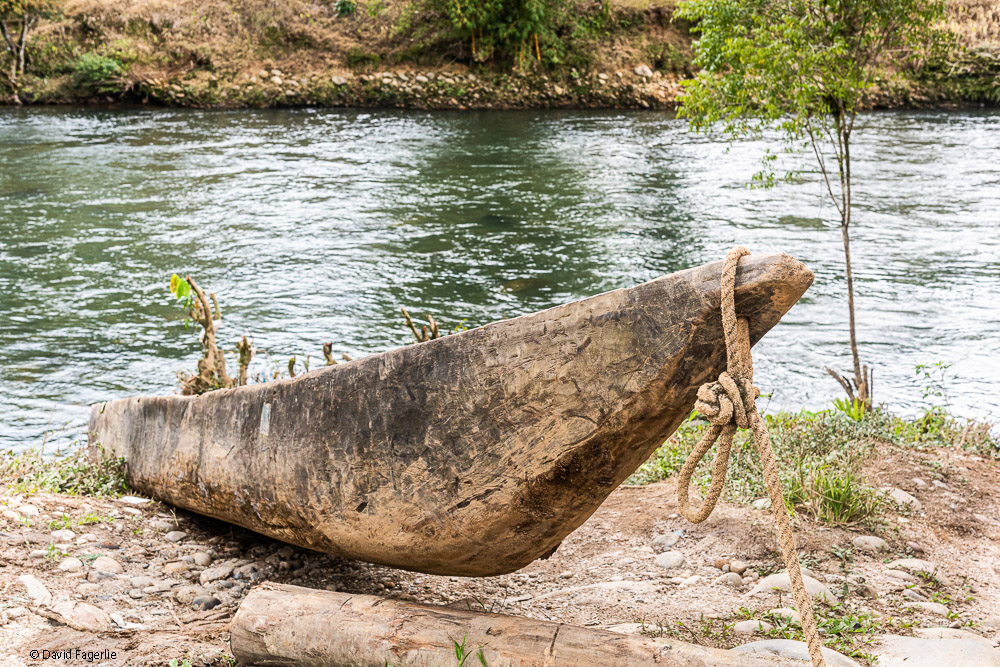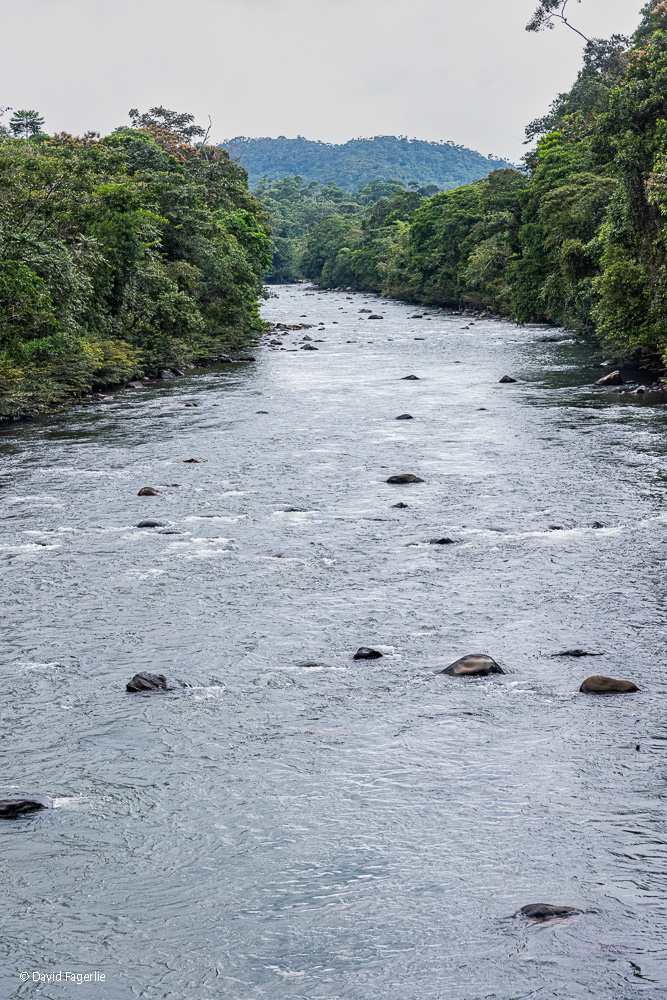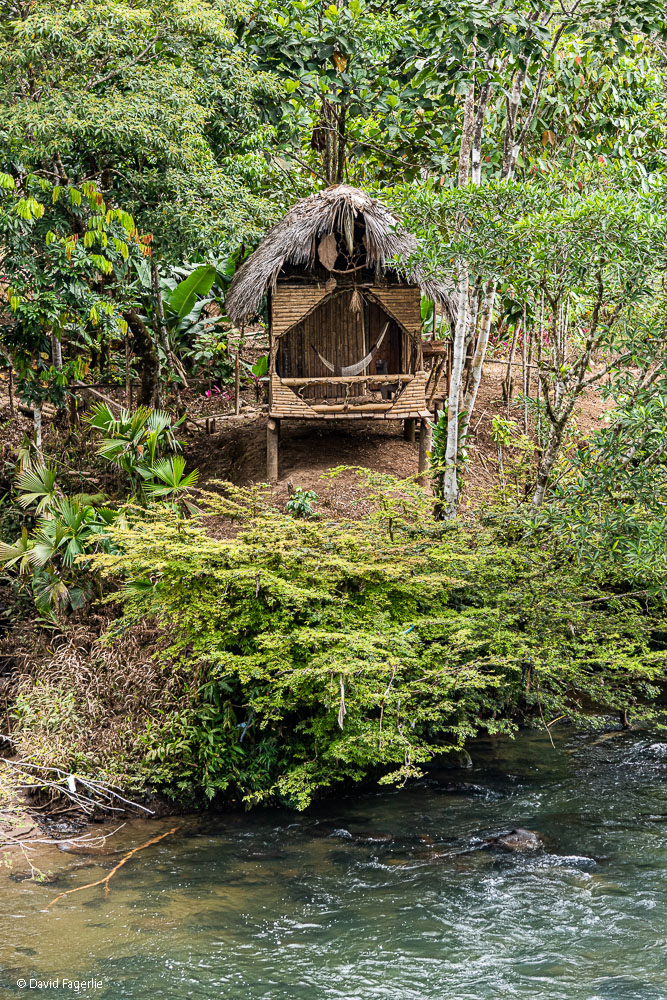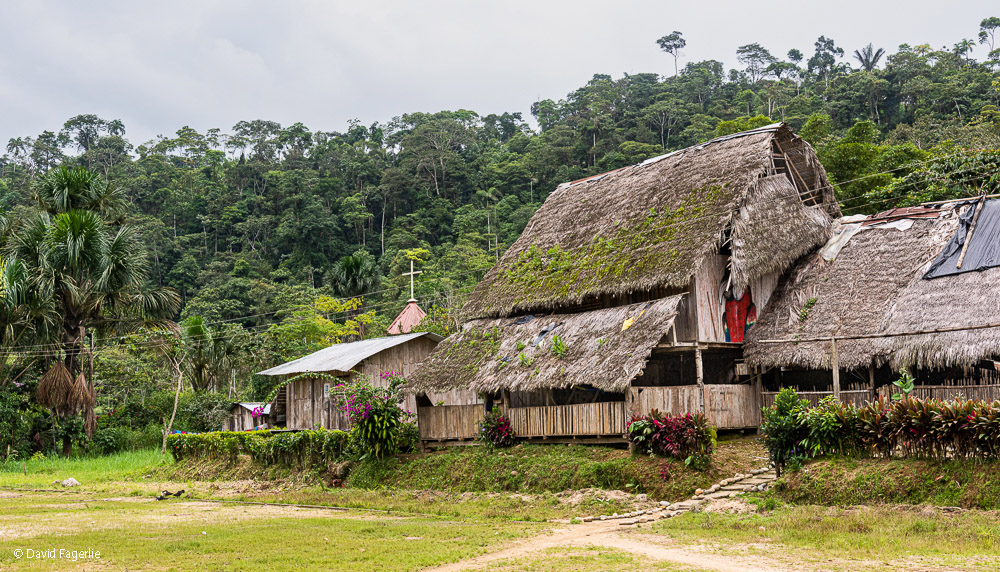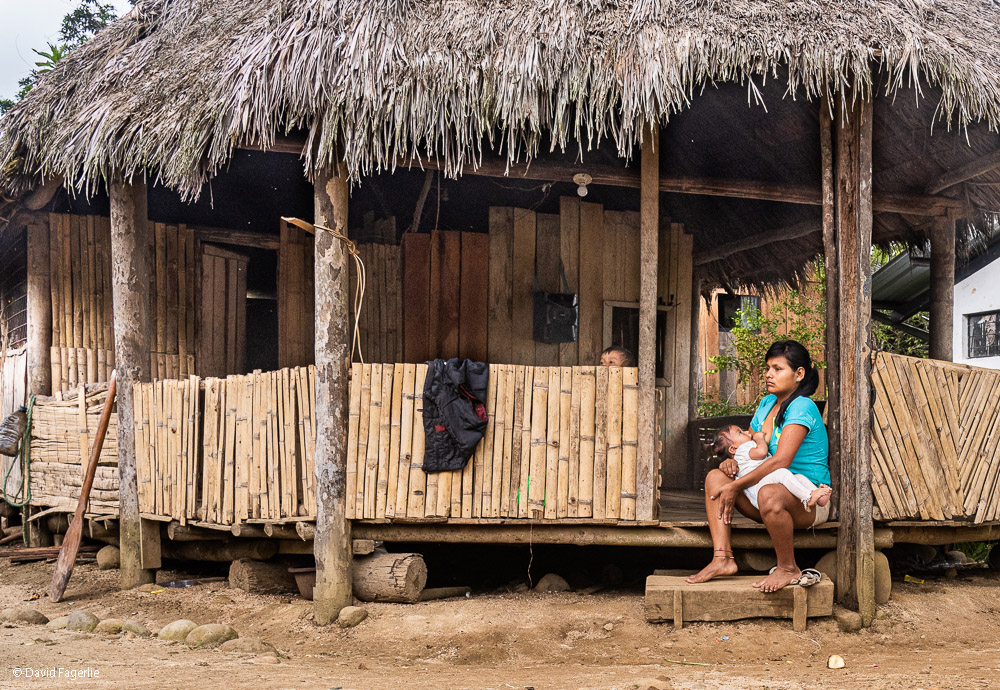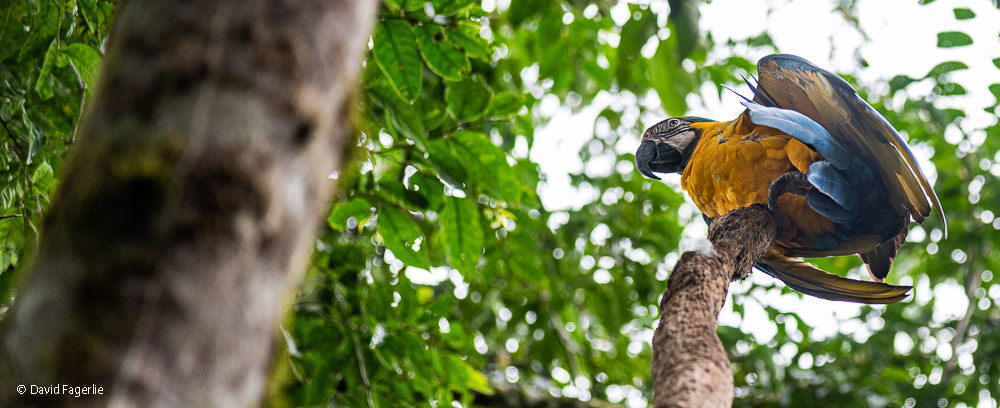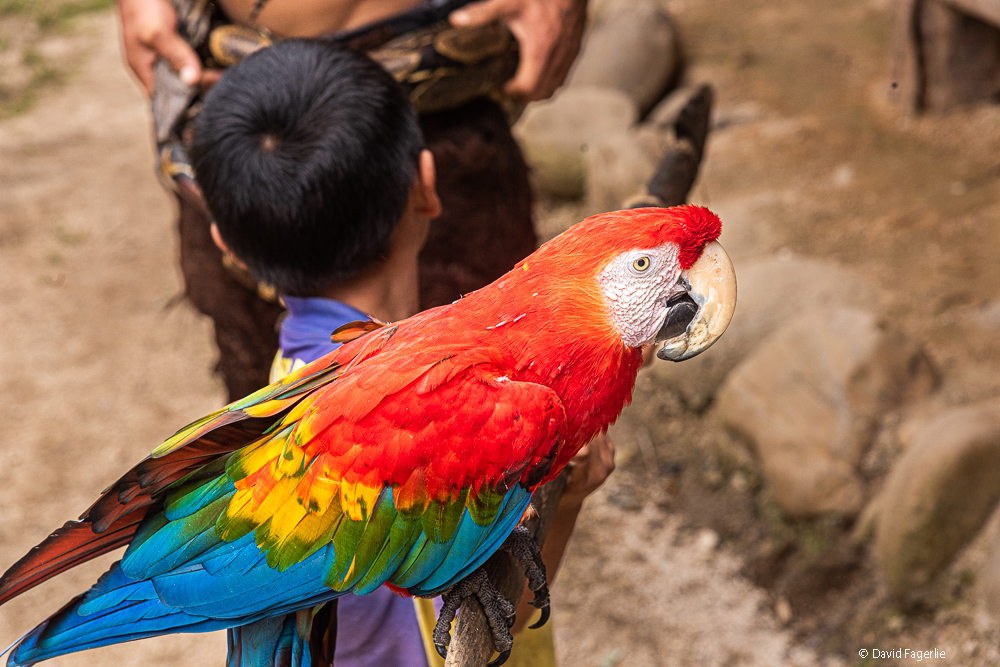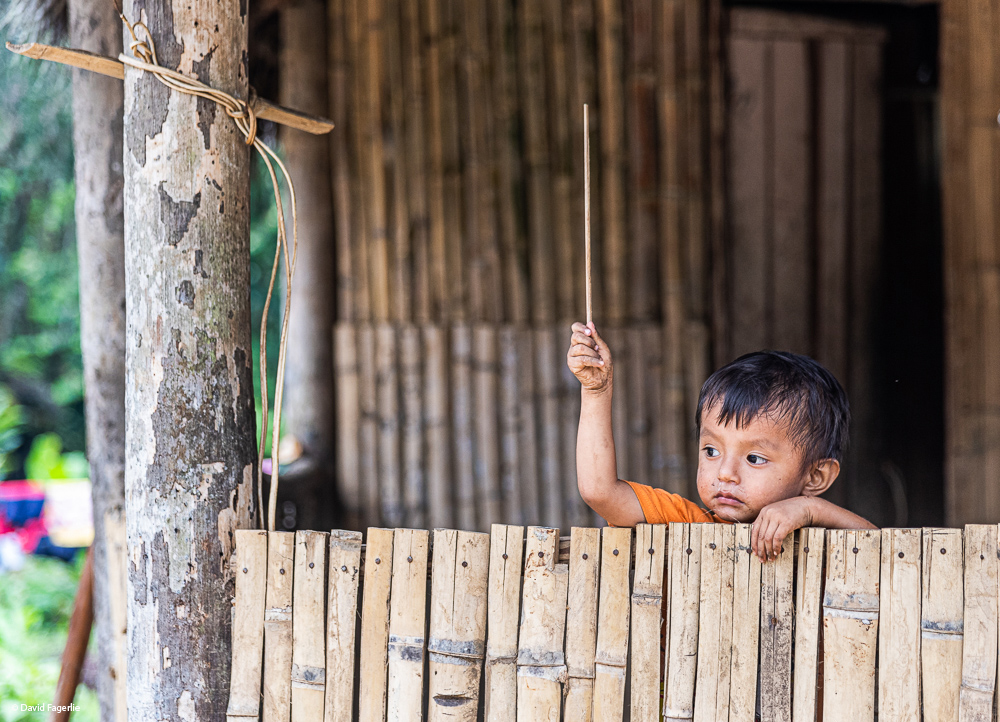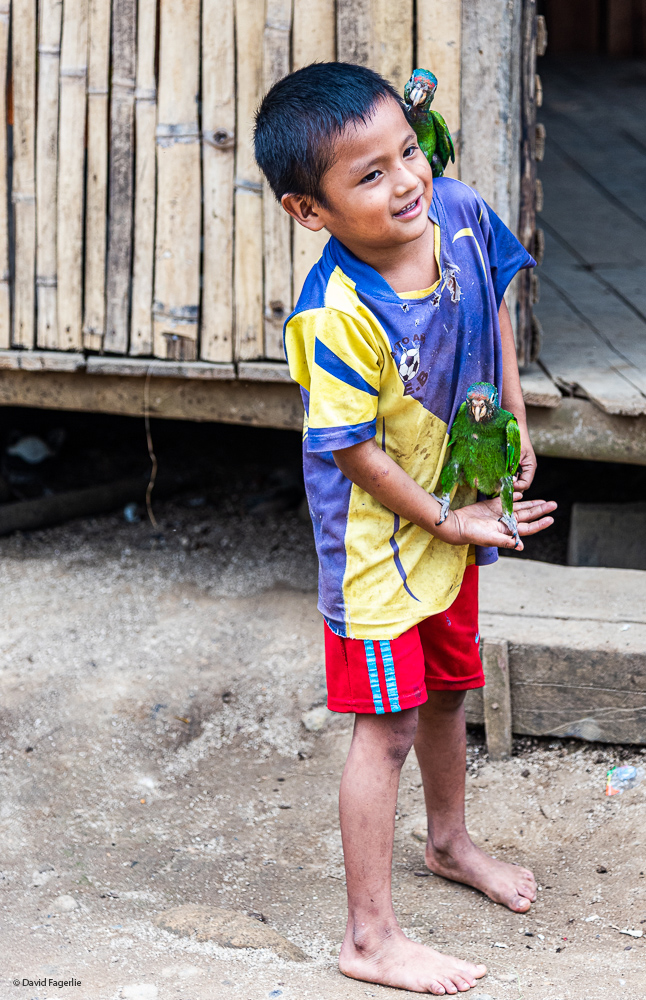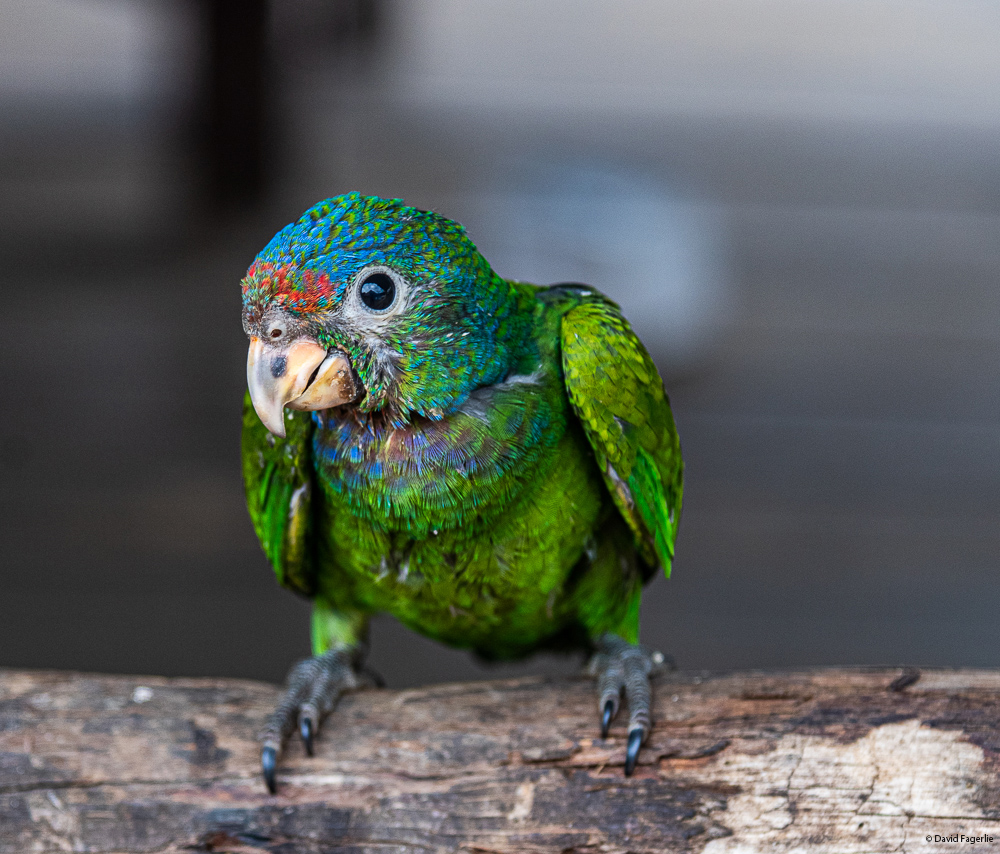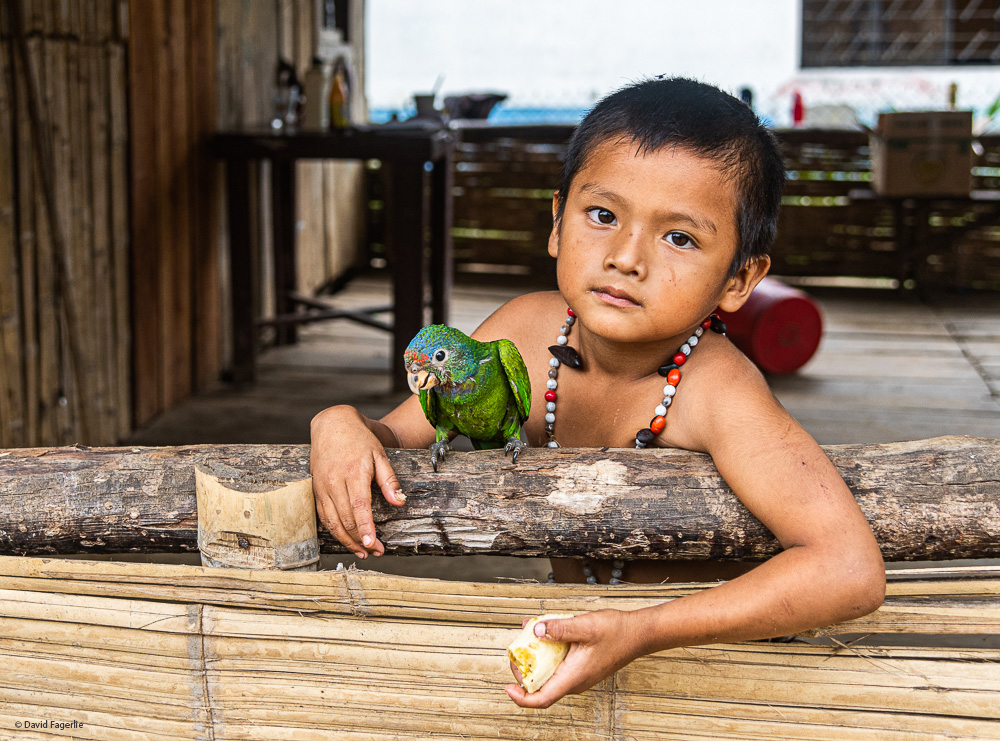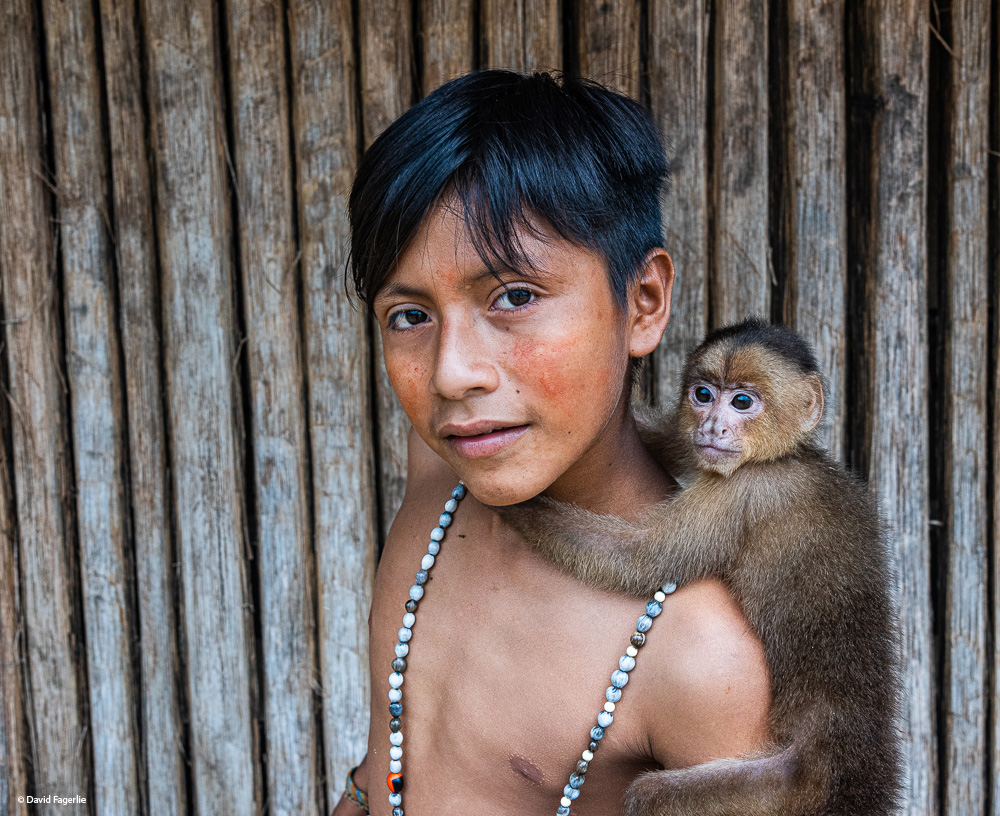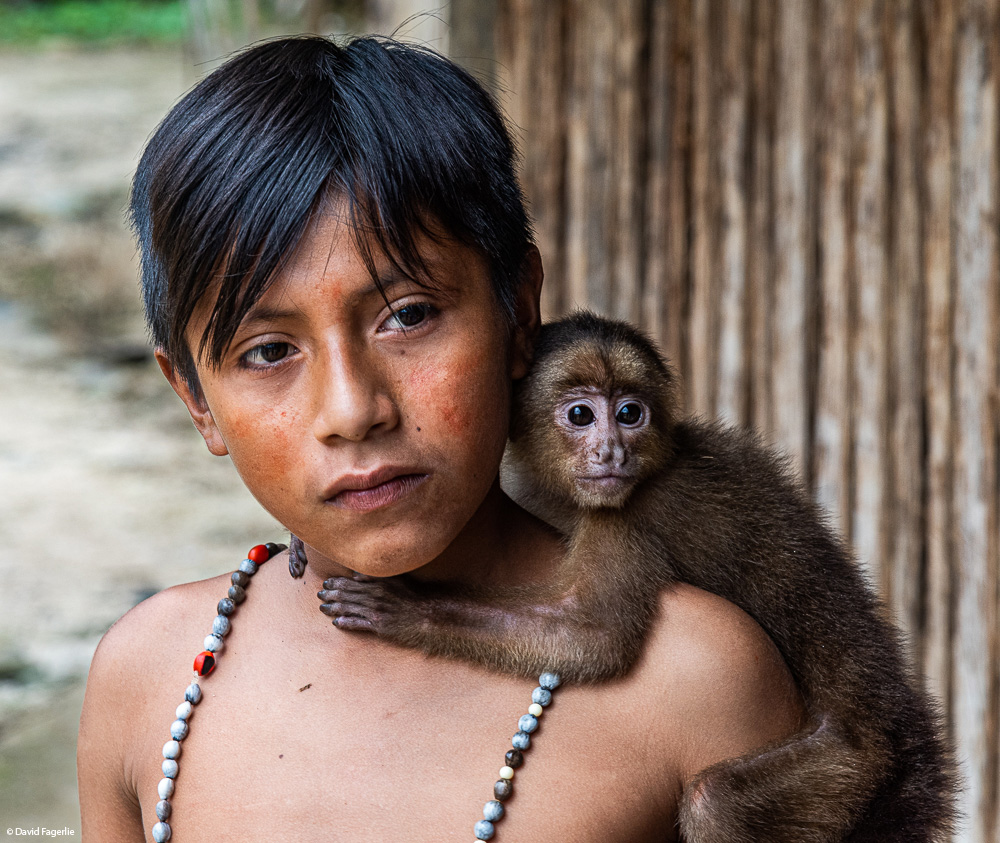 This wraps up Avenue of the Volcanoes. You can access higher resolution images of this chapter in its gallery by clicking HERE.
Next week we head to Quito, Ecuador's capital. Have a great week and stay safe.