Ecuador – Part 7: Quito
Chapter 4: Art Everywhere
In my limited experience, it seems that in Latin America art is everywhere. Much of the art is Catholic in orientation and found not just in cathedrals. Catholic art is expressed in all types and places – in cathedrals, small churches, in homes and on street corners. Much of the more recent art in Ecuador, such as the image below, is cubist in orientation, probably influenced by Oswaldo Guayasamín. The next few photos in a typical historic hotel there were numerous examples of contemporary artistic expression. At a coffee shop art was built into the walls.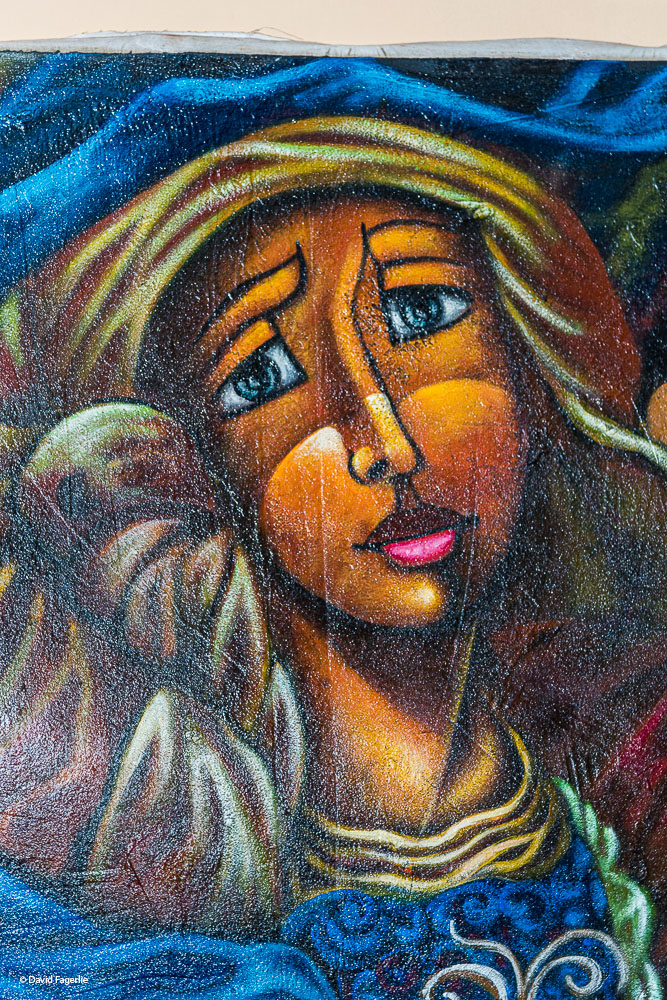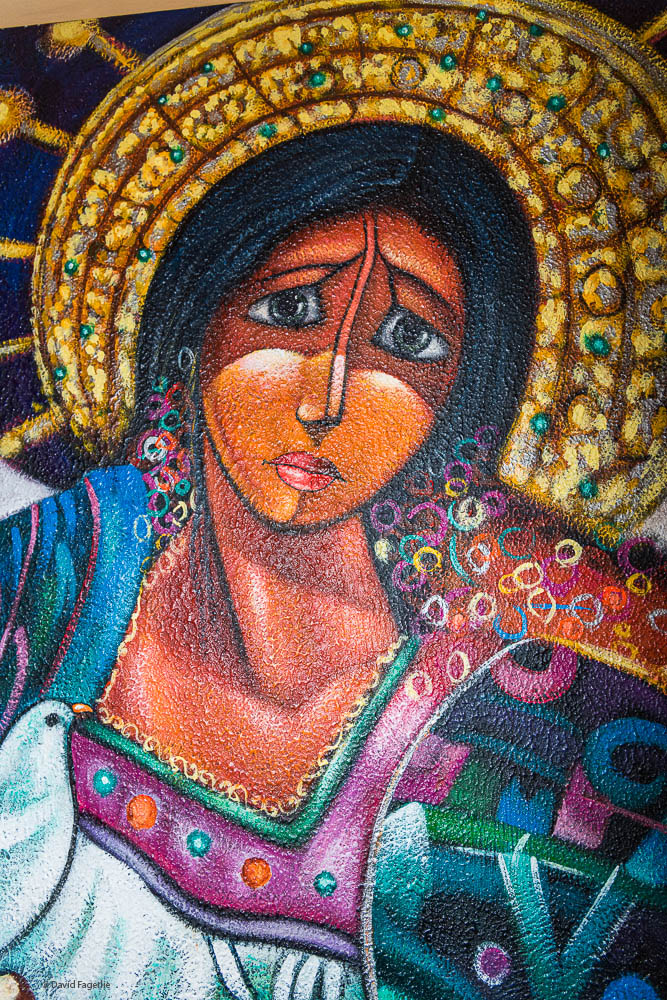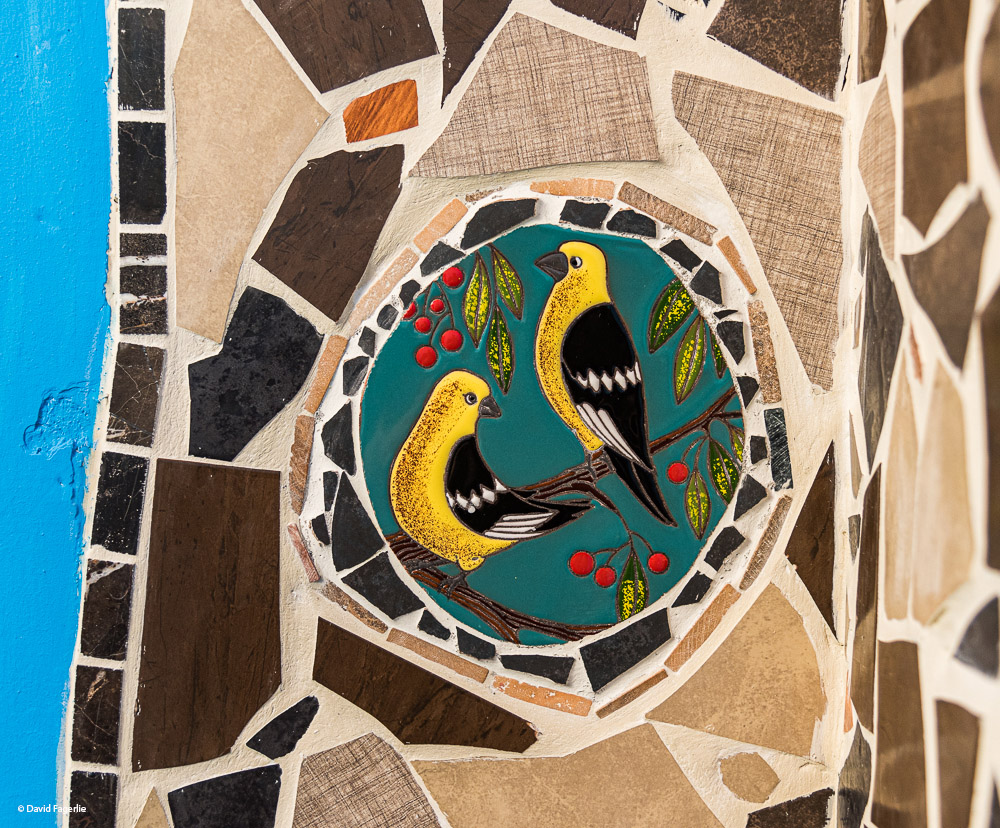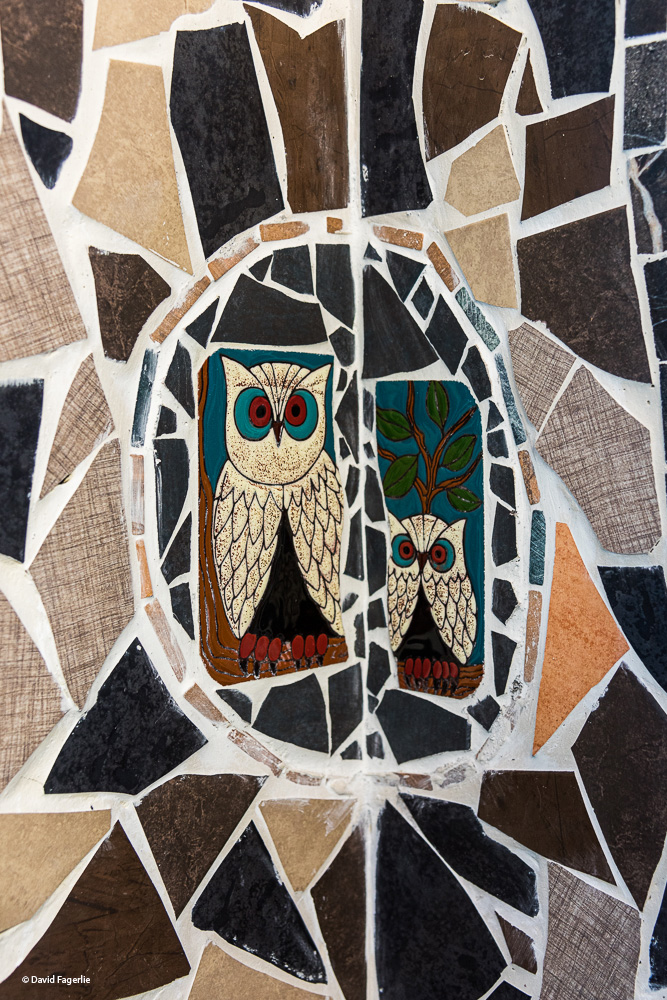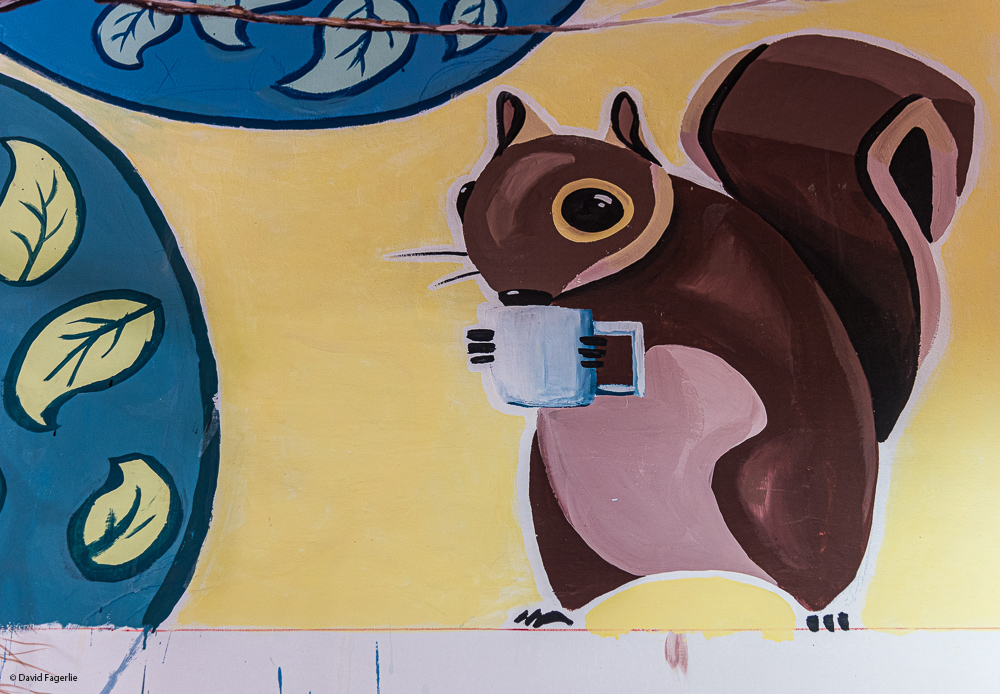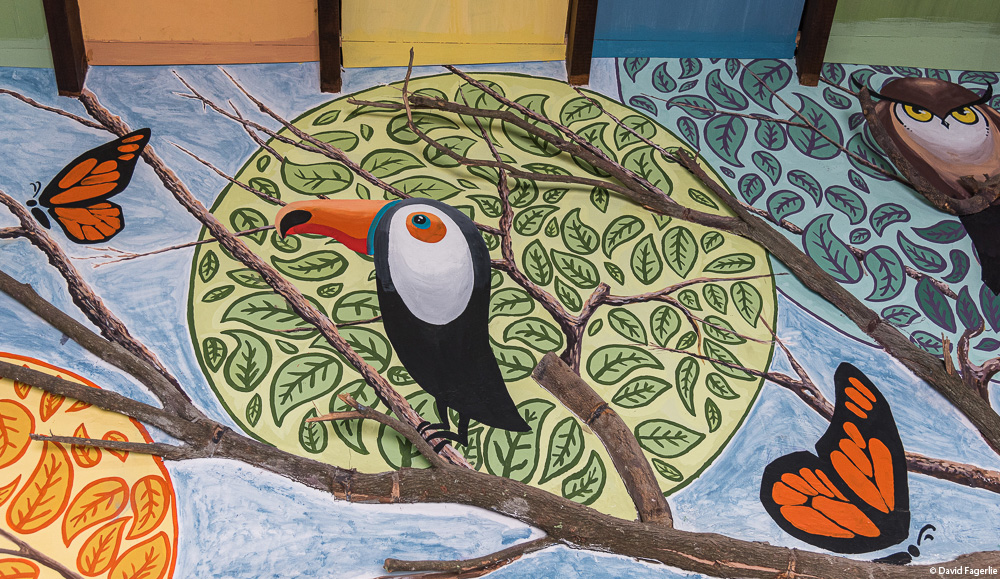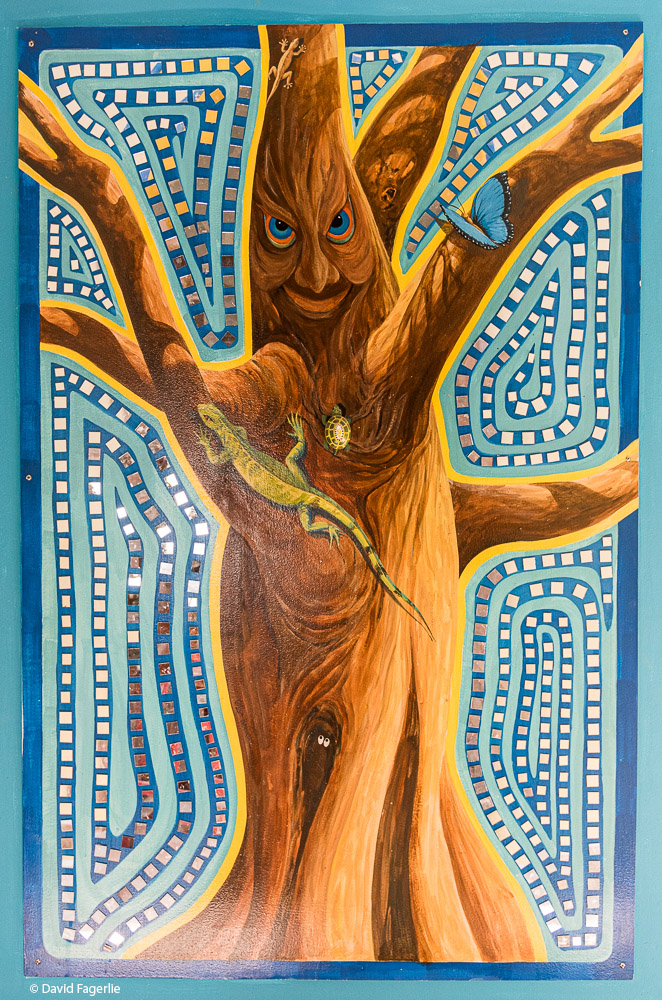 I went into this bank to change a twenty into one-dollar coins of US currency, Ecuador's official currency. One dollar coins are the most popular form and denomination for taxis and street vendors. A very polite and well-dressed man just inside of the bank explained gently that I was trying to enter Ecuador's central bank, Banco Central (like the Federal Reserve in the US) and there was no place to get twenty coins. Perhaps if I had asked for a million dollars I would have been more successful?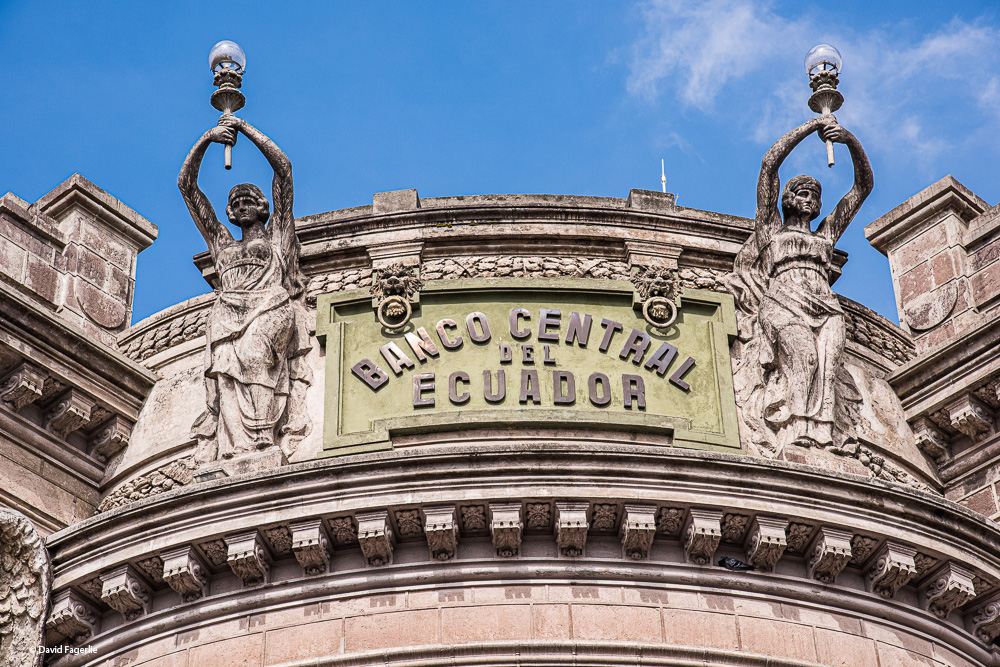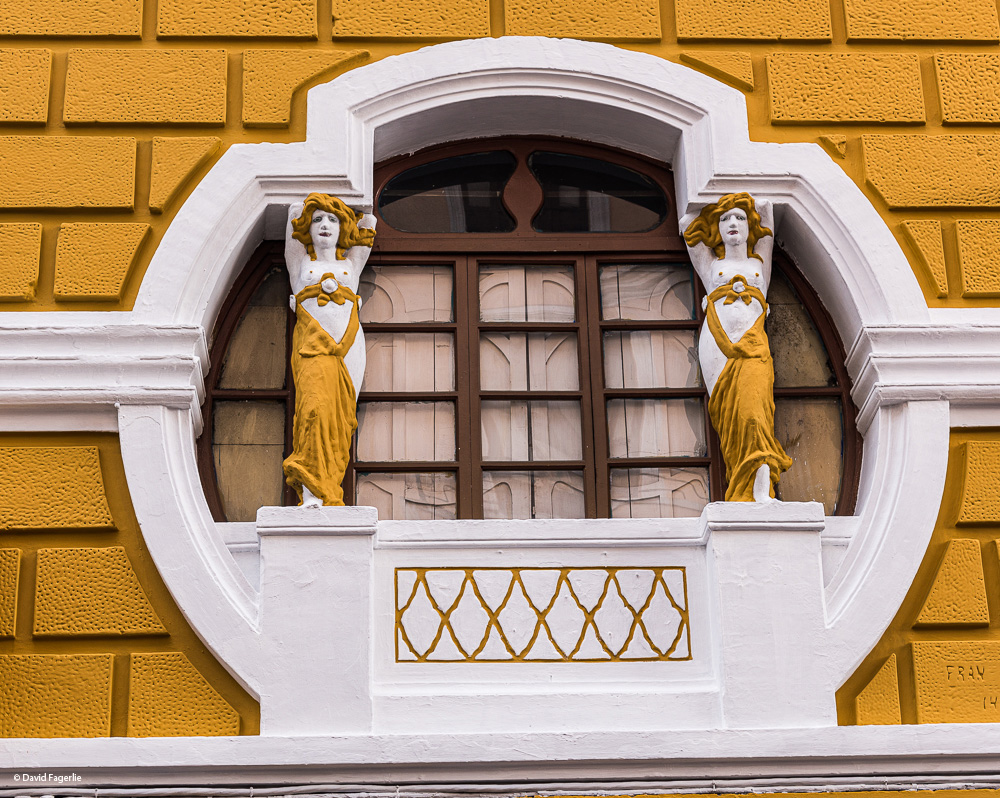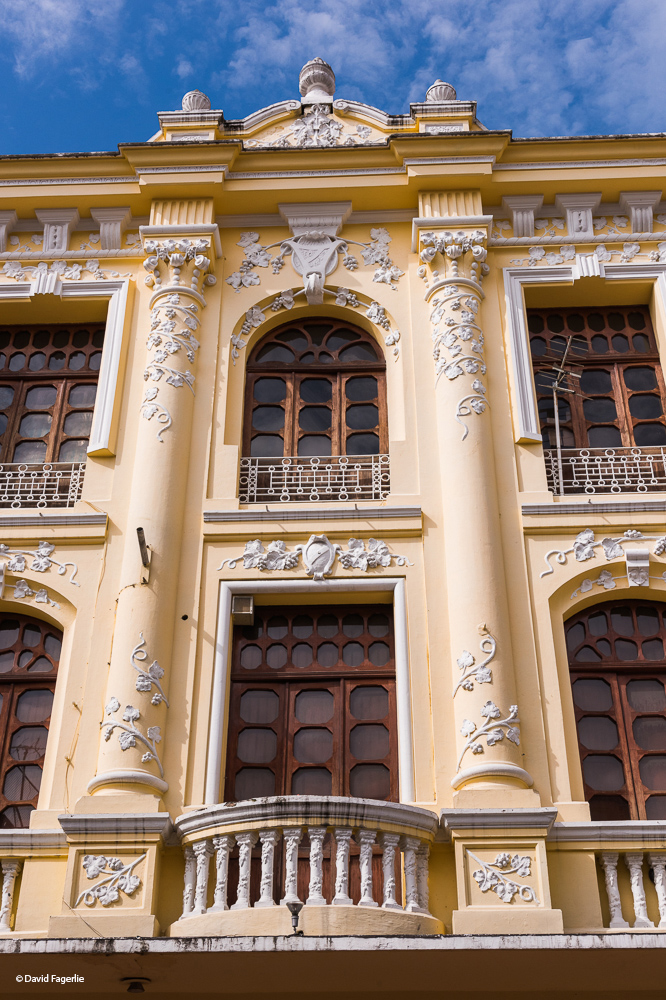 Some of the most interesting architectural art is inside humble buildings. I especially like what Quito has done with historic buildings to give spaces a contemporary look against very old structures. We found a restaurant on the upper floor of a colonial period building on La Ronda that was such a place, and the food was great.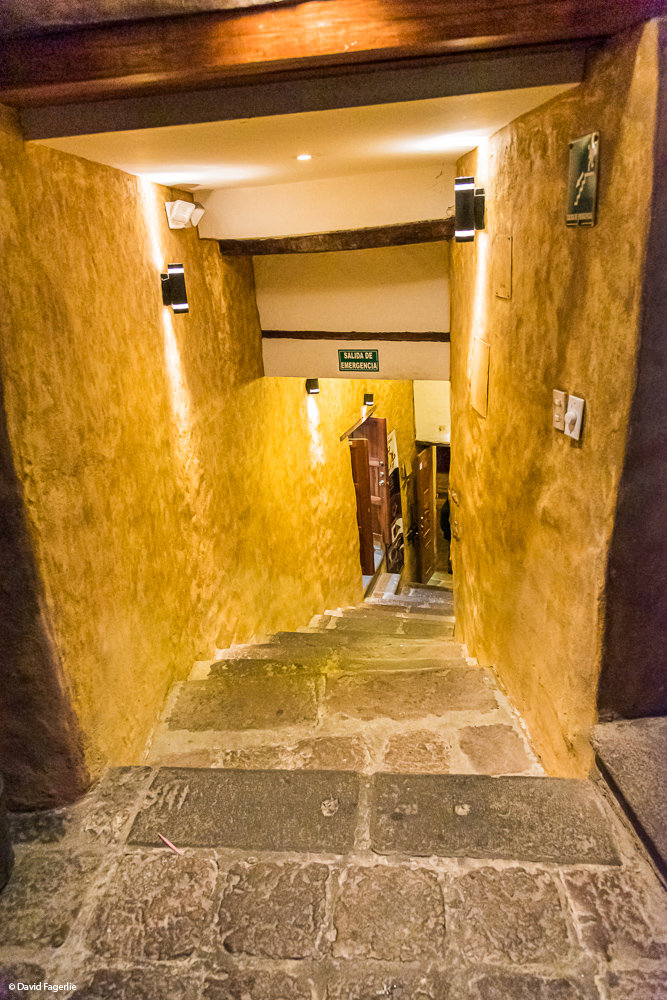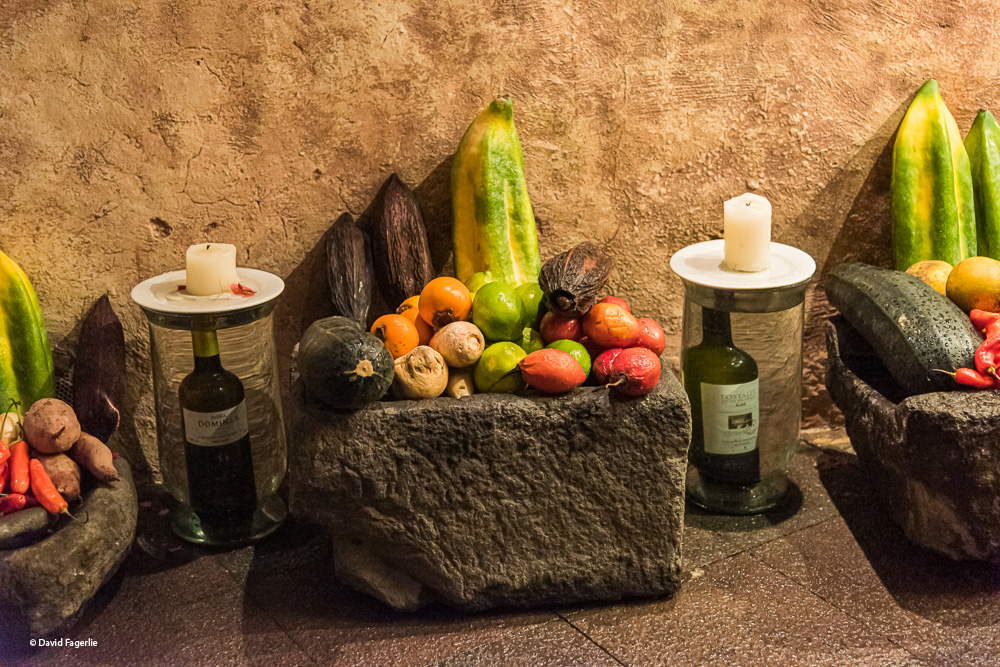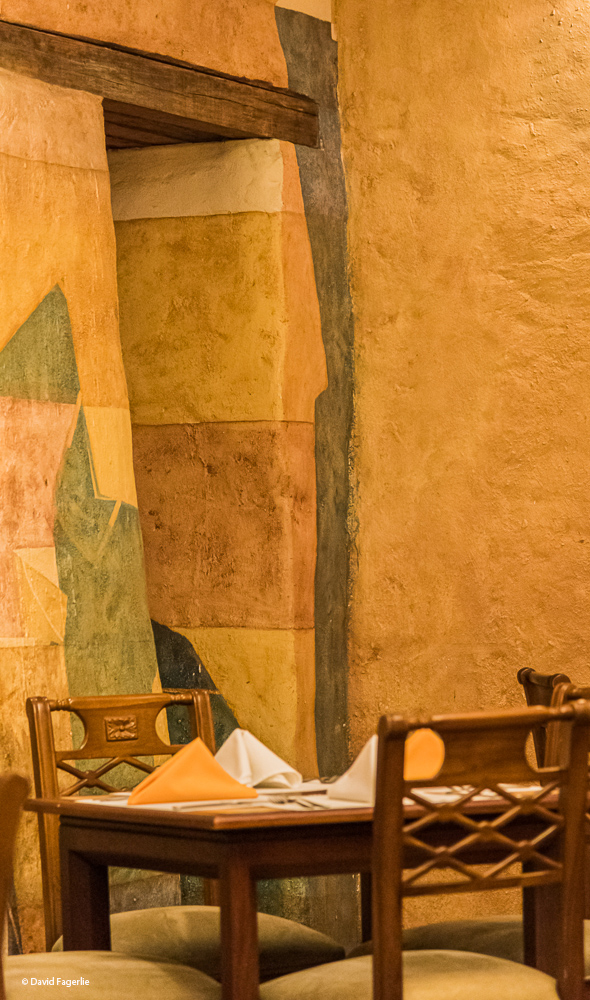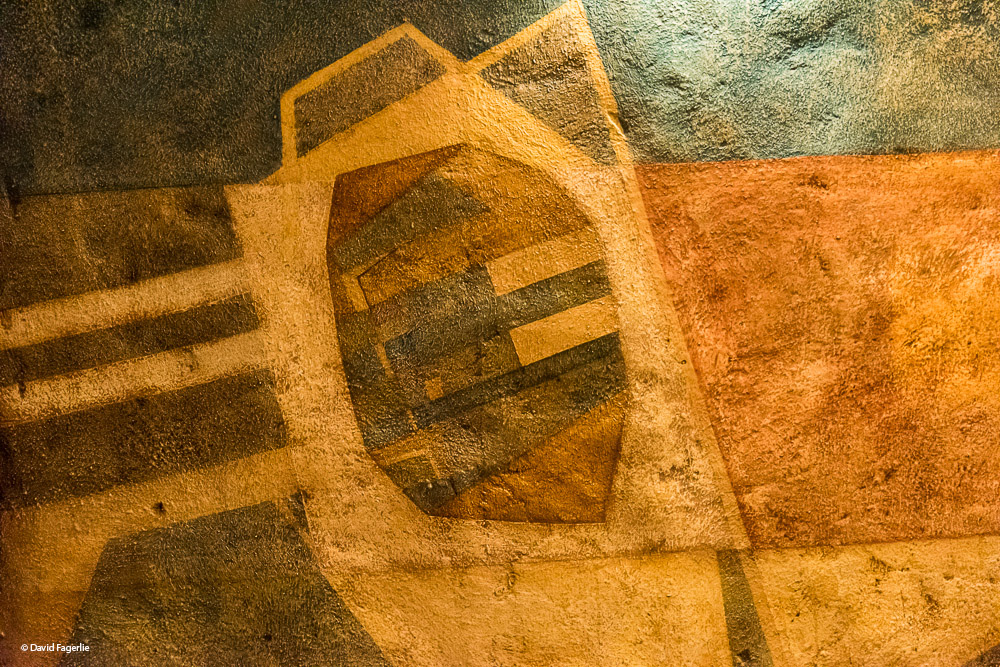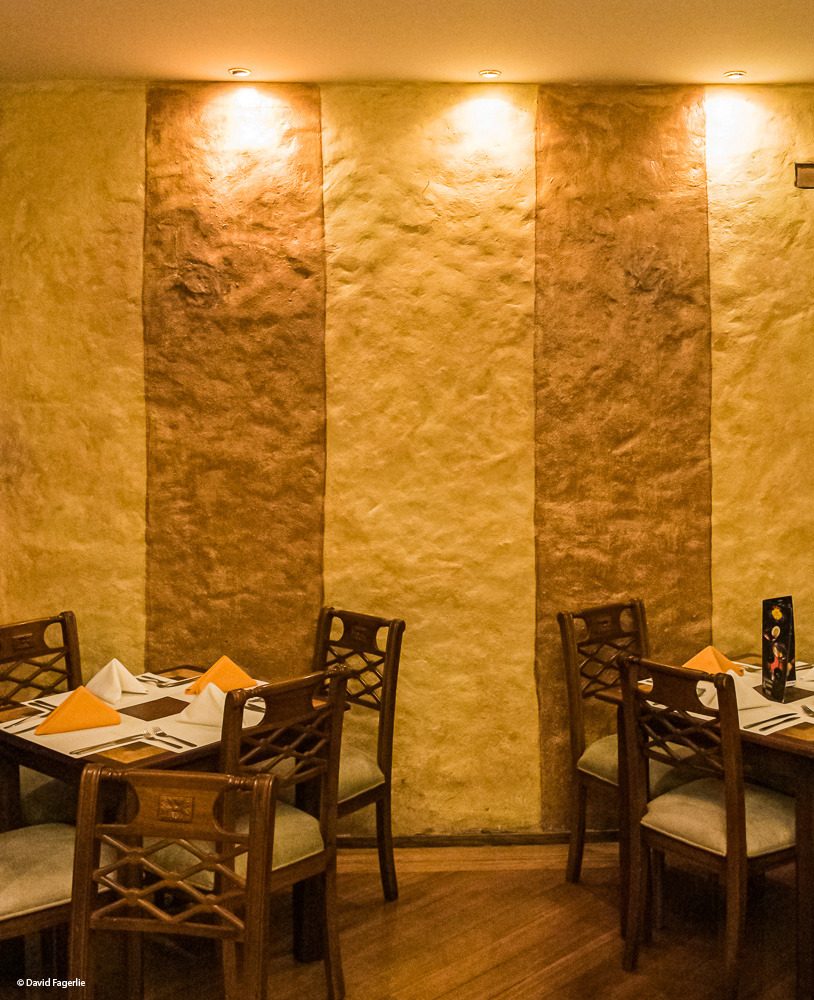 We came across a temporary installation of sculptures depicting the life of indigenous people in the Oriente. I photographed two of the subjects. Neither seemed happy with life.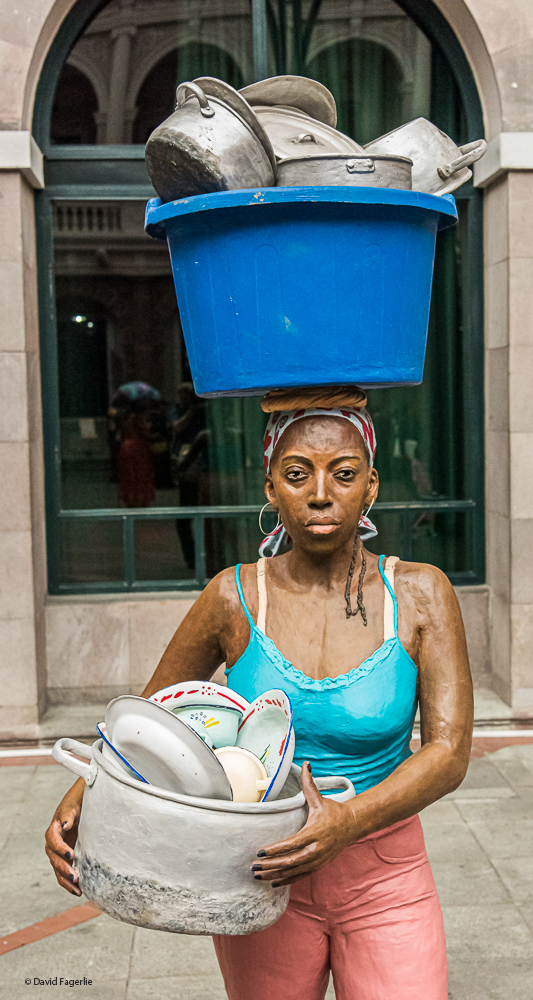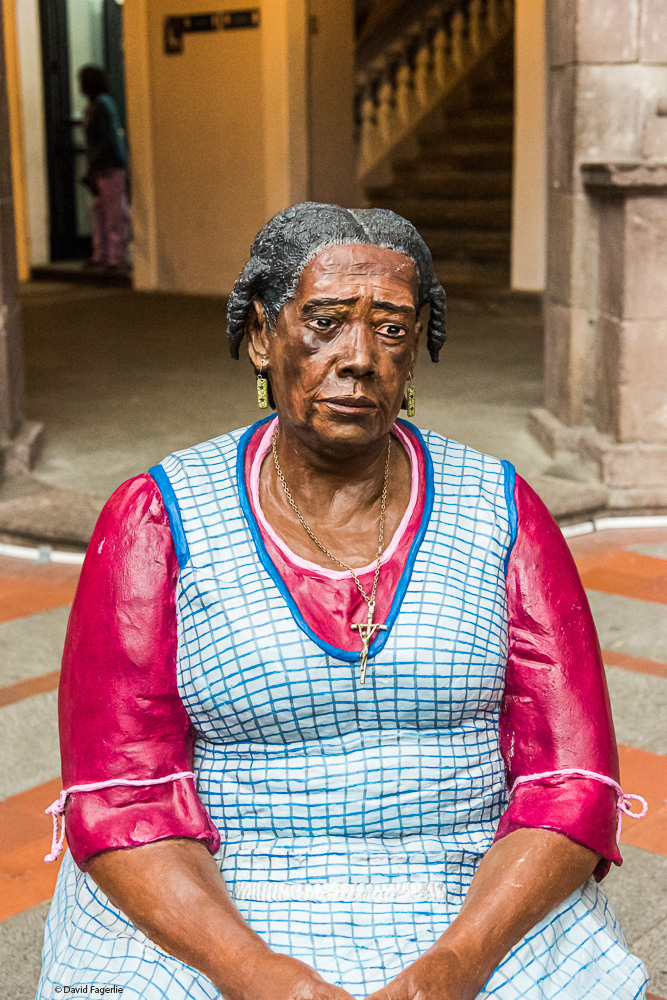 In a previous chapter I took you to the home of Antonio José de Sucre, liberator of Ecuador. In his home there was a wooden chest that was exquisite. The bouquets were in the presidential palace.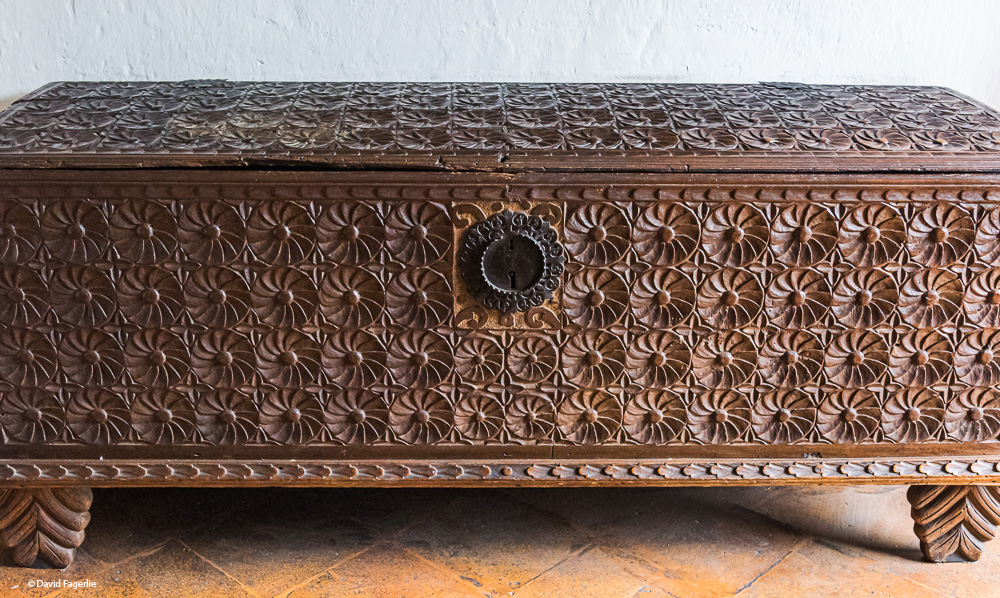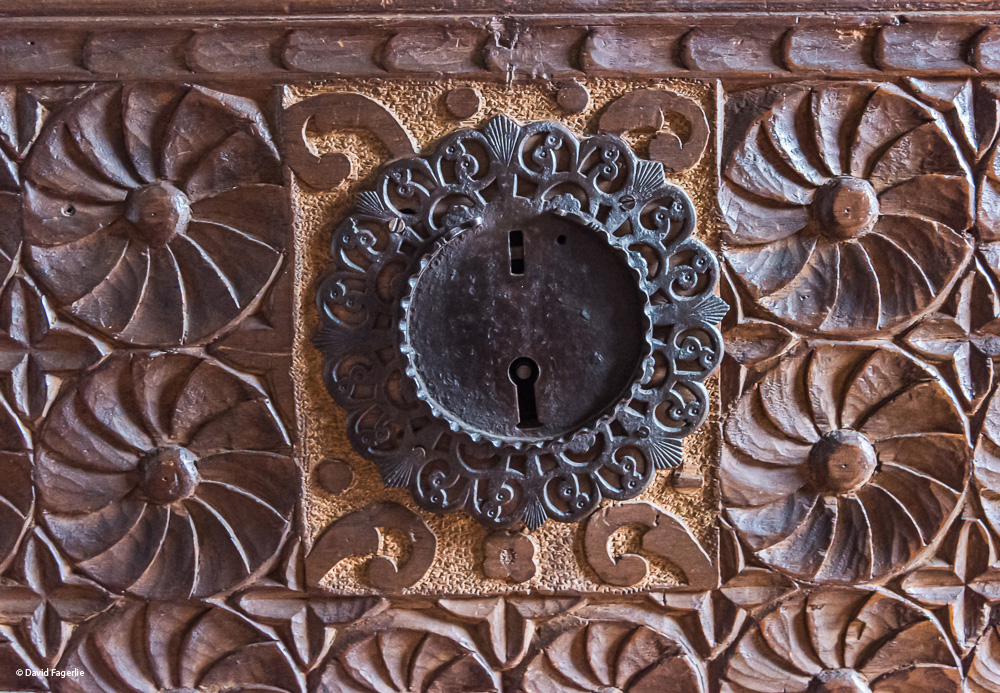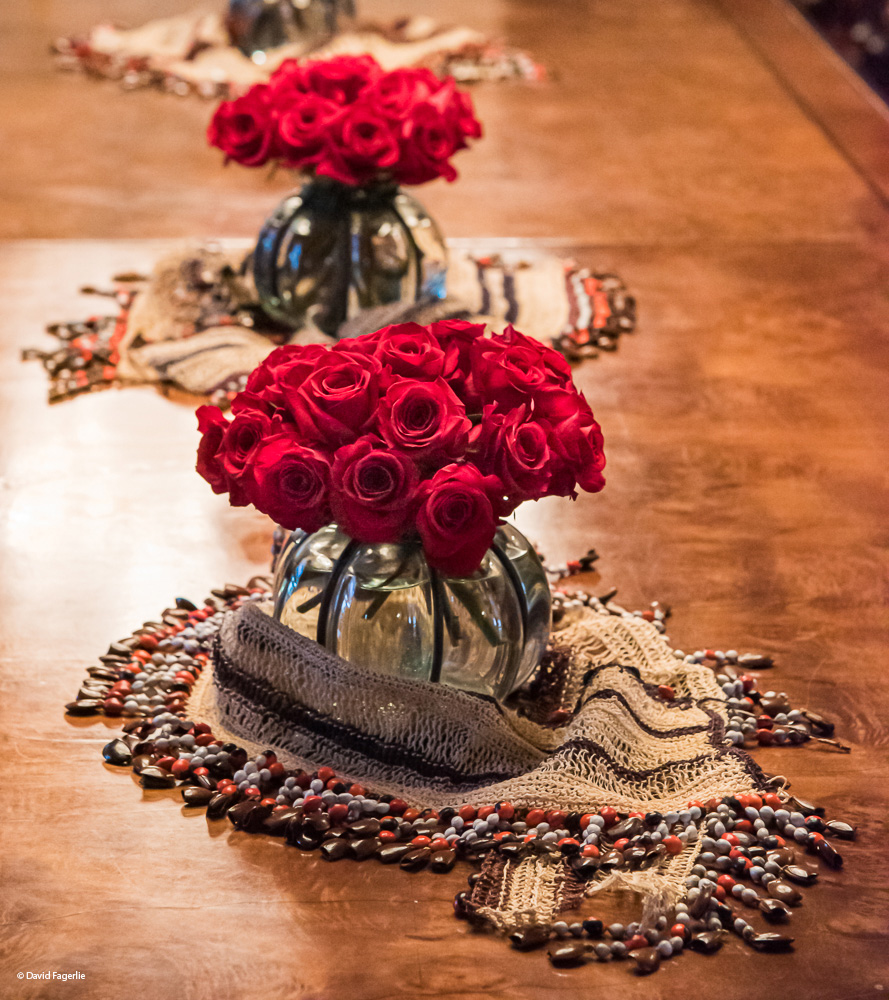 And there is the unintended art for those willing to see life in that way.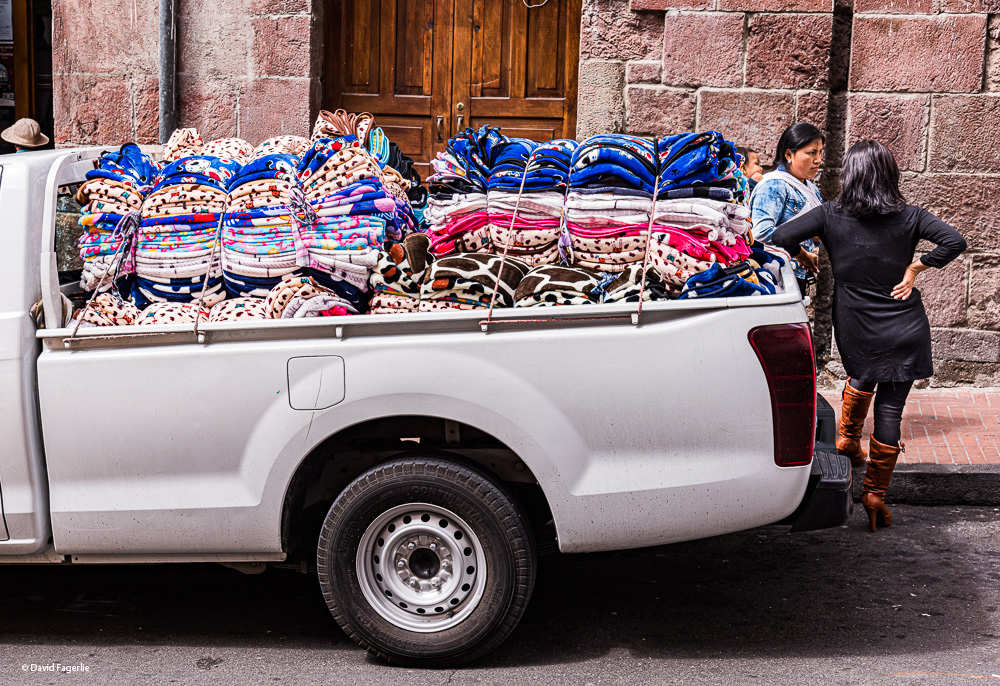 Oswaldo Guayasamín (July 6, 1919 – March 10, 1999)
By far, Oswaldo Guayasamín is the most successful and most famous artist from Ecuador. A painter and sculptor, Guayasamín was born in Quito. His father was native/indigenous and his mother Mestiza. The eldest of ten children, he showed early-on his artistic ability. He started painting at age six and started selling his work before he had learned to read. Guayasamín graduated from the School of Fine Arts in Quito, after which his career took off. His themes of oppression of lower social classes won him acclaim. Guayasamín won many prizes for his art from around the world and he was awarded a prize for "an entire life of work for peace" by UNESCO. Guayasamín's fame took him to the far reaches of the globe and he socialized with celebrities and heads of state. His home is now a museum. If you are planning to visit Quito it is not to be missed. Photography was not allowed in most of the exhibit. I was able to capture some images.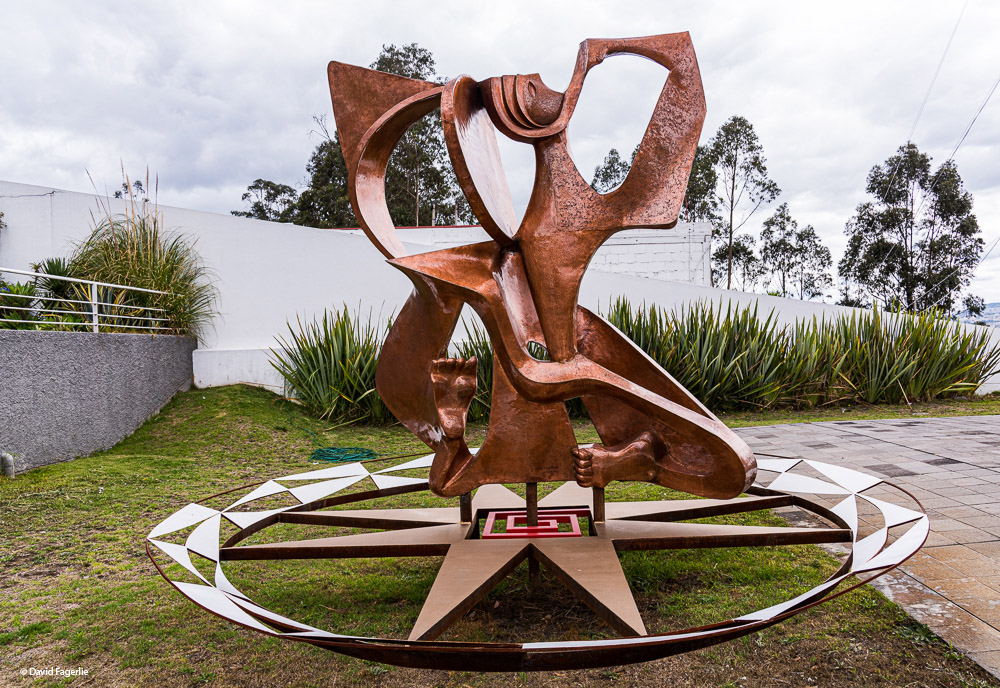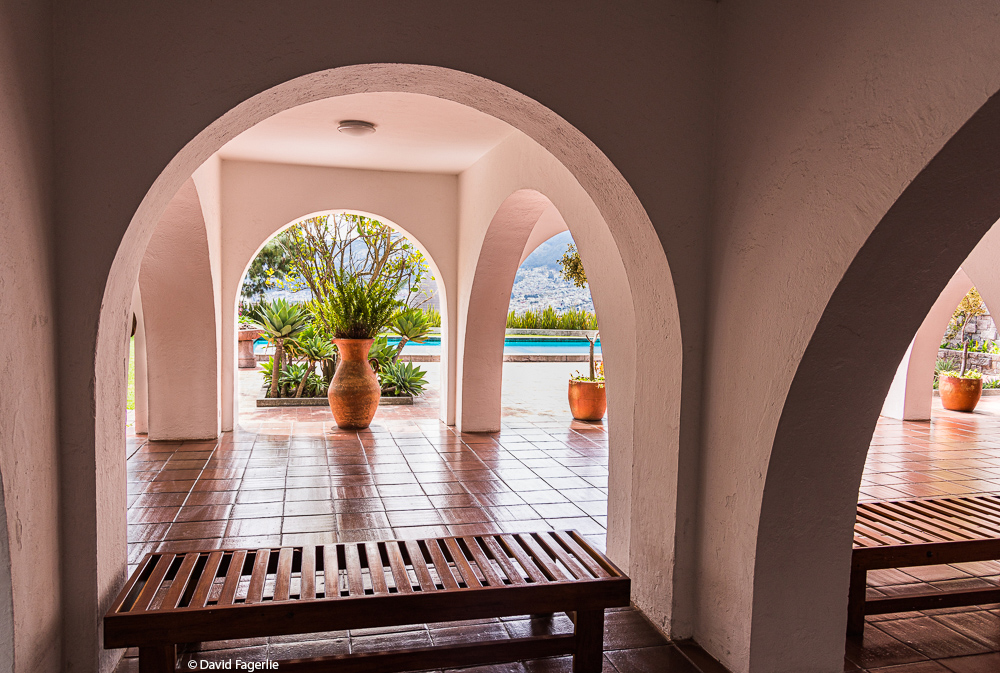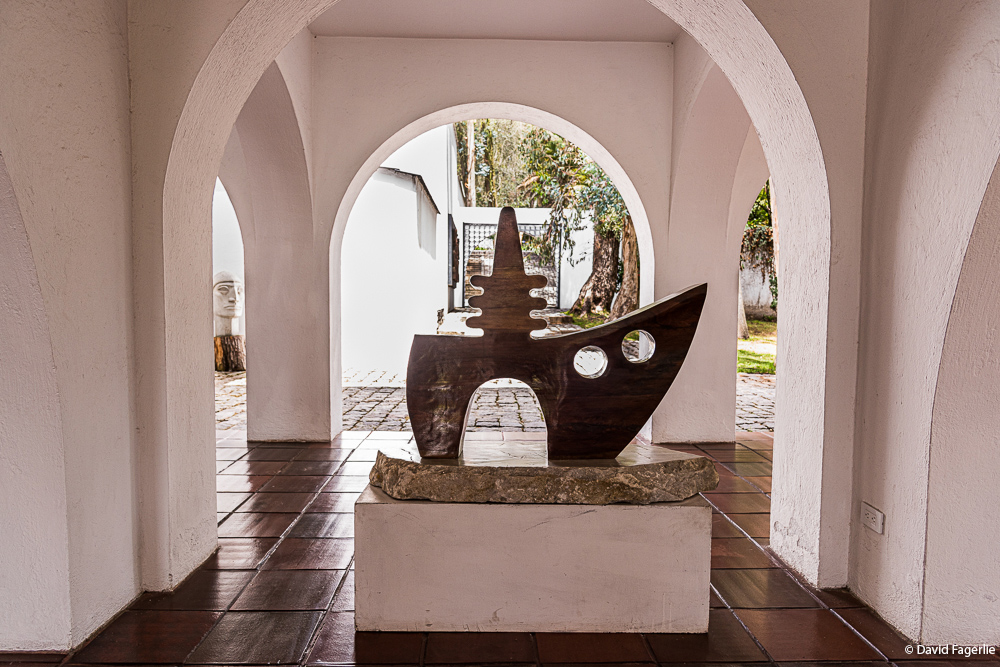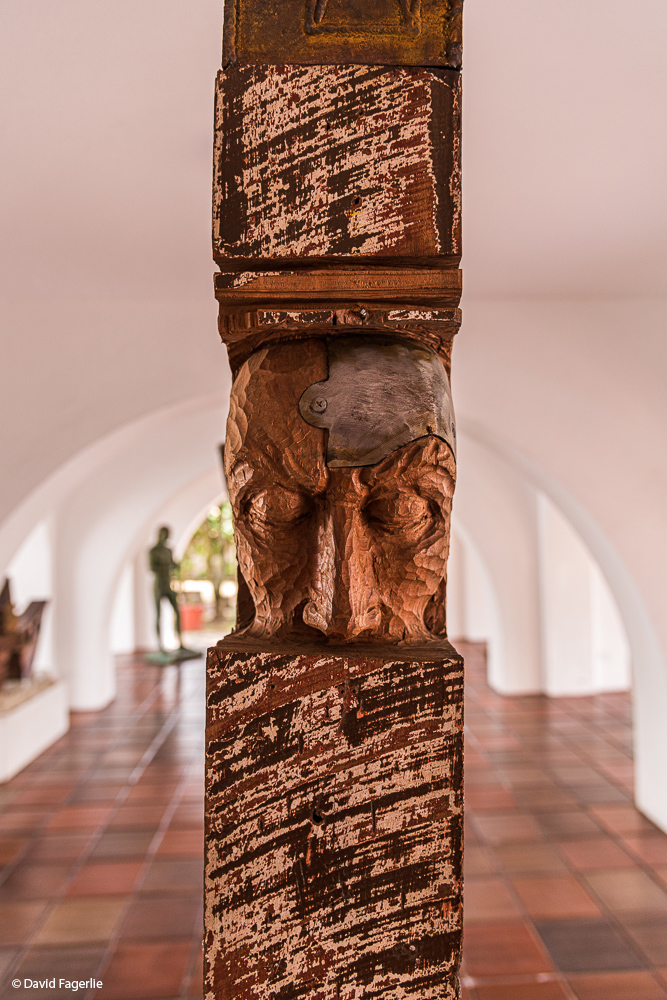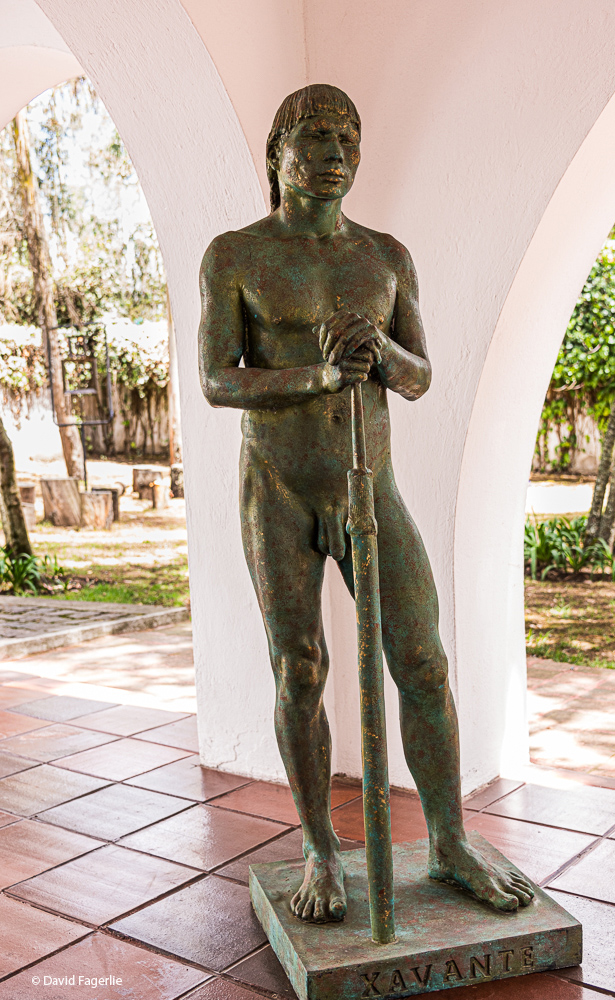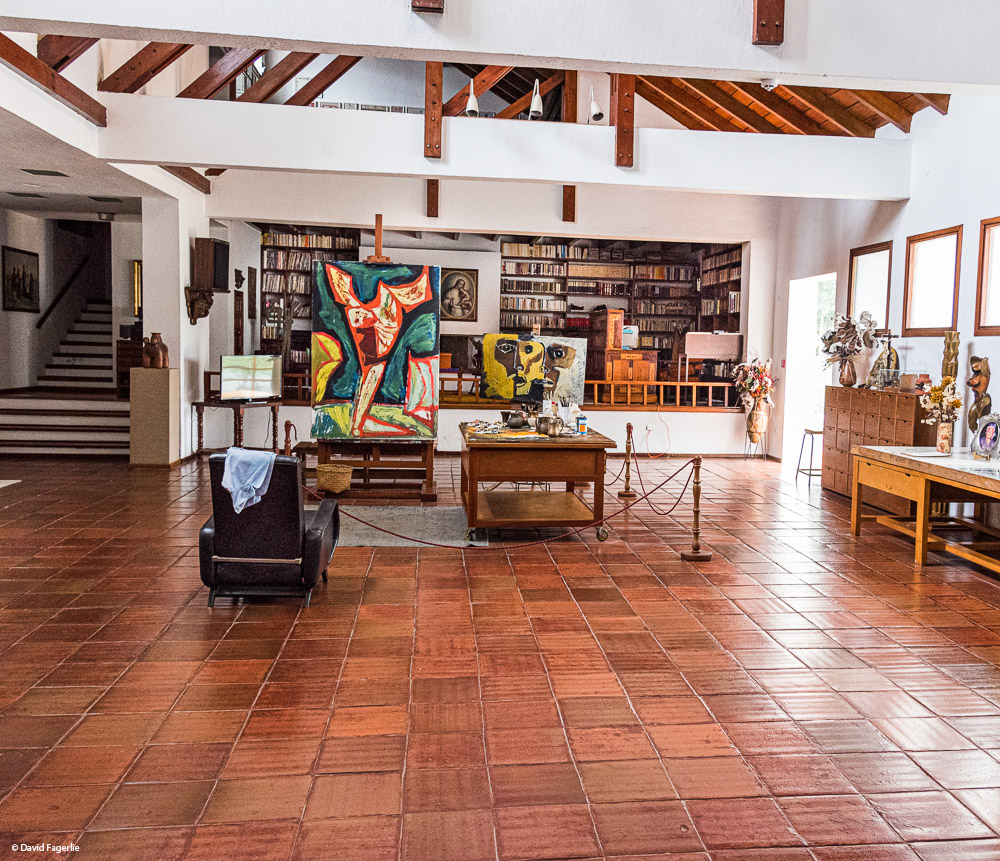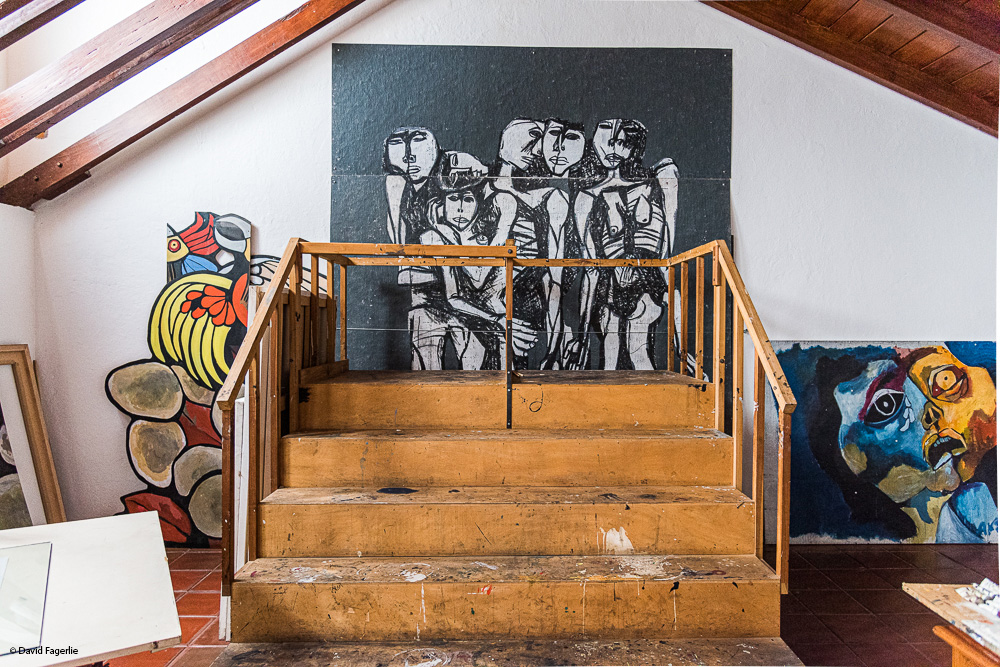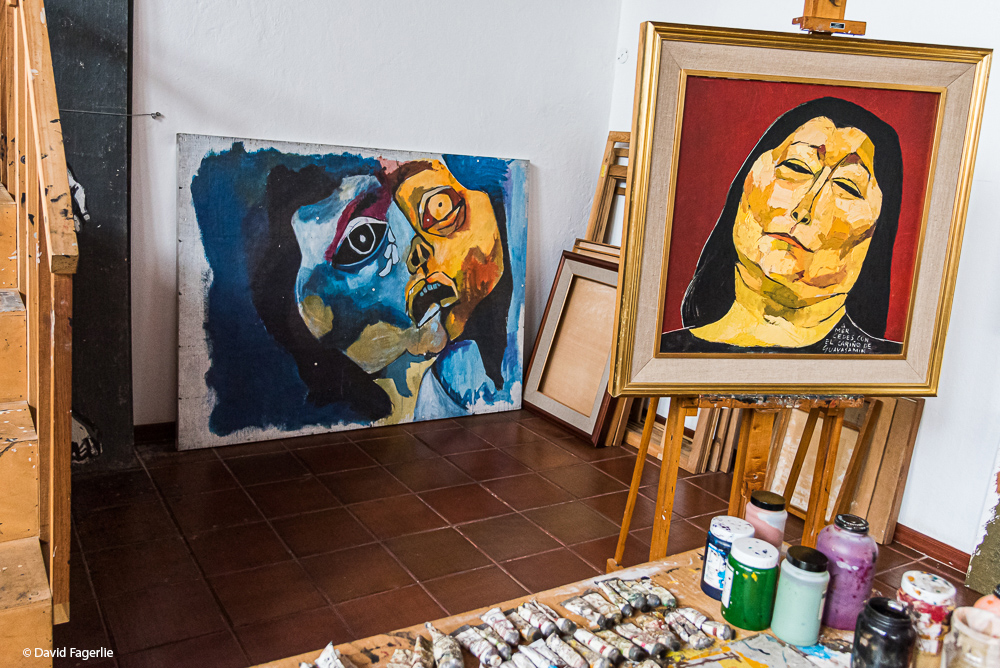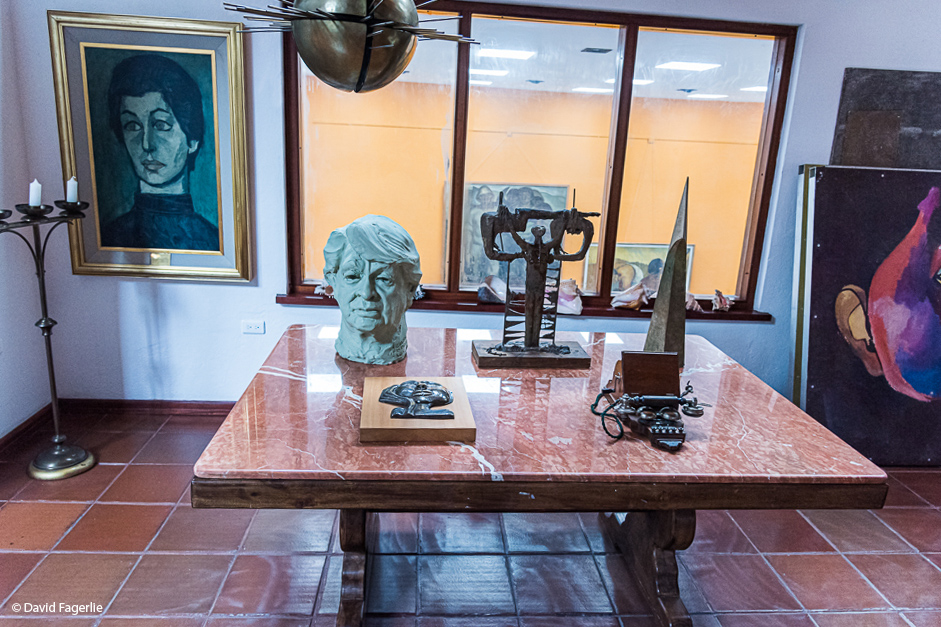 Among the celebrities that sat for a Guayasamín painting was Paco De Lucía, my most favorite Spanish guitarist of all time. One of his very famous paintings, Ternura (1989) might be my favorite?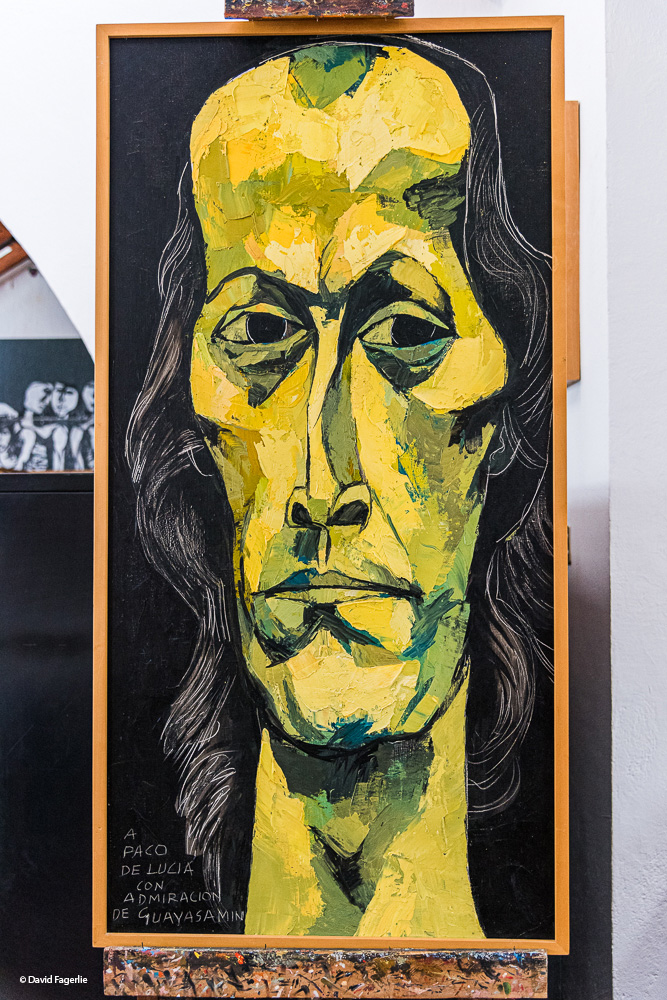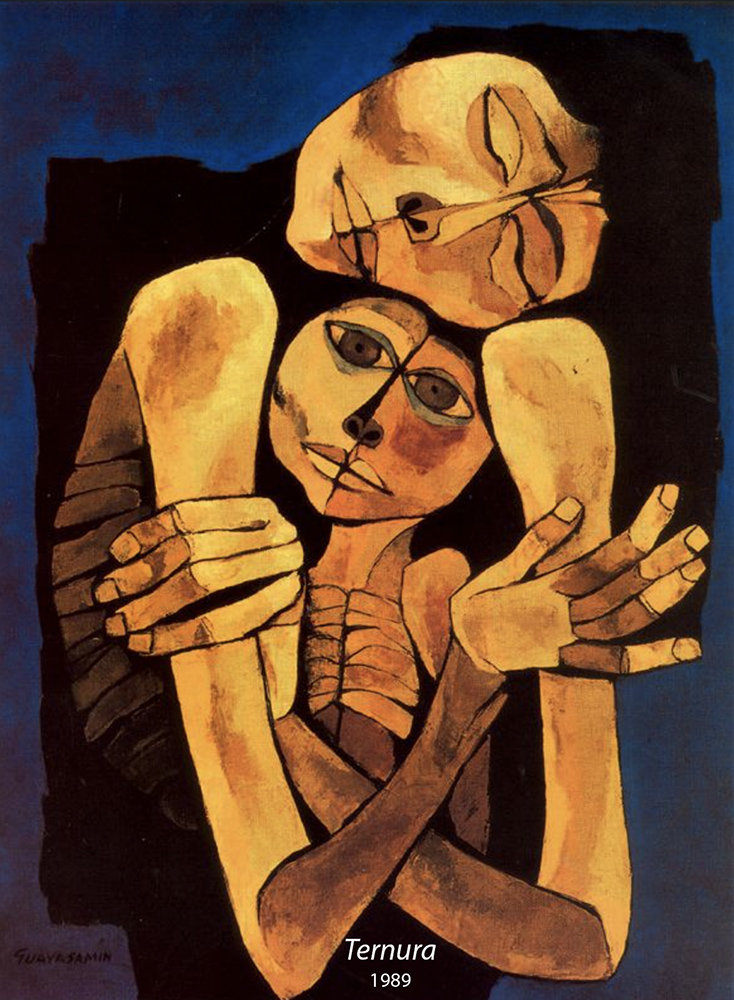 A building co-designed by Guayasamín, La Capilla del Hombre, was not completed until 2002, after his death. In this building gigantic paintings by Guayasamín are displayed. Photography was not allowed.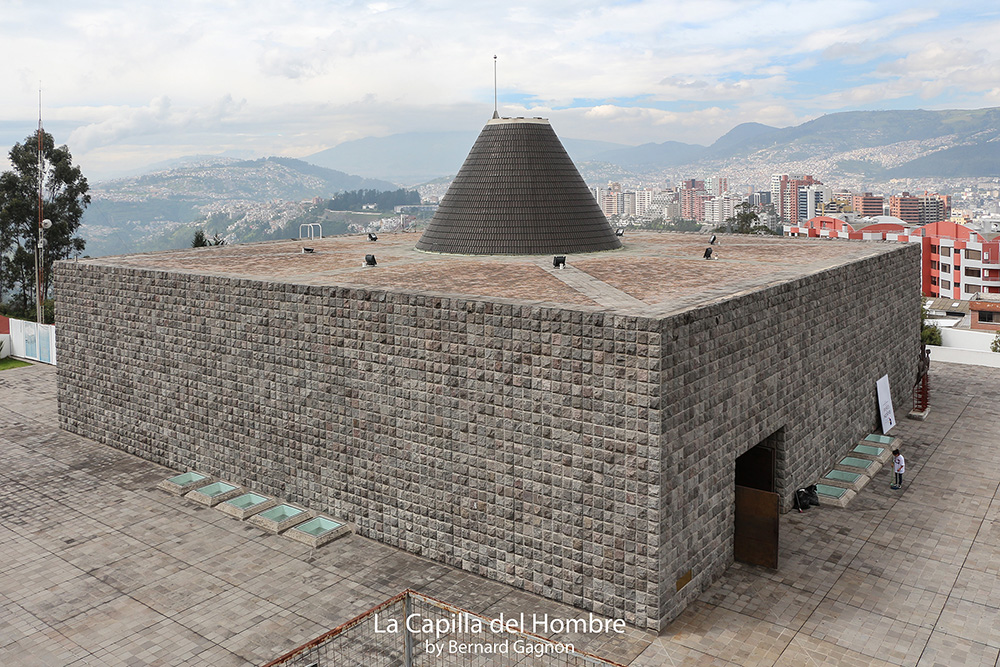 The influence of Guayasamín on other artists in Ecuador is unmistakable and seems to be everywhere. Here are two examples to show you what I mean.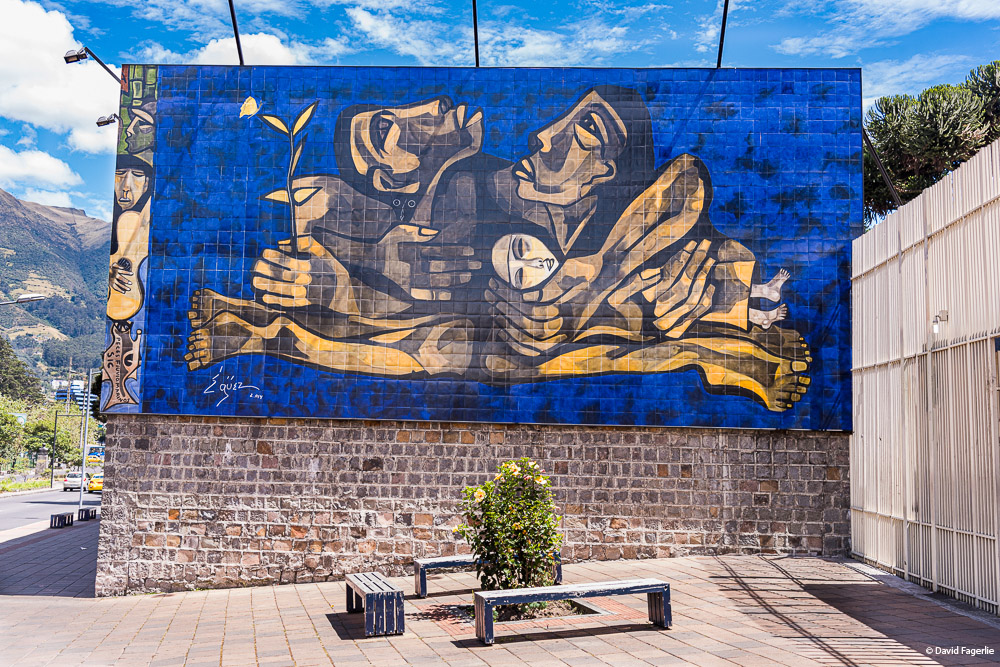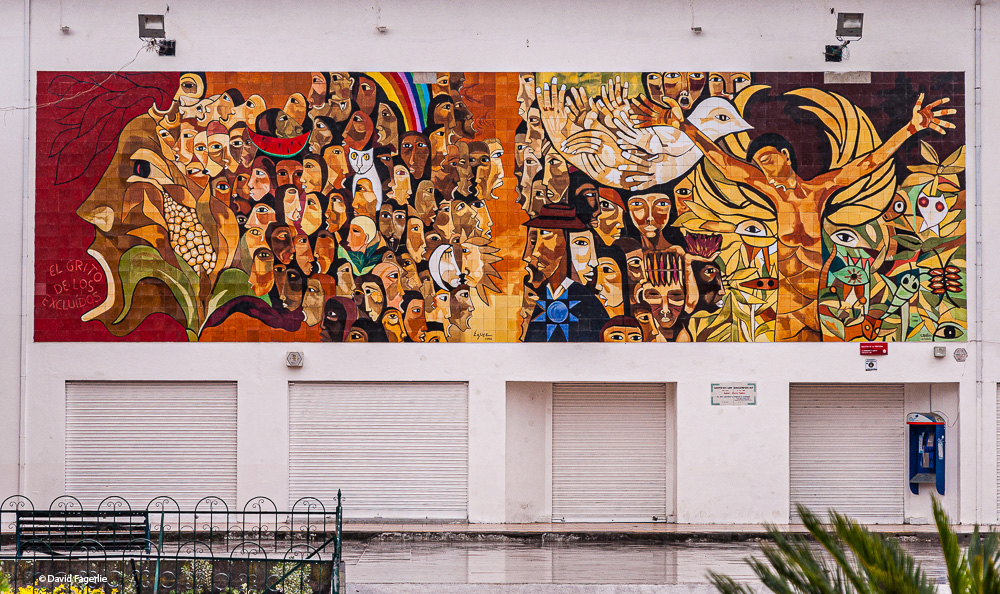 Catholic Art
Catholic art is everywhere in Ecuador, from small pieces of art along roadsides to grand cathedrals.
"Quito has one of the largest concentrations of breathtakingly beautiful ancient churches in all of Latin America. It is a rewarding experience to visit them, both for their majestic beauty, but also for their rich history, replete with legends, miracles, politics, and art." – Culture Trip
With the exception of one spectacular church, the best of the city's churches are all within walking distance of each other in the historical district. If I was still in Ecuador I would make a trip to Quito just to photograph the churches. As it is, I have some photos but only one photo-study, of the Basílica del Voto Nacional, which I will show you soon.
There are plenty of smaller less significant churches in Quito's historic district. Yet, they were magnificent inside.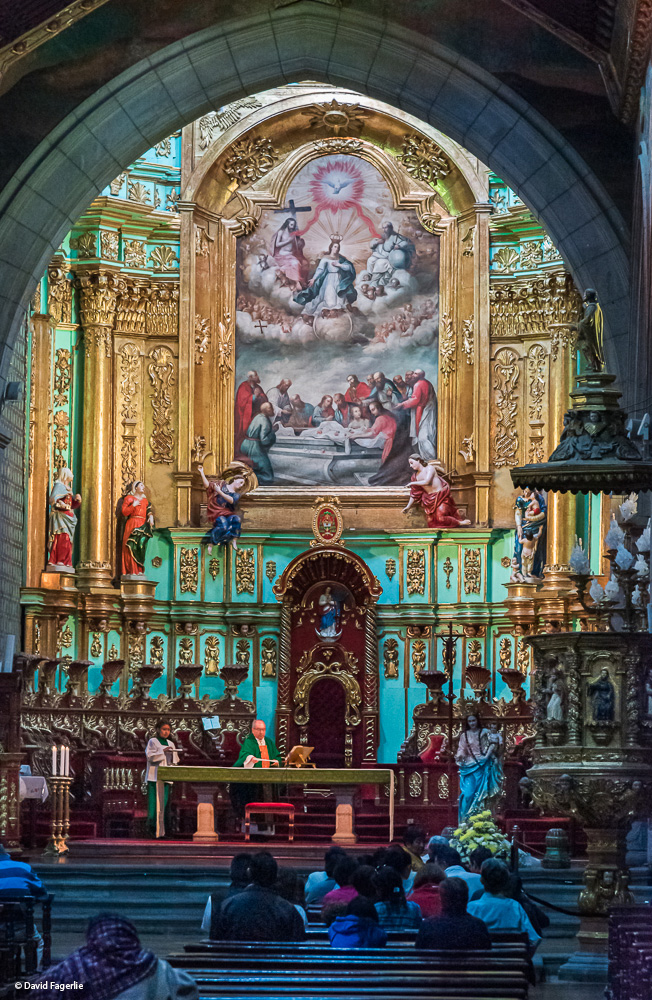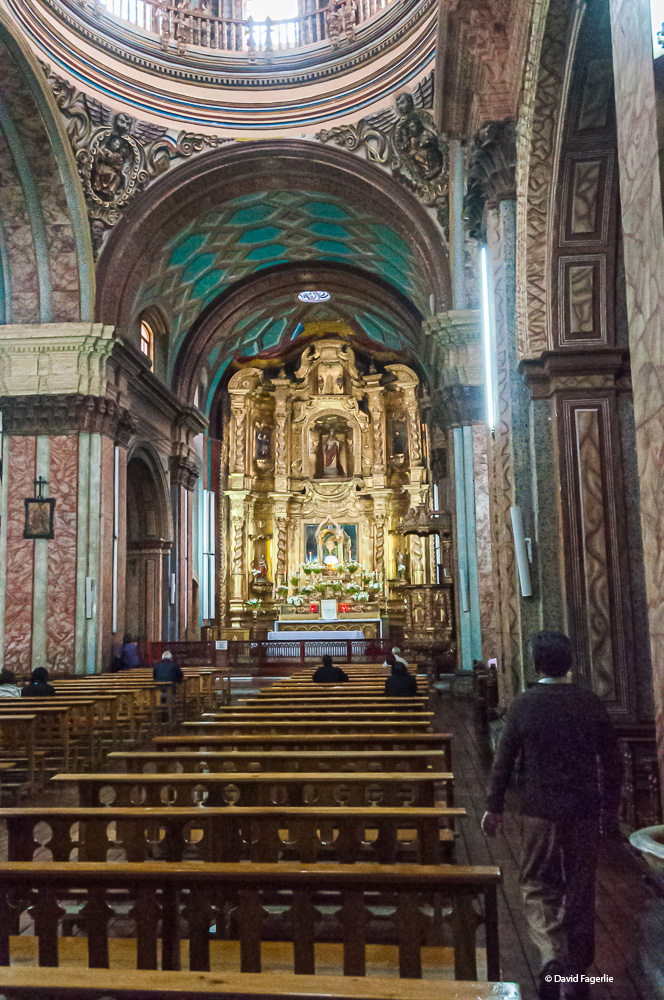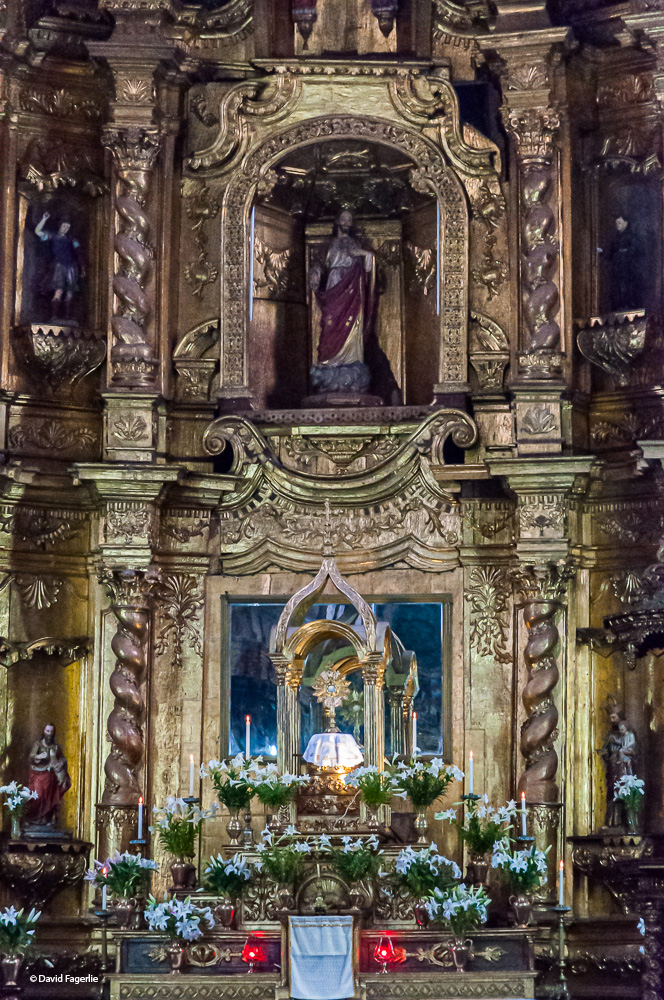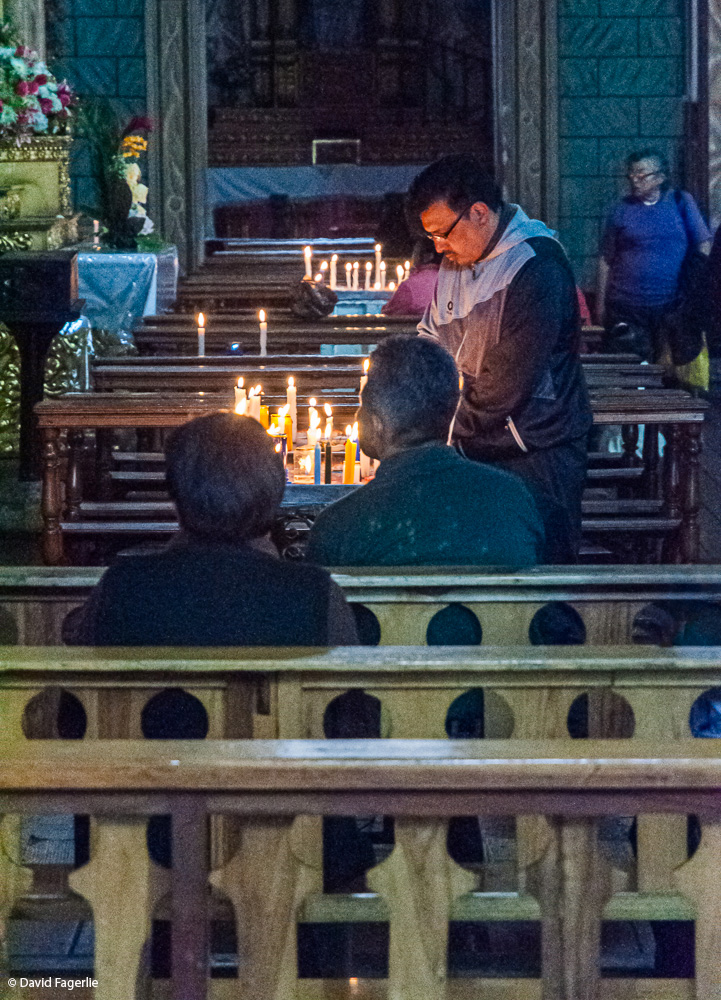 Cathedral de Quito
Among the great churches I want to show you is the Cathedral de Quito, seat of the Archdiocese of Quito. "Soon after the founding of the city of San Francisco de Quito (6 December 1534), the entire southern side of the future Plaza Grande was given over to the Church." – Wikipedia
The cathedral was built on top of a limestone foundation from 1562 to 1565. At the time there was a ravine between the cathedral and Plaza Grande resulting in the entrances not facing the plaza.
"The catacombs of the Cathedral have served as a resting place for many important figures in Ecuador's history, such as independence leader Antonio José de Sucre (1795–1830), who is laid to rest in his own Mausoleum Chapel. On 13 January 1848 the Diocese of Quito was elevated to an archdiocese.
The small altar of Nuestra Señora de los Dolores (English: "Our Lady of Sorrows") has a plaque showing where President Gabriel García Moreno was shot in 1875. The murder of the Bishop of Quito, José Ignacio Checa y Barba, took place here during the mass of Good Friday, 30 March 1877, when he was poisoned with strychnine dissolved in the consecrated wine. The Cathedral is also the burial place of several other presidents of the Republic, as well as of bishops and priests who died in the diocese." – Wikipedia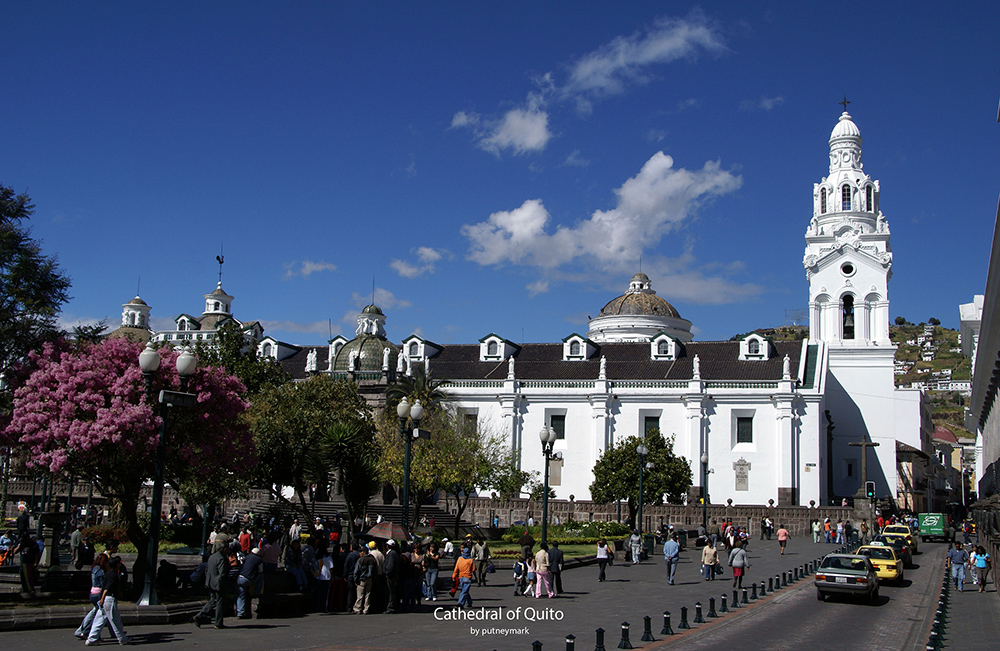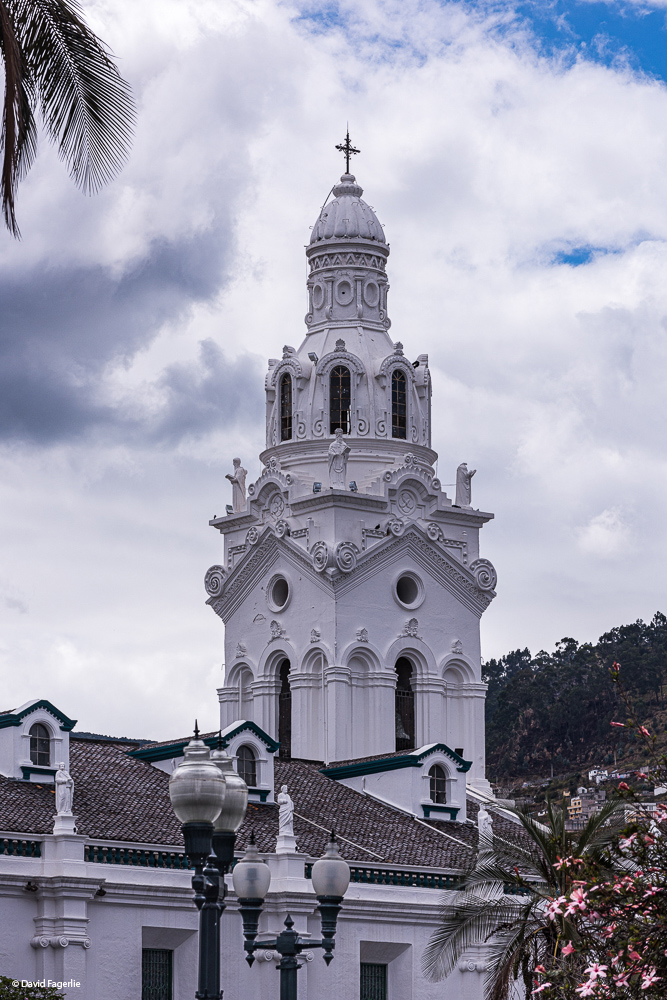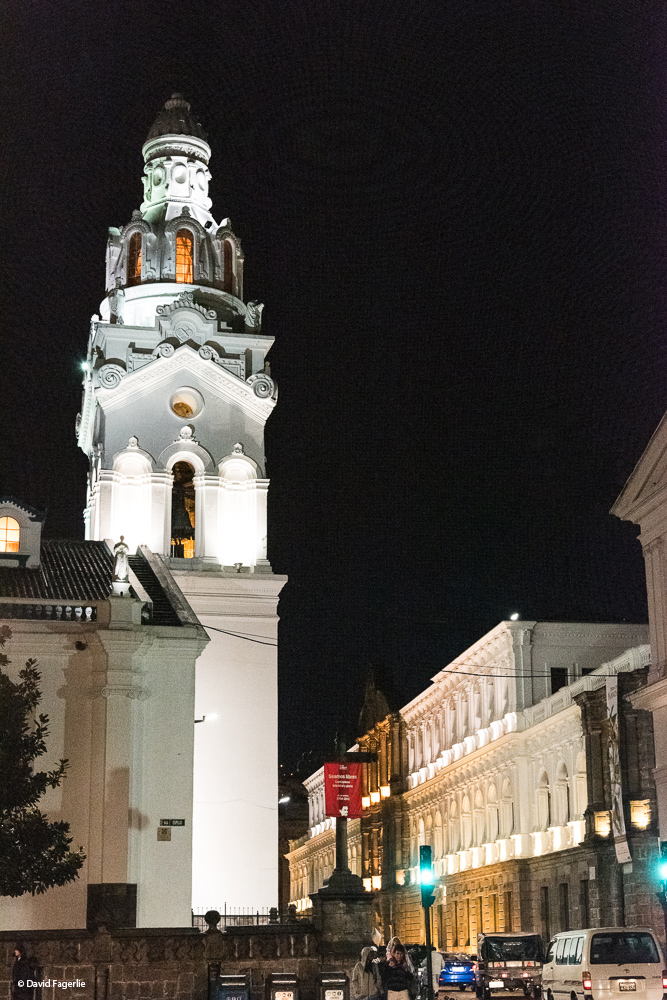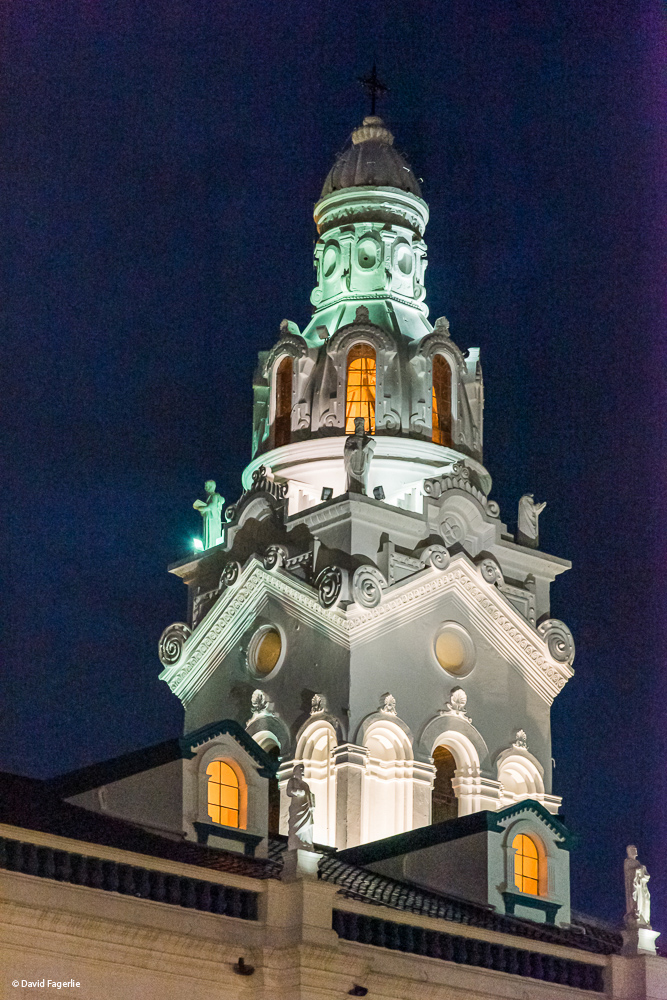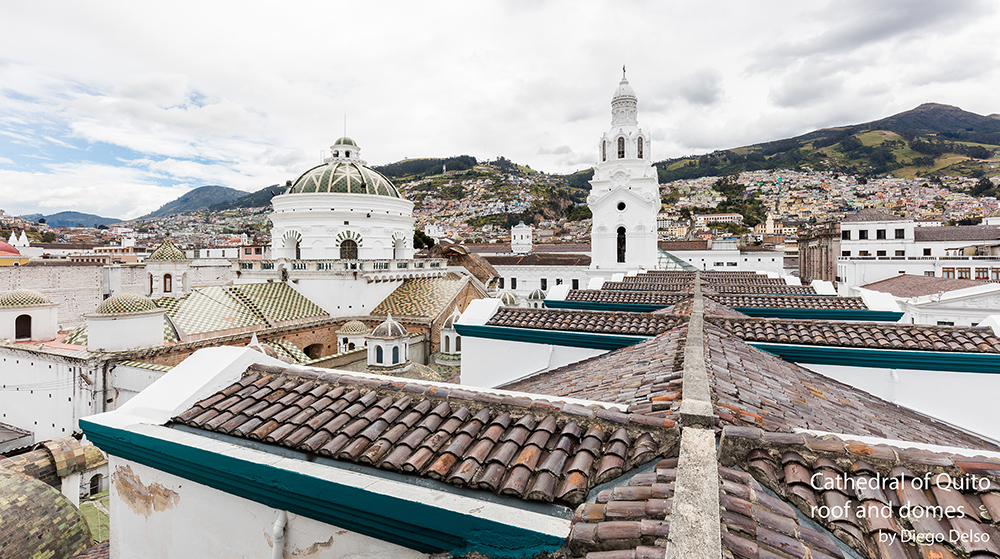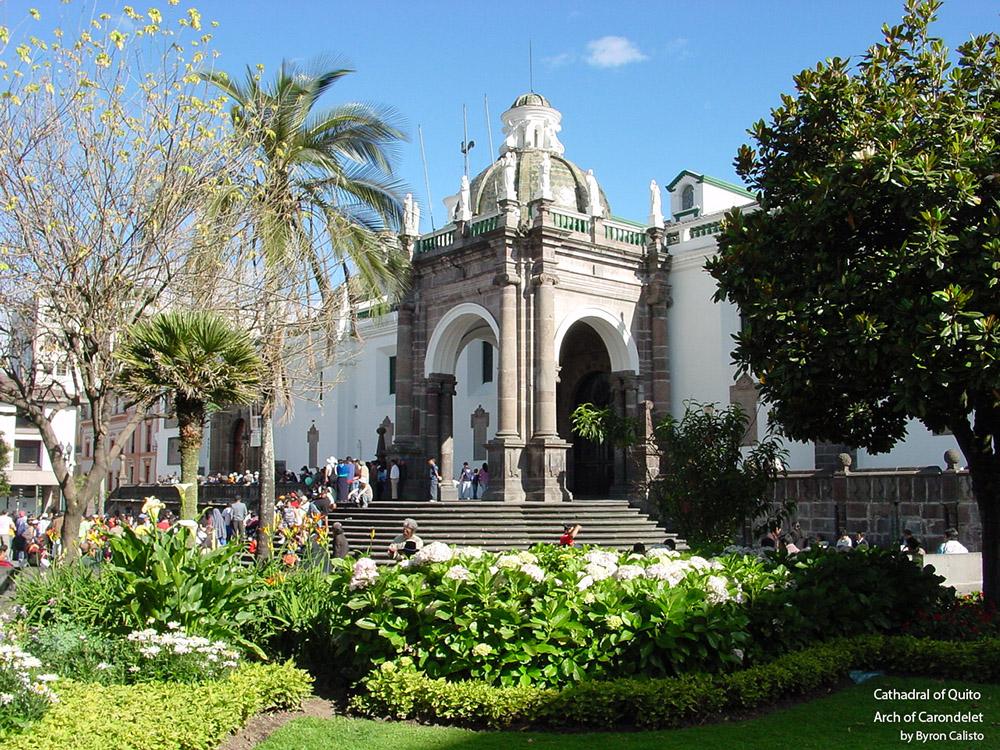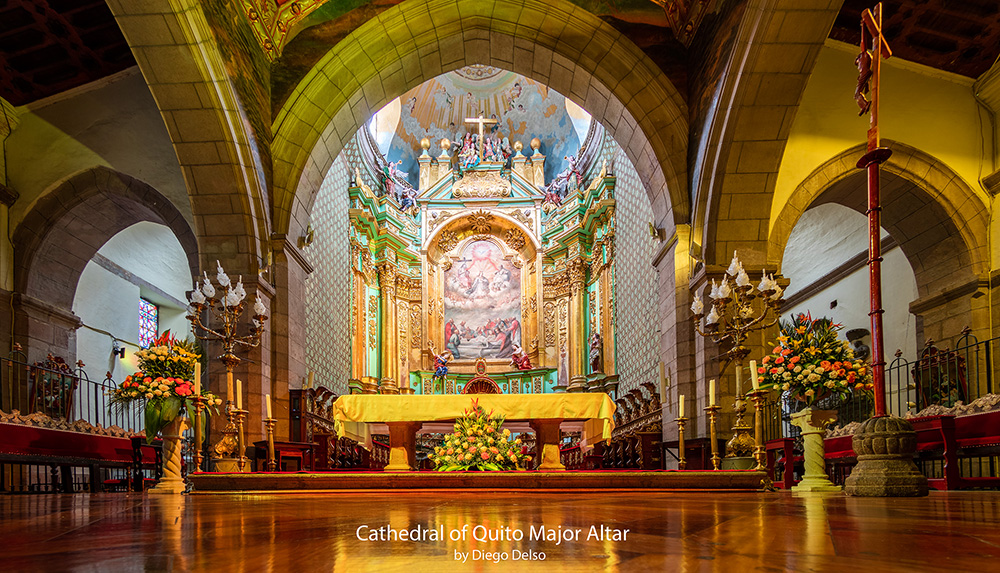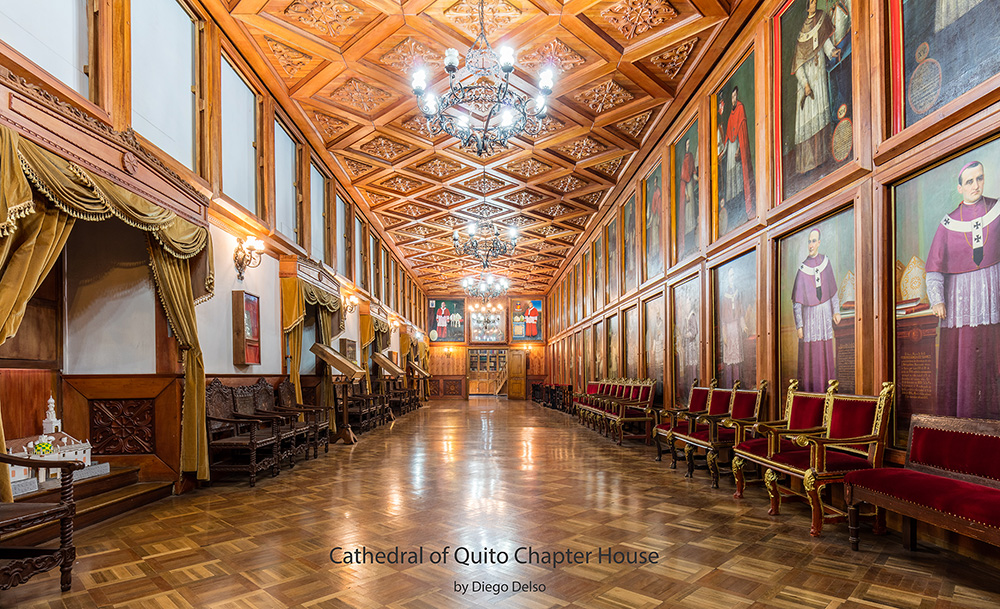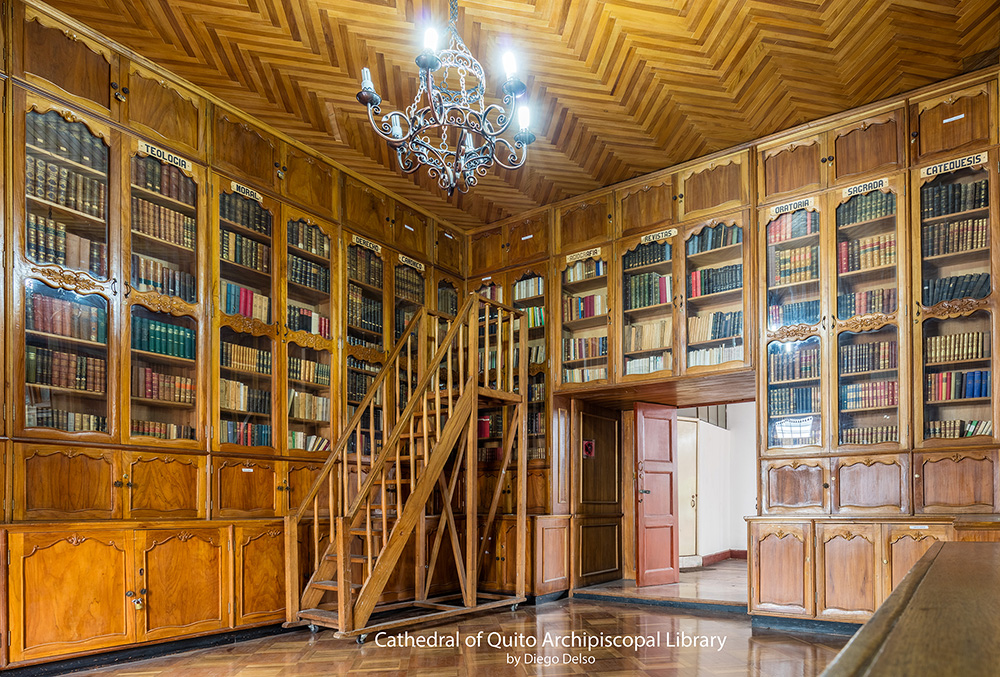 Iglesia de San Francisco
"The oldest of all of Quito's churches, the Church and Monastery of San Francisco began construction in 1534, and continued for 150 years. The curved steps leading up to the main entrance were originally designed for the Belvedere of the Vatican, before the plans were utilized for this structure. The church, convent, and accompanying museum contain a total 3,500 works of colonial art." – Culture Trip
"Together, Church and Convent encompass three hectares including 13 cloisters (six of them major), three churches, and a large courtyard. In total, about 40,000 square meters of construction. San Francisco follows the classical typology of medieval monasteries. The main Church is the guiding axis and from there the cloister galleries extend: the refectory, the chapterhouse, and winery. These define a quadrangular courtyard, with the four respective pandas, or galleries: that of the chapter room, the refectory, the converts, and the mandatum. In addition to the basic dependencies of a convent, there were areas devoted to health care, education, crafts, a garden, and even a jail (to maintain strict discipline). The kitchen and dispensery operated in the cloister of services." – Wikipedia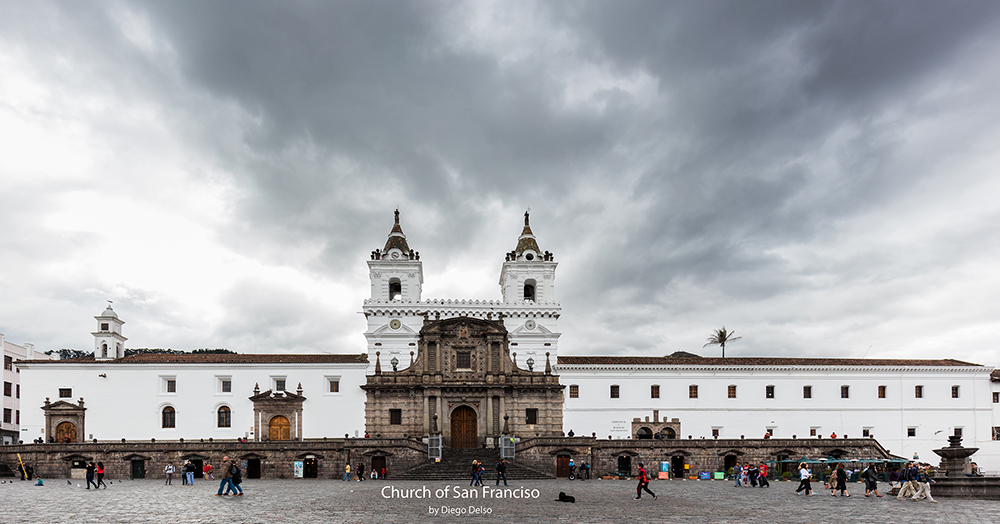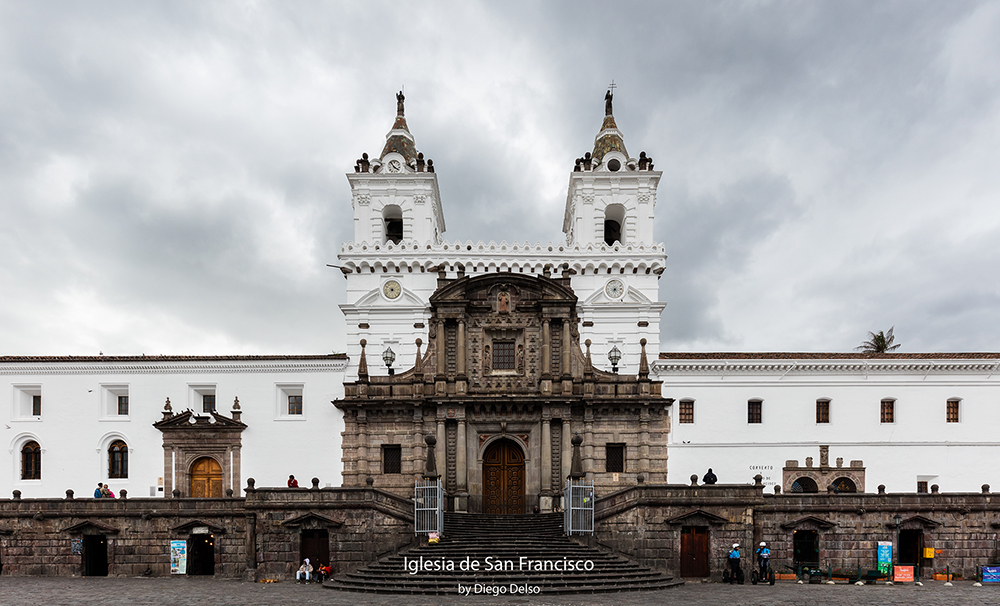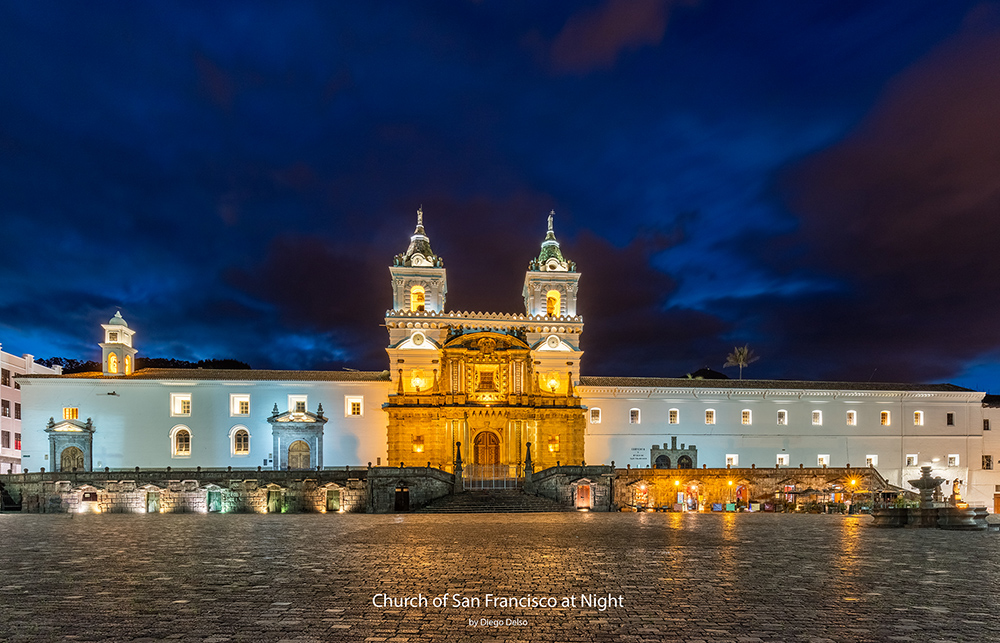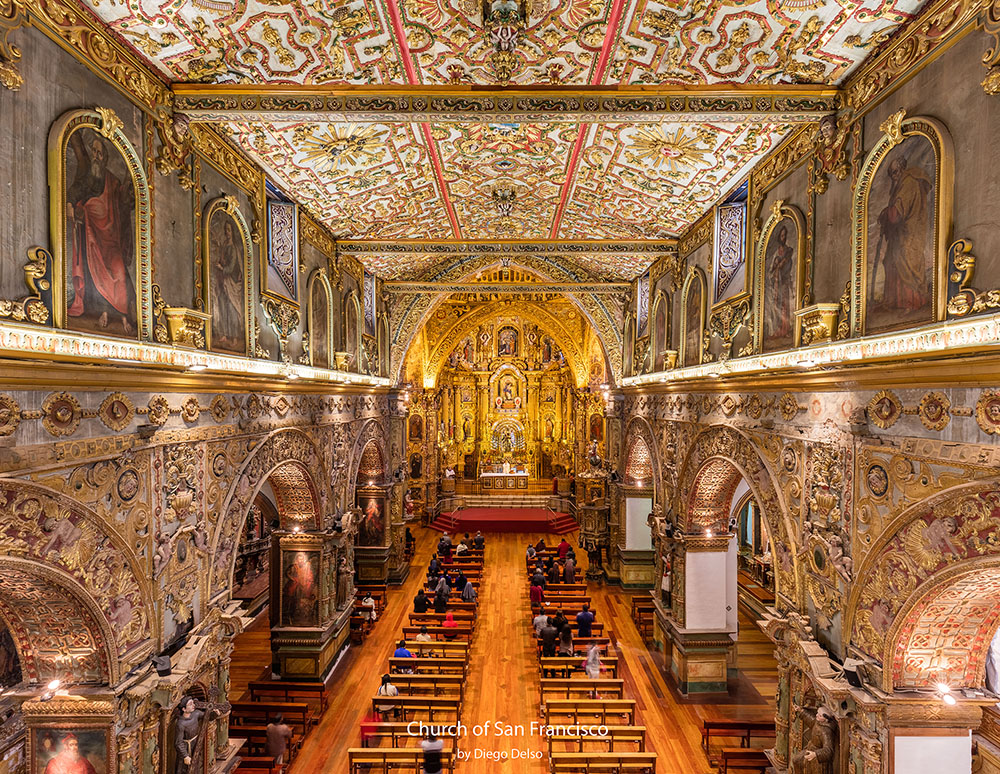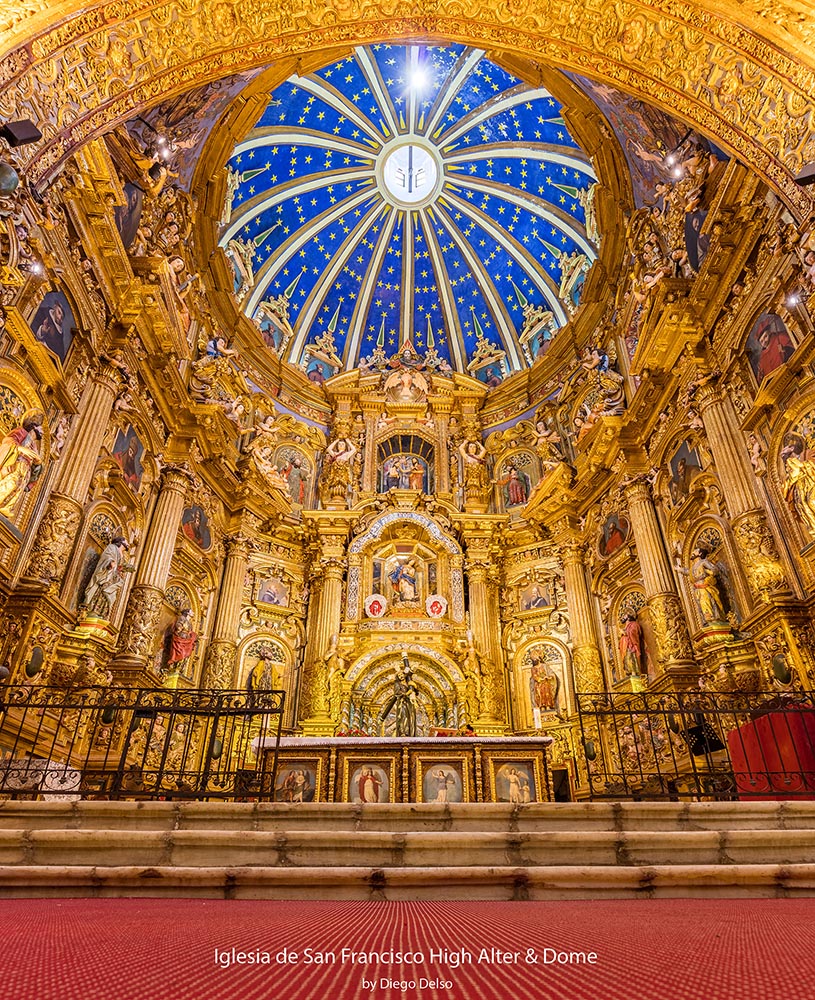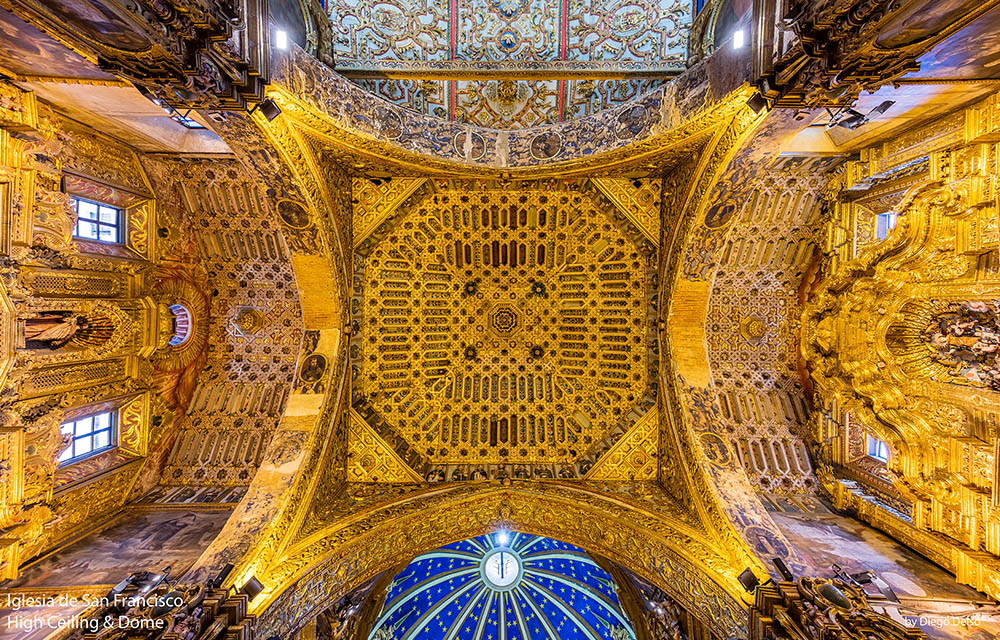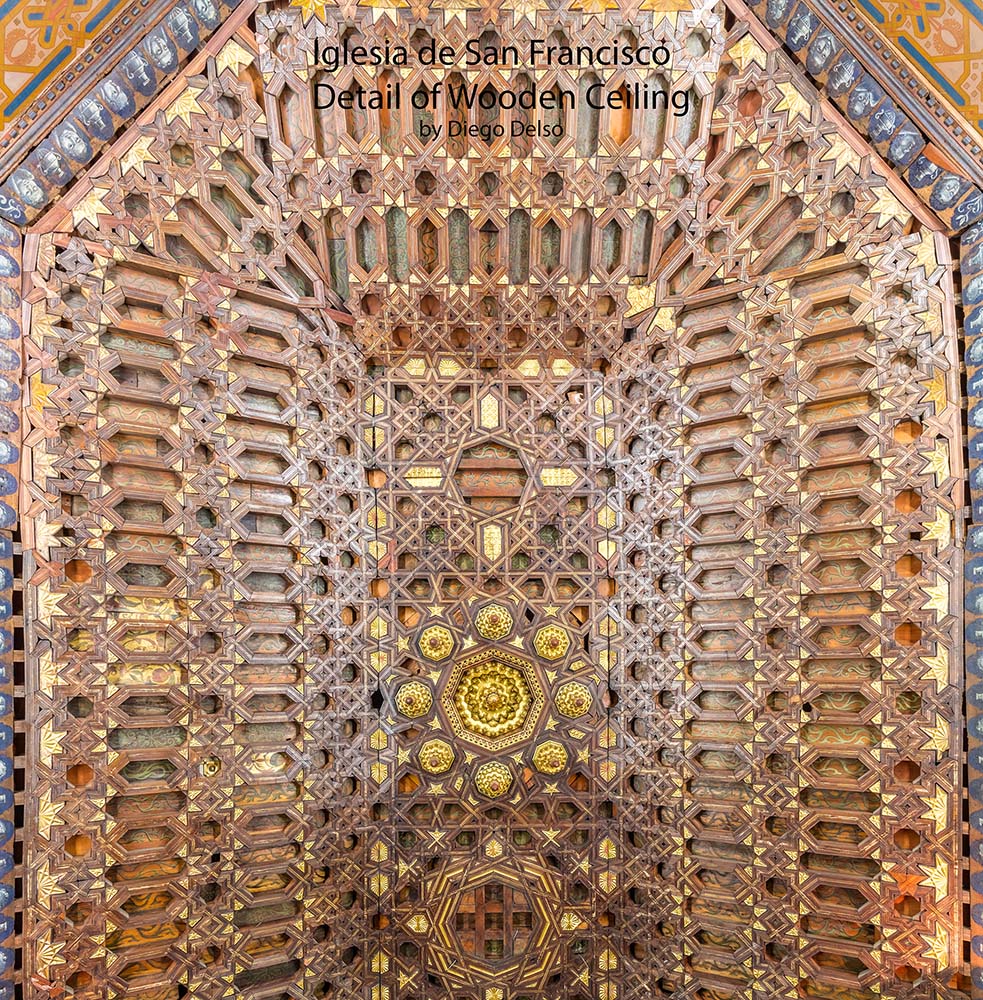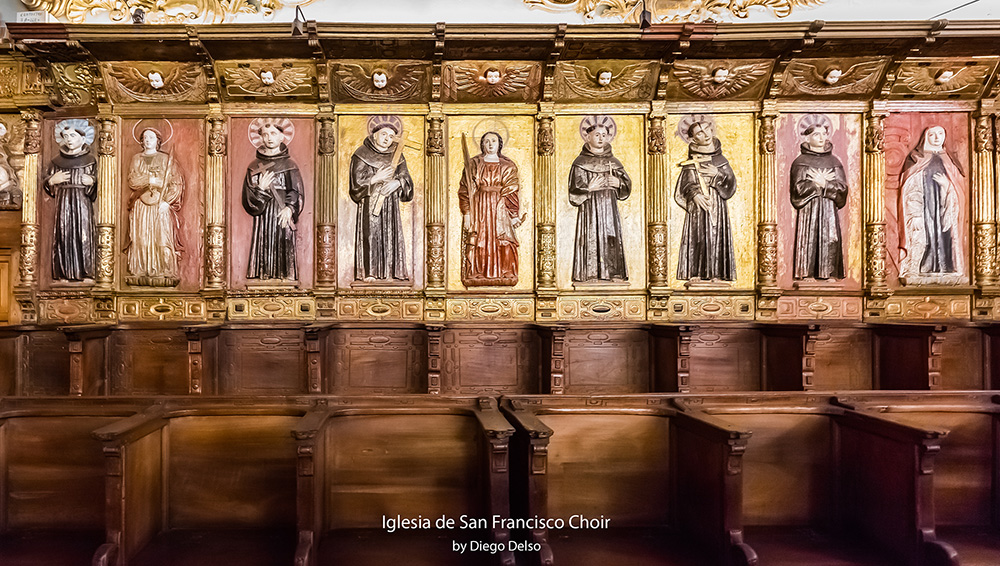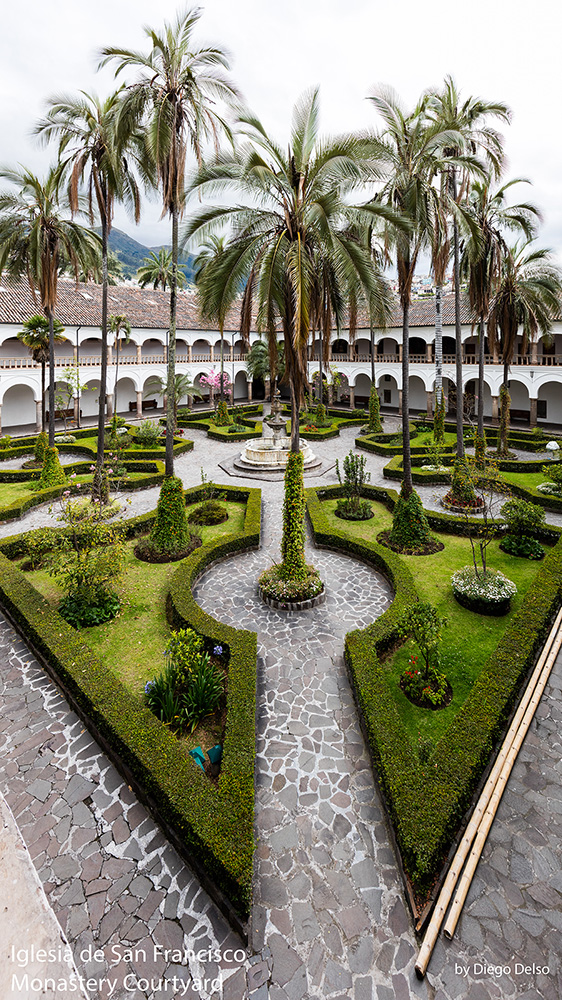 The entire series of images in this section, Iglesia de San Francisco, and many other images, were taken by Diego Delso. He had extraordinary access to be able to shoot without interruption with a tripod. Still, I think you will agree that his photos are fabulous. I am so thankful that he made these images available.
La Iglesia de la Compañía de Jesús (The Church of the Society of Jesus)
"La Iglesia de la Compañía de Jesús, known colloquially as la Compañía, is a Jesuit church in Quito, Ecuador. It is among the best-known churches in Quito because of its large central nave, which is profusely decorated with gold leaf, gilded plaster, and wood carvings. Inspired by two Roman Jesuit churches — the Chiesa del Gesù (1580) and the Chiesa di Sant'Ignazio di Loyola (1650) — la Compañía is one of the most significant works of Spanish Baroque architecture in South America. It is Quito's most ornate church." – Wikipedia
Over the 160 years of its construction, the architects incorporated four architectural styles. Baroque is the dominate style. The geometric figures on pillars are of the Mudejar (Moorish) style. Churrigueresque or Ultra Baroque is seen in much of the ornate decoration of the interior walls. The Neoclassical style adorns the Chapel of Saint Mariana de Jesús (in early years a winery).
Begun in 1722, work was suspended in 1725 and taken up again in 1760. The carvings on the outer façade are made of cuadorian "andesite"/volcanic stone.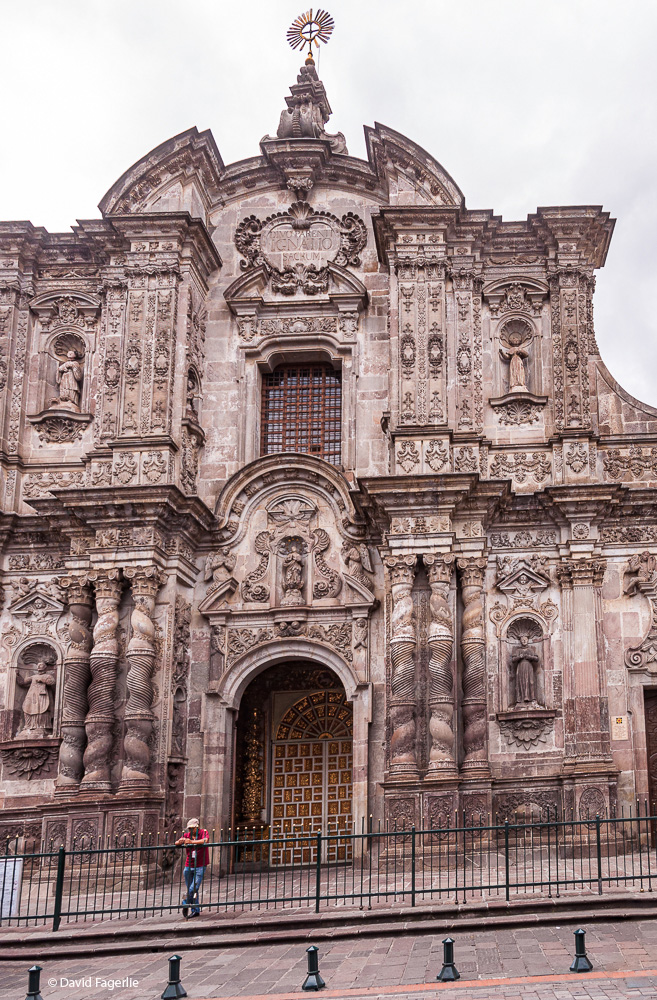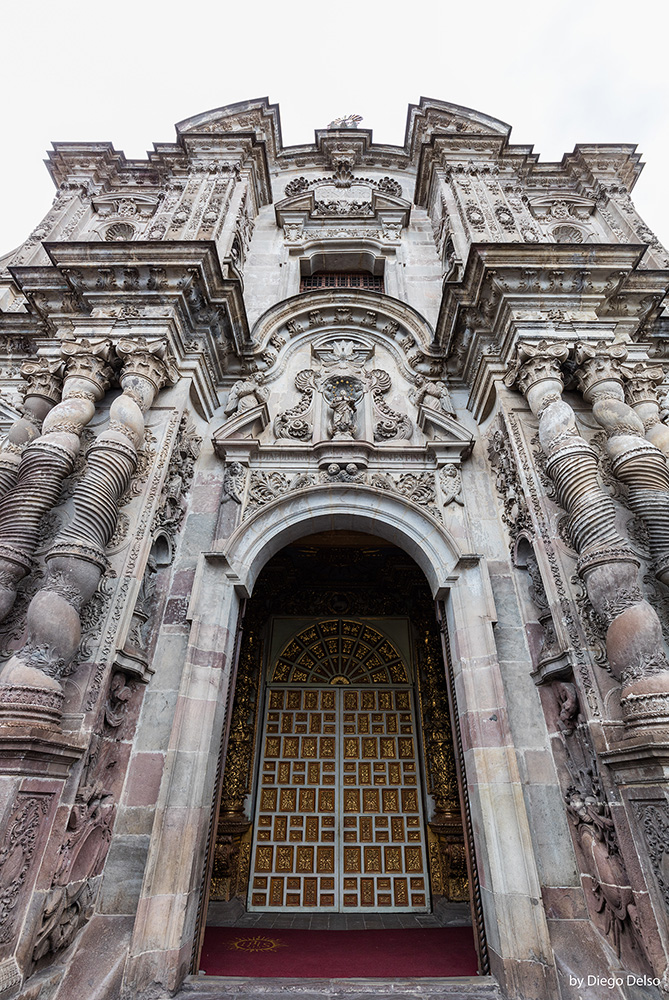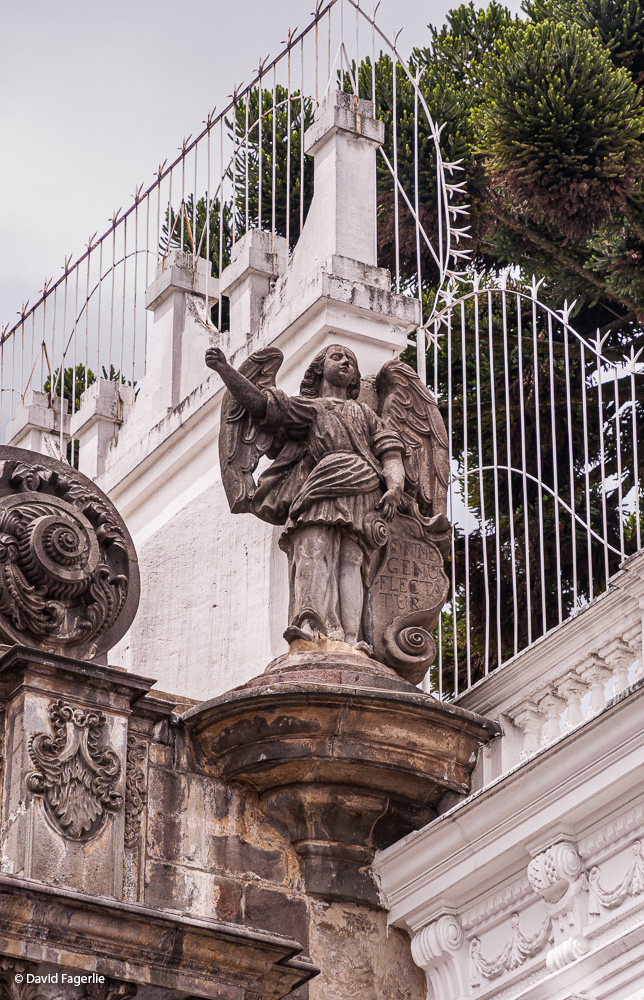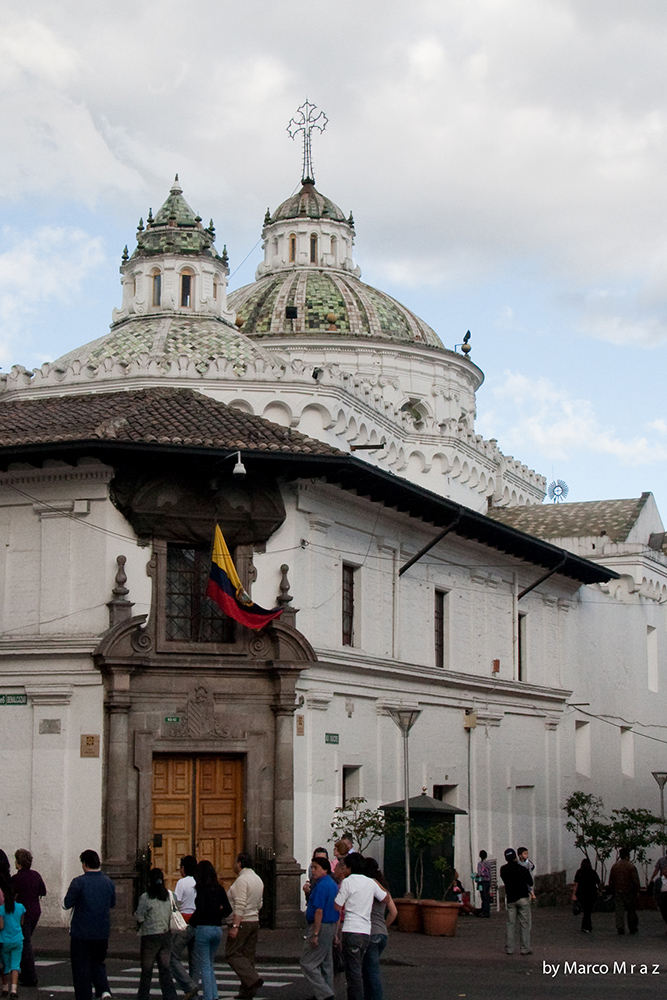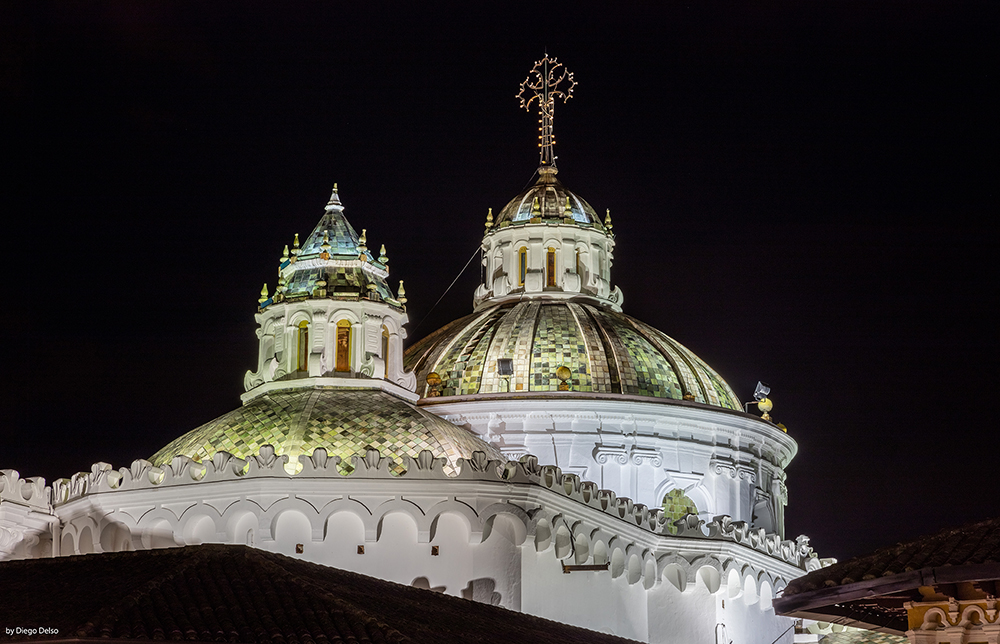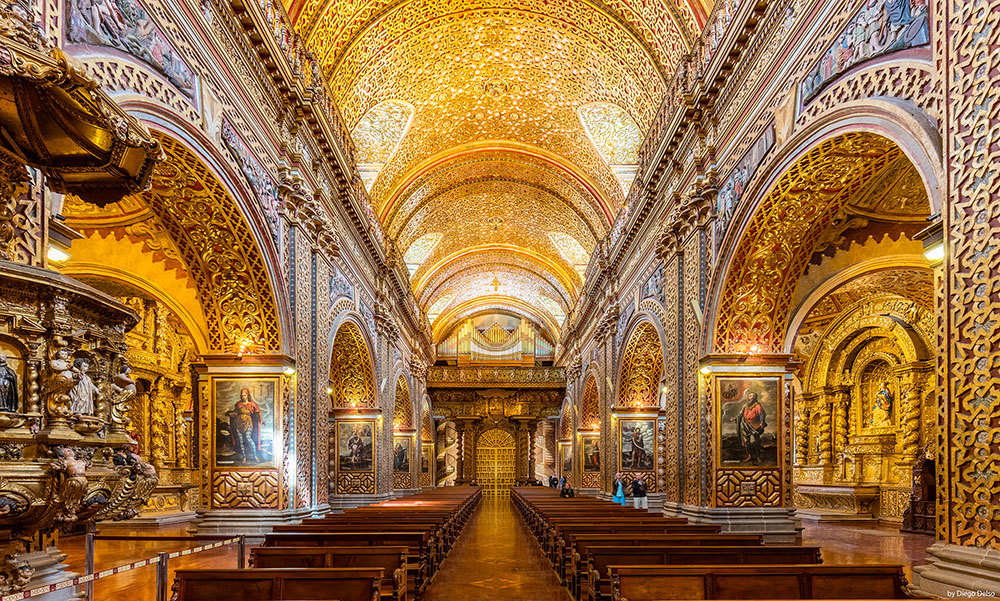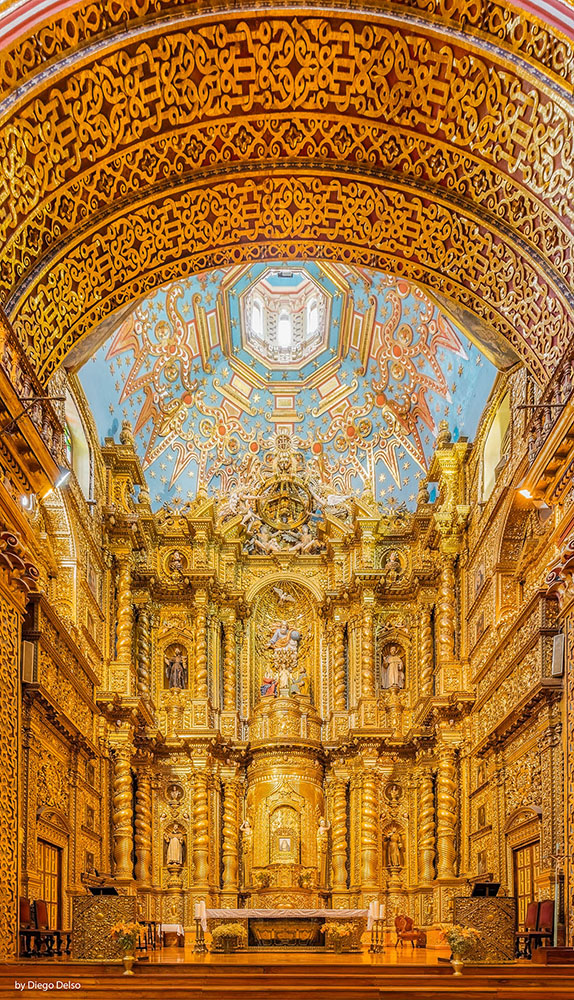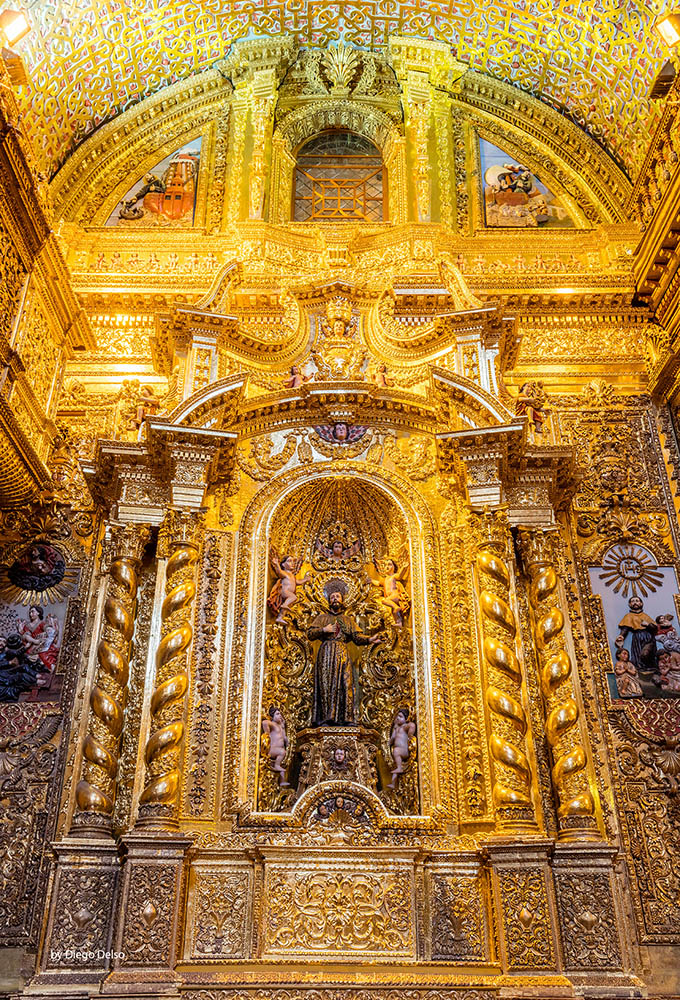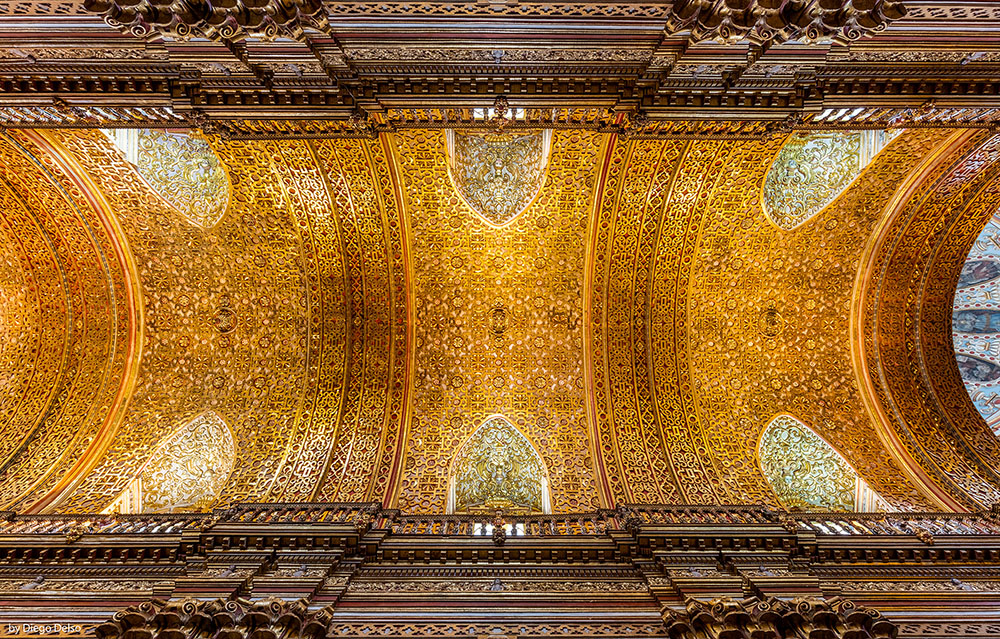 Basílica del Voto Nacional
From Plaza Grande, I walked northeast on Venezuela Street about seven blocks uphill to the Basílica del Voto Nacional. It was so huge, rising above everything else, that I was compelled to see it up close. This is what I saw from the plaza followed by the view from El Panecillo, a side view and views close up.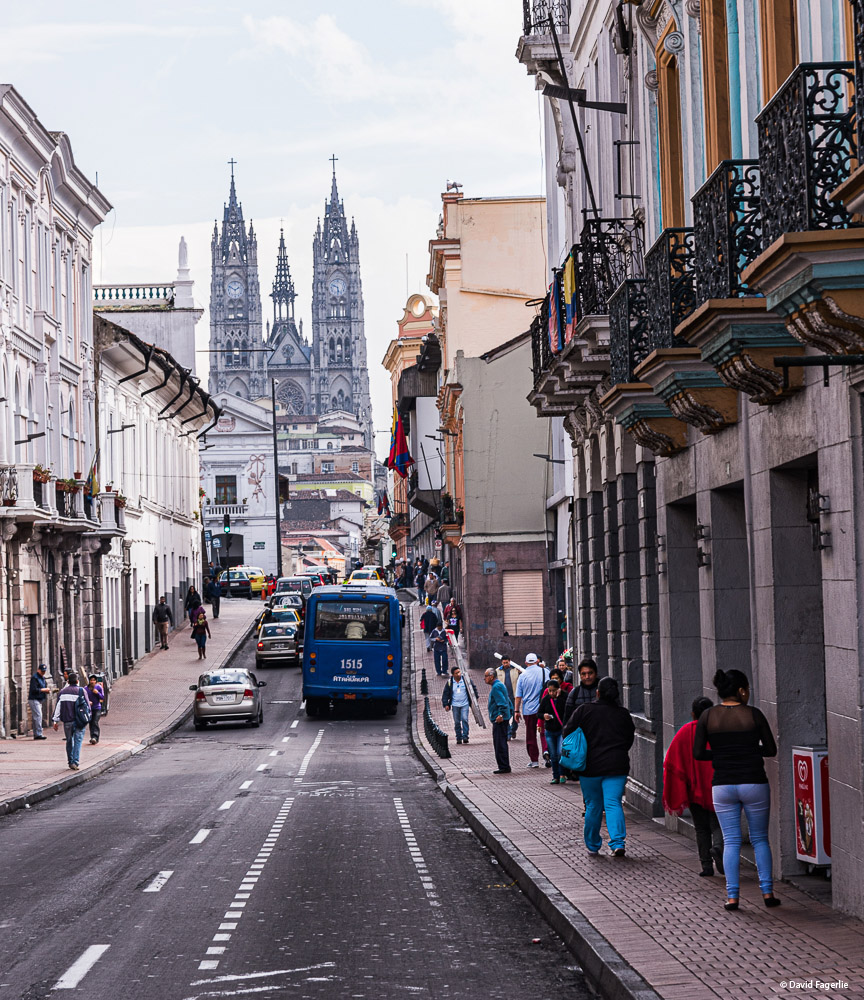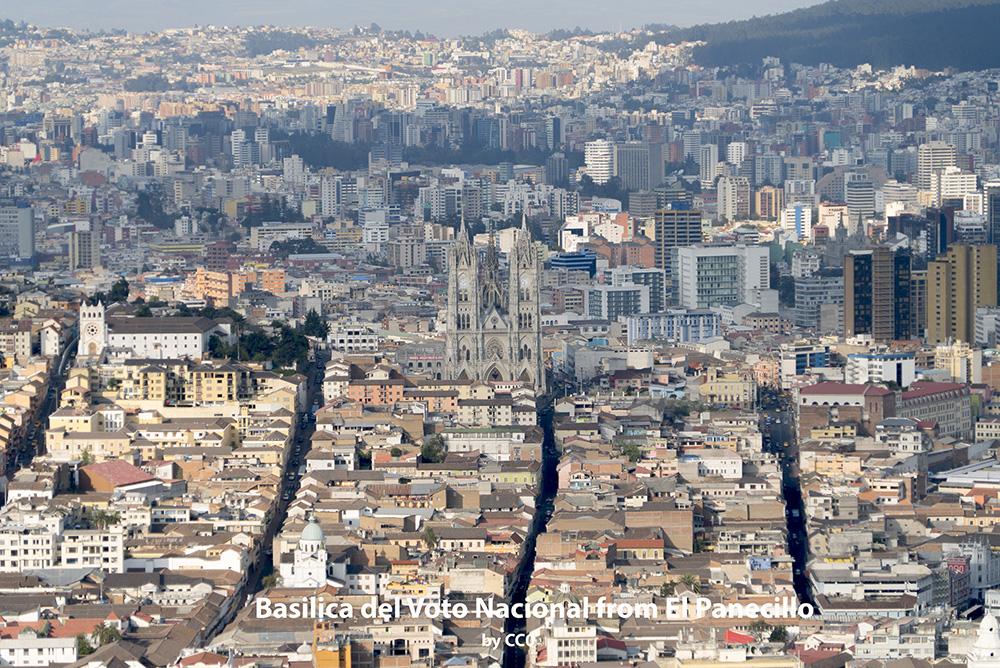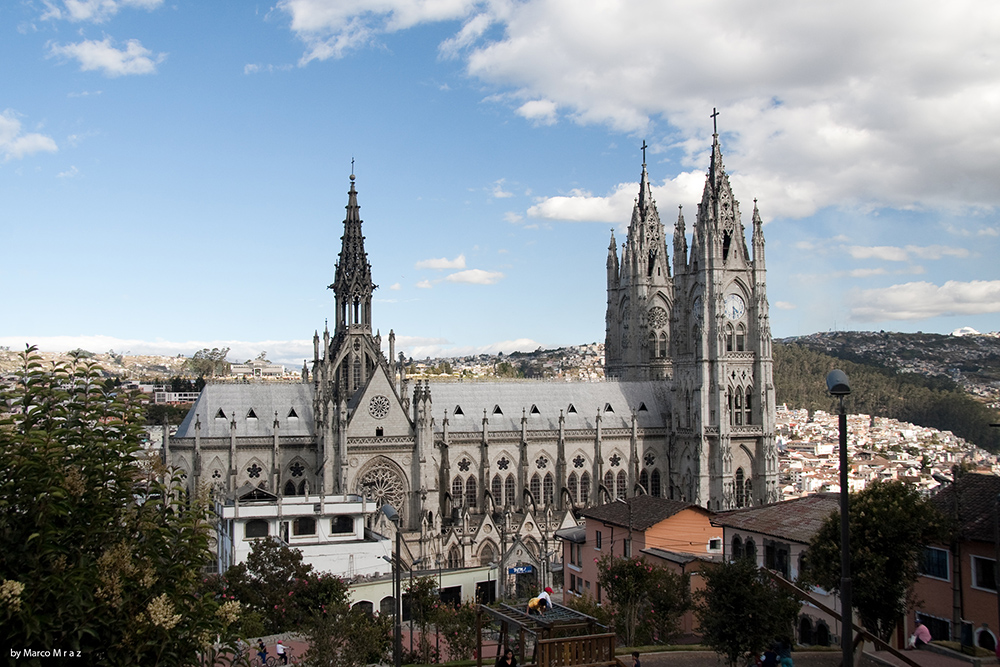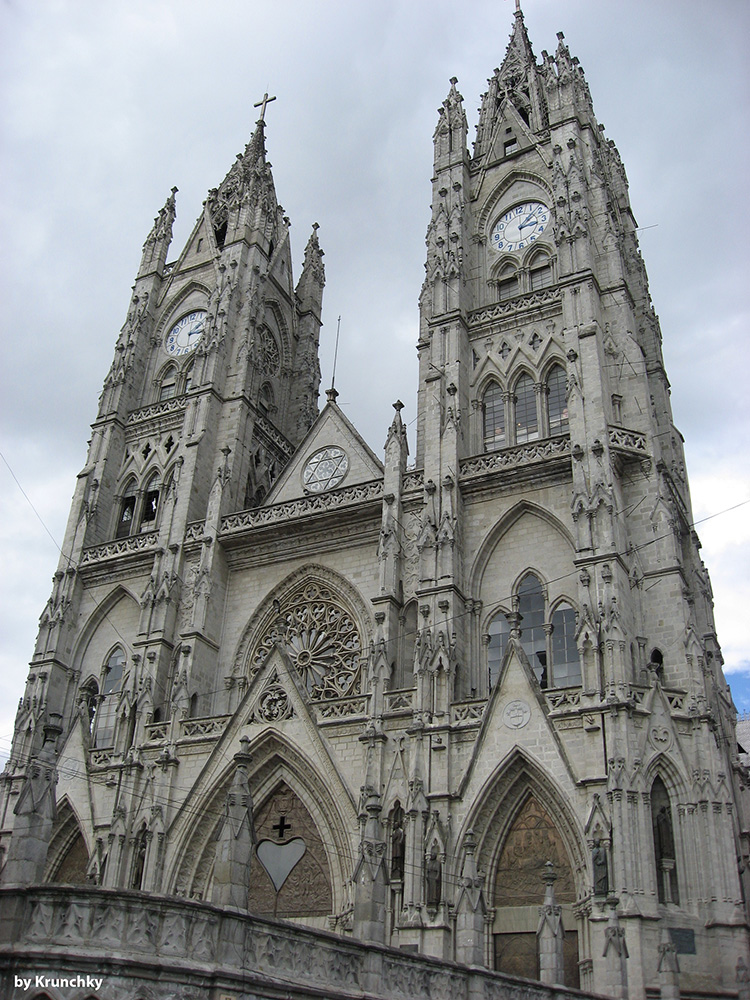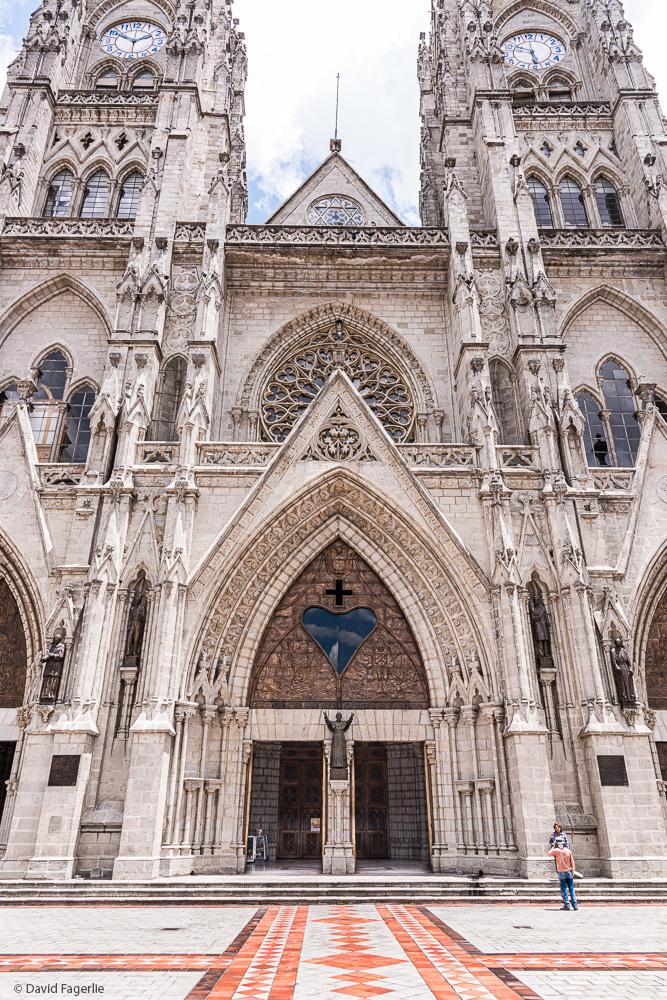 "The basílica arose from the idea, proposed by Father Julio Matovelle in 1883, of building a monument as a perpetual reminder of the consecration of Ecuador to the Sacred Heart. President Luis Cordero issued the decree on July 23, 1883, and it was carried out by president José María Plácido Caamaño on March 5, 1884. The congress, in accordance with the year's budget, designated 12,000 pesos for the construction - 1,000 pesos per month, beginning in 1884. By the decree of July 3, 1885, the fourth Quitense Provincial Council turned the construction of the basílica into a religious commitment in the name of the country. In 1887, the Issodum Fathers began construction for five years, with the approval of Pope Leo XIII. The Oblato fathers donated the land for the basílica. To continue construction, donations were accepted from believers, who provided stones in exchange for engraving their names on them. In 1895, the state established a tax on salt to continue the building." – Wikipedia
At a very small table at the entrance to the basílica an elderly woman was selling tickets to see this magnificent place. As I recall, it cost one dollar to get in and see the sanctuary from a rear balcony. I could buy a second ticket that allowed me to ascend on a very small and rickety elevator to the upper level; I was told that from there I could further ascend one of the towers for more views. My wife bought the first ticket. I bought both. Nothing was monitored so the tickets I purchased were still in my pocket when we left. From the first ticket access to the balcony there were good views including my favorite view from there, a small but beautiful architectural feature, the huge stained glass installation and the sanctuary.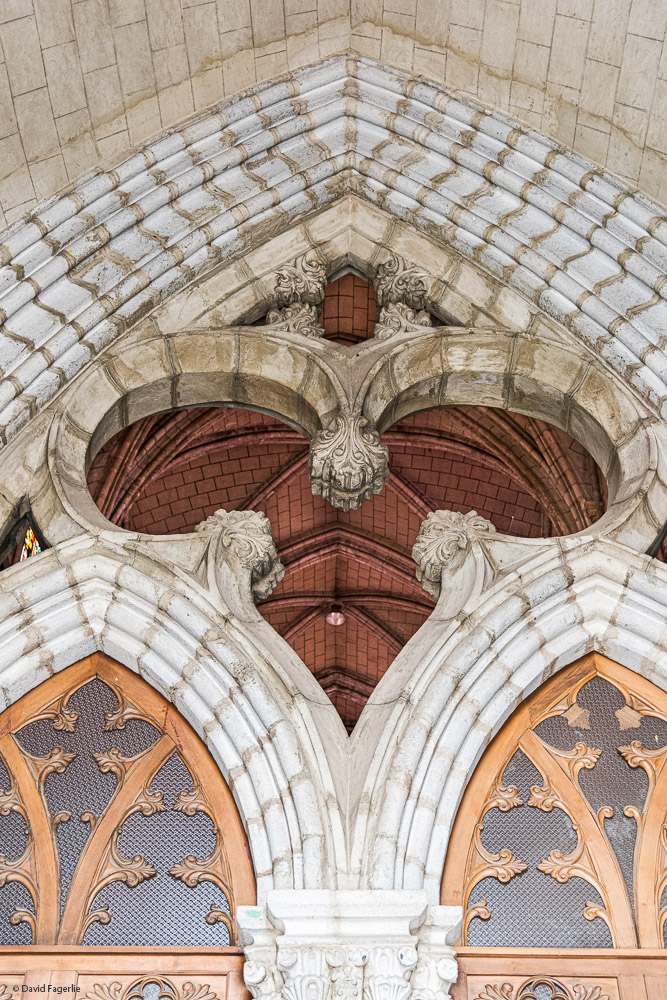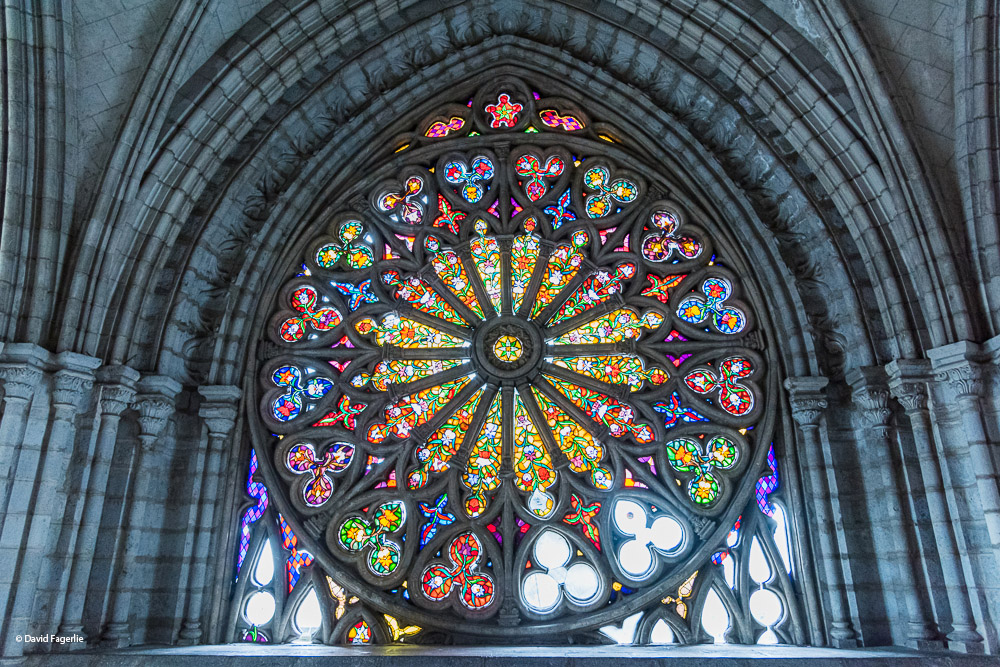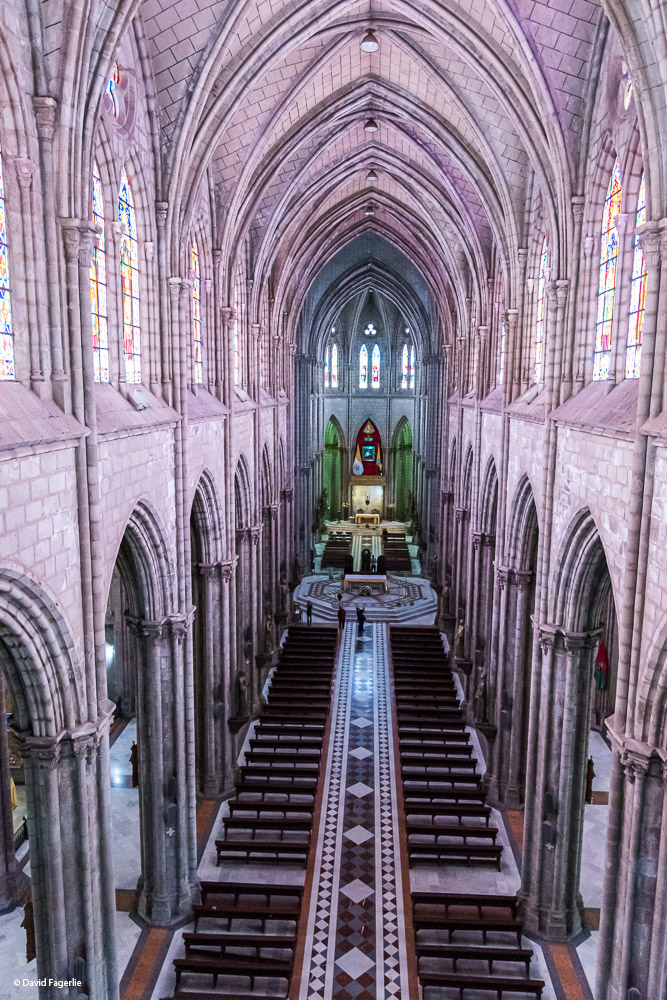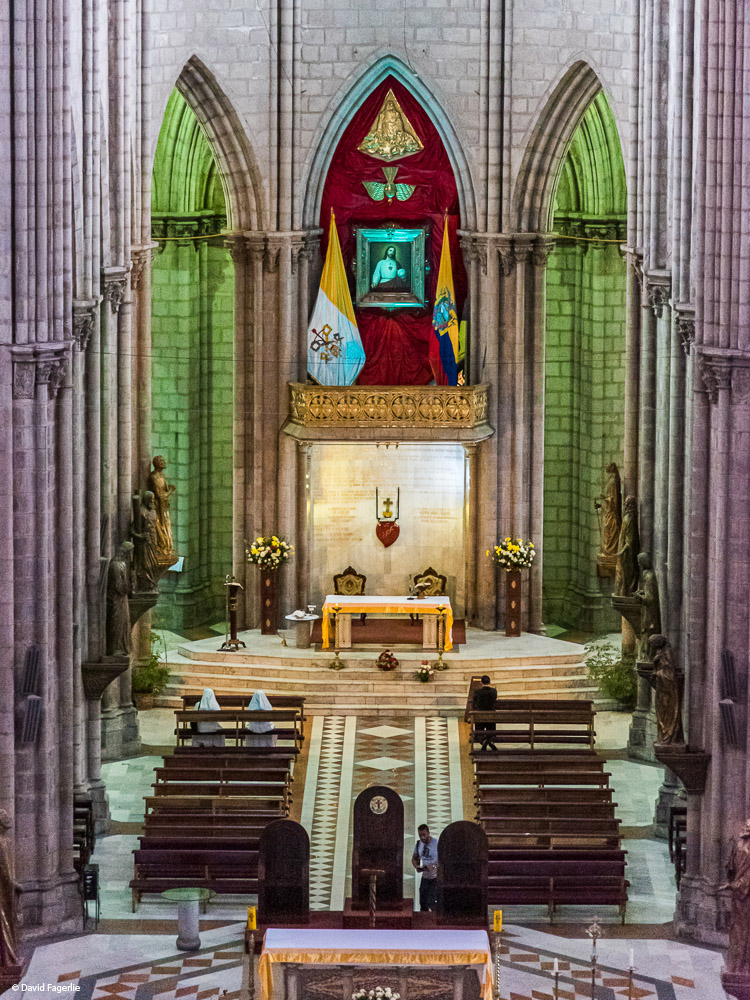 I "spent" my second ticket to go up another level The elevator was not just rickety but left me wondering if I would make it up another level or be trapped forever in this little space? Exiting the elevator I was soon at this place where I had to traverse the entire length of the basílica, then climb a ladder to the next juncture.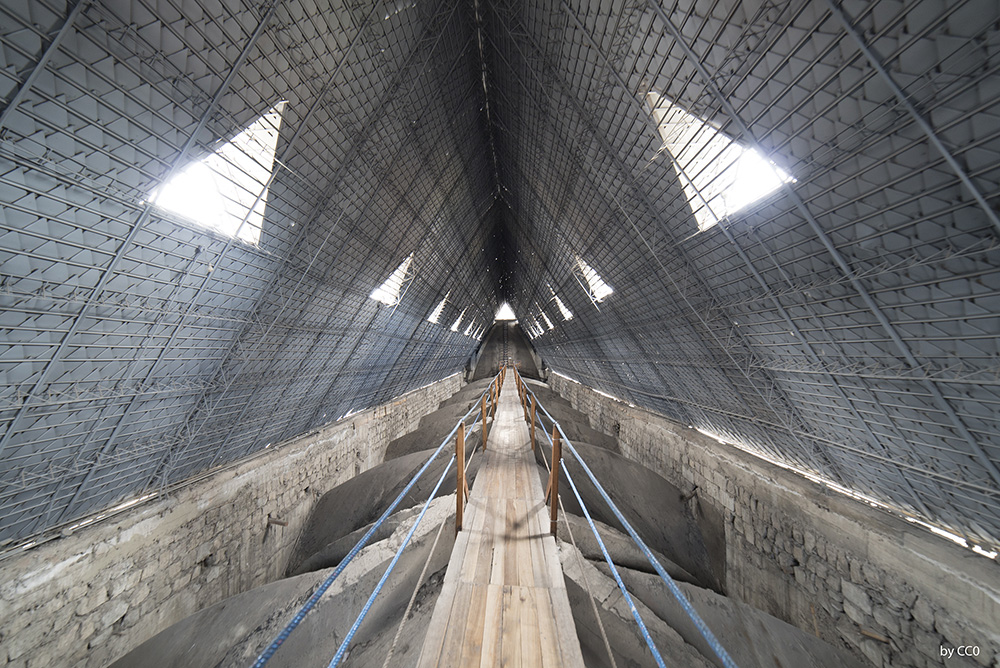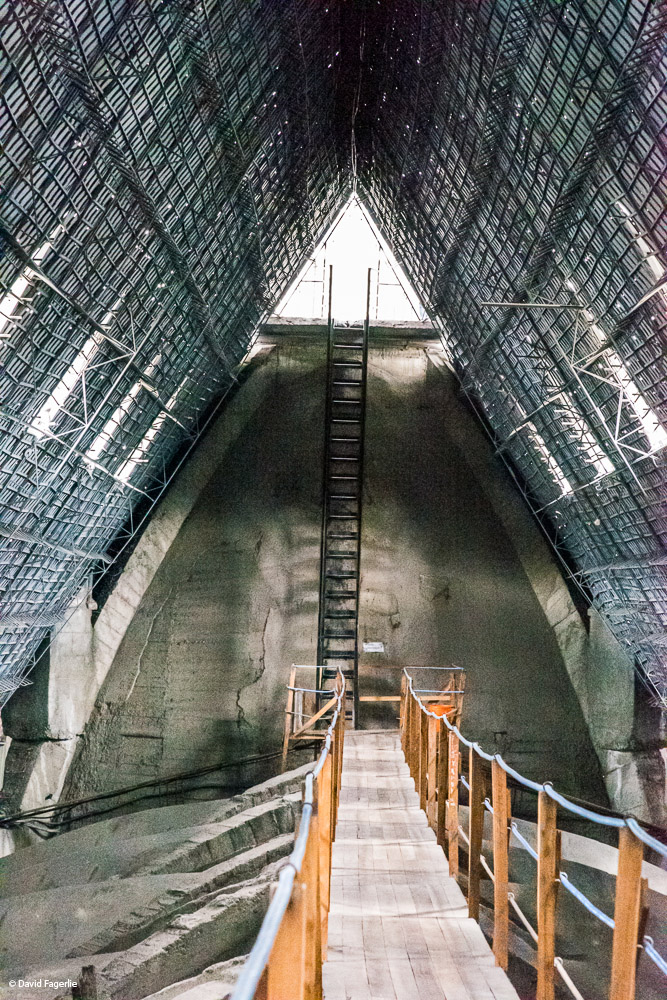 My next task was to climb a very steep stairway - almost a ladder in sections - that wrapped around the tower. In the steepest parts the "stairway" was enclosed in a metal cage; I still felt a bit unsafe. My brain was on full alert. I put my camera into my backpack which I pulled tight to my body as if I was about to attempt a precarious mountain scramble. I made it to the top and I was rewarded.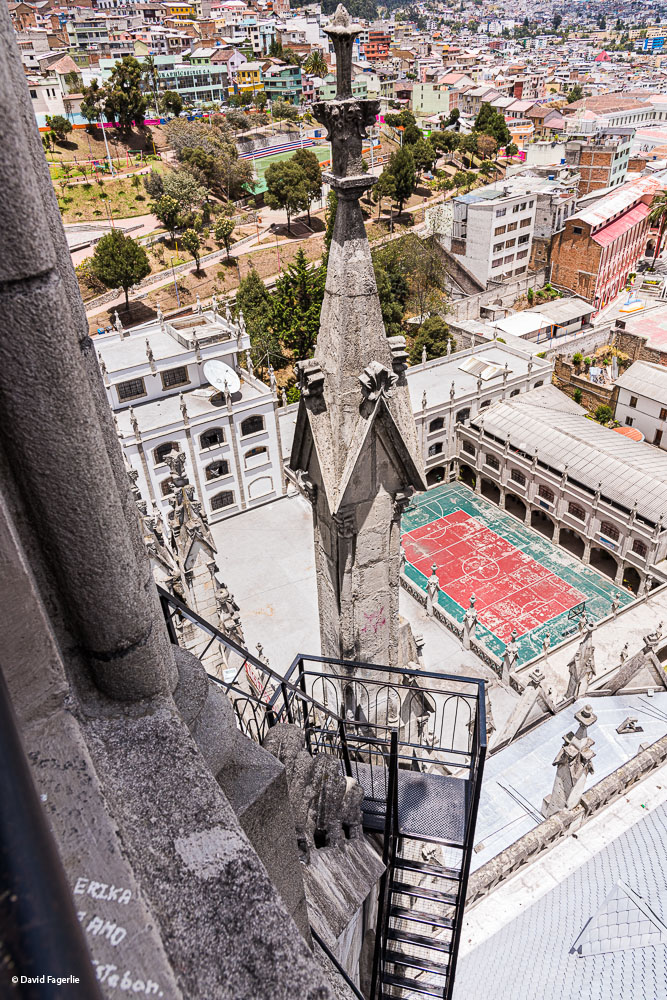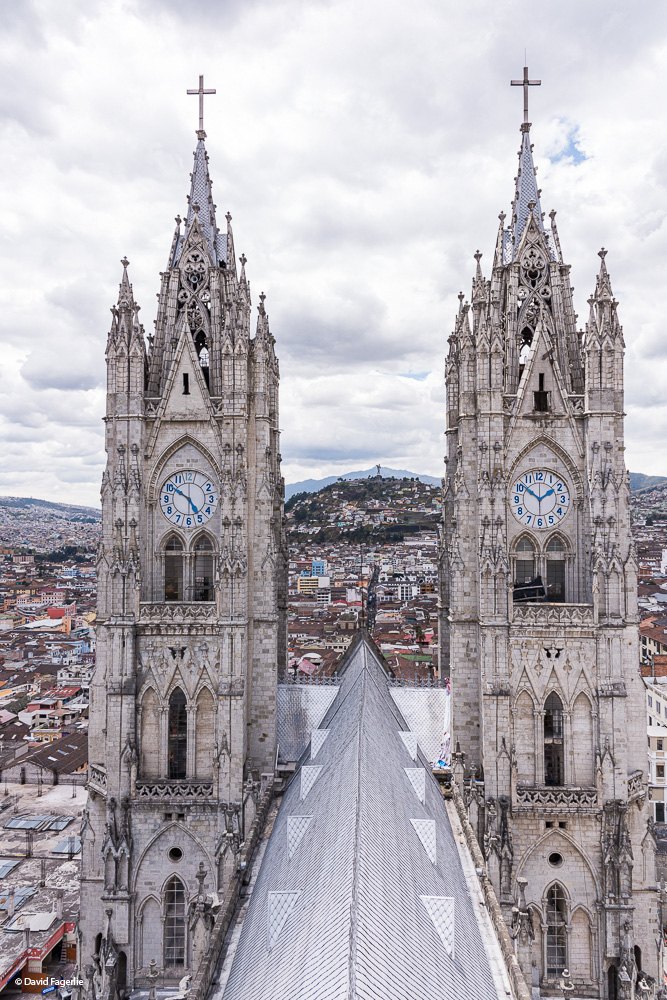 The exterior of the basílica was interesting. I loved the gargoyles.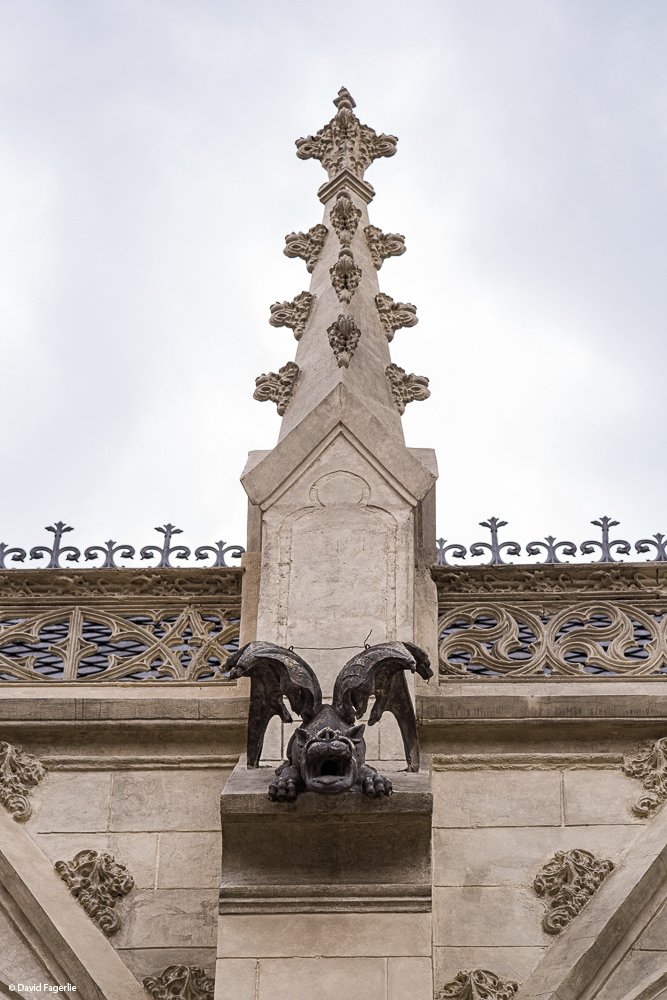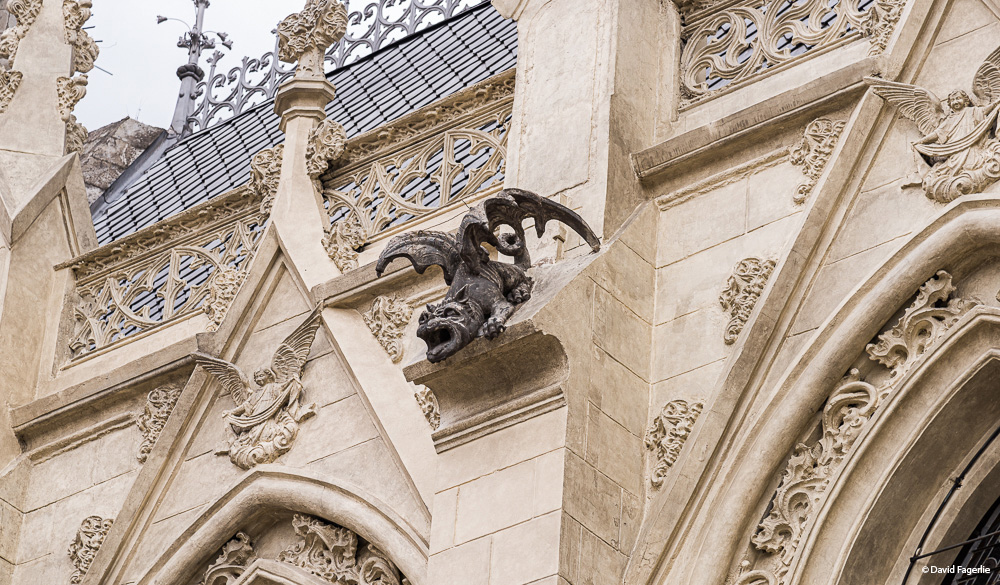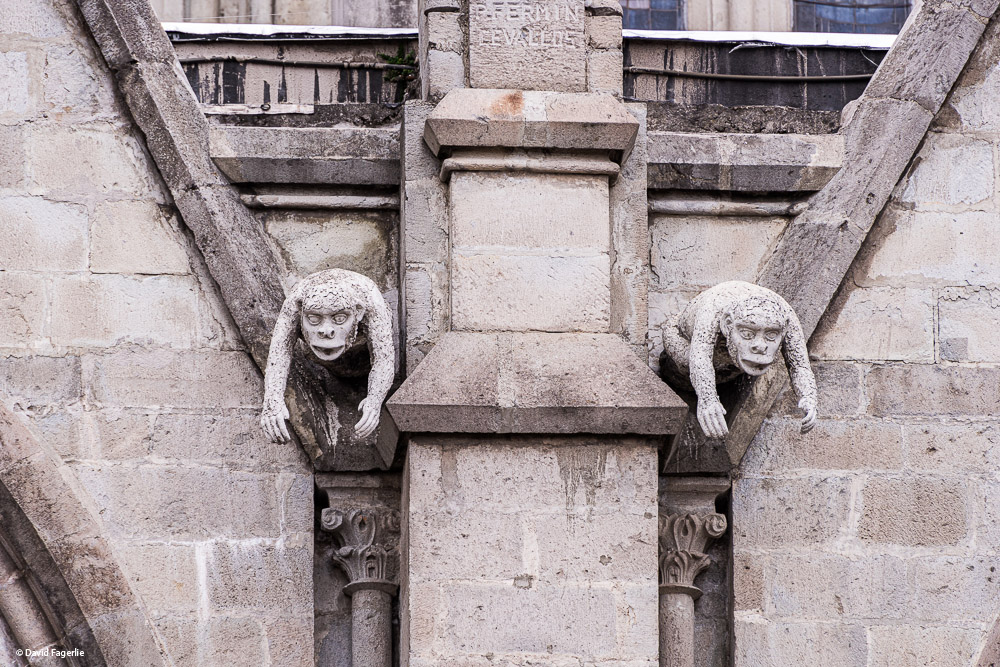 Many of the gargoyles represented animal from the Galápagos Islands.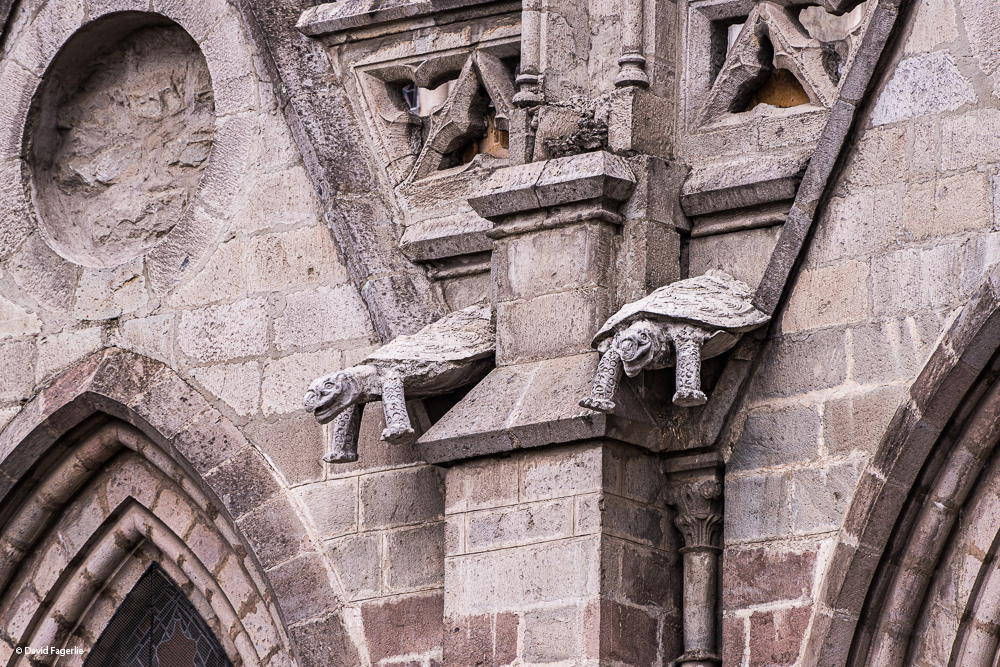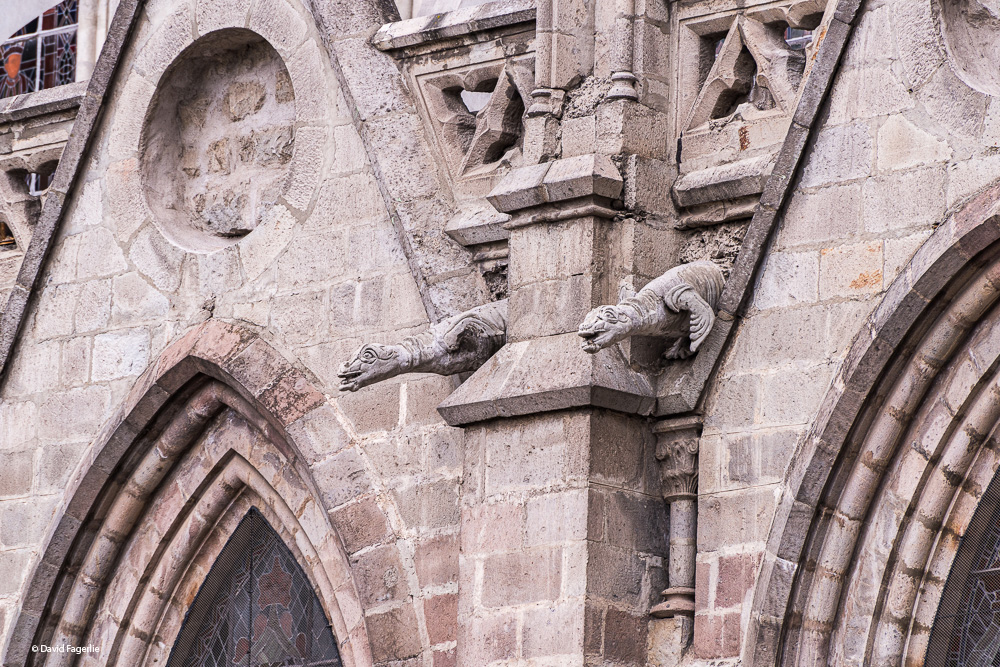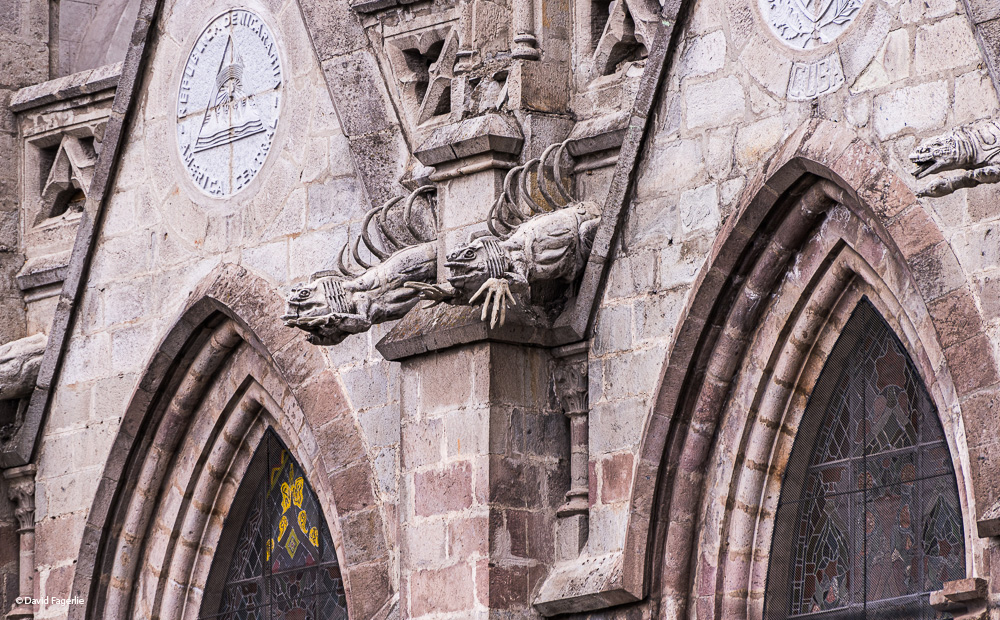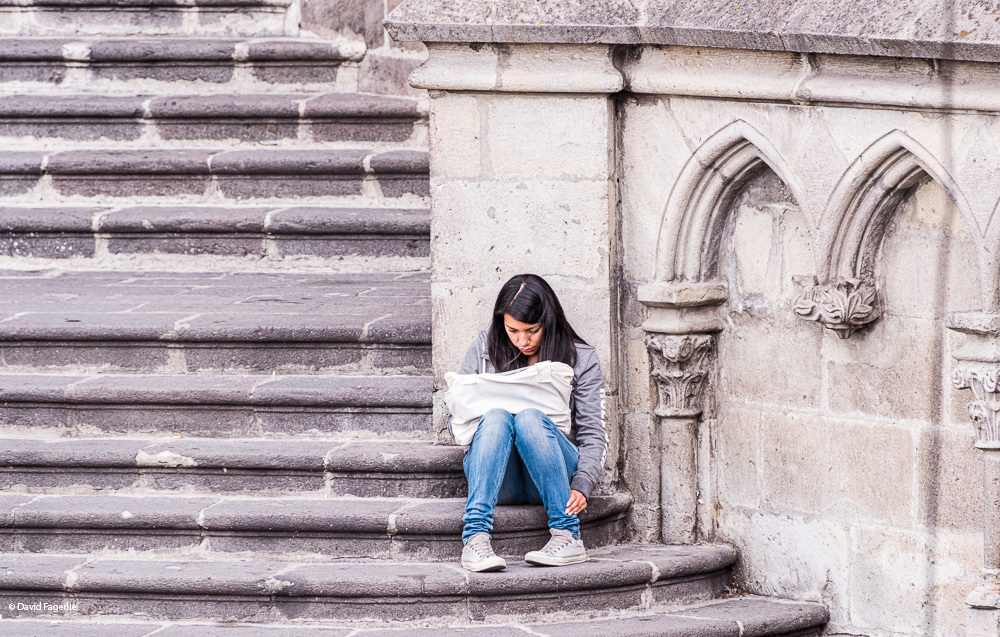 We leave this chapter with this final image that I took in Quito.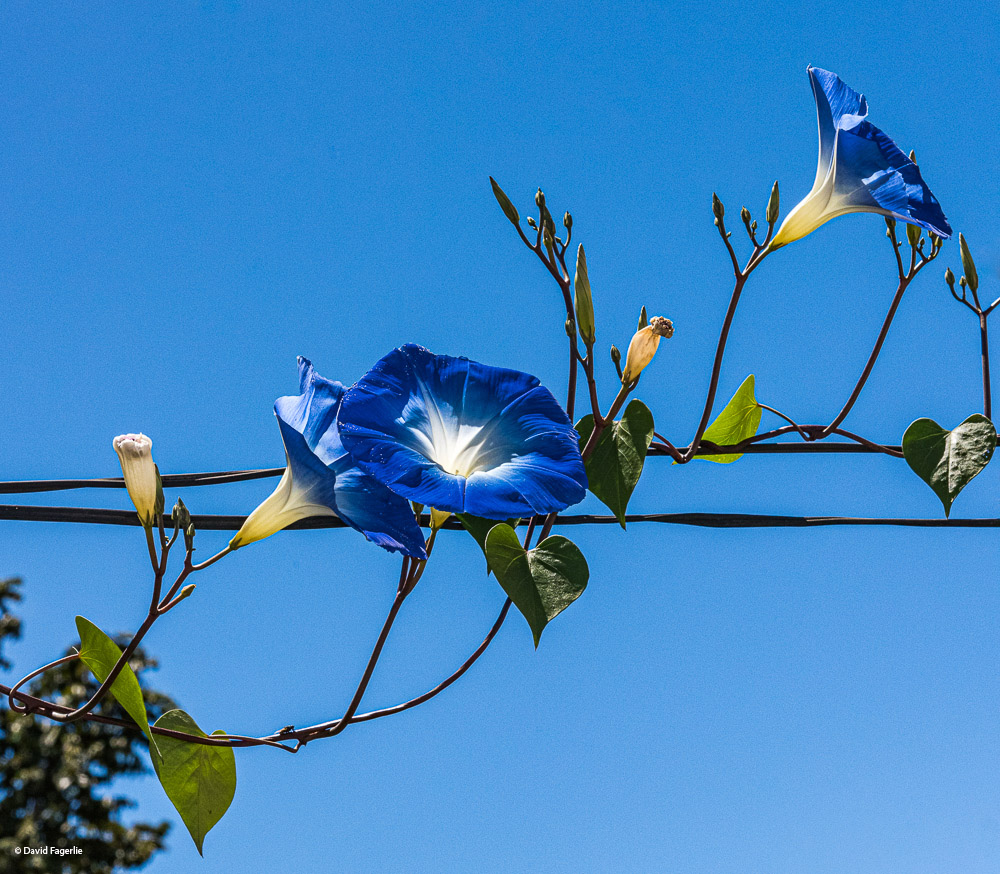 Higher resolution images of this chapter are available by clicking HERE.
Next week we visit Cuenca, which was my home town for five years. Stay safe and see you soon.