Ecuador, Part 3: La Costa
Ecuador's coastline is 2,237 kilometers long and is dotted with beaches, towns and cities from end to end. I only saw a small mid-section starting north of Guayaquil and going north from there a short distance. In September 2016 I traveled with a group to Montañita, which was about a seven hour drive from where I lived. Montañita is a surfing town. Ocean swells range from a low of one meter in summer months to 2 meters January though March. In September the waves are low so the town is in the off-season for tourists, thankfully. Montañita has a well deserved reputation as a party town, catering to the young and restless. In the best surfing months tourists carry on with wild parties until the early morning hours. It is loud and unruly.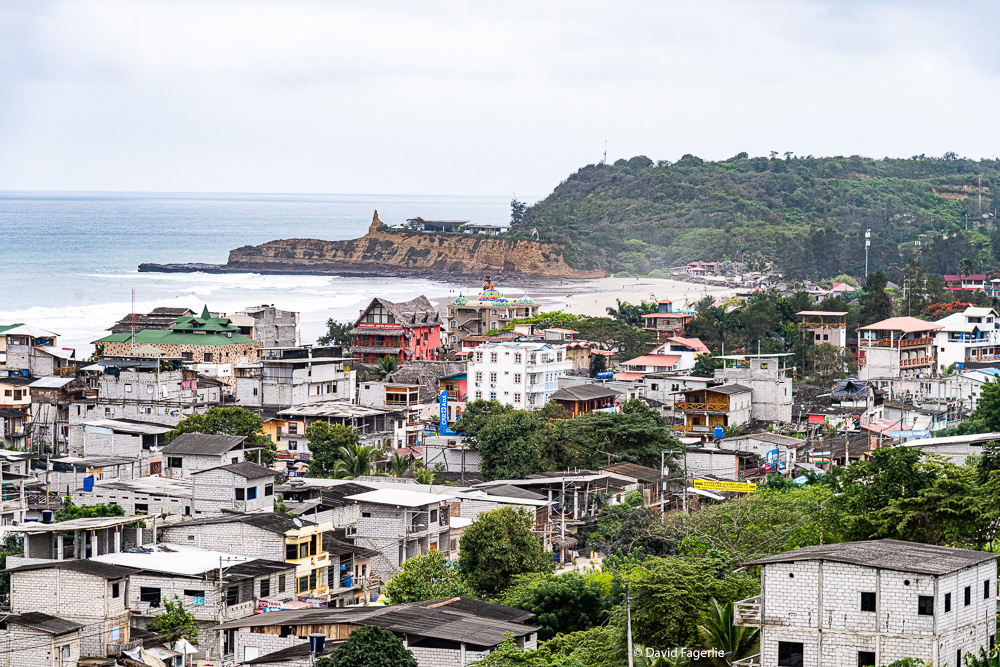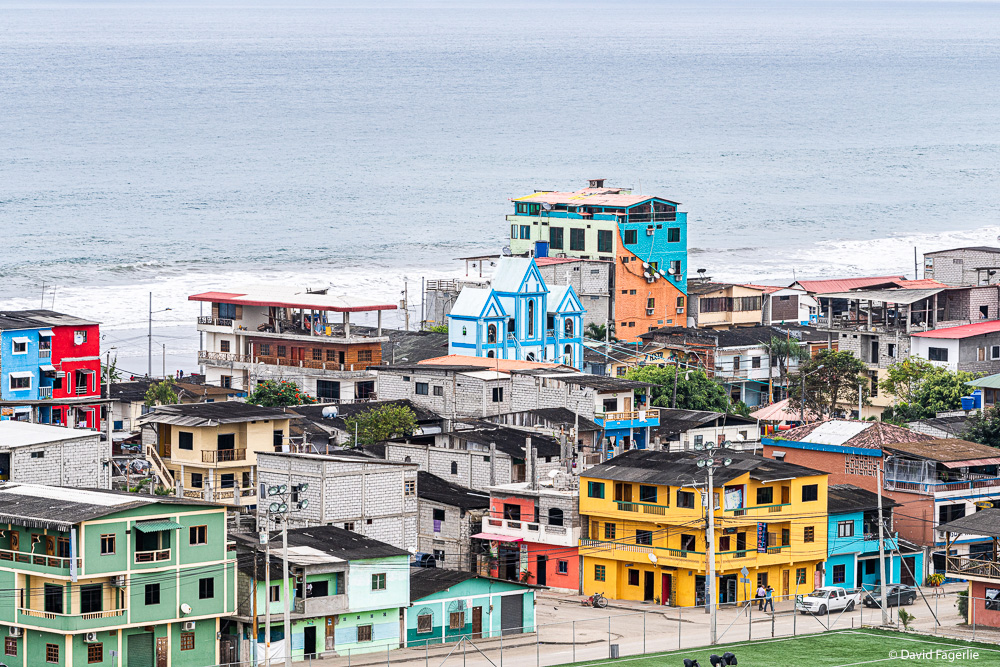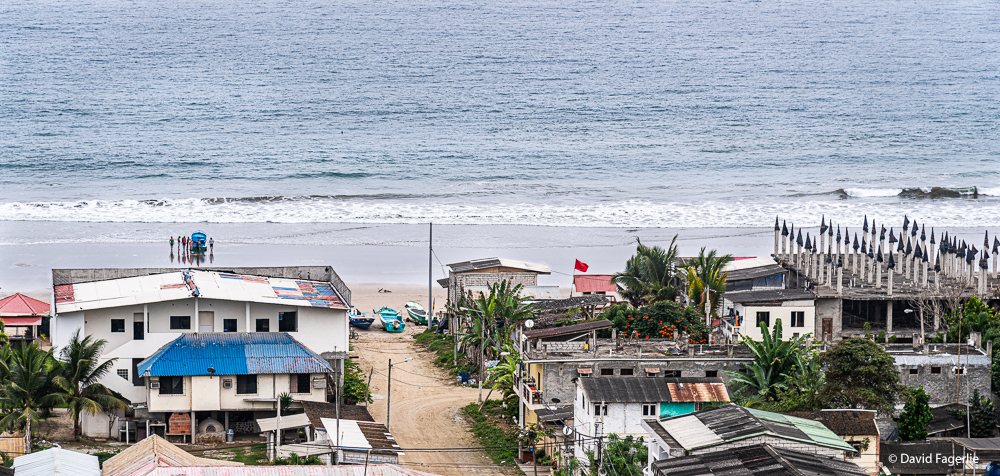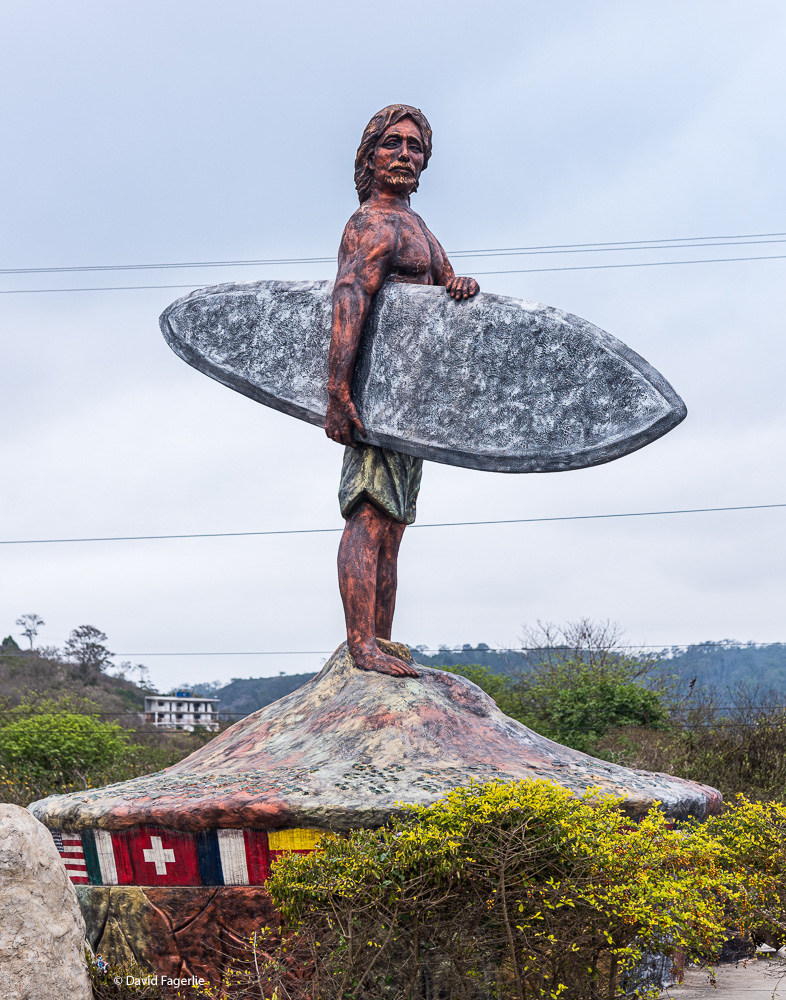 This was the view from the floor my room was in. It was the absolutely worst hotel I have ever stayed in. The beauty of a family that lived in this crumbled environment was the one redeeming quality. The hotel was wedged between poverty and the stink of a stagnant pond.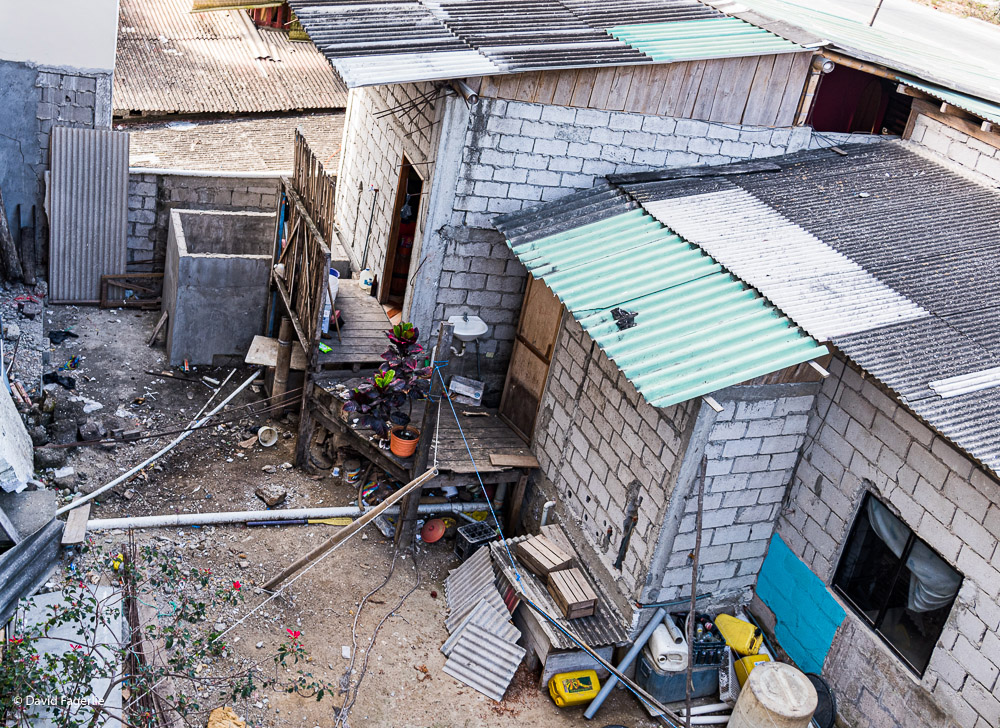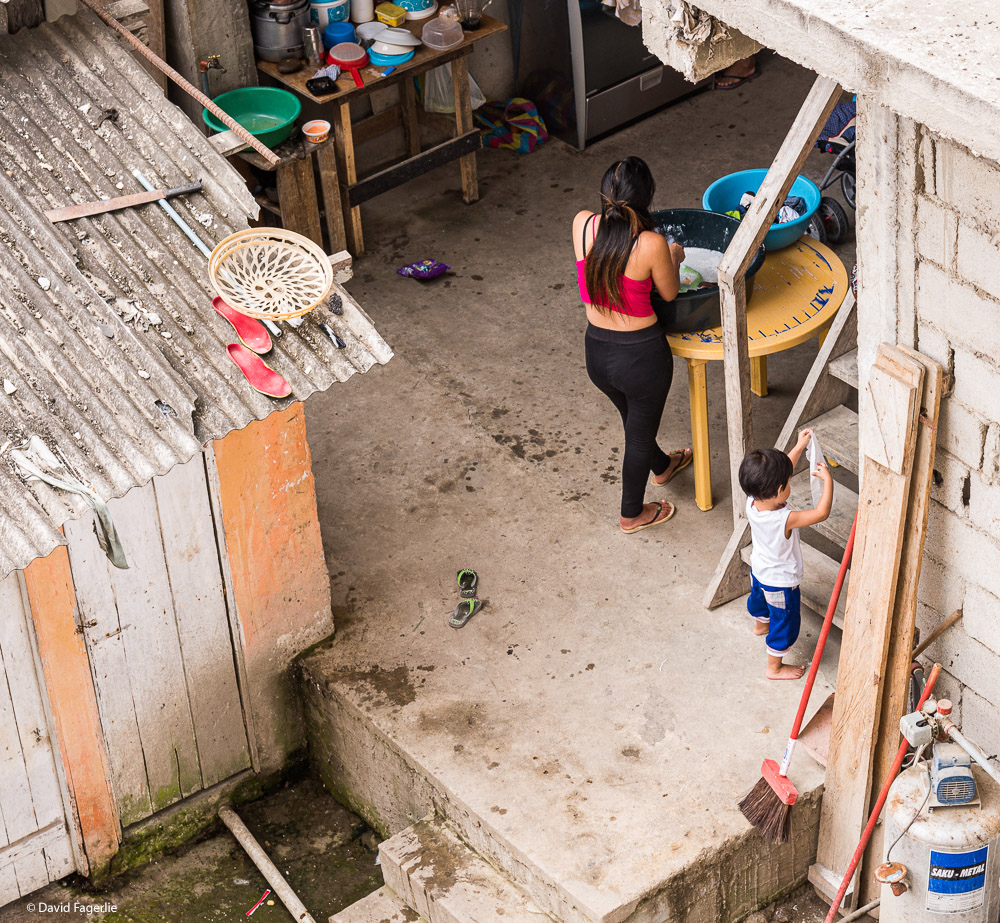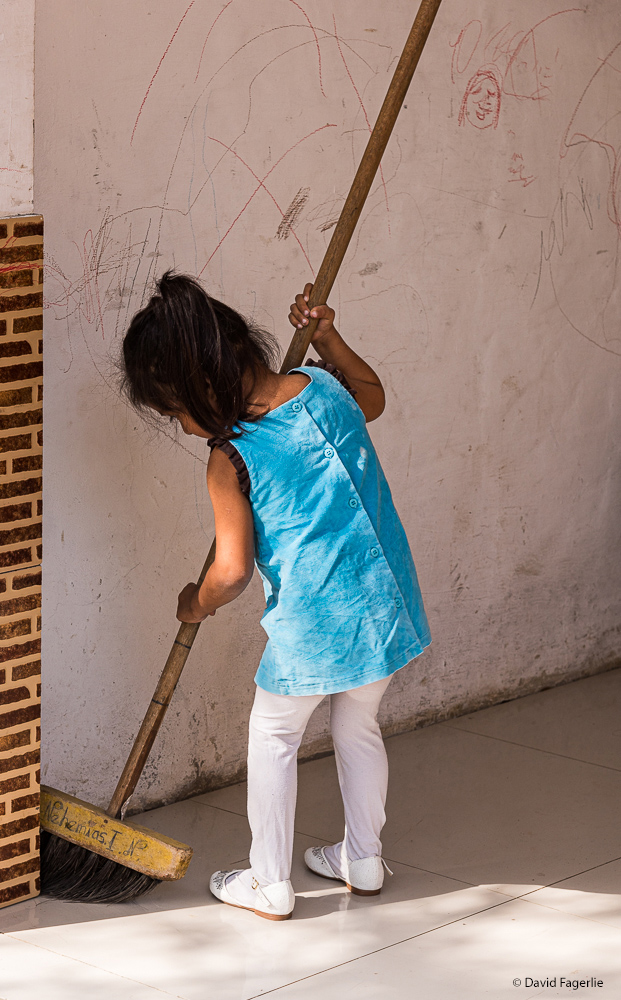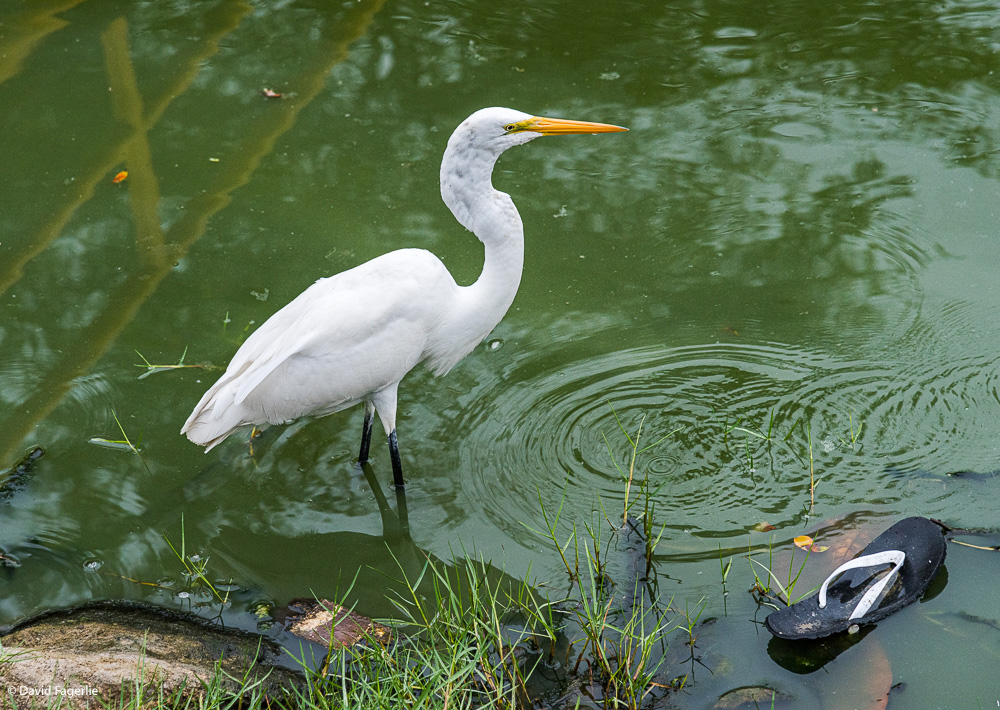 Here are some shots inside the town and on the beach. My favorite shot of all in Montañita was the one of the girl looking out to sea. What was she dreaming of?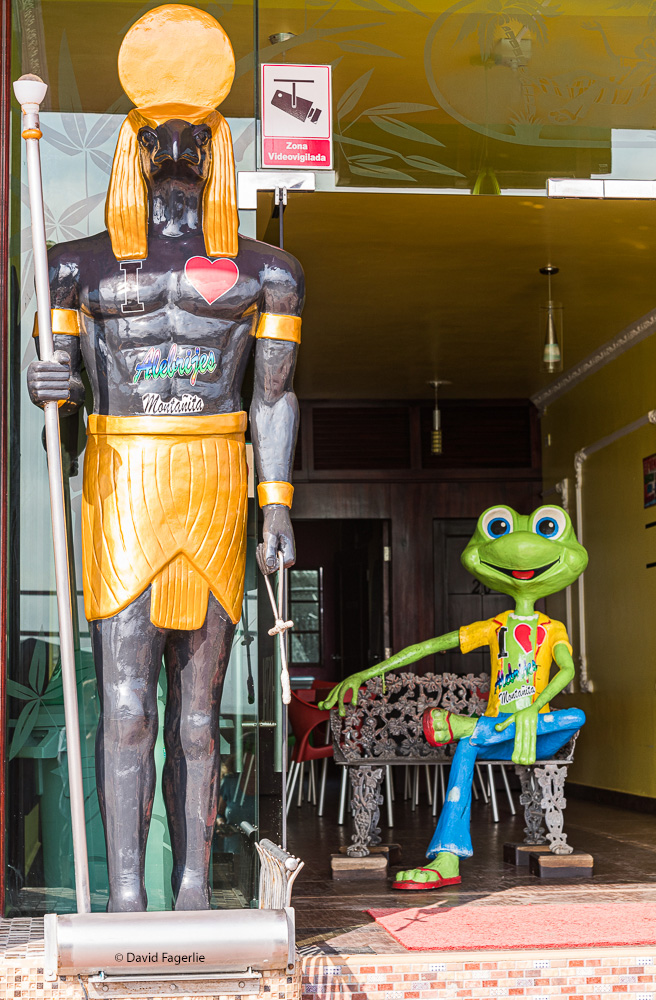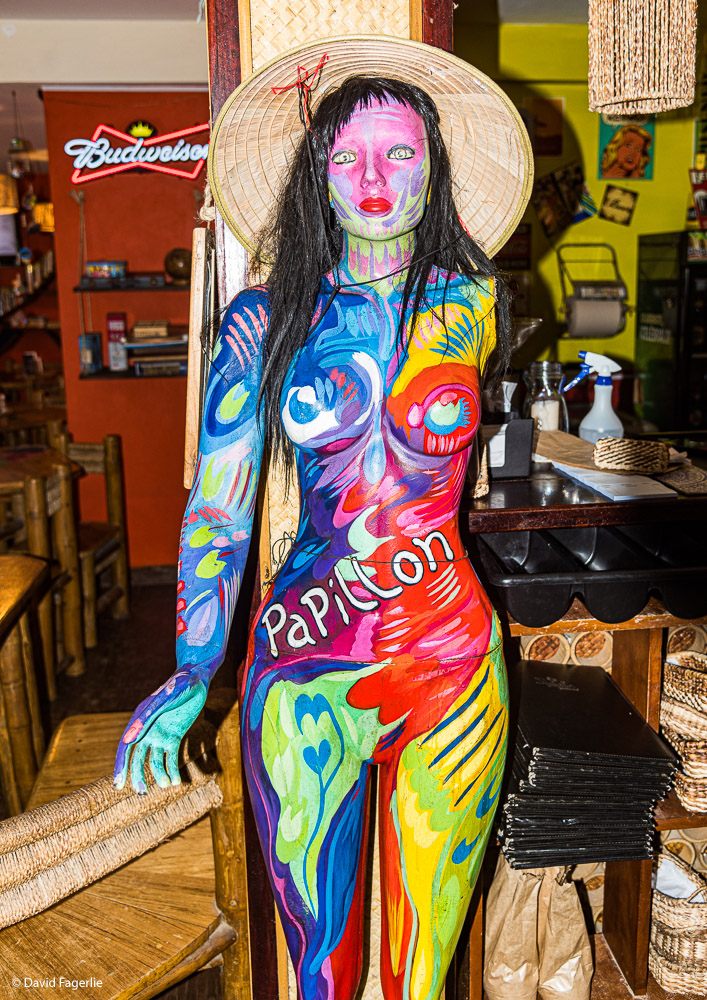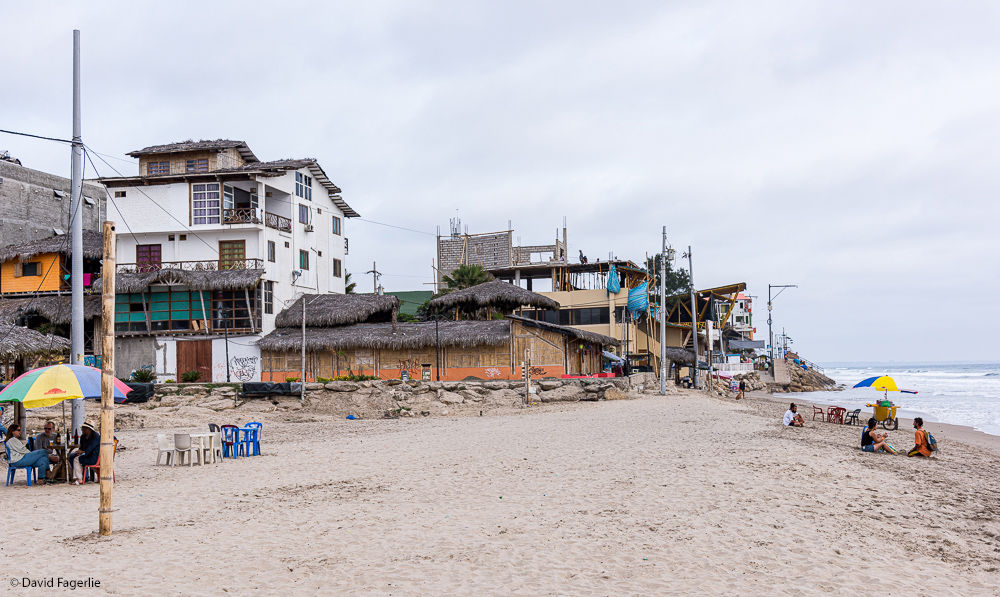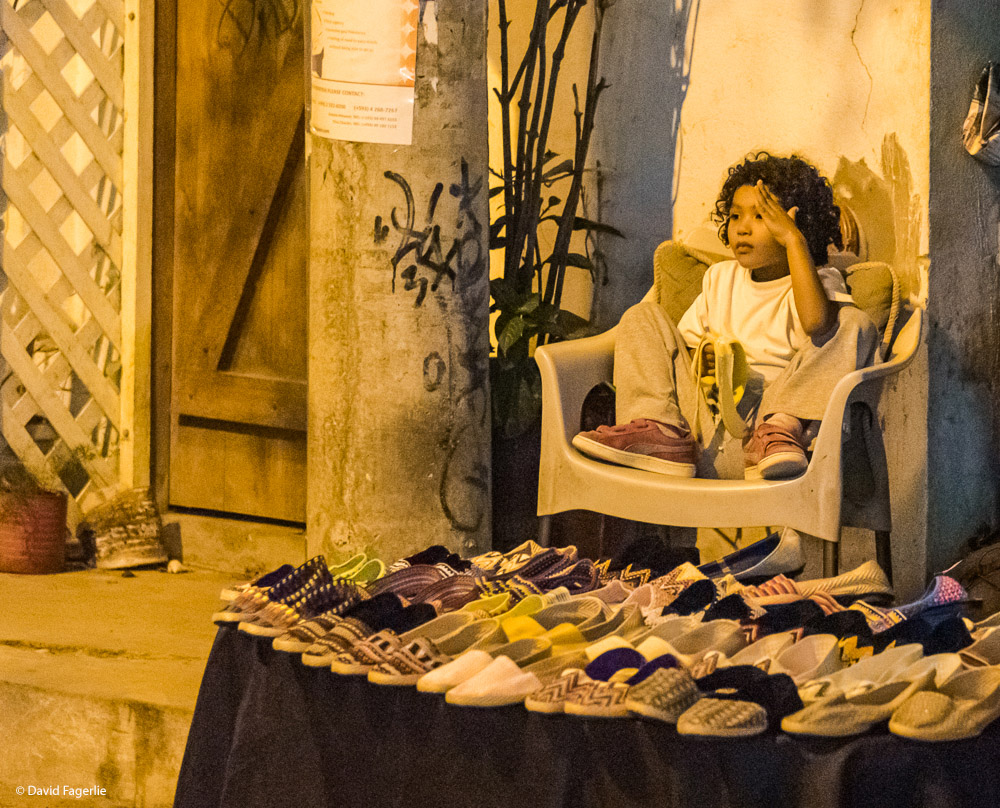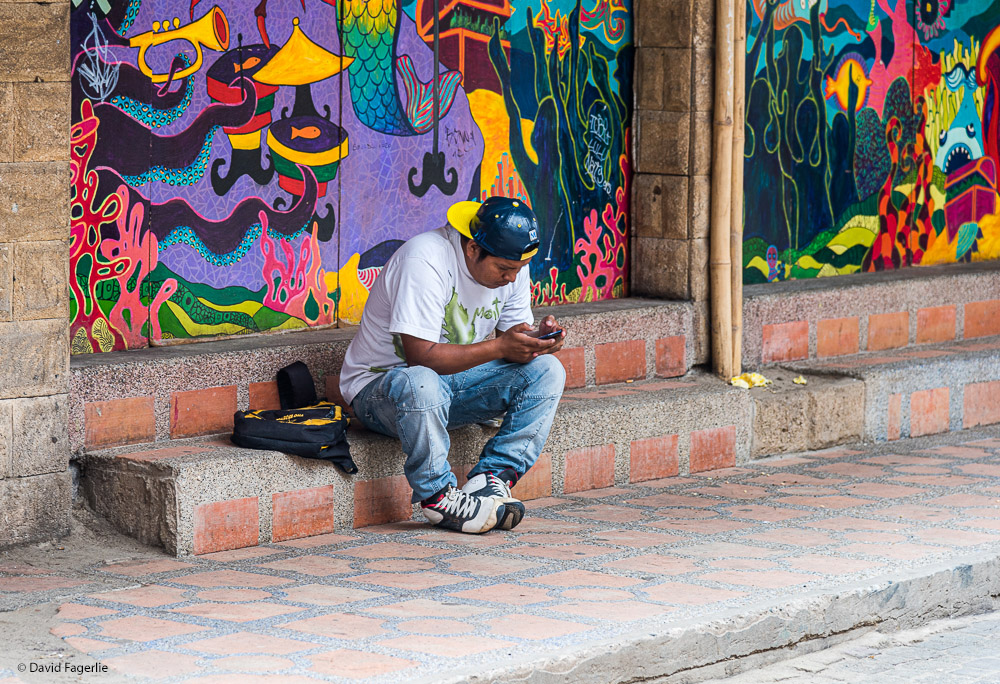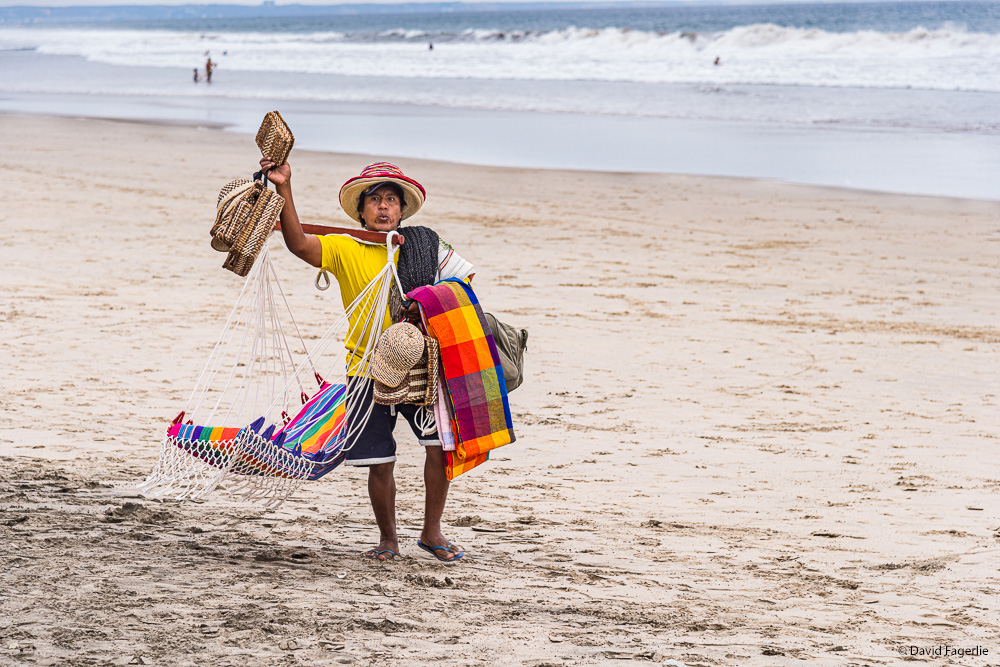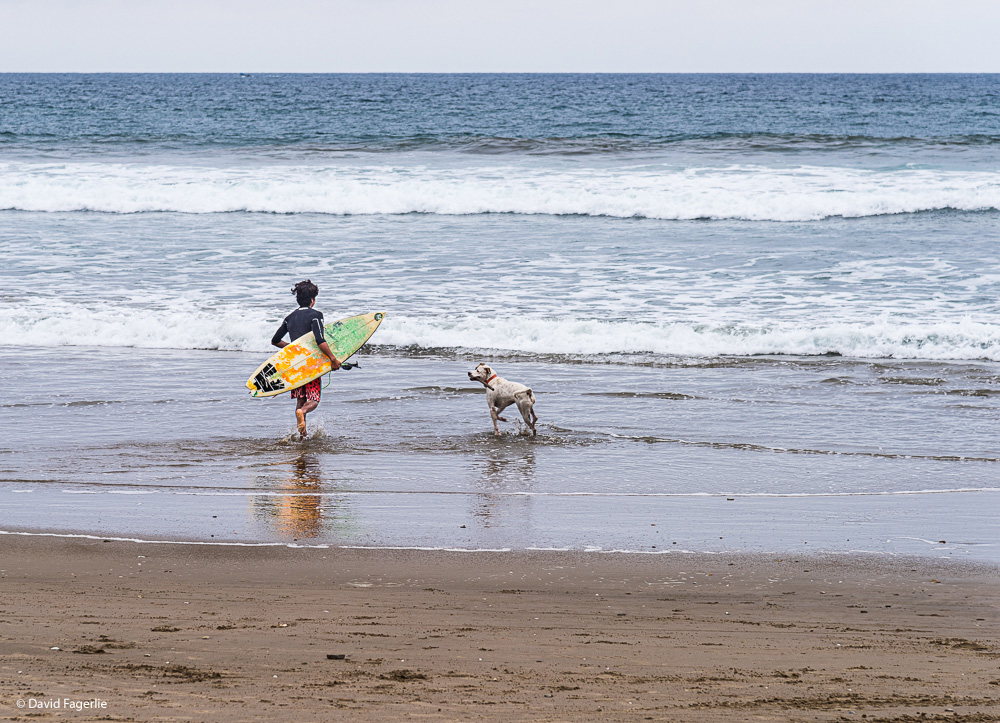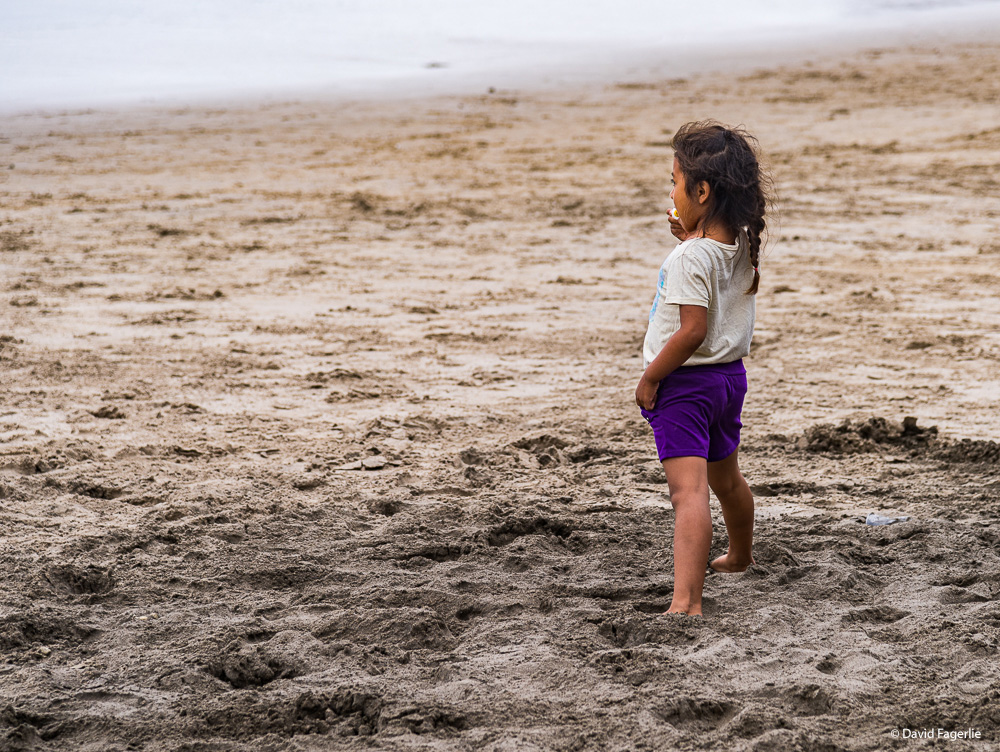 Based on my first experience with Ecuador's coast I decided I would never return. However, in August 2018, with some trepidation, my wife and I succumbed to pleas by friends that assured us that where they were going would yield a different result. We made a second trip to the coast.
Indeed, this would be a wholly different experience. Our travel ended at a wonderful beach hotel on the outskirts of La Entrada, a small and colorful town. The owners of Villa de los Sueños, Shell and Marsha, were wonderful hosts who had done a lot for their town. They raised money to paint all the homes in the village different colors and to bring artists to the village to paint 80 murals throughout. They have not completed the project because Covid stopped their efforts. Instead, when the pandemic hit, Marsha and Shell raised sufficient funds to feed the village for about five months. They look forward to renewing their efforts to complete the village makeover. Here are some images.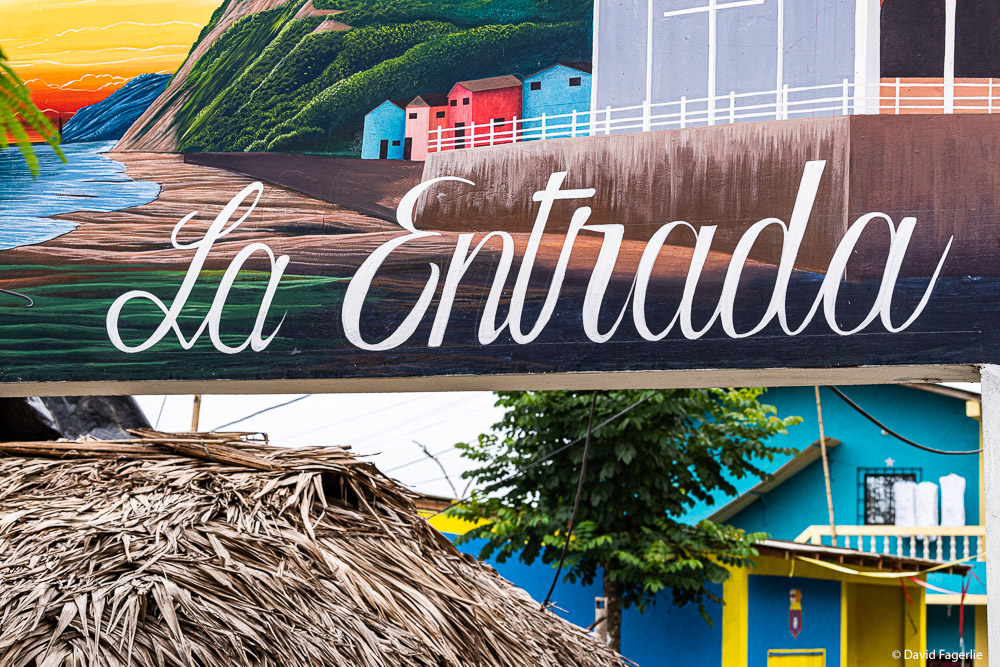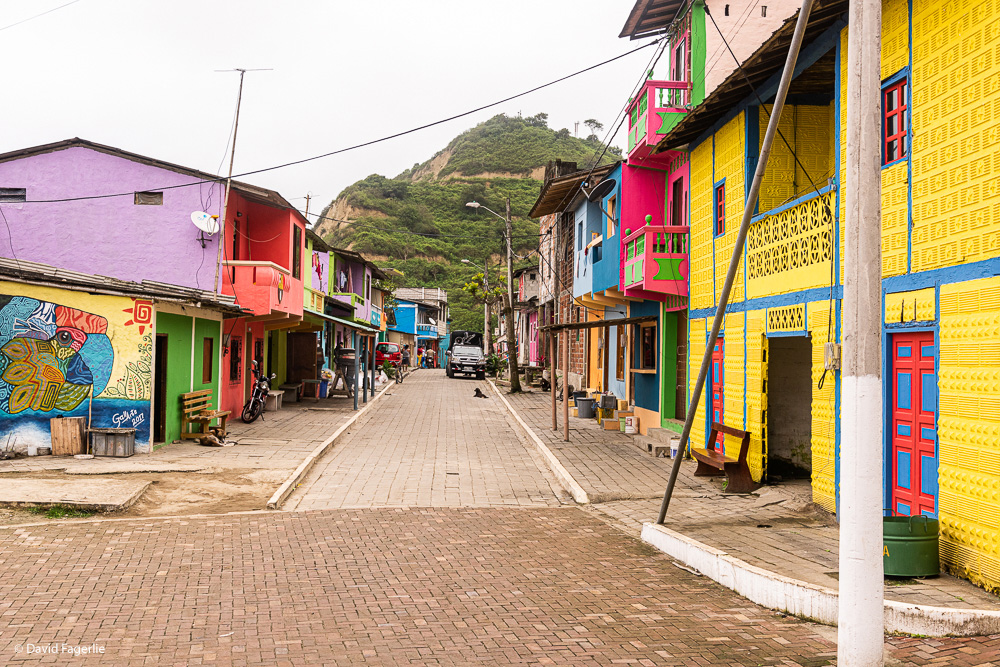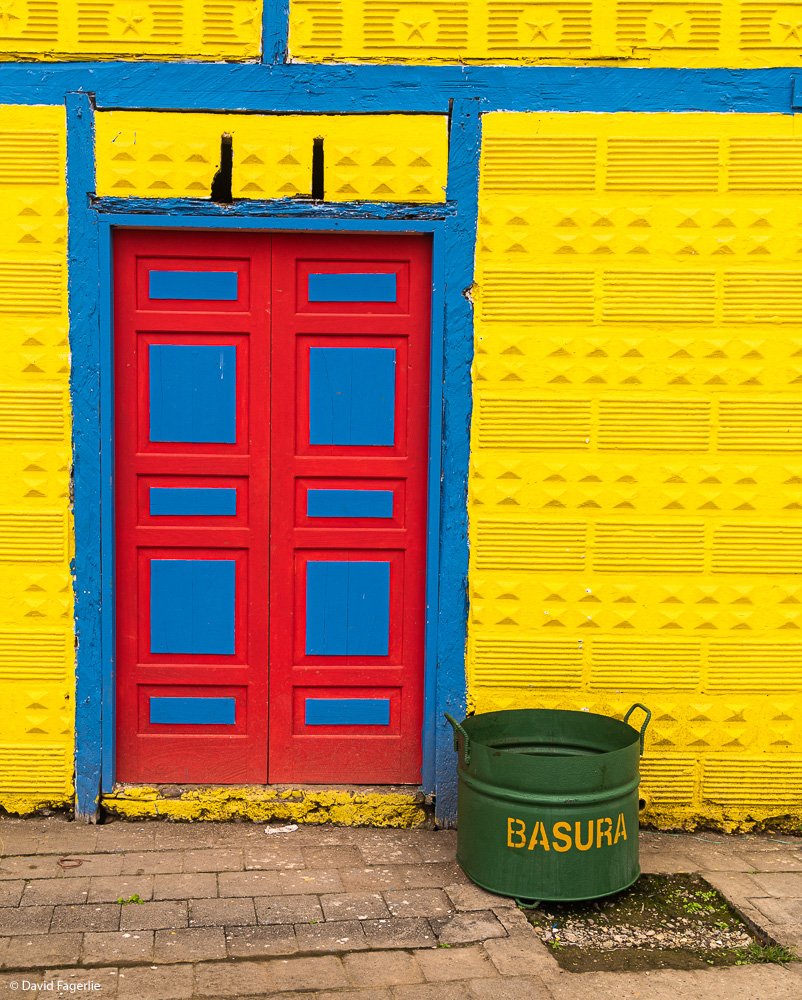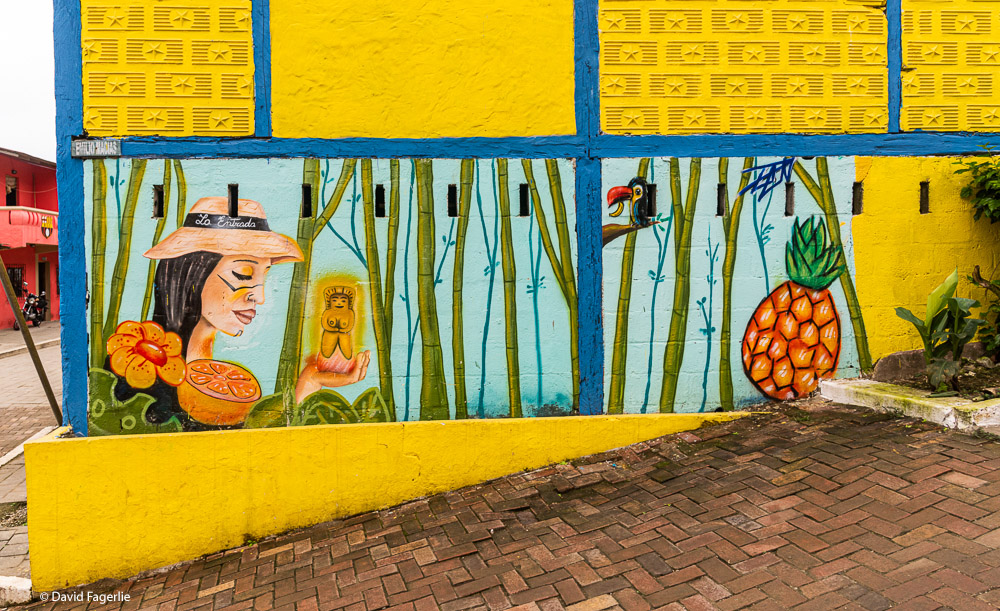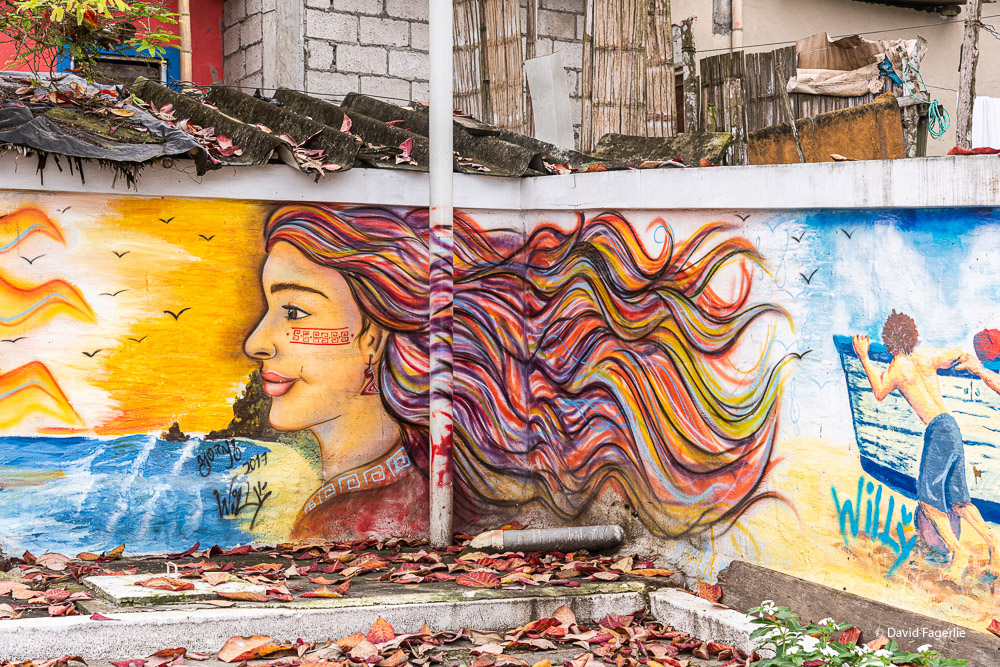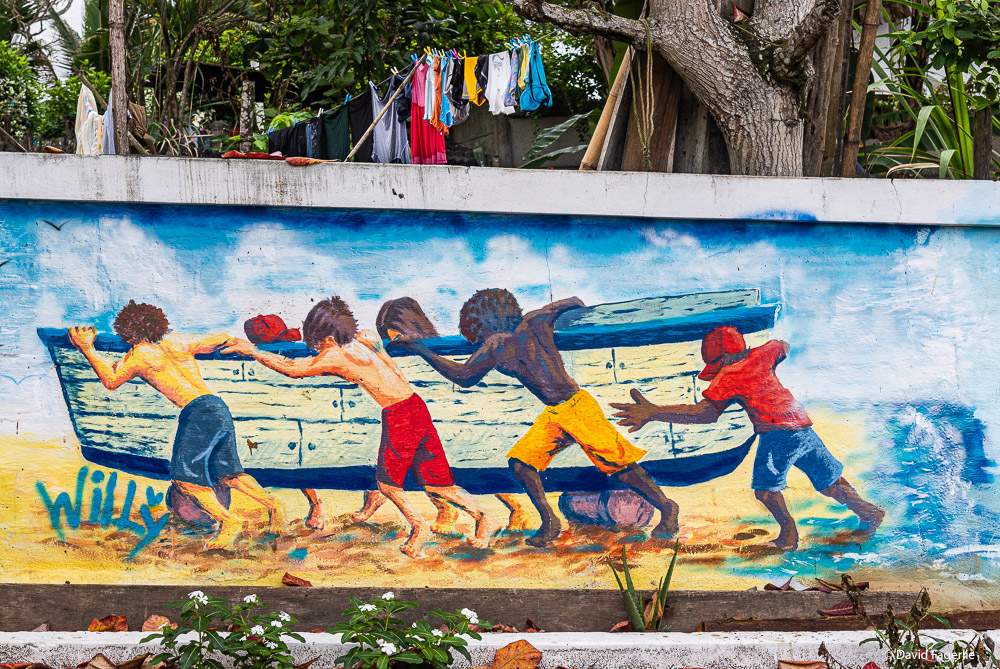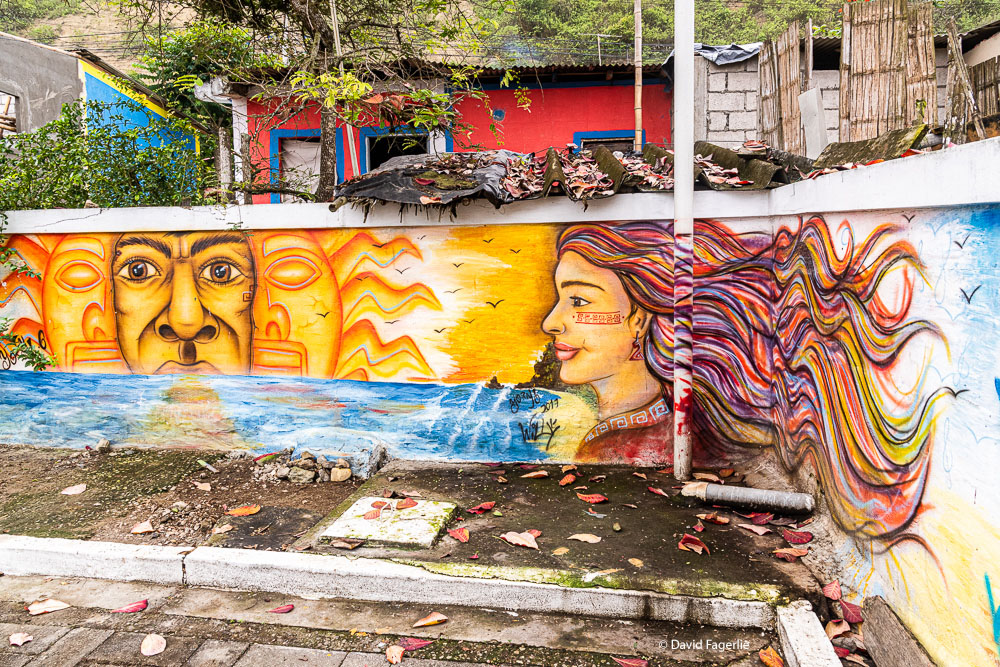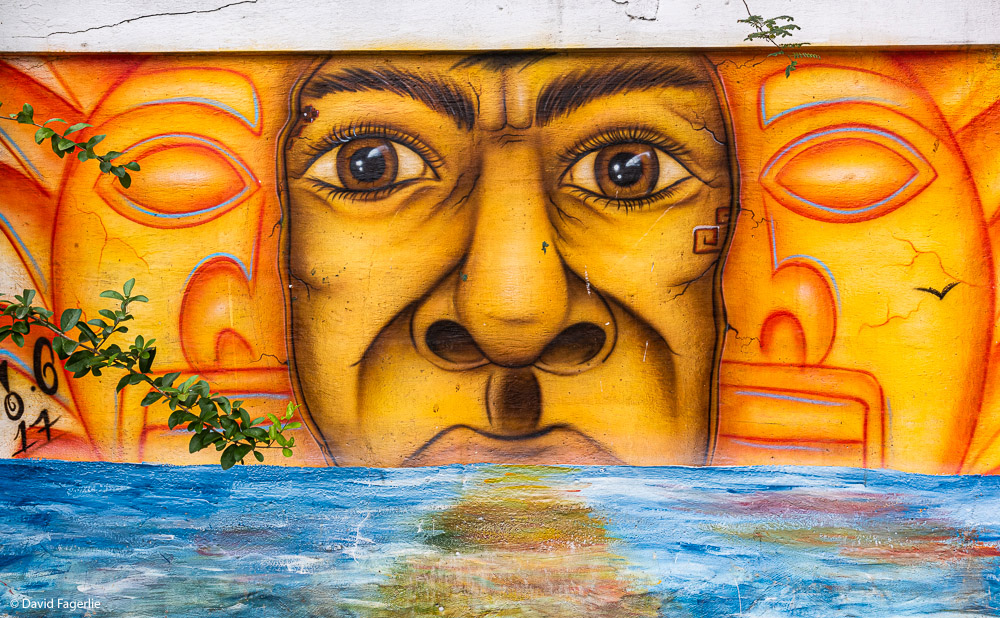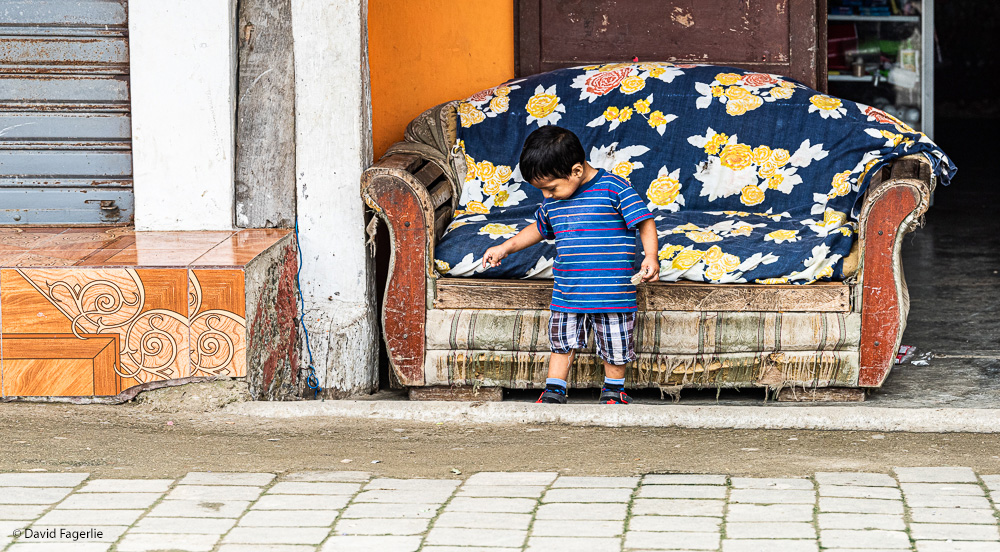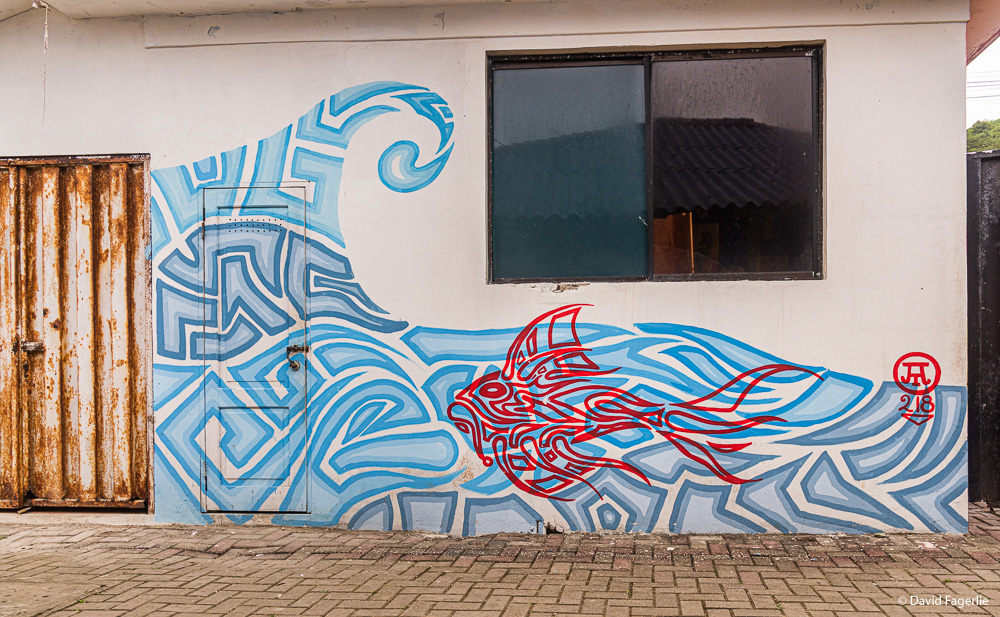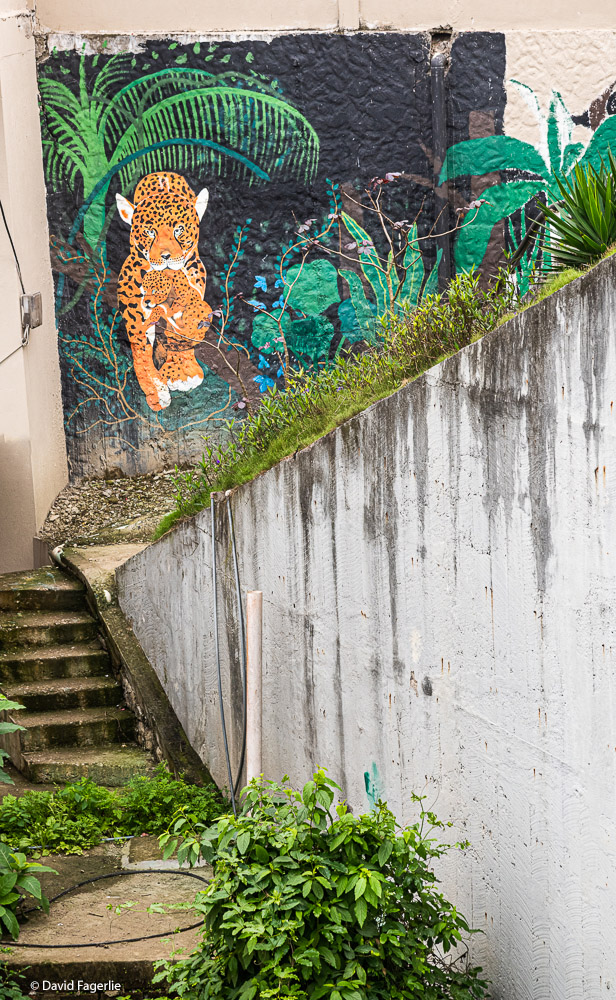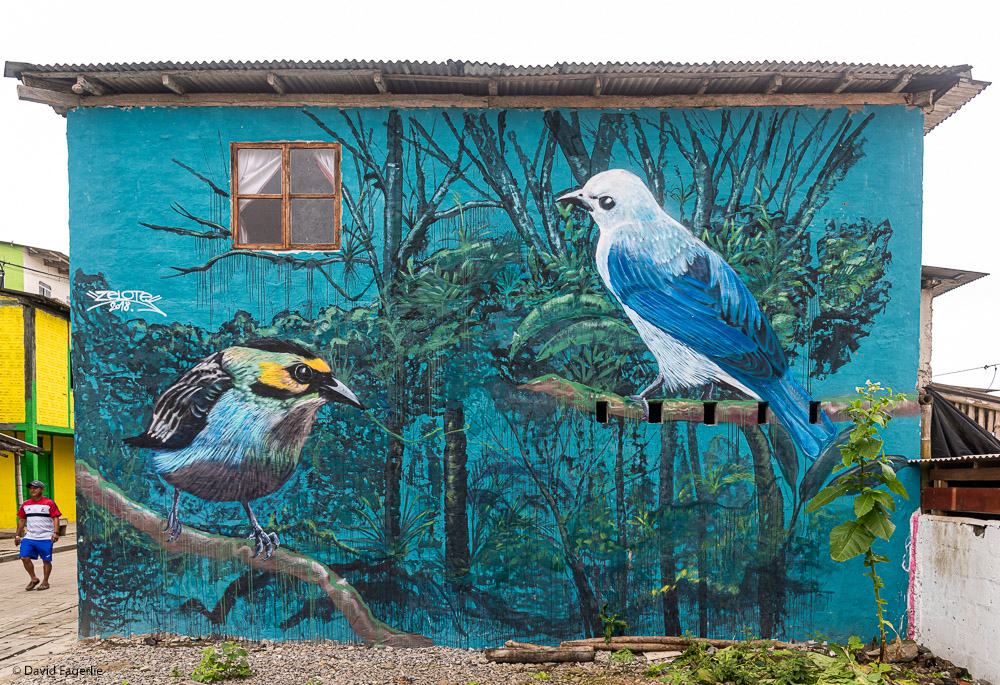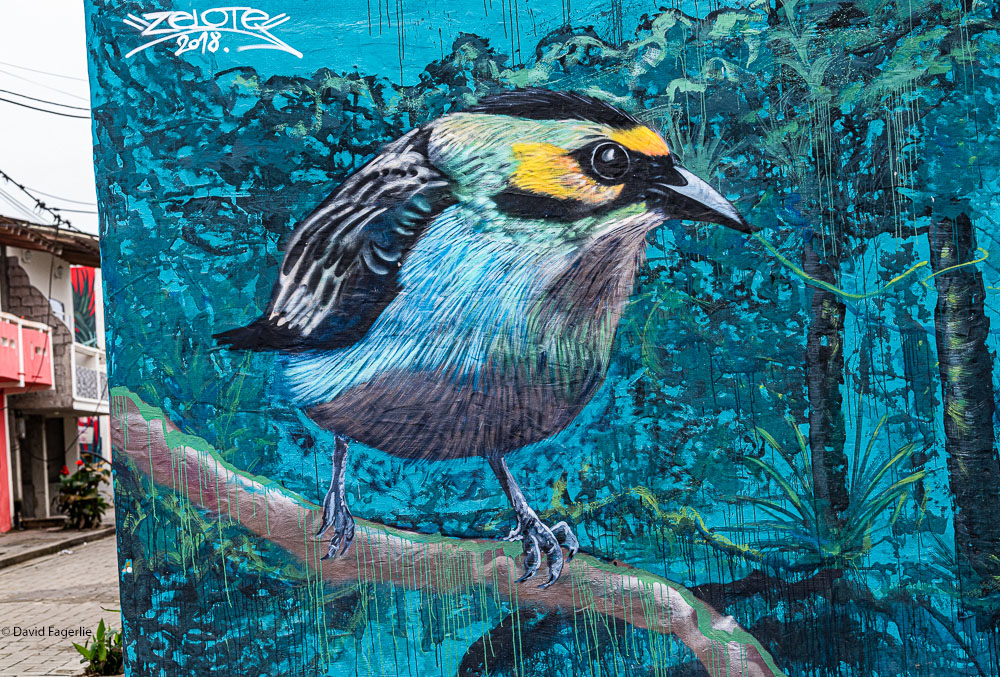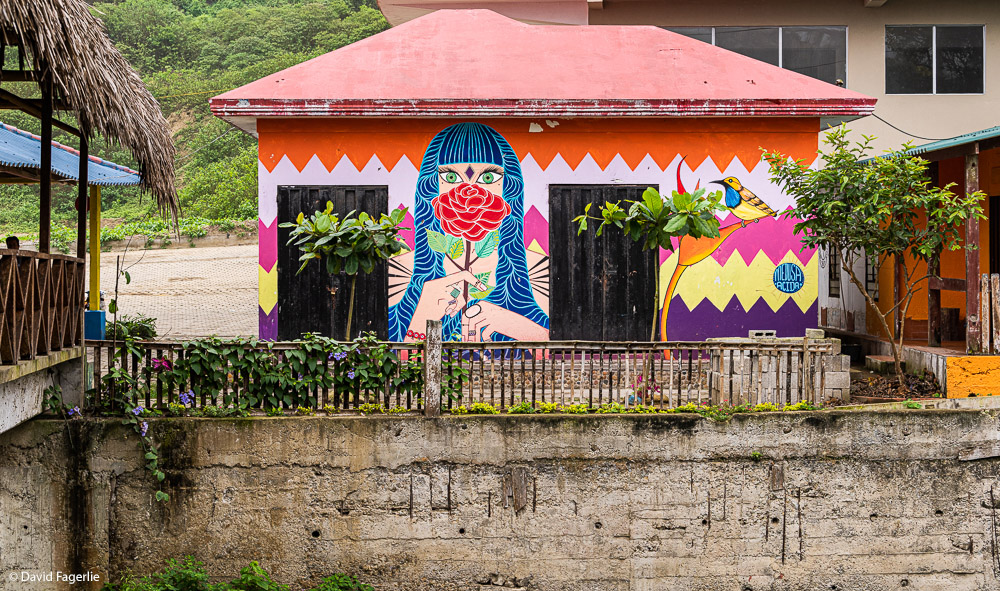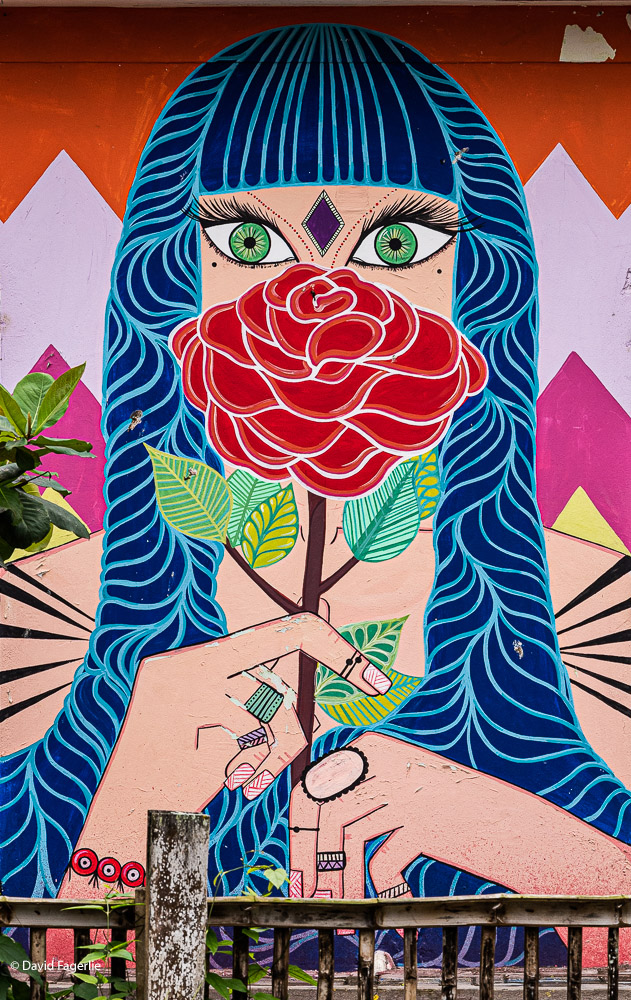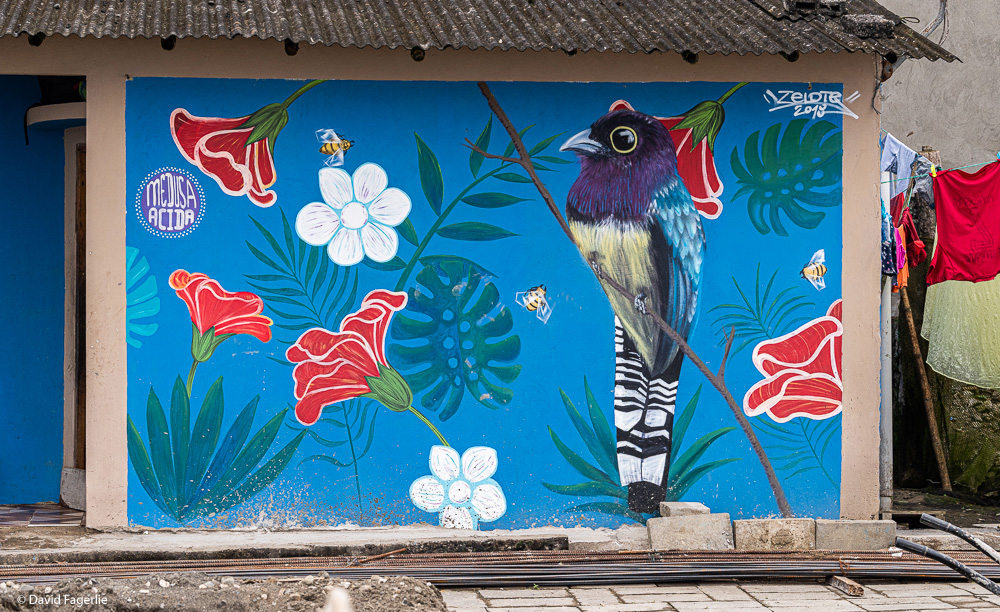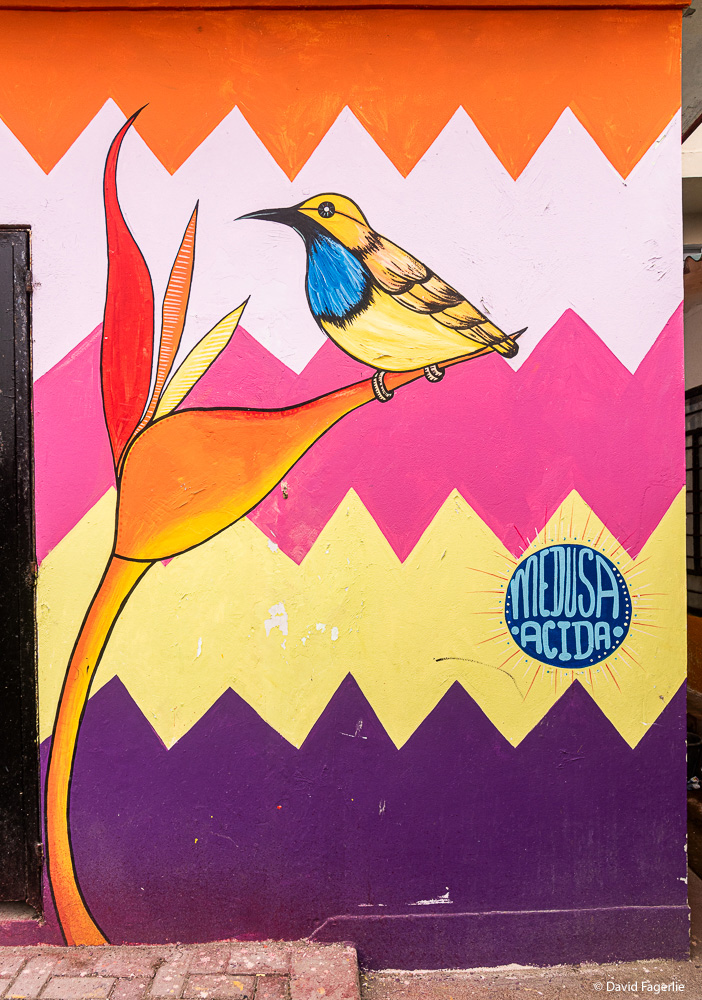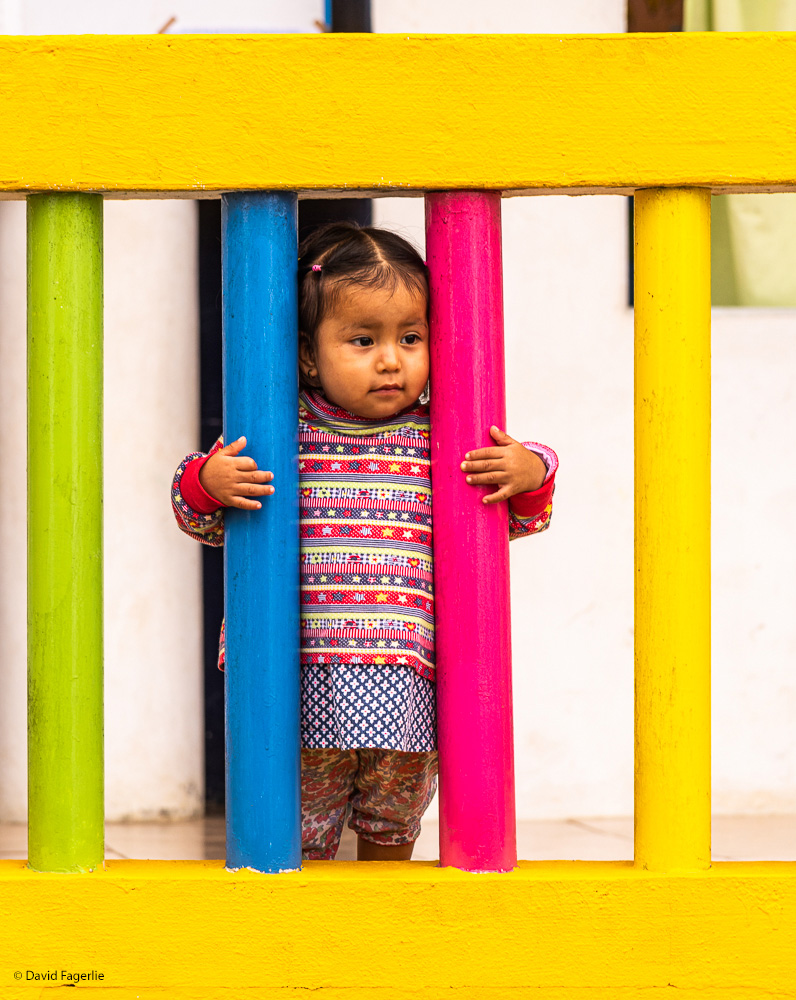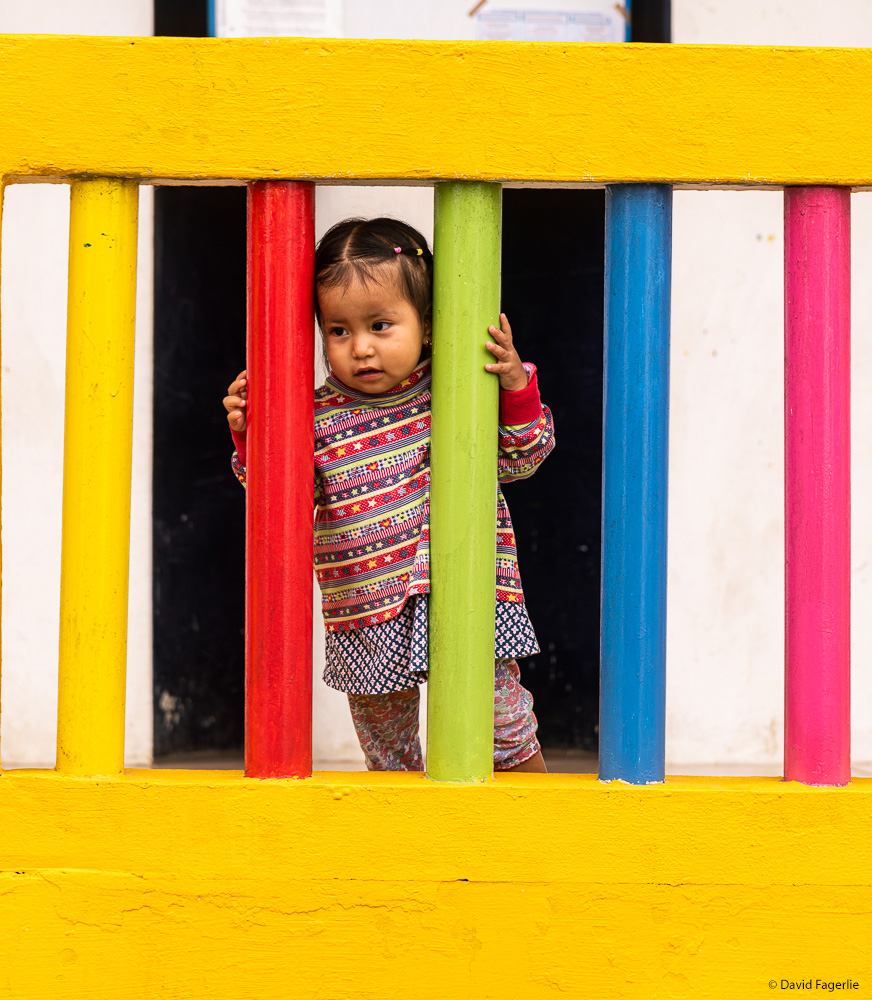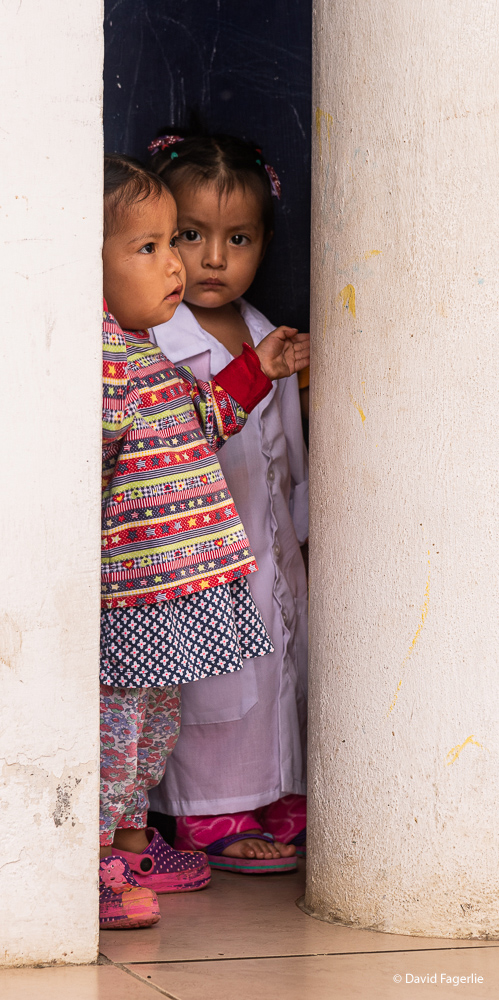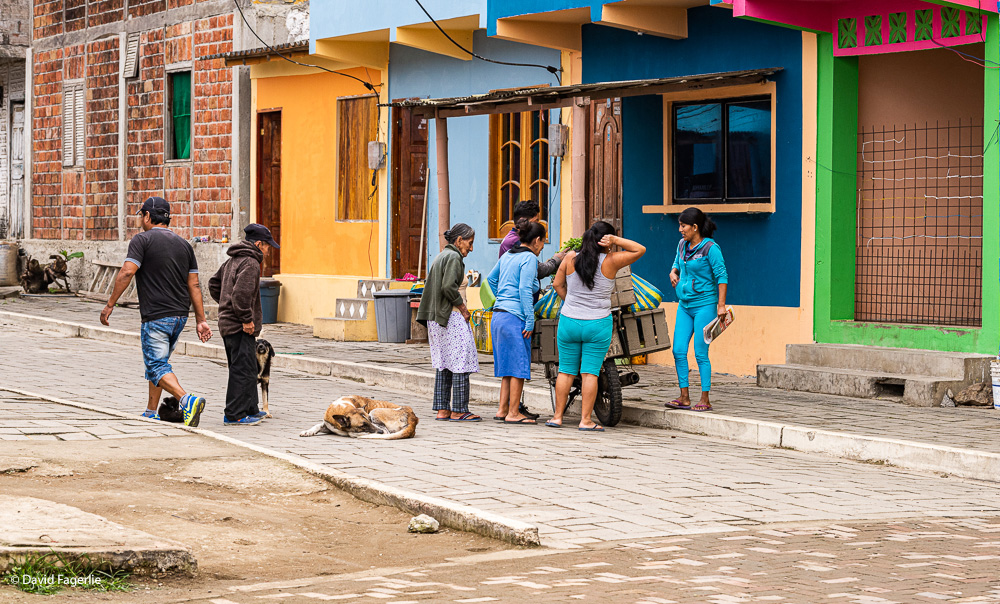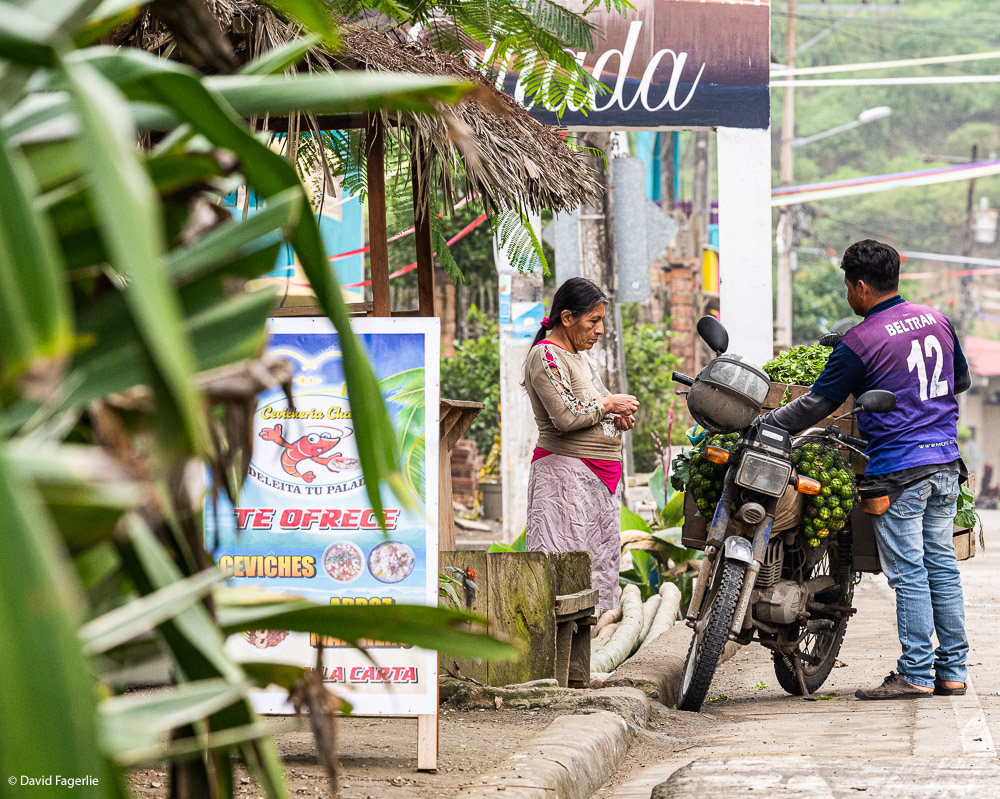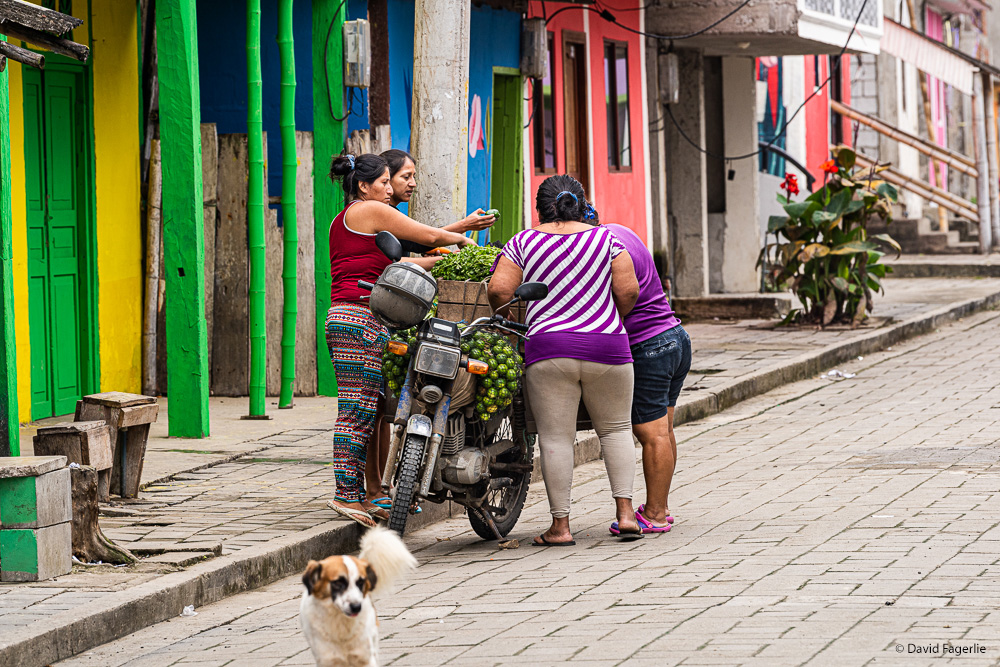 Marsha and Shell helped build the church pictured below after the massive earthquakes in 2016 stopped most of the progress. At the request of residents, Marsha and Shell used crowdfunding to fund construction of the glass wall at the front of the church and to install new pews. As they say, "what goes around comes around." Construction of the church is attracting destination weddings, benefiting the community as well as Marsha and Shell's hotel.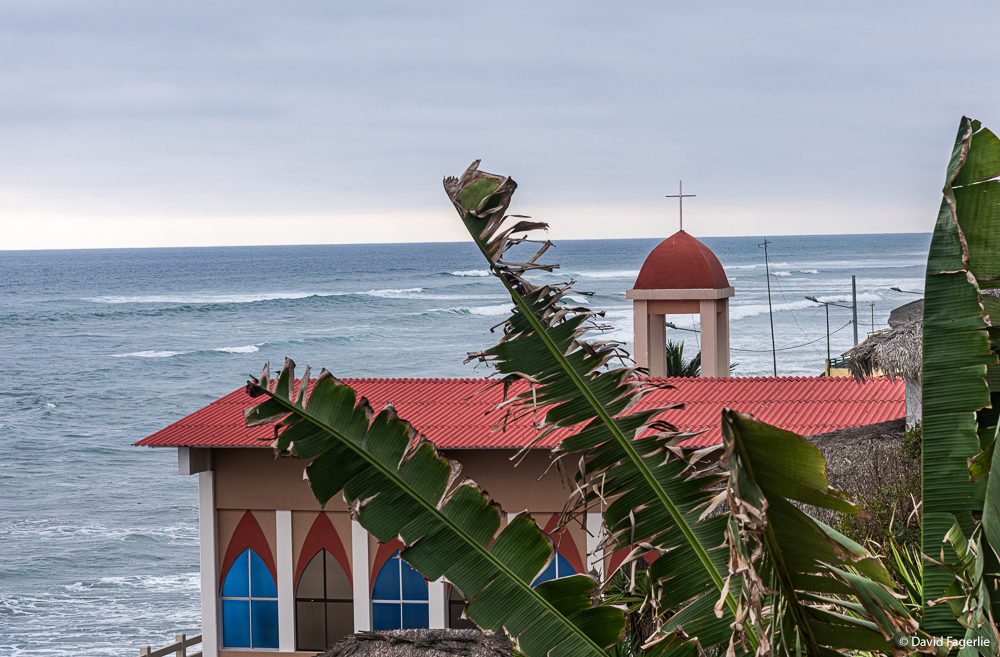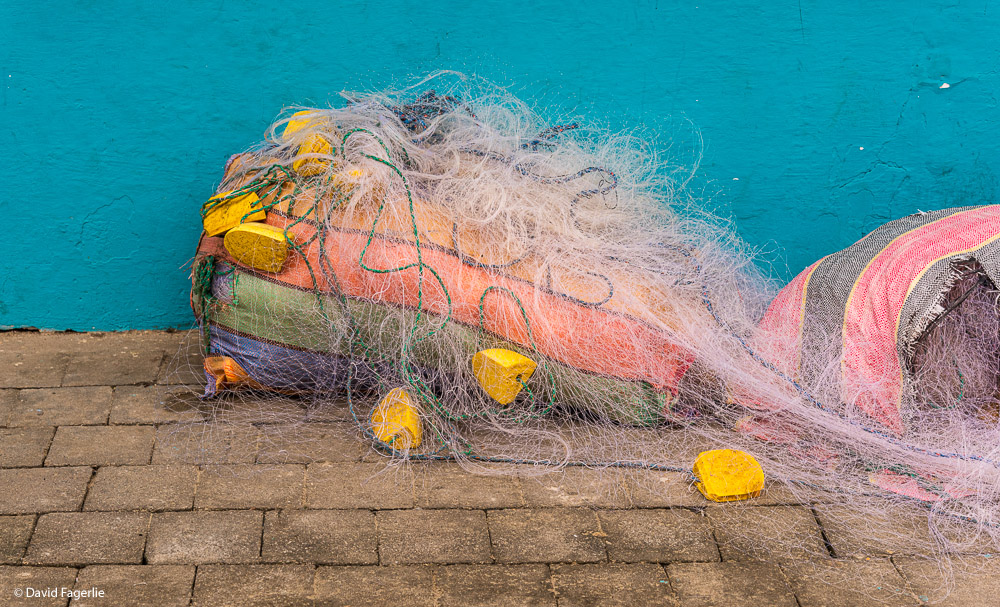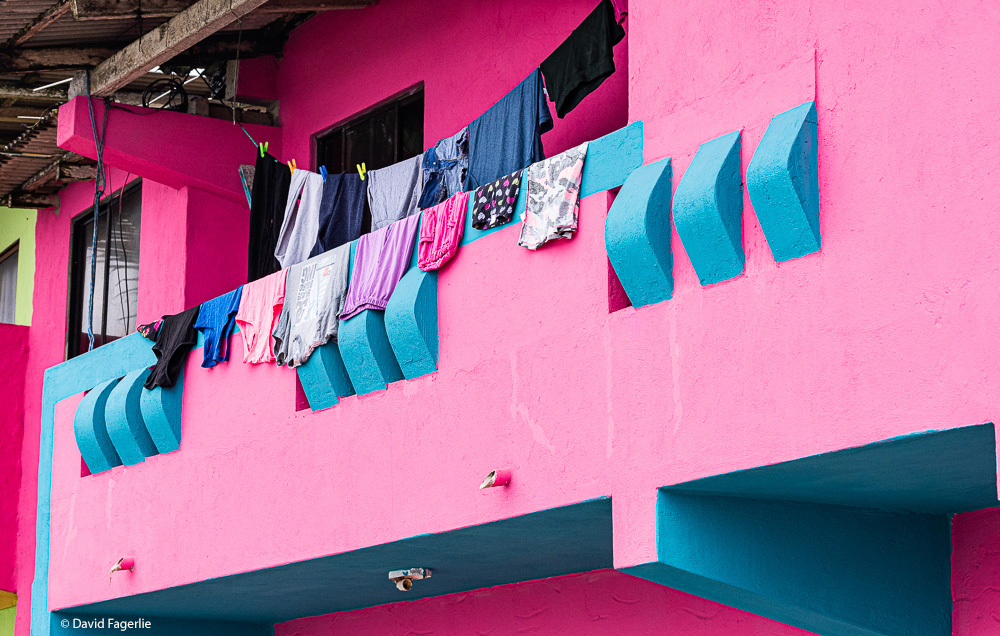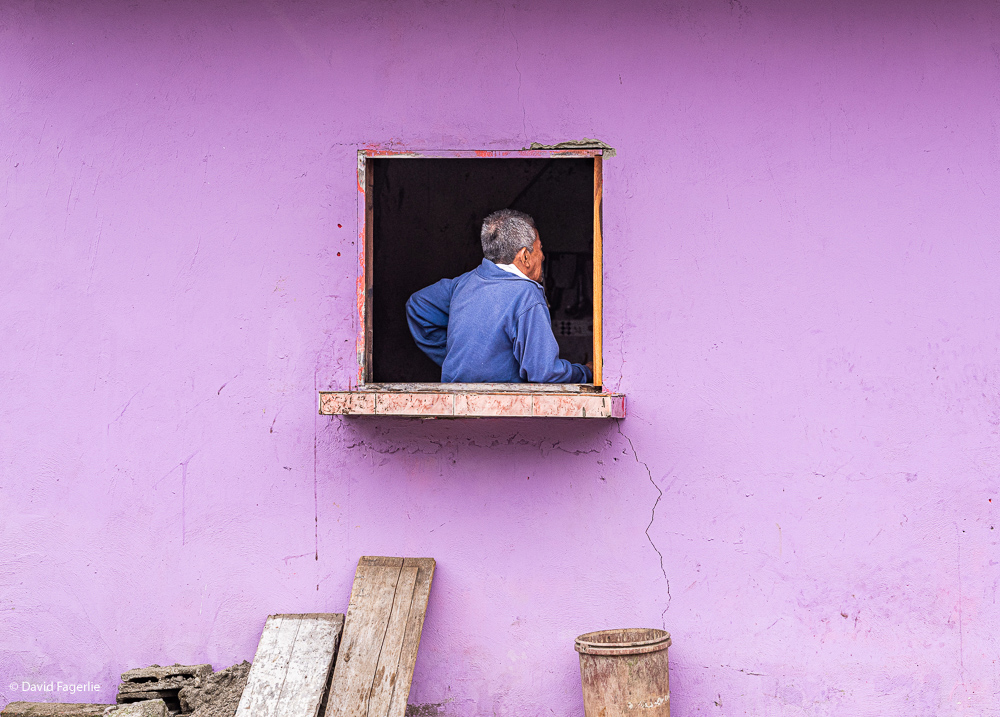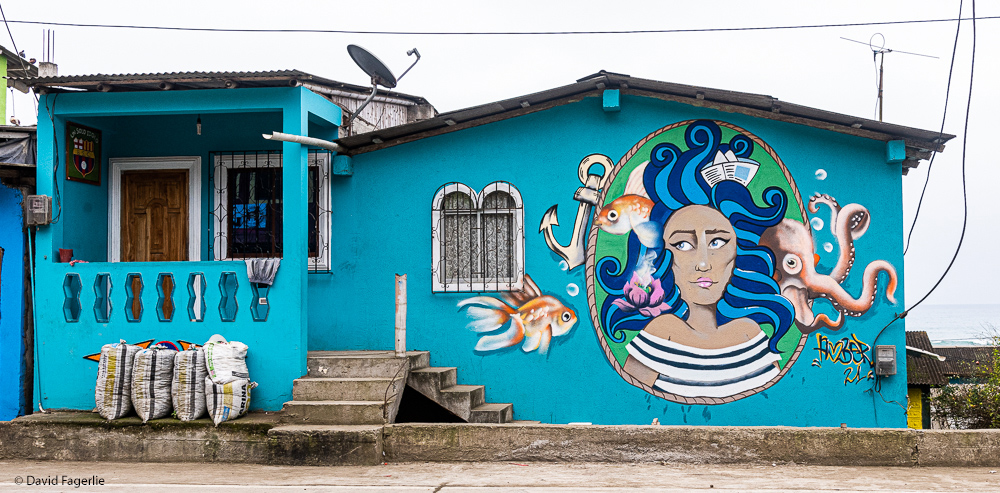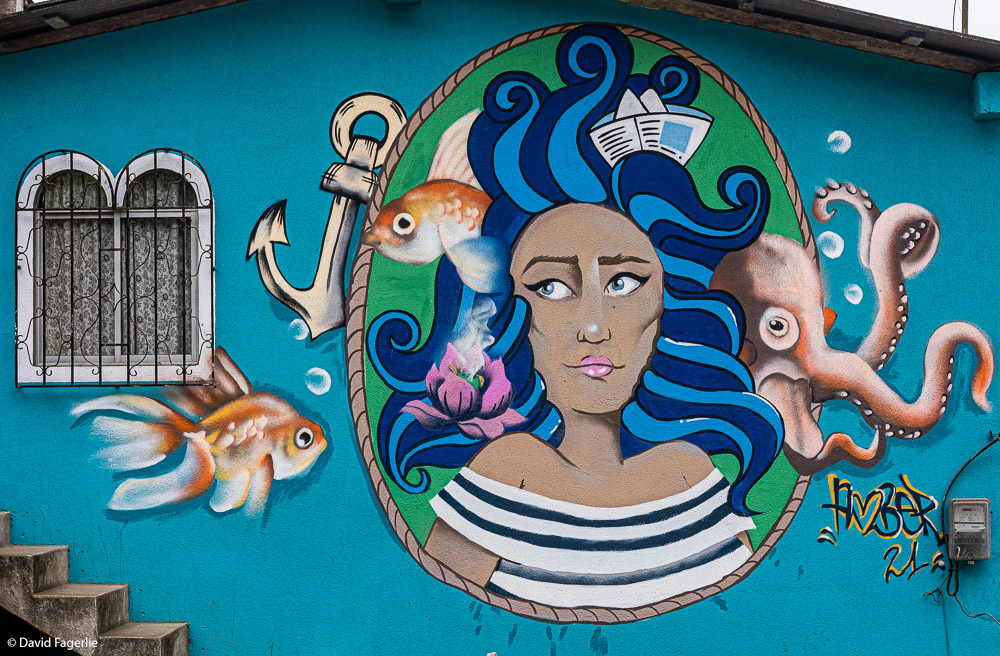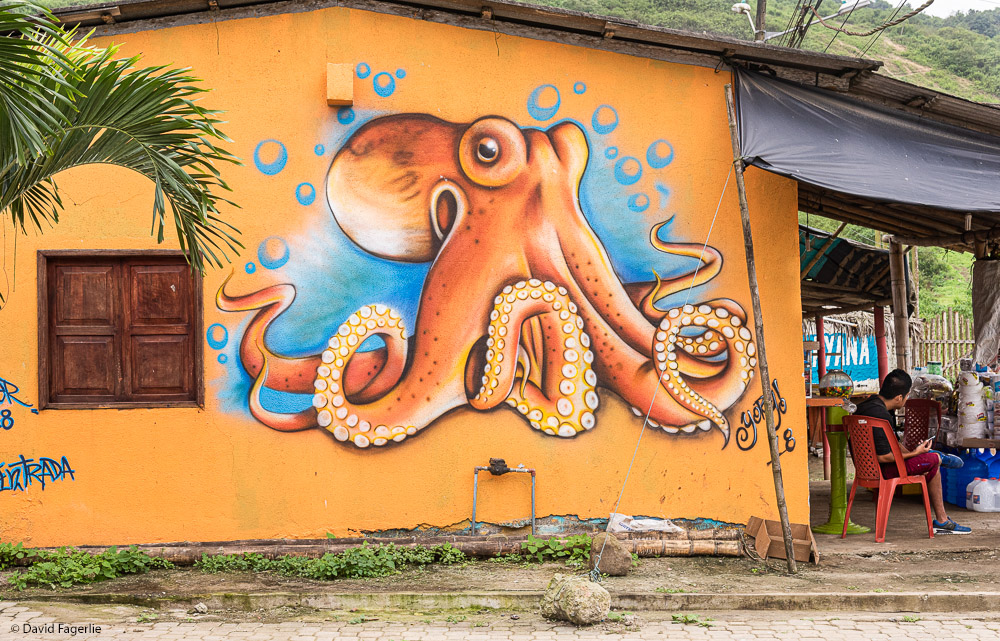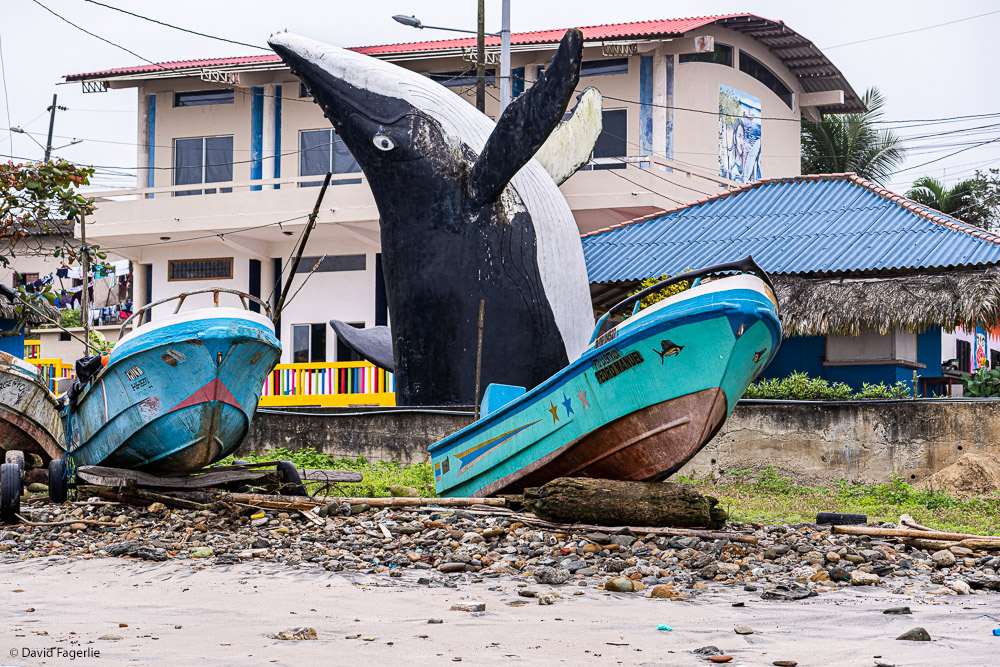 Beach access from the hotel was very convenient. Unlike the beach at Montañita, which was big waves and sand, the beach at La Entrada had interesting rock formations and tidal pools. It reminded me some of the Pacific Northwest of the USA except here, in La Entrada, everything was smaller and more intimate.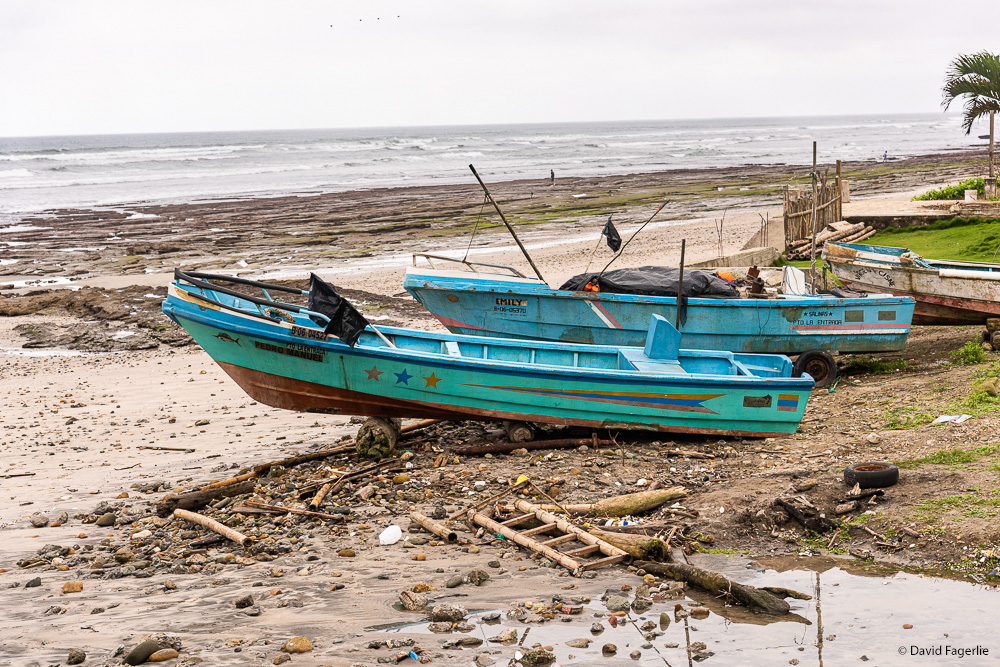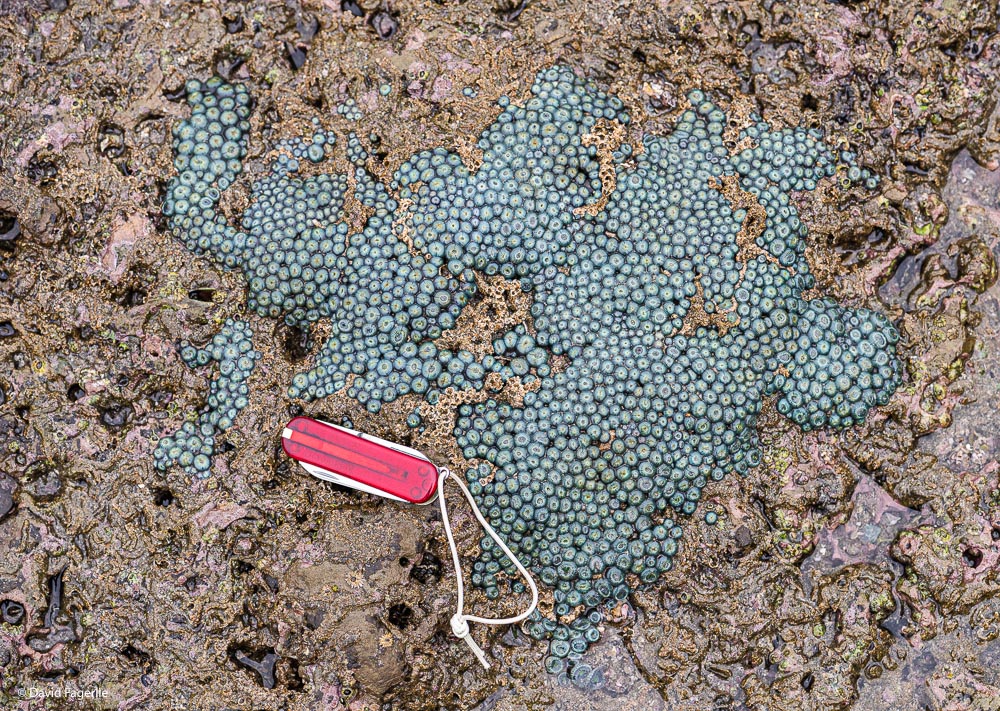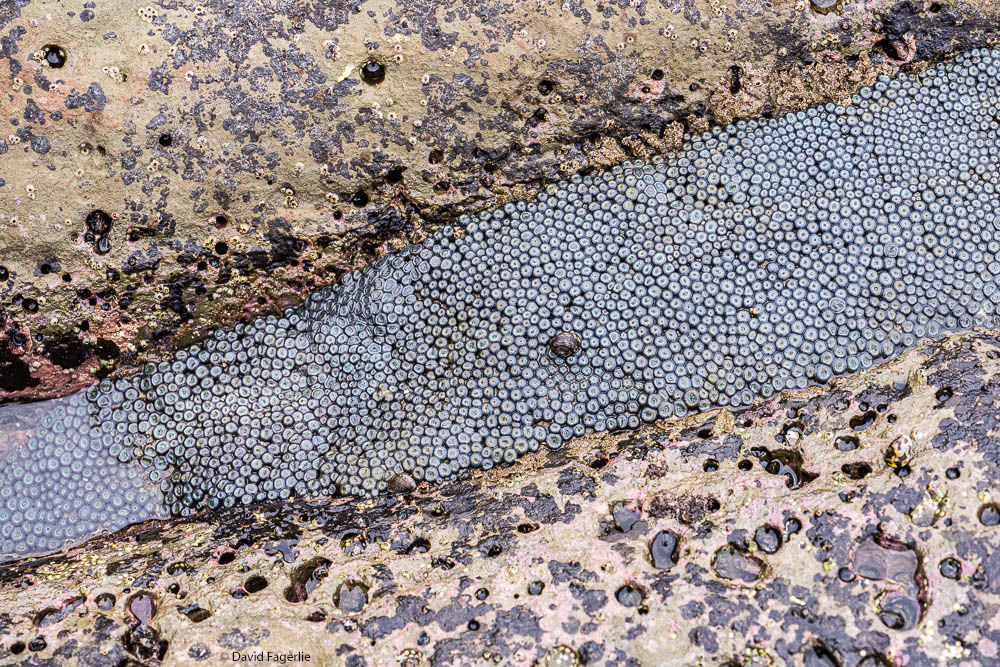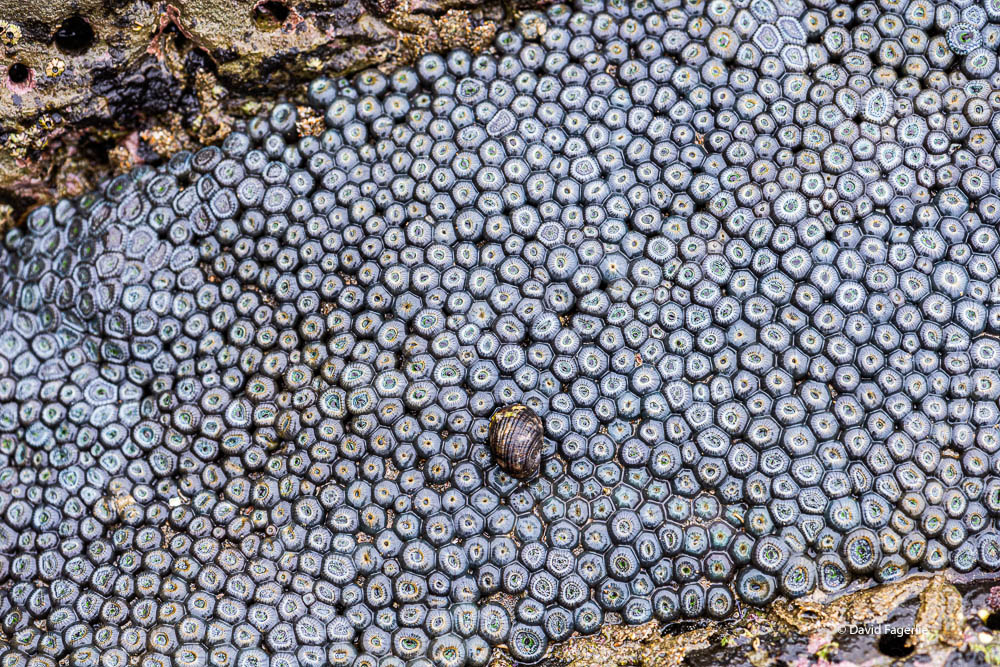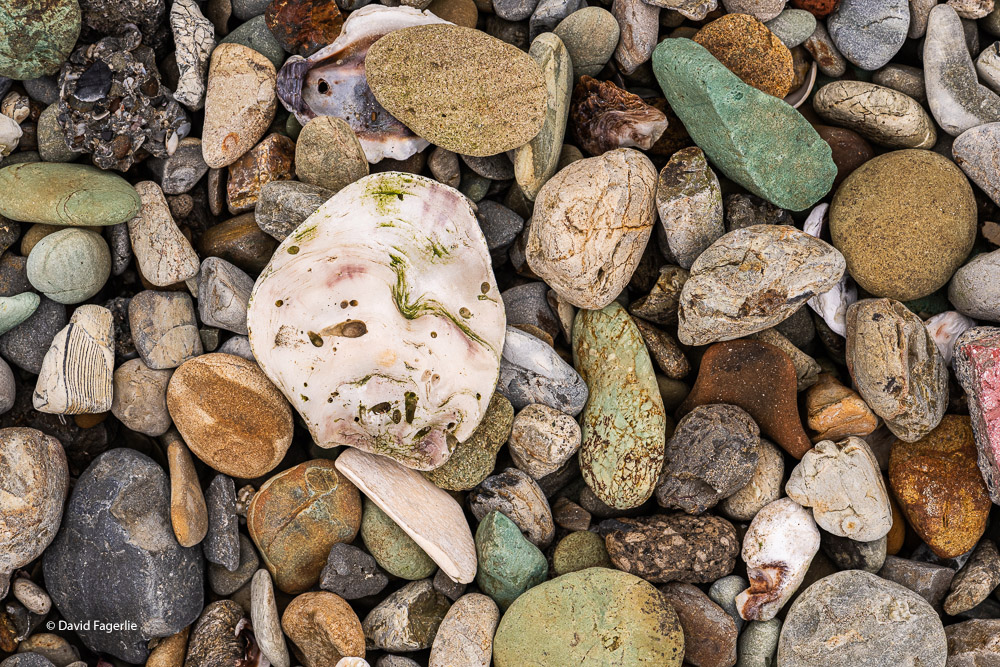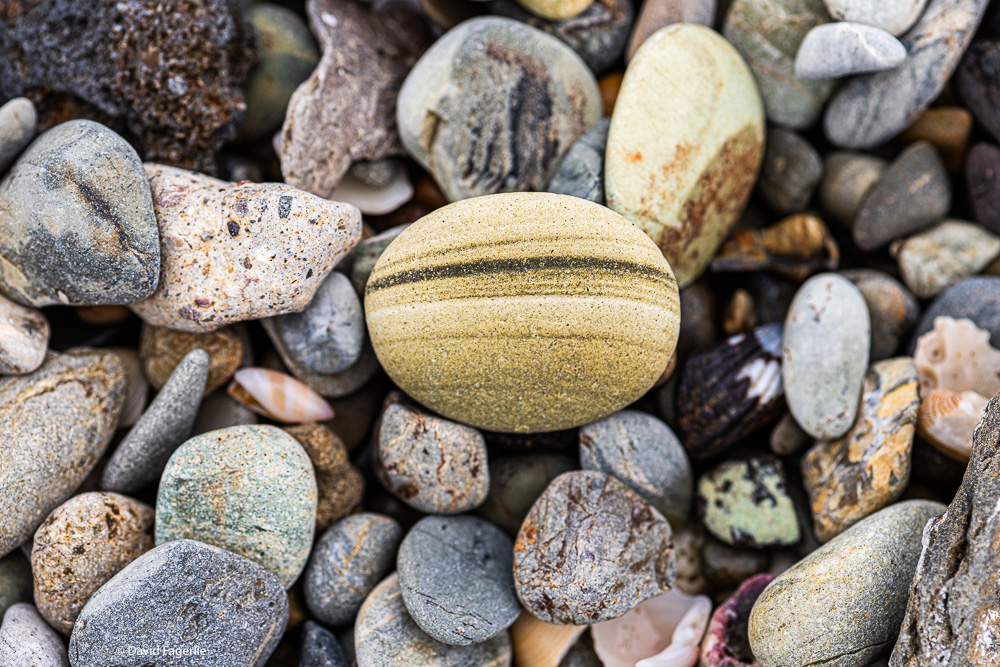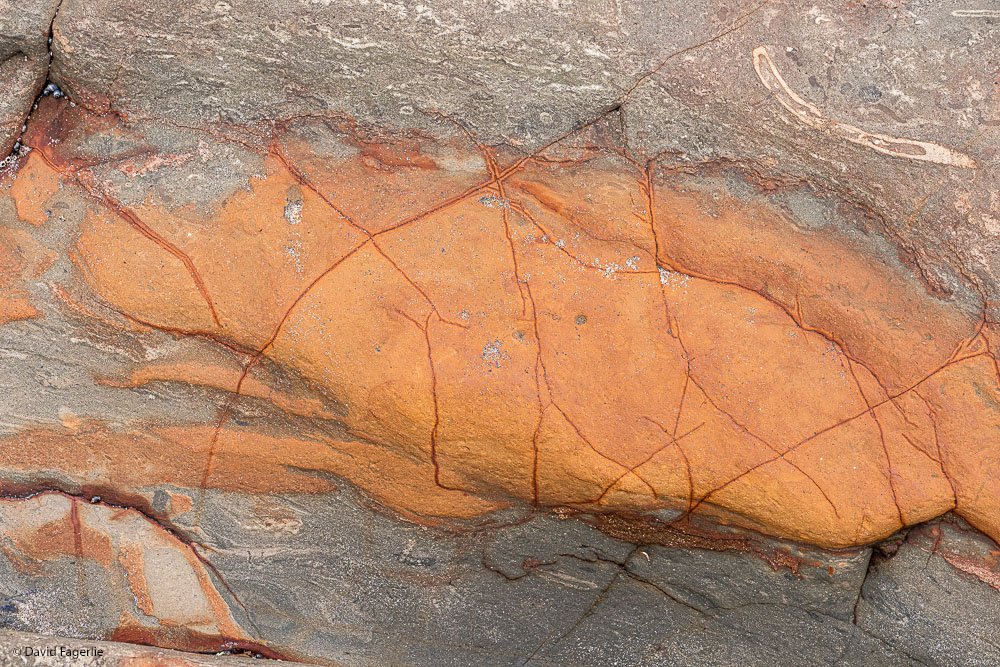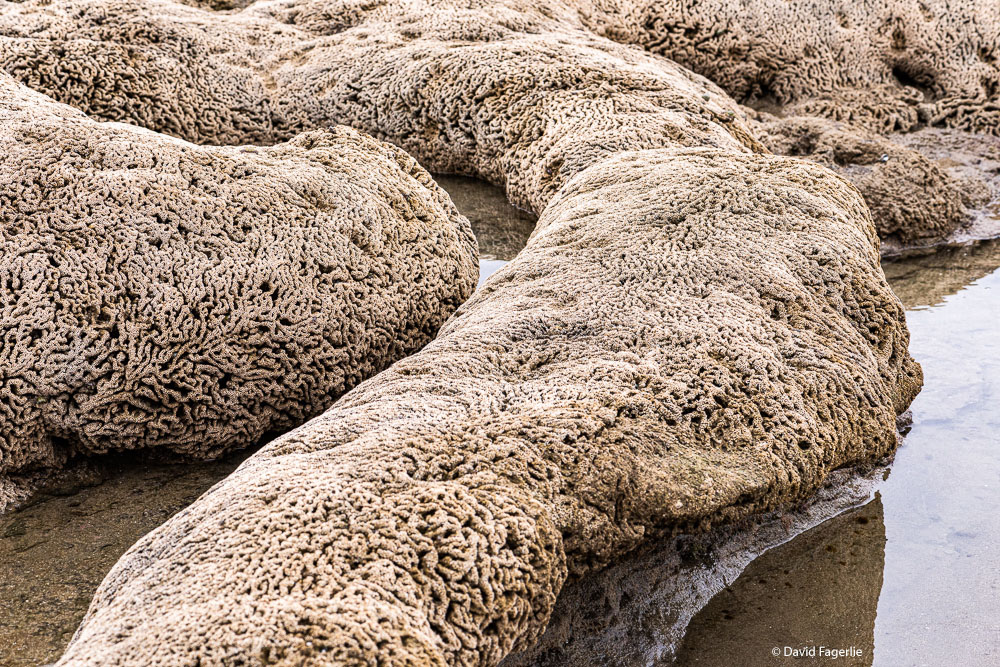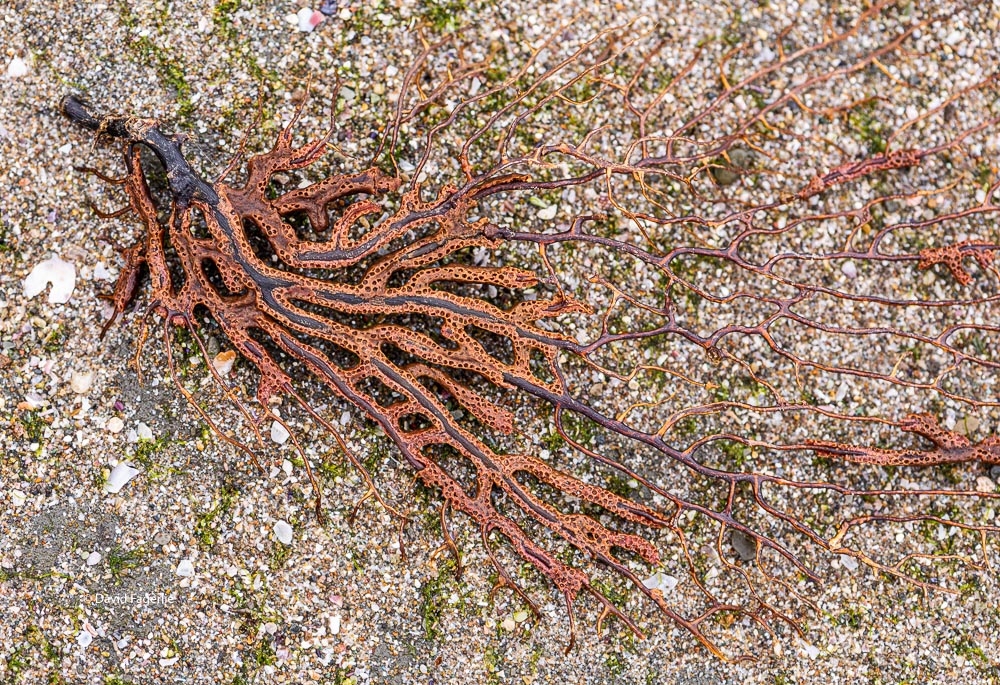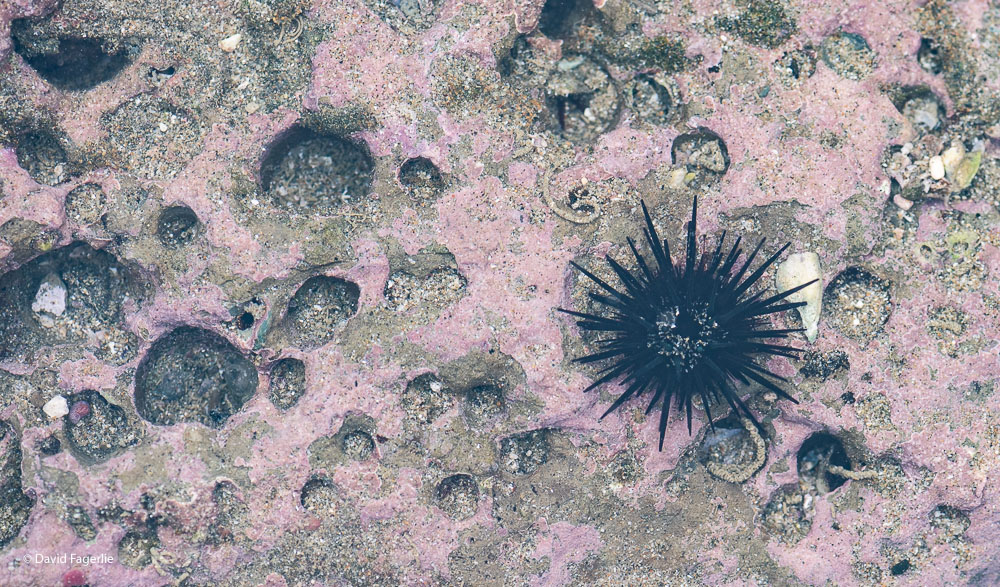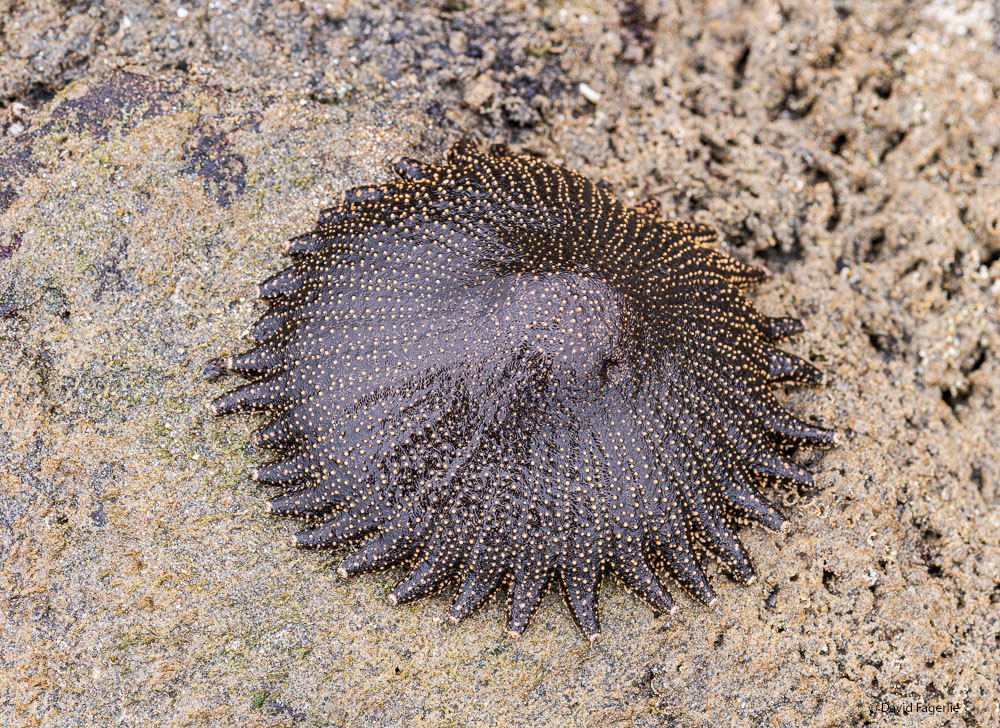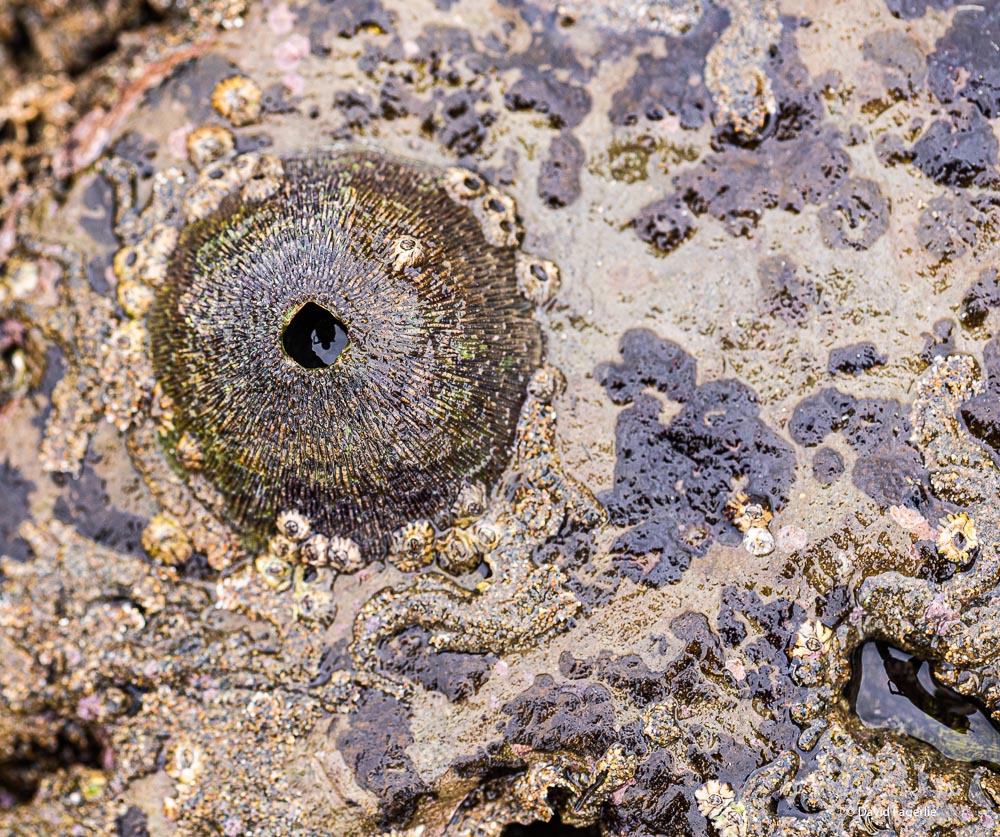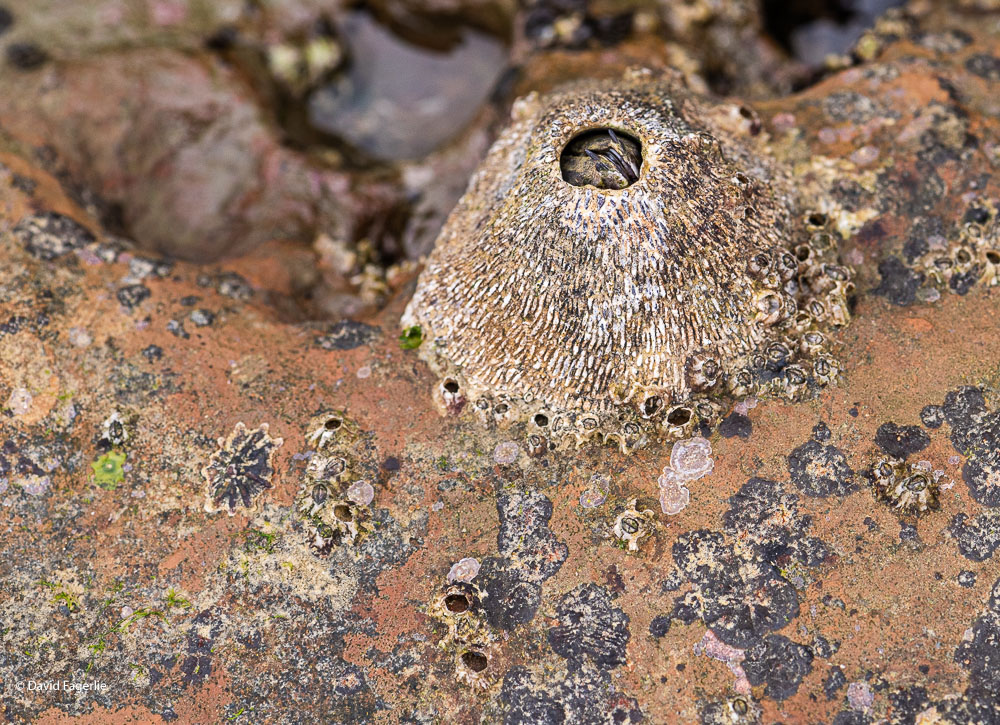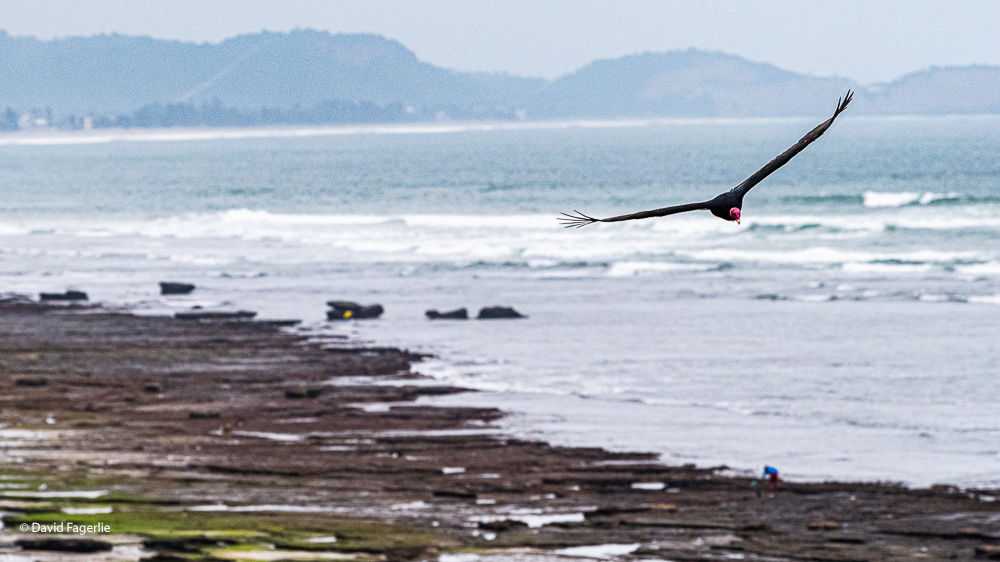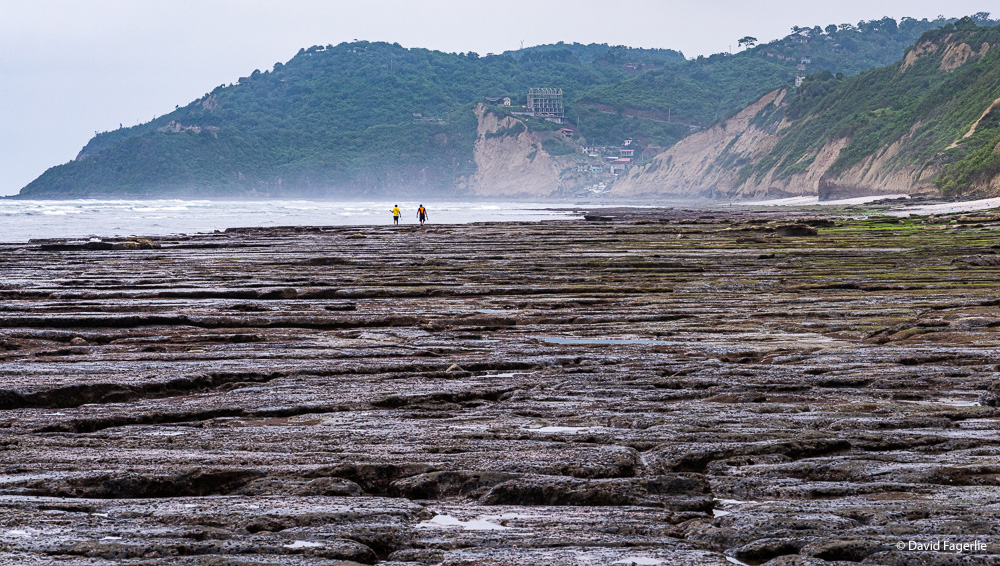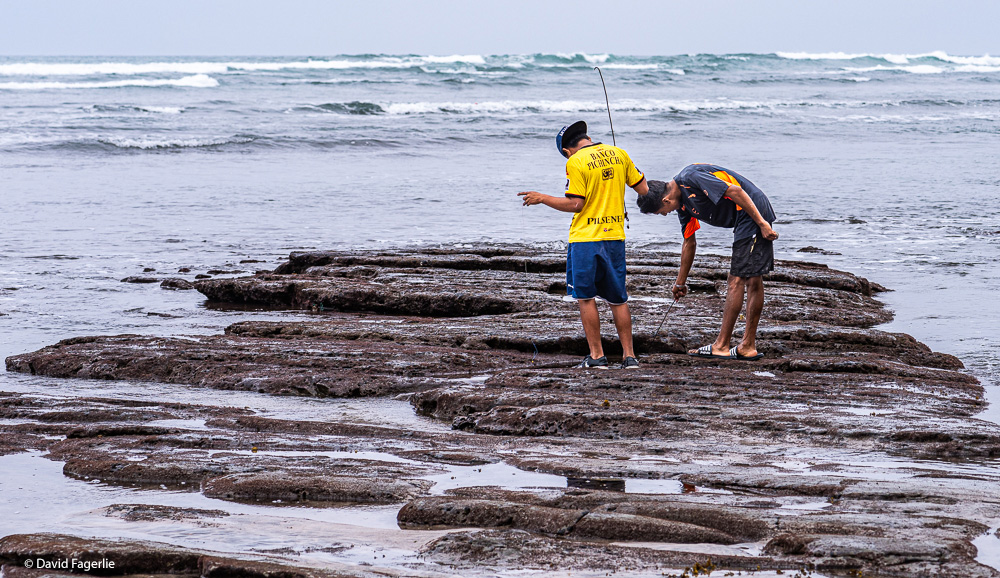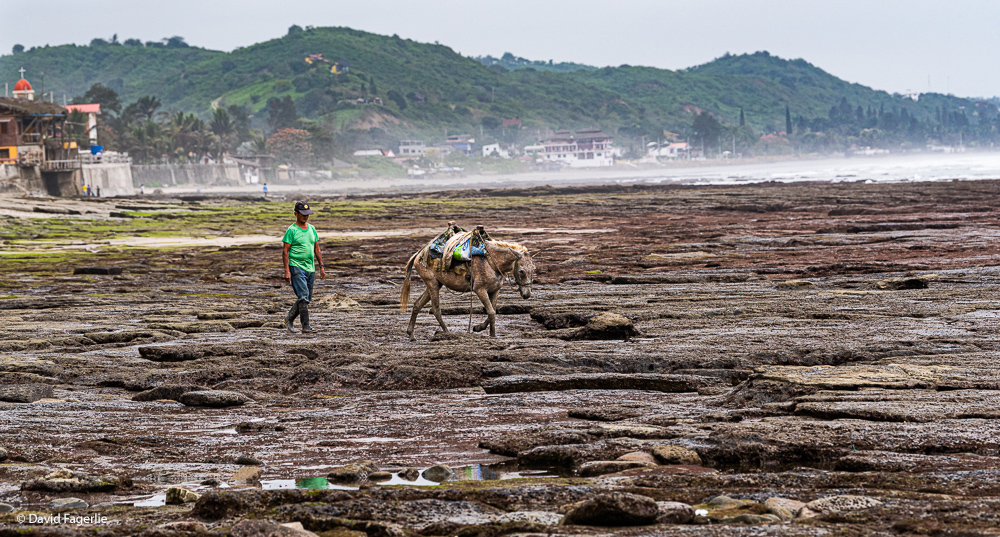 Here are a few photos of the hotel.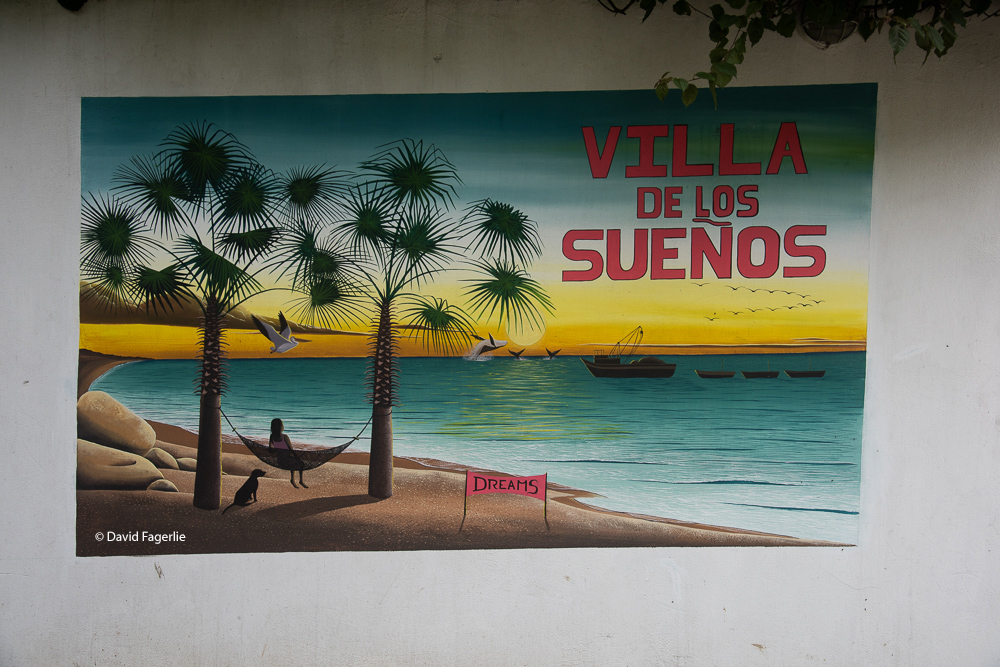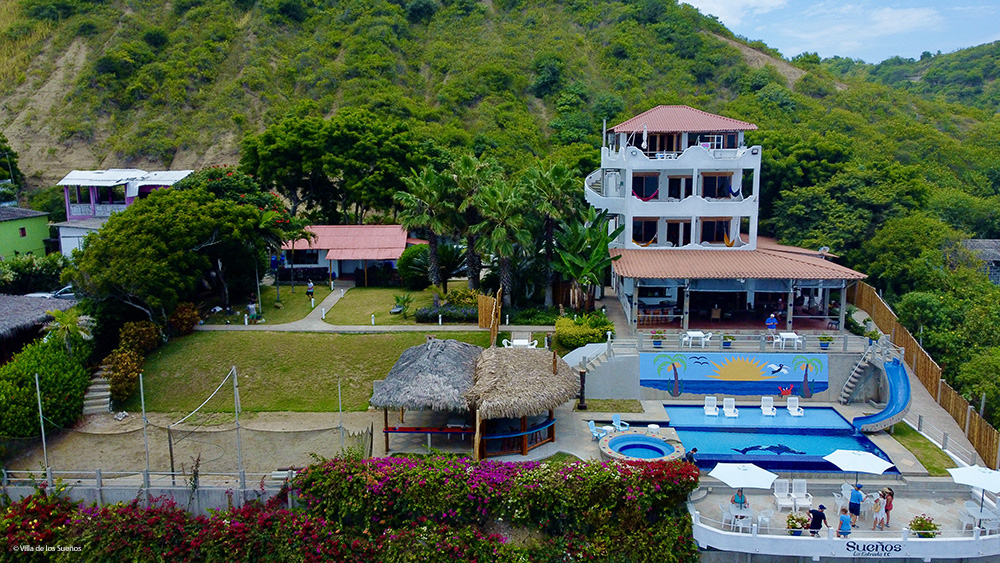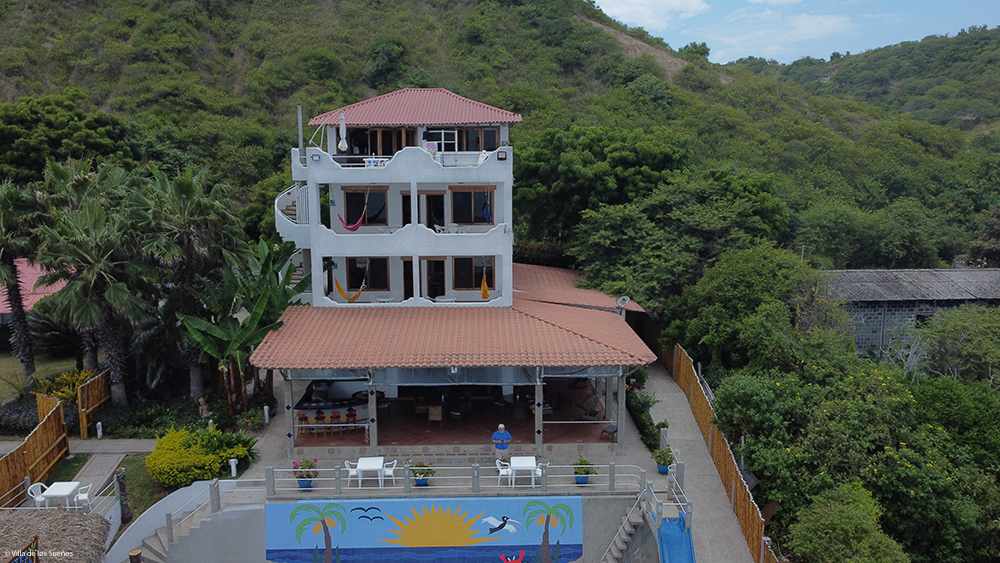 Not far from La Entrada is the town of Puerto Lopez. I was there during both of my visits to the coast, primarily to watch for humpback whales. From the beginning, Puerto Lopez has been a fishing town and remains that today. In recent years, I suppose because of the whale watching, it has also become a tourist destination.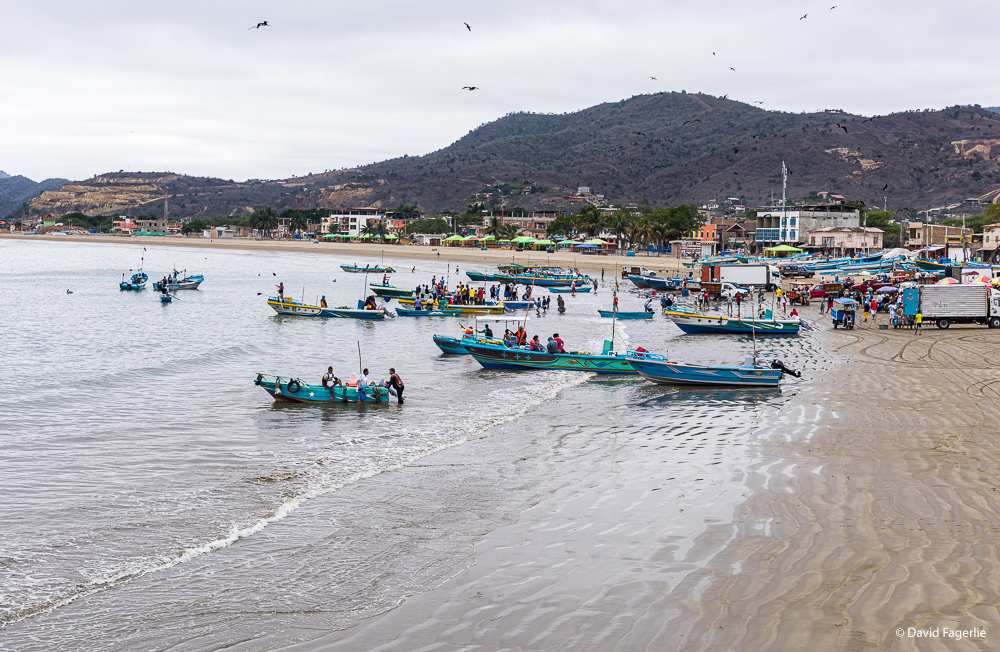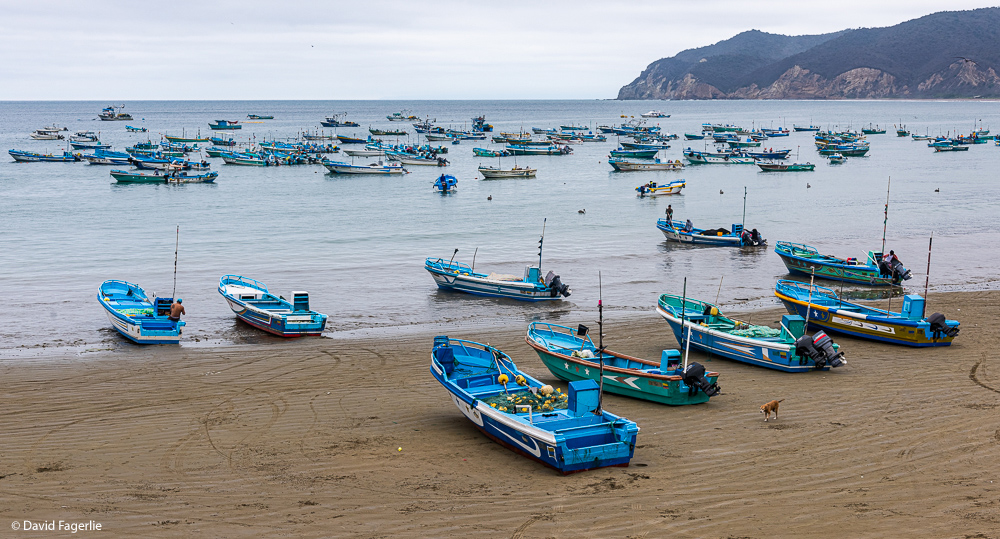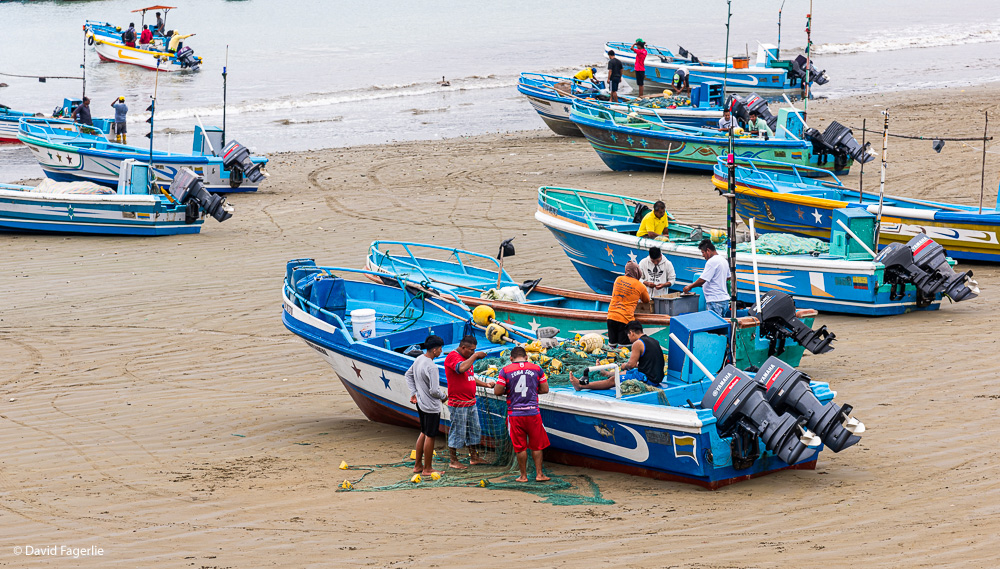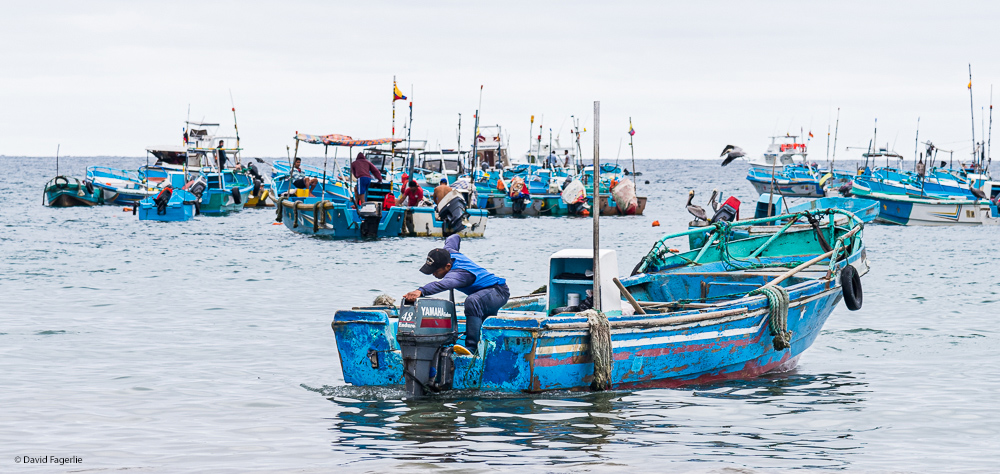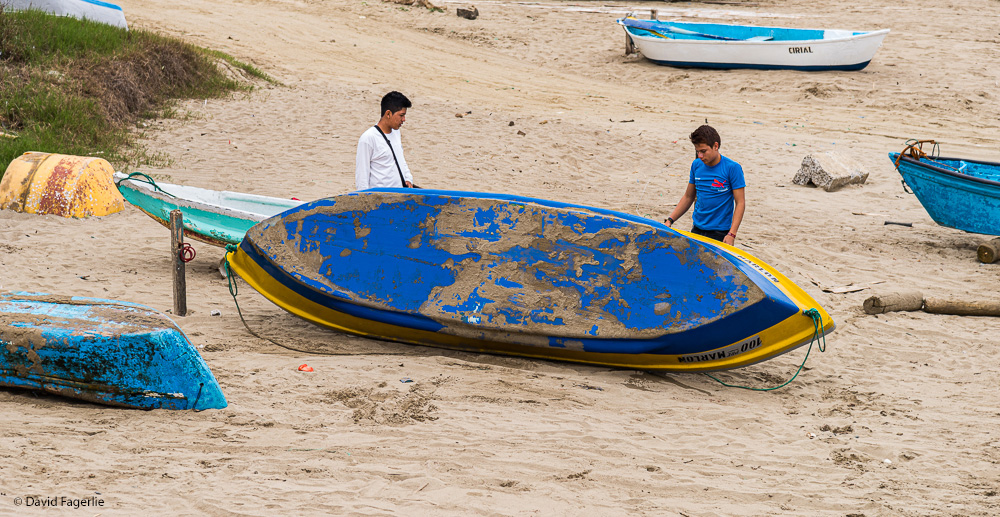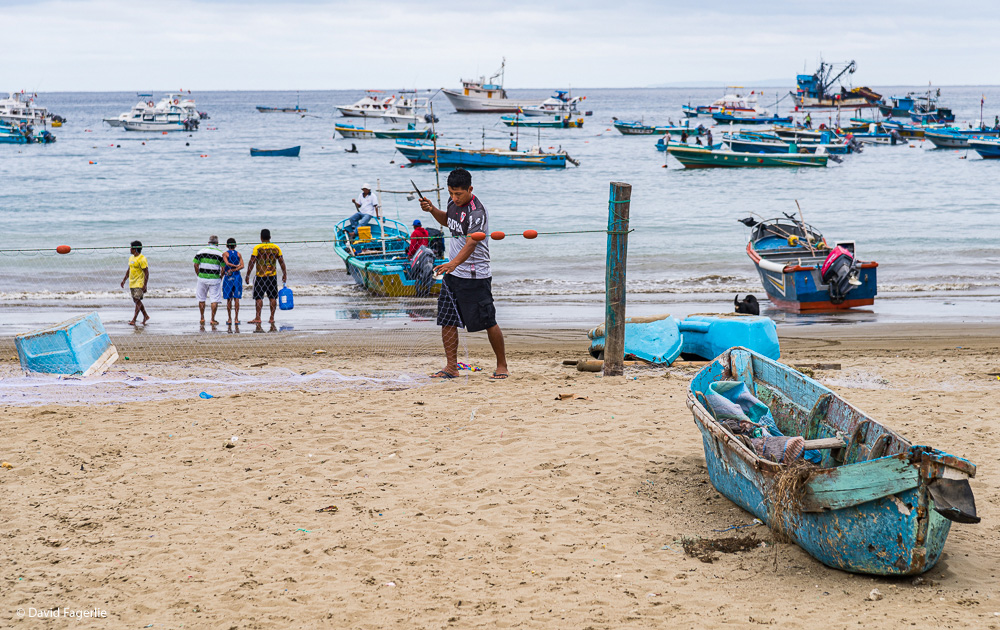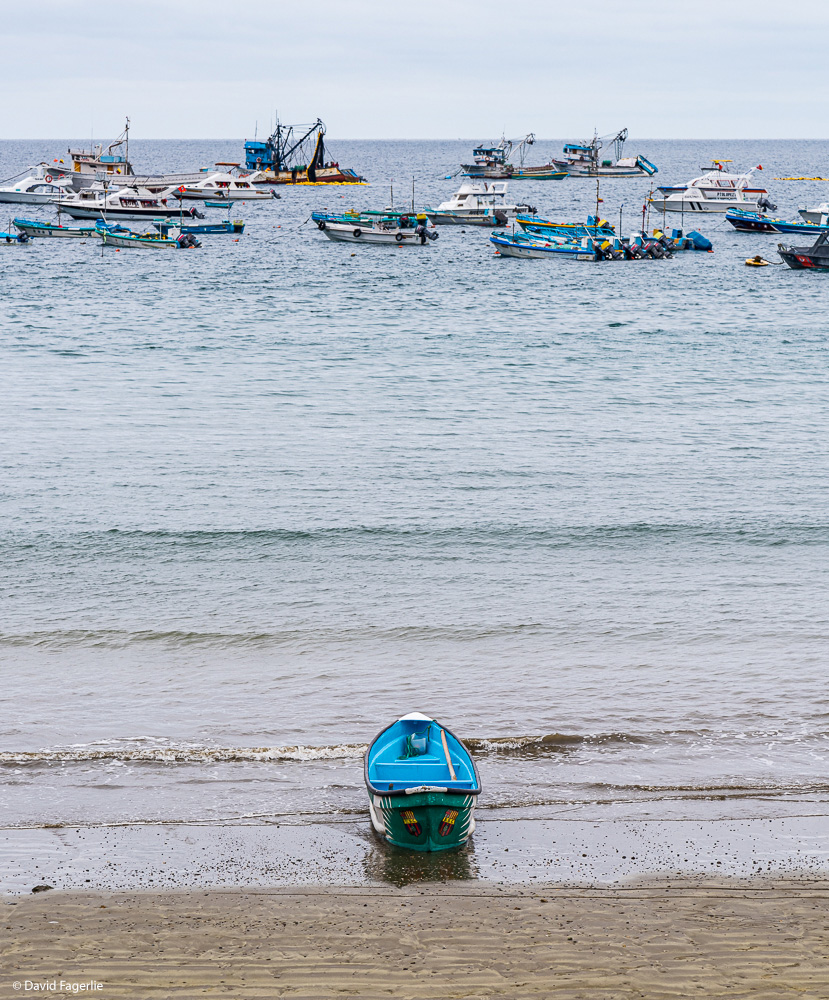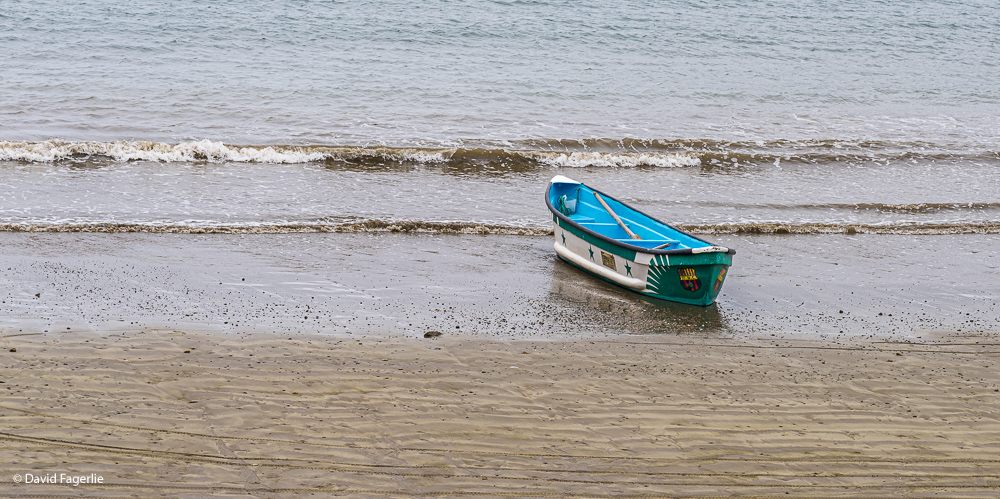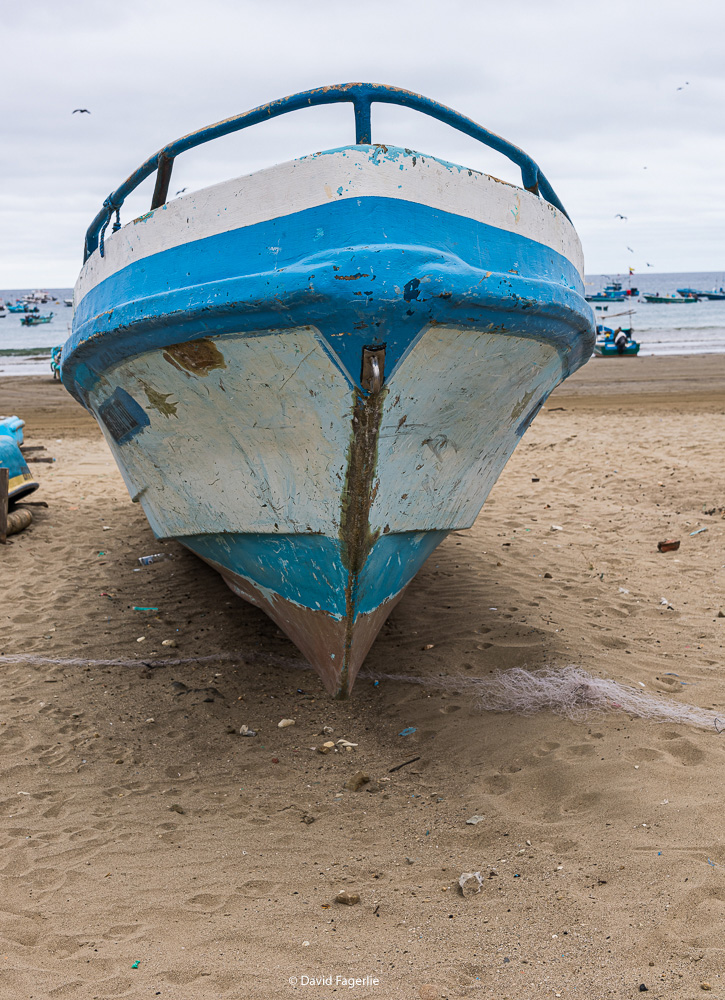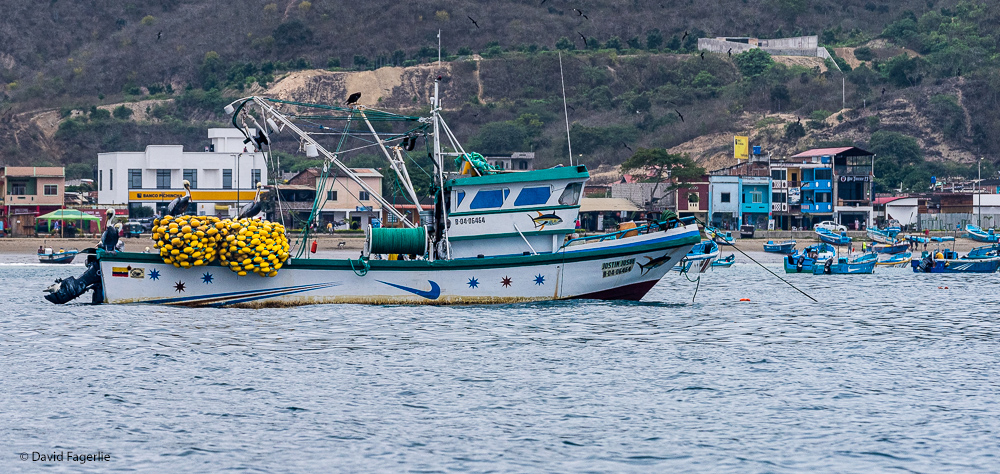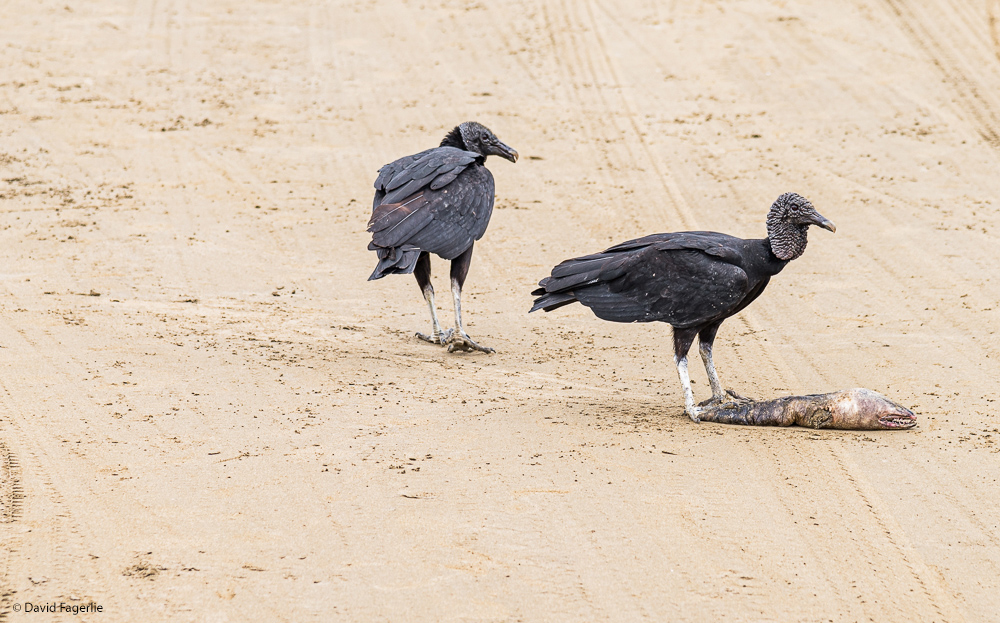 There are navigational buoys one passes on the way to see the humpbacks that are crowded with blue-footed boobies.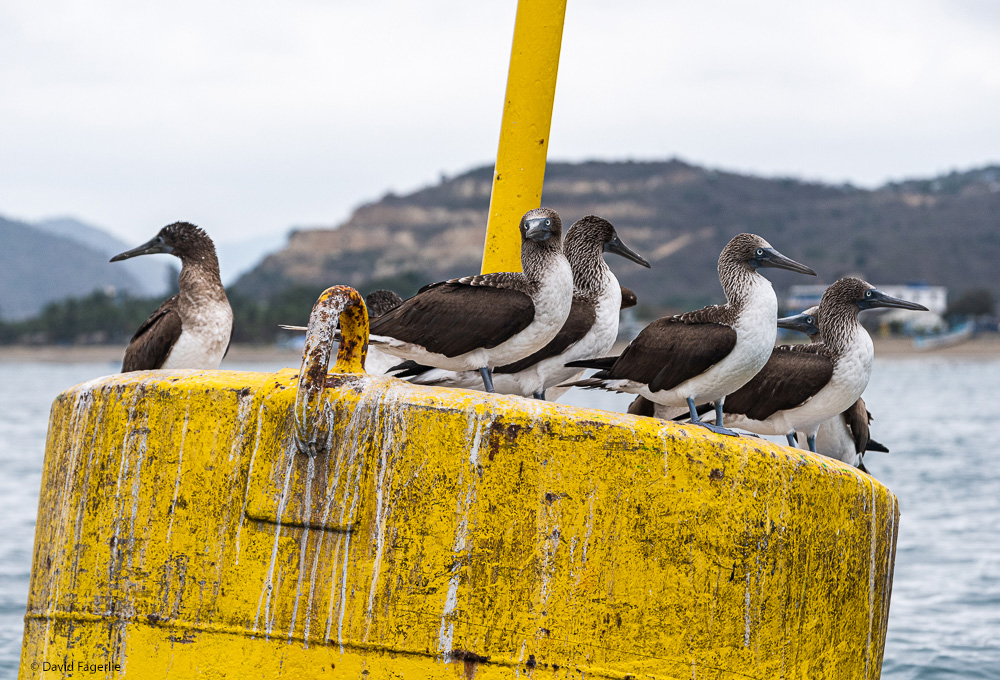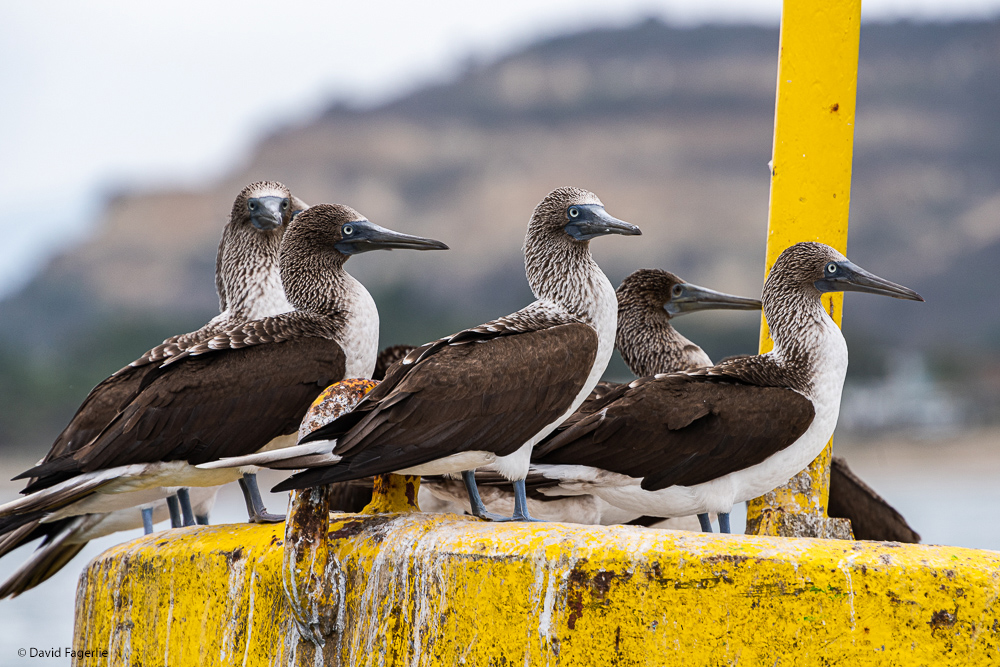 Humpback whales are large. They can grow to as long as 52 feet (16 meters) and weigh up to 30 tons. Found around the world, humpbacks migrate up to 16,000 miles (25,000 km) each year. They feed in polar waters and migrate to tropical waters to breed and give birth. While in the tropics whales often fast, living off of their fat reserves. That is not the case in Ecuador. Every year, from June to October, the waters off the shore of Puerto Lopez are full of humpbacks. When they arrive, they have traveled 4,000 miles from the cold waters of Antarctica. The Humboldt Current, which runs off Ecuador's coast, stirs up large amounts of plankton and krill that both whales and dolphins enjoy. Female whales nurse their calves for 6-10 months and binge feed in Ecuador's waters. The calves are able to bulk up enough that their blubber is sufficient to protect them when they return to the cold of Antarctica. The number of whales reaching Puerto Lopez varies; they number from 400 to 2,600 in a given ear.
I made a big mistake on my first whale watching trip. I brought my most powerful lens, a Sigma 120-300mm f/2.8 that is both fast and razor sharp. But, it weighs more than nine pounds; it was almost impossible to control inside a bouncing boat. Nevertheless, I came away with a couple of photos. The first is of a female and calf swimming together.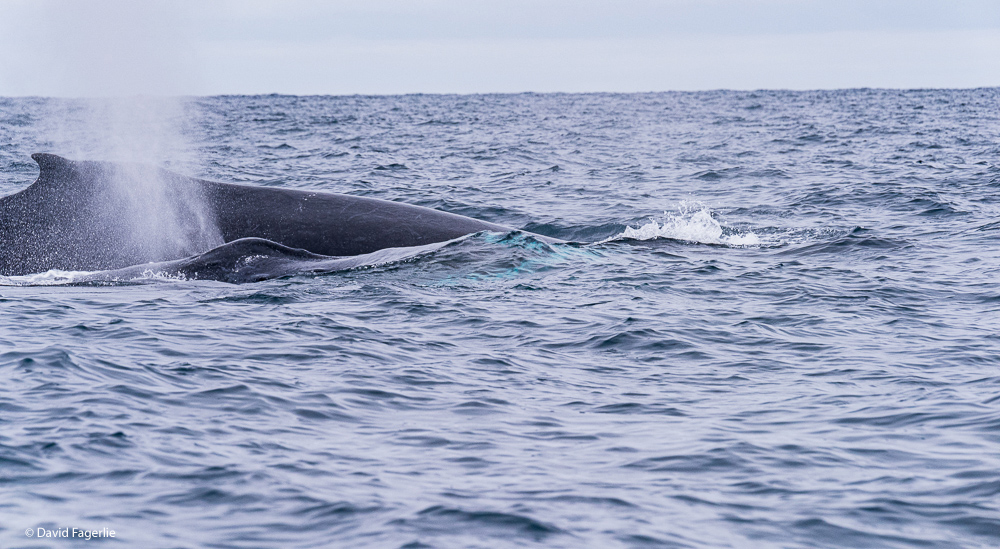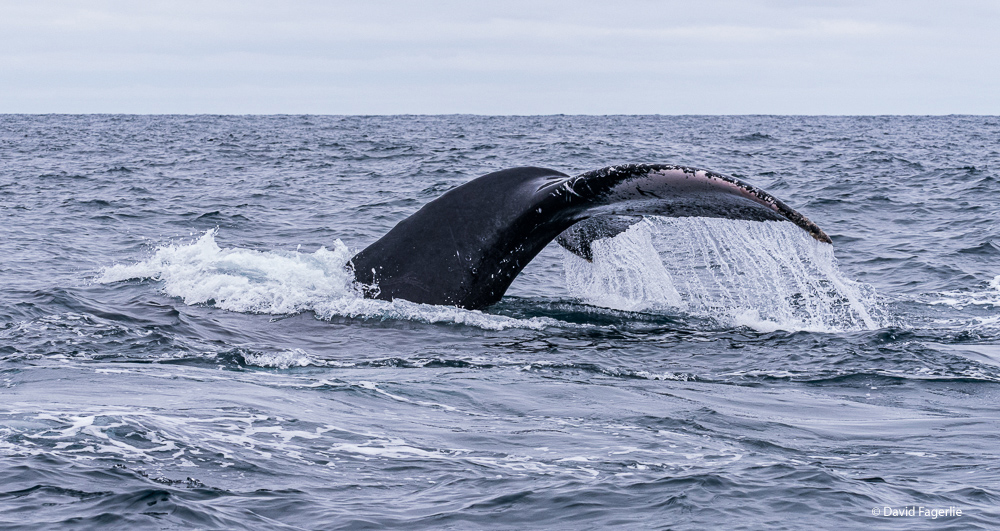 On my second trip I wisely left the Sigma at home and replaced it with my Nikon 70-200mm f/2.8 lens that is equally sharp and fast but much smaller and lighter. My luck that day was better too. Every whale watcher wants to see a breach and there was an adolescent humpback that gave us all a thrill show with his many thrusts into the air.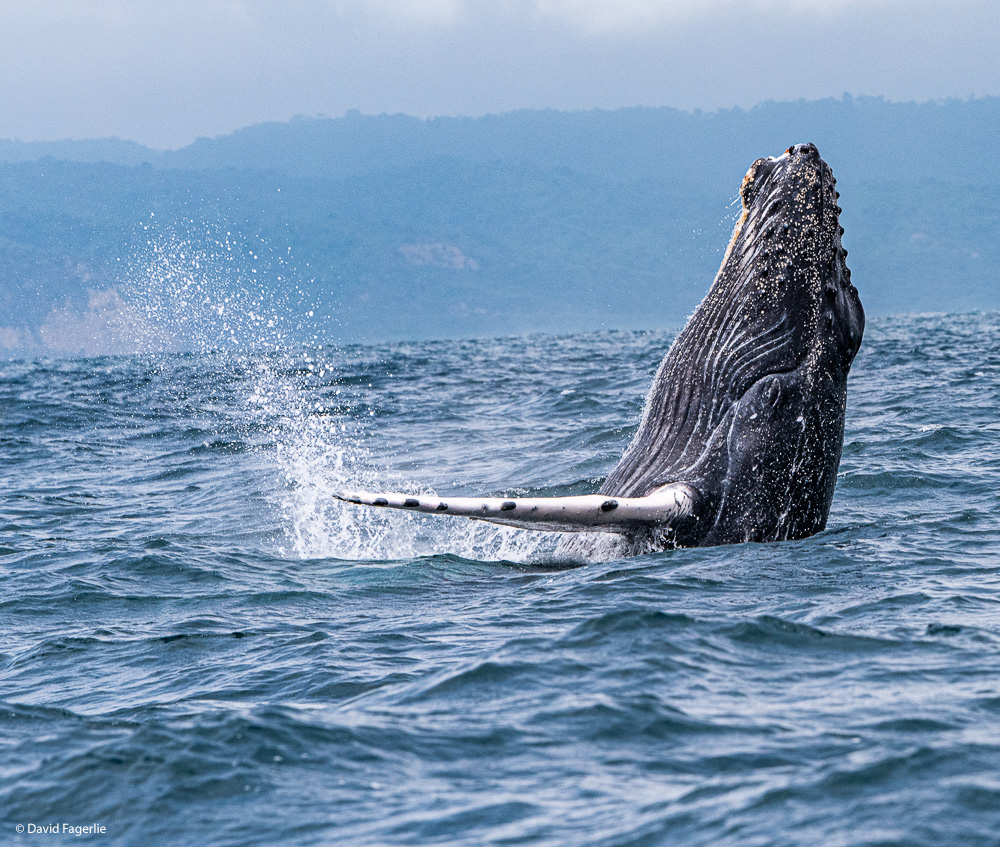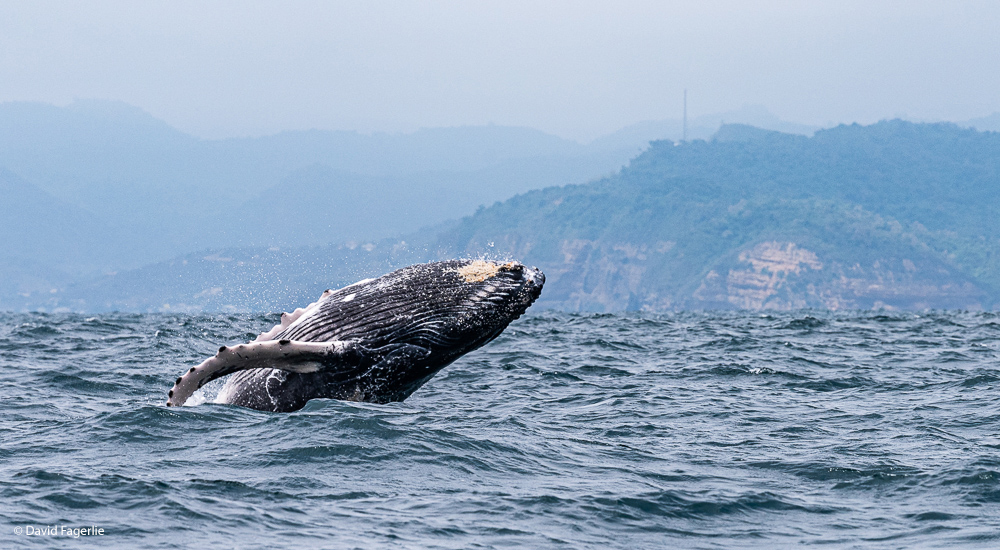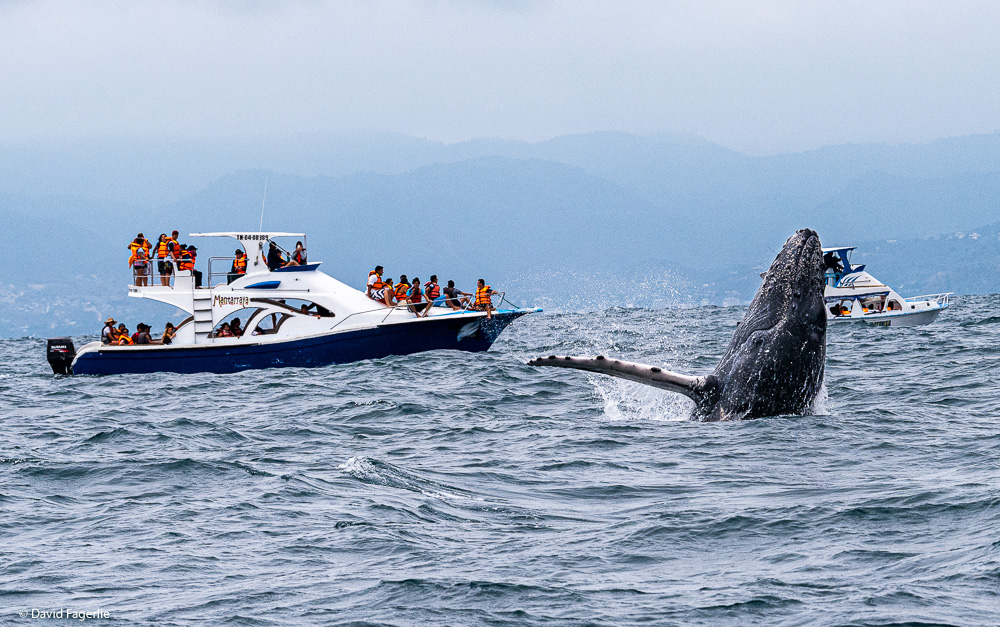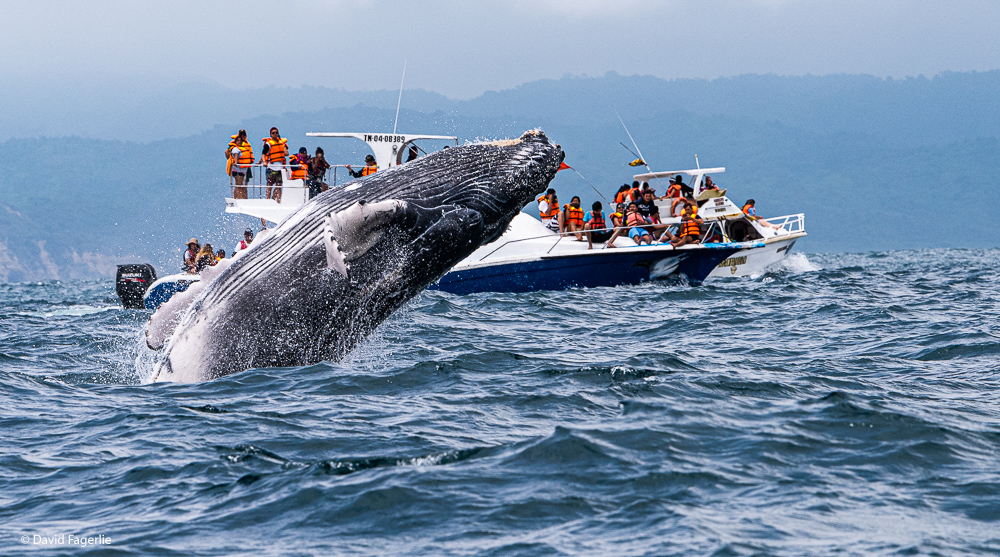 Higher resolution images of this chapter can be accessed by clicking HERE.
Next Monday we visit Southeast Ecuador on the other side of the Andes. See you then.