Ecuador – Part 7: Quito
Chapter 2: Rough and Tumble
Jamil Mahuad
In chapter 2 we leap forward in time to 1998 when Jamil Mahuad was elected president.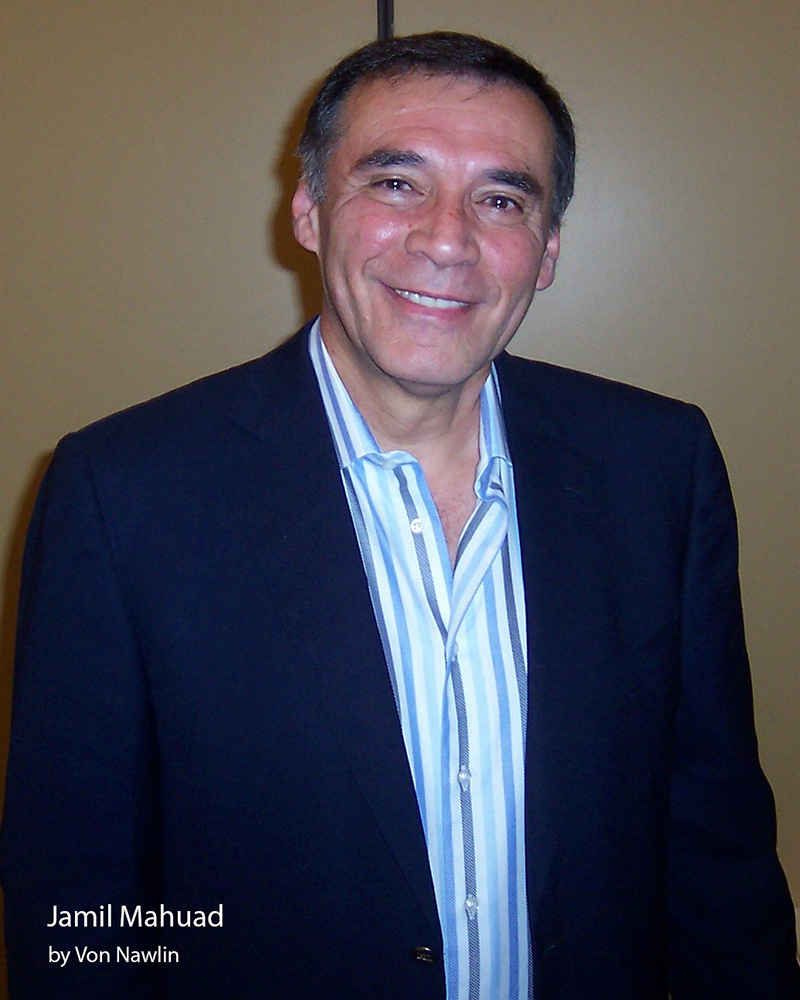 Mahuad's first significant act was signing a peace treaty with Perú, putting an end to the Cenepa War that began in 1995. The war was a brief and localized conflict over control of the Cenepa valley, an area in the Amazon jungle bordered by the two countries. The first Cenepa war ended in 1941 but Ecuador believed the area should be part of Ecuador. In 1960 Ecuador declared the treaty null and void.
In 1884 Ecuador changed its currency to the sucre, named after Antonio José de Sucre from the war for independence from Spain. This is a 20 sucre piece from 1988.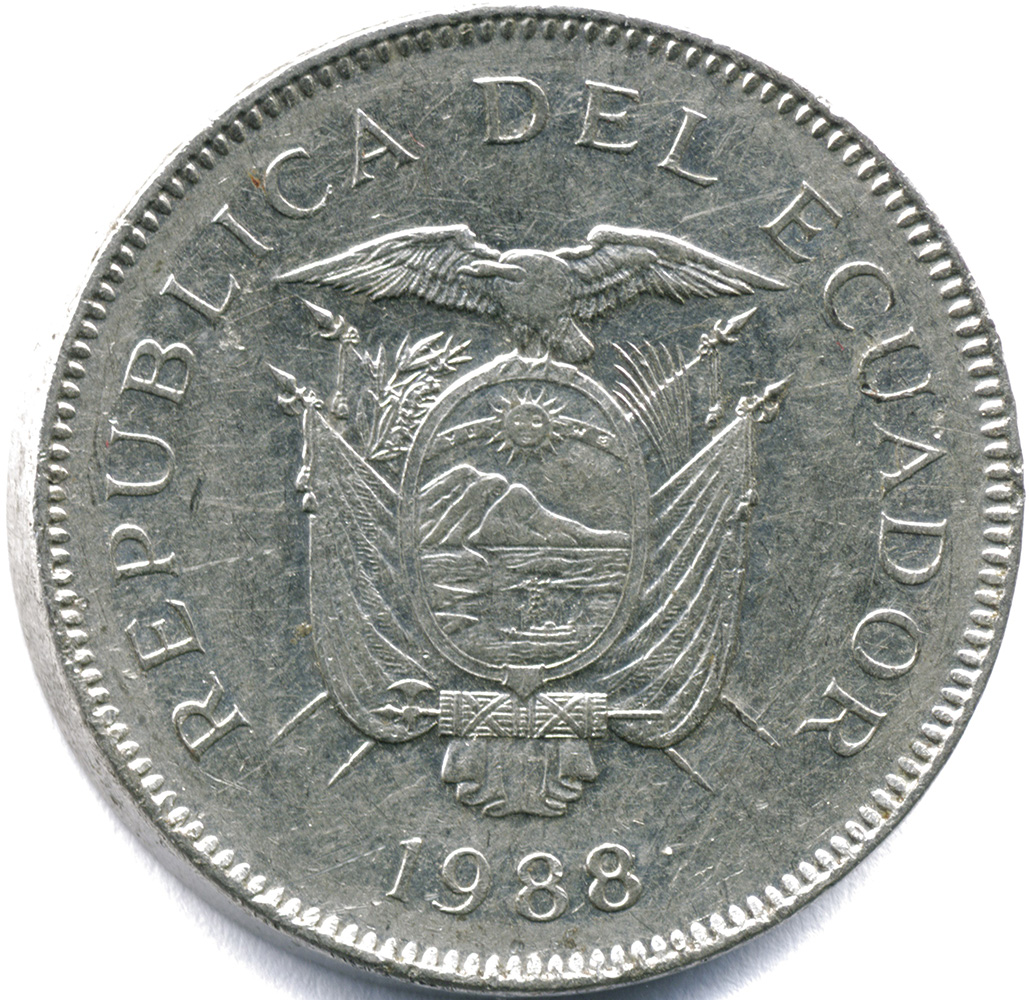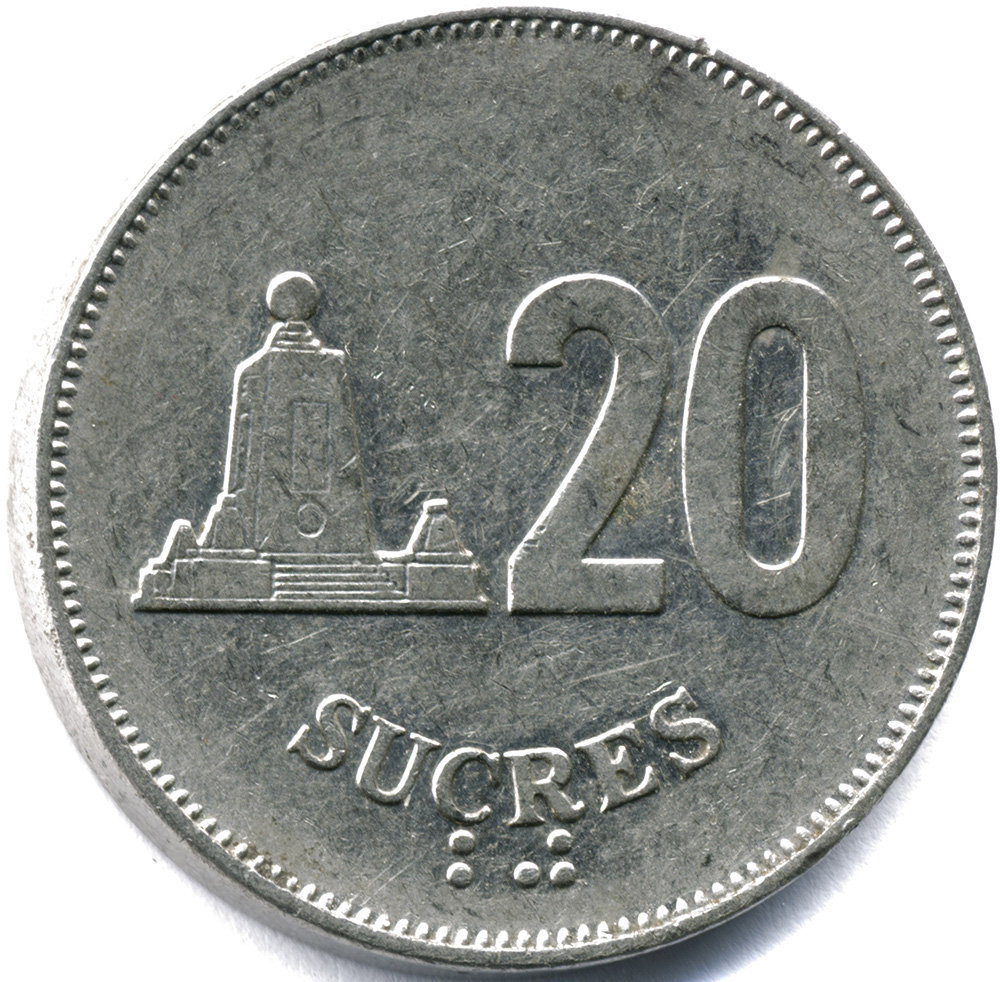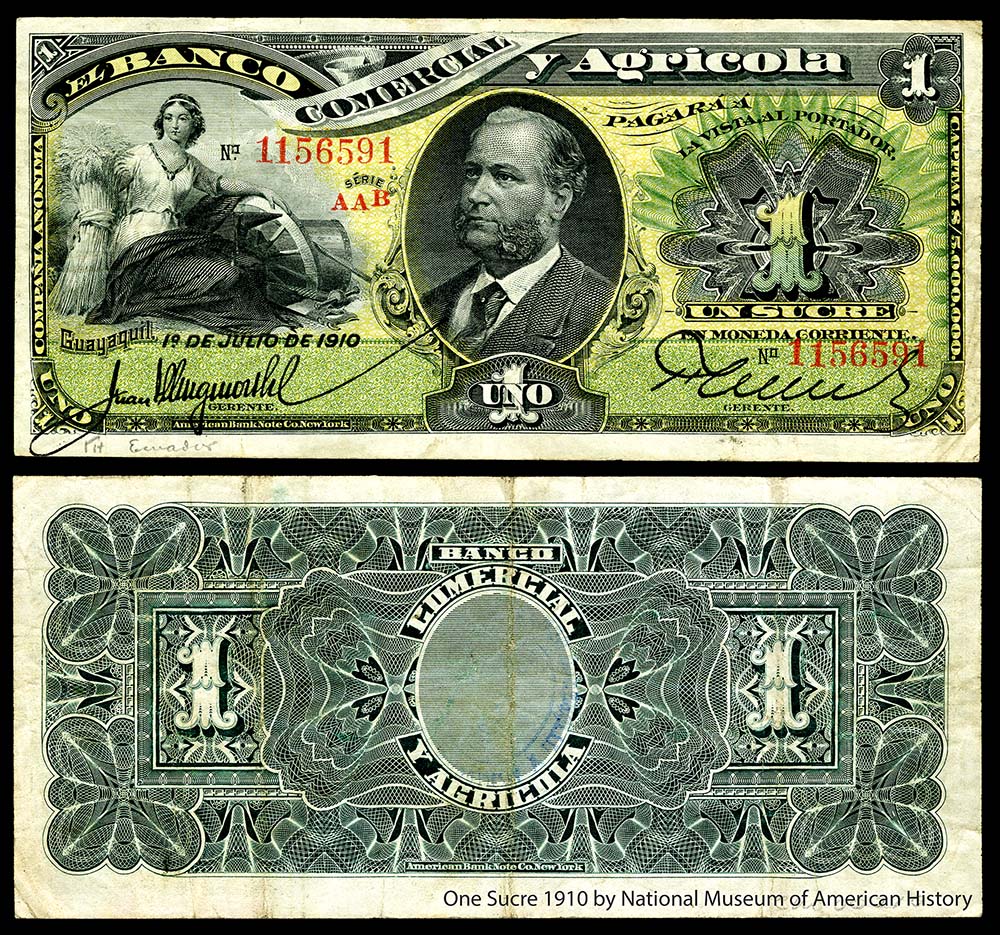 The currency became inconvertible after World War I because of international tensions. Efforts to stabilize the currency were mostly ineffective. In 1946 the International Monetary Fund established the value of the sucre at 13.5 per US dollar. Unfortunately for Ecuadorians, the Sucre declined from then on. By 1996 the sucre was valued at 3,189.50 per dollar. By 1999 the sucre slipped to 11,786.80 per dollar from a recession triggered by the effects of an El Niño event.

Major banks went bankrupt. President Mahuad froze bank balances valued over $500 for one year to prevent savers from extinguishing their balances. By January 2000 the sucre had fallen to 24,860.70 to the dollar. On January 9th Mahuad announced abolition of the sucre in favor of the US dollar as Ecuador's currency. Sucres exchanged at a rate of 25,000 to the dollar. On January 21st Mahuad was overthrown by a coup. Mahuad left Ecuador and settled in Boston, Massachusetts. Before Mahuad was president he had earned a doctorate in law from a university in Guayaquil and a master degree from the Kennedy School at Harvard. After being ousted, he was a Fellow in the negotiation program at Harvard along with positions at other highly ranked universities.
In 2014 Mahuad was sentenced in Ecuador in absentia to a twelve-year prison term for embezzlement.
The US dollar remains the currency of Ecuador. Even when I lived there many Ecuadorians still were not putting significant deposits in banks. Instead, many kept money "under mattresses" and invested in real estate. Banks were offering amazing rates on CDs to generate capital to make loans. We had CDs paying 9.5%.
Rafael Correa
Correa in France (low resolution only)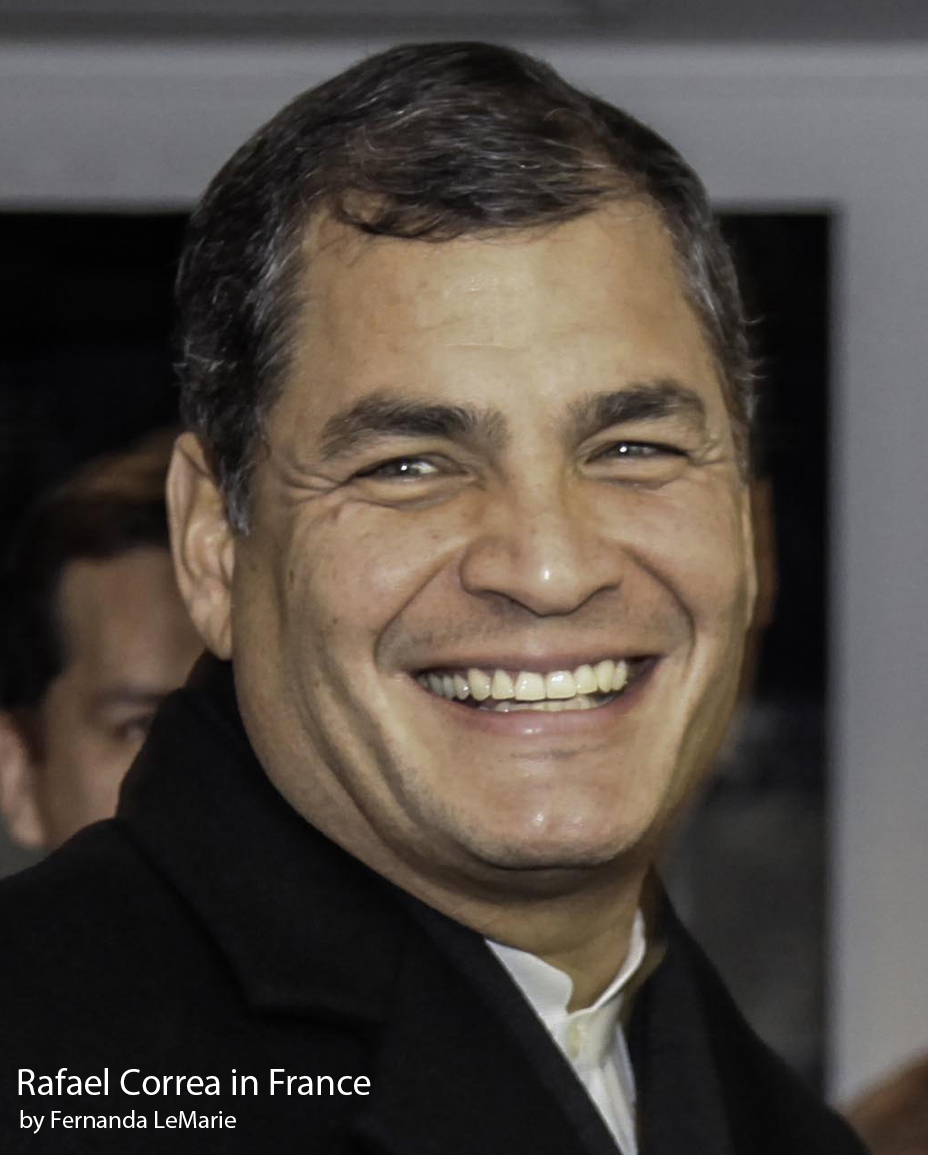 Rafael Correa was very critical of Ecuador's decision to adopt the US dollar. By now he was what I would call a "firebrand," enthusiastically criticizing a variety of events and people. Correa, a democratic socialist, served as Ecuador's president from 2007 until 2017, an extraordinary accomplishment considering that since 1800 49 of Ecuador's presidents served about one year or less, some for just one day.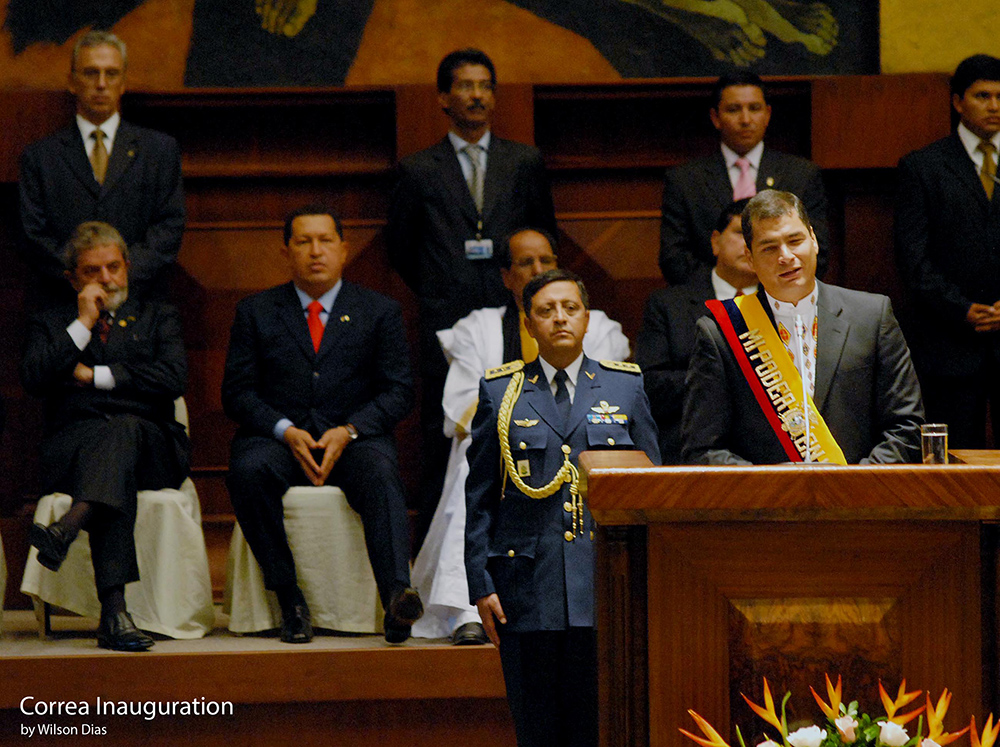 Correa sought to reduce the influence of the Word Bank and International Monetary Fund which he thought were exerting too much control related to loans made. He announced that the country would default on $3 billion in bonds that he considered illegitimate.
Correa is a charismatic leader and he had extraordinary success in his first term at increasing spending to build for the common good. He reduced poverty and increased the standard of living. He increased the quality of healthcare, public education and infrastructure such as improving roads and bringing high-speed internet to the country.
Correa was anti-American, surprising to me given that he received a PhD in economics from the University of Illinois. Correa refused to sign a free trade agreement with the United States. When I lived in Ecuador, unlike surrounding countries, Ecuador was cut off from US goods. There were no stores, such as Costco, that were thriving in other Latin America countries. The way expats got higher quality products was to bring them in by a container only when moving to Ecuador and/or in suitcases. When we were leaving Ecuador and put up our belongings for sale almost all buyers were Ecuadorians; we sold out quickly.
Two other actions infuriated the USA. He provided safe passage for Edward Snowden and asylum at Ecuador's embassy in London for Julian Assange.
Through a series of measures and strategies Correa was able to spearhead creating a new constitution resulting in his term limits being reset. That enabled him to serve as president for ten years. Laudable changes included language about environmental protection.
Ecuador has large deposits of oil and when oil traded at more than $100 per barrel Correa could spend what he wanted to make very good improvements. However, he kept spending when oil prices dropped. That, combined with other influences and terrible earthquakes in 2016, drove Ecuador into a recession. Correa accepted China's overtures to help, resulting in $7 billion in debt. These pressures led to Correa allowing China to drill for oil in the Yasuni National Park in the Amazon region, one of three locations in Ecuador that are the most biodiverse places in the world. This stirred major controversy and Correa's popularity declined.
Correa also reversed a ban on the sale of shark fins, which are popular in China, except they could come only from "accidentally caught sharks."
"On August 3, 2007, Correa ordered the deportation of Sean O'Hearn-Gimenez, director of the Sea Shepherd Conservation Society, saying that he would not allow "gringuitos" (literally, "little gringos") to tell Ecuadorians what to do or to pursue local fishermen. However, a local newspaper noted that O'Hearn-Gimenez had signed a 5-year agreement with Ecuador's own Environmental Police rather than acting unilaterally (as a foreigner with no authority of his own), and was married to an Ecuadorian. The deportation was ordered because Sea Shepherd, in partnership with the Ecuadorian National Environmental Police, exposed and stopped the biggest shark-fin shipment in the port city of Manta. Correa later rescinded the extradition order because O'Hearn-Gimenez was married to an Ecuadorian woman. All the arrested fishermen were released, too, and the confiscated shark fins returned to them." – Wikipedia
He aligned himself solidly with other Latin America and communist leaders, some of which also had poor relations with the United States.
Fórum Social Mundial 2008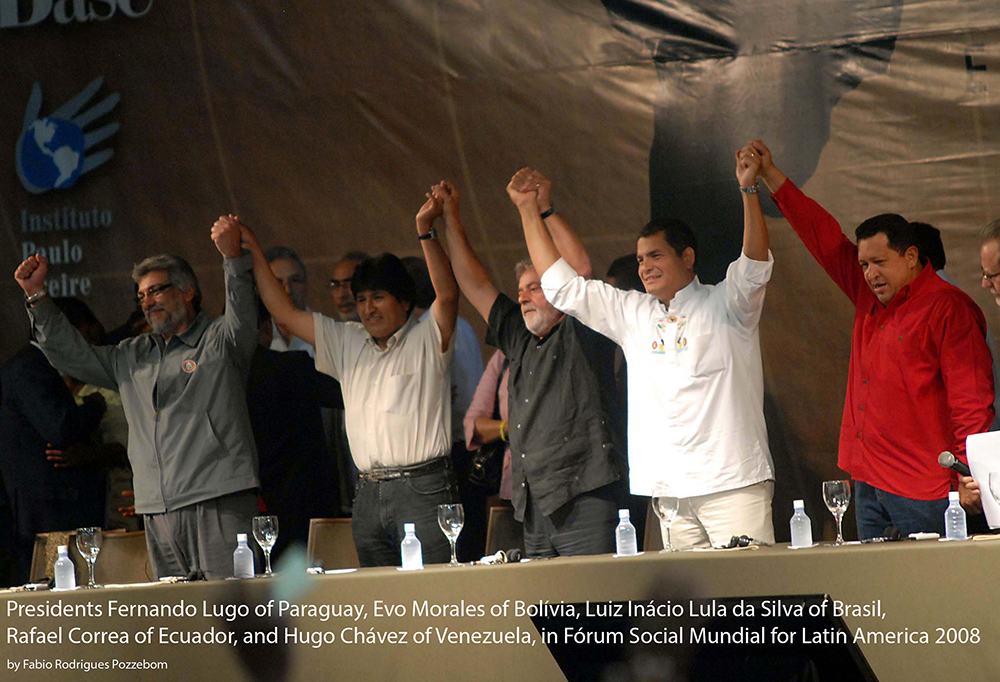 Correa with Dmitry Medvedev (low resolution only)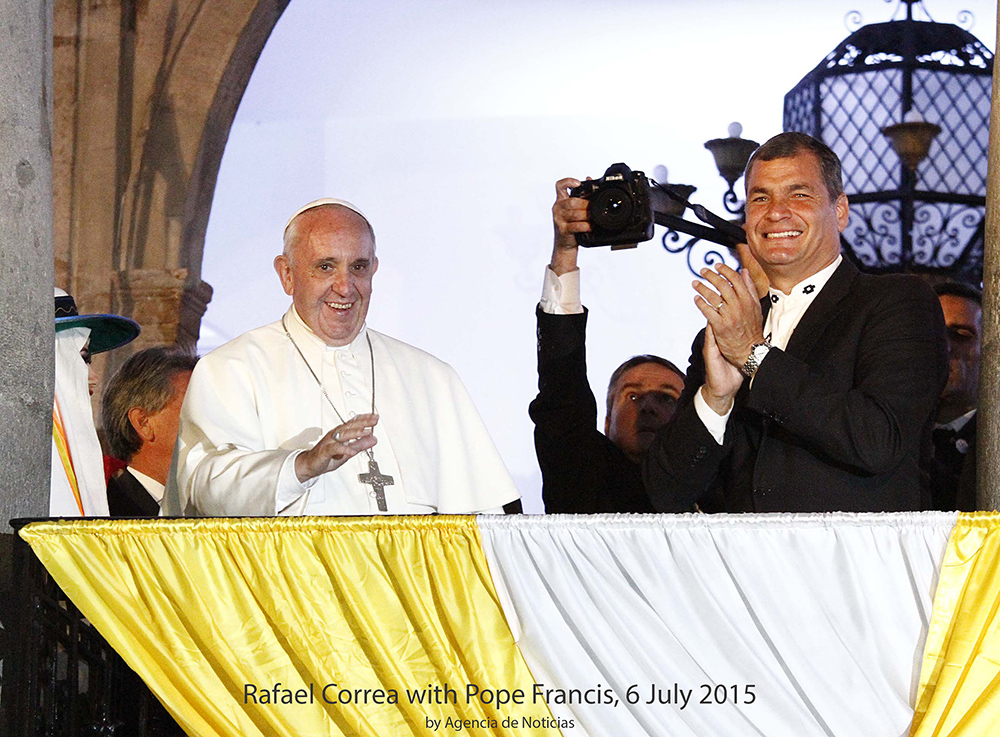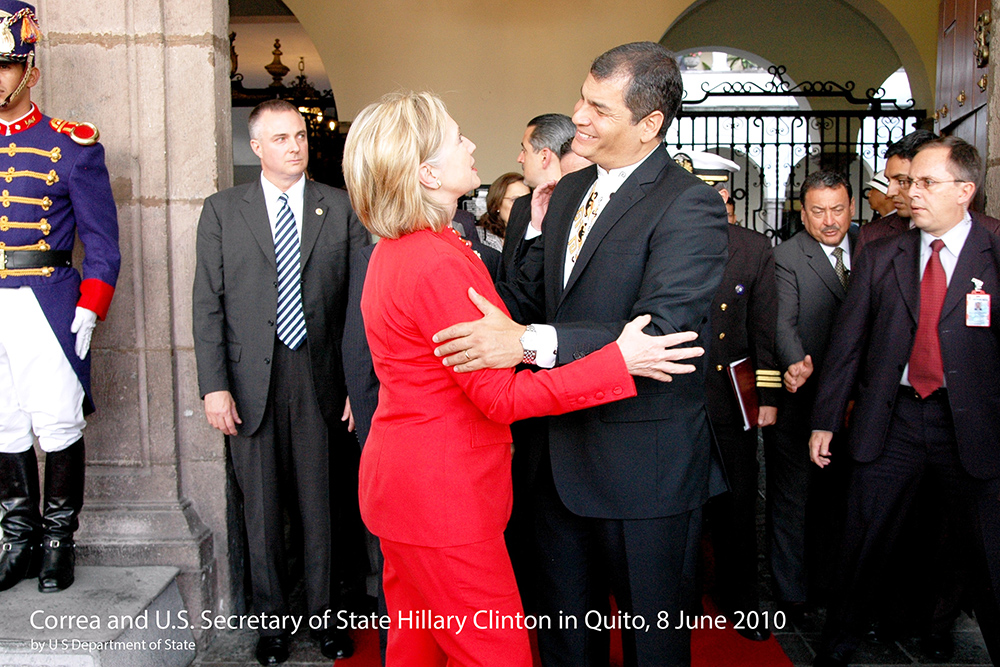 Each Monday it is customary for the president and dignitaries to show themselves on the balcony of Carondelet Palace, the president's residence, on the main square in Quito, Plaza de la Independencia. There is music and processions. We attended on a Monday in 2015 when Correa was president.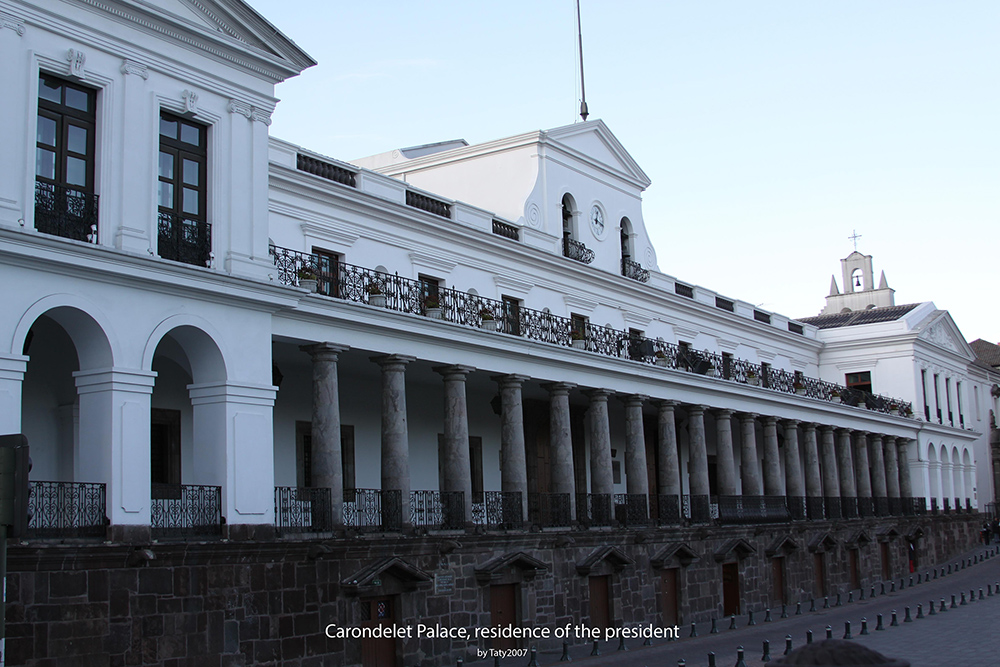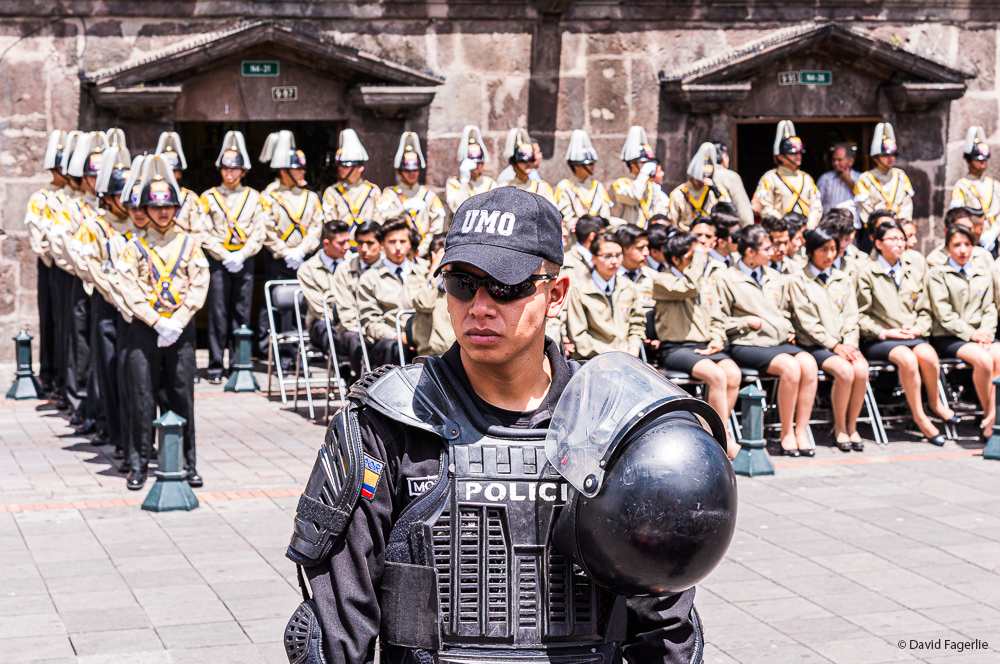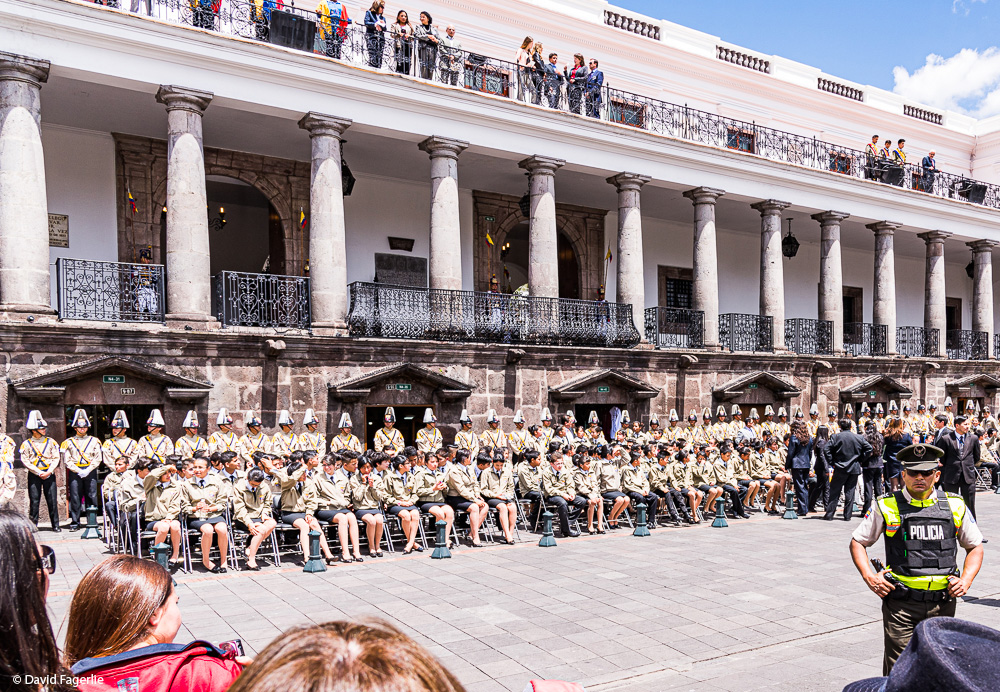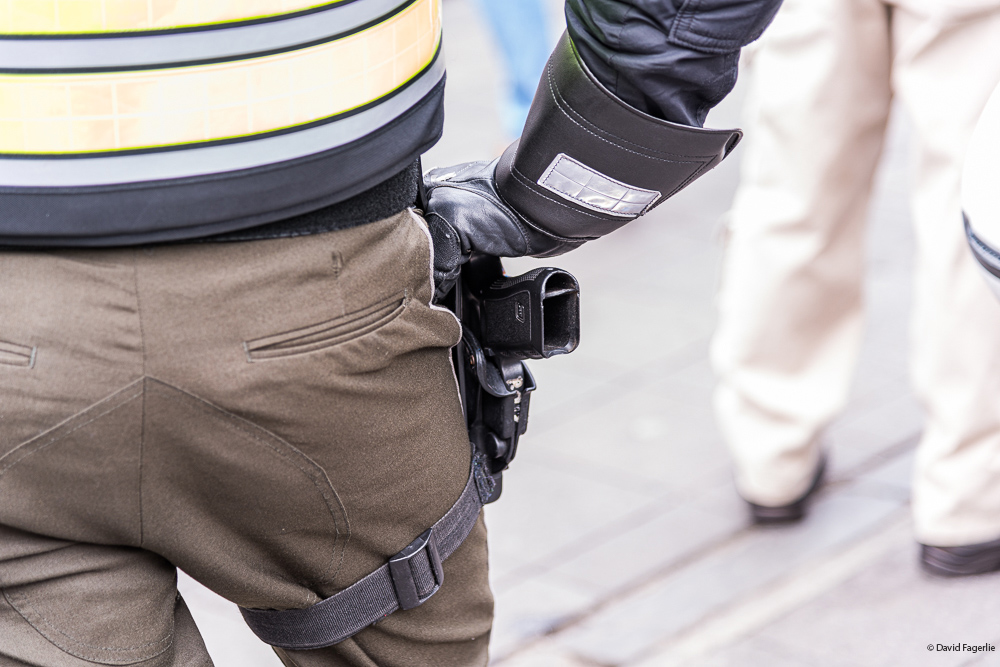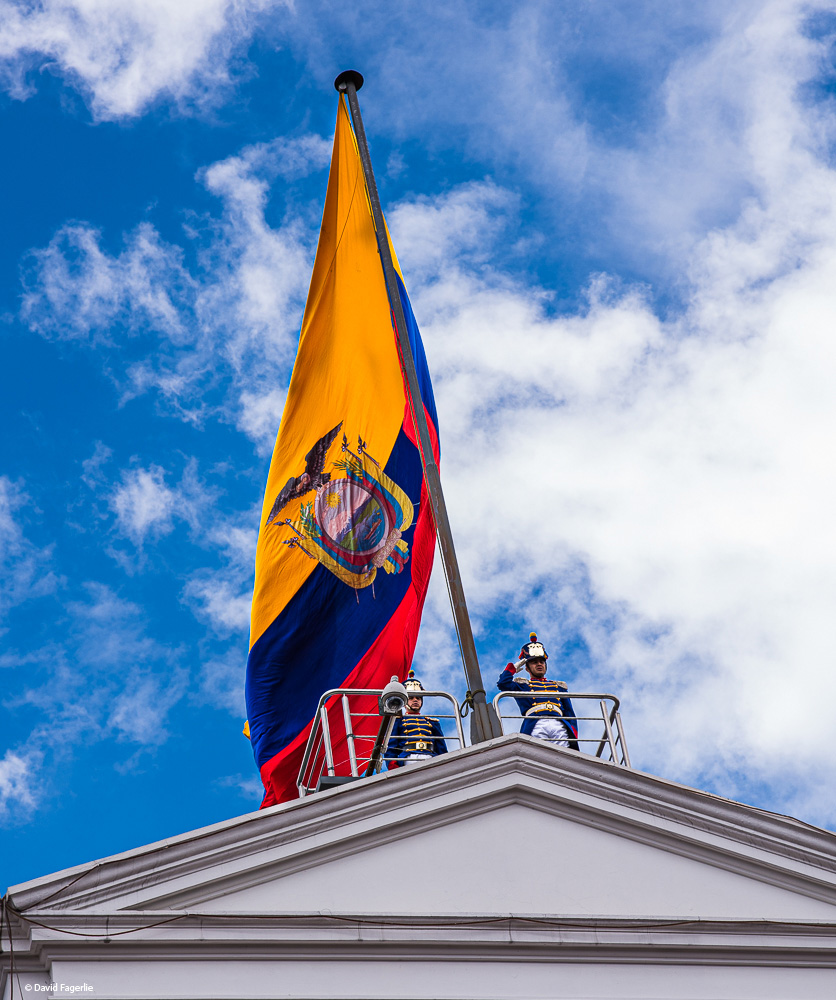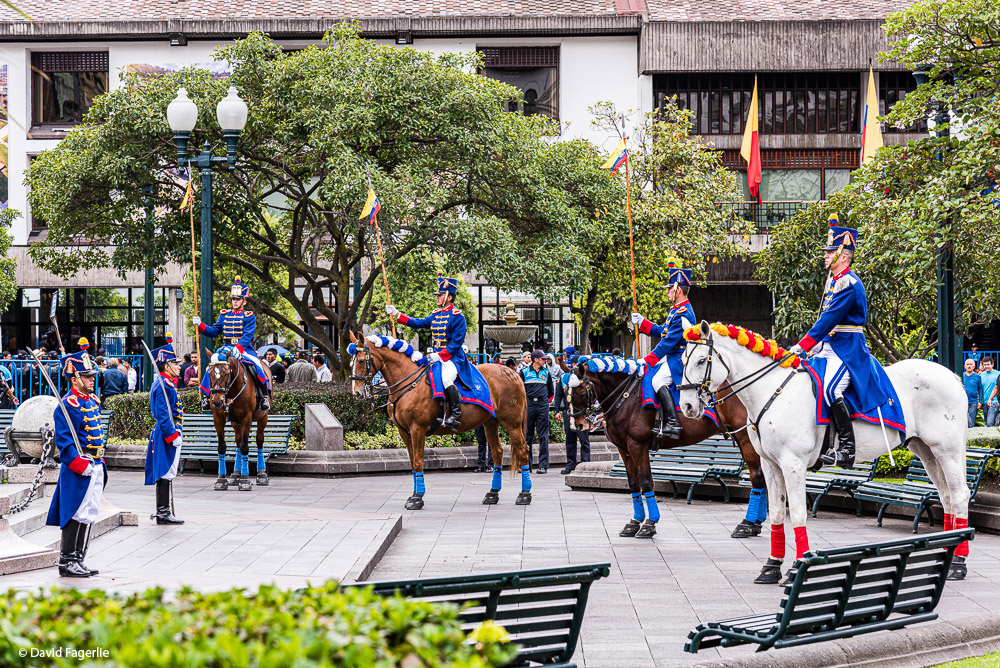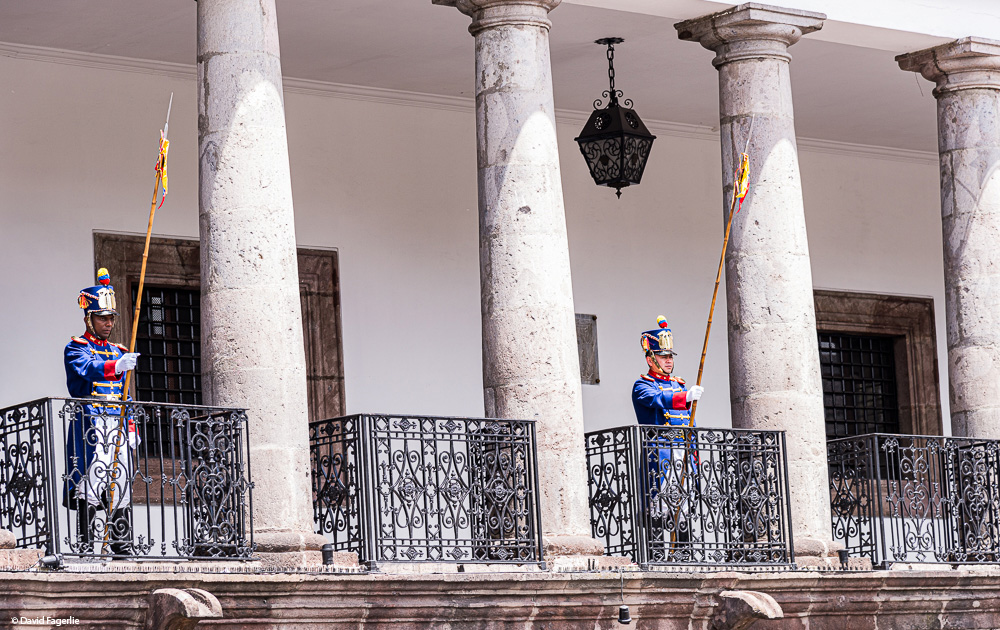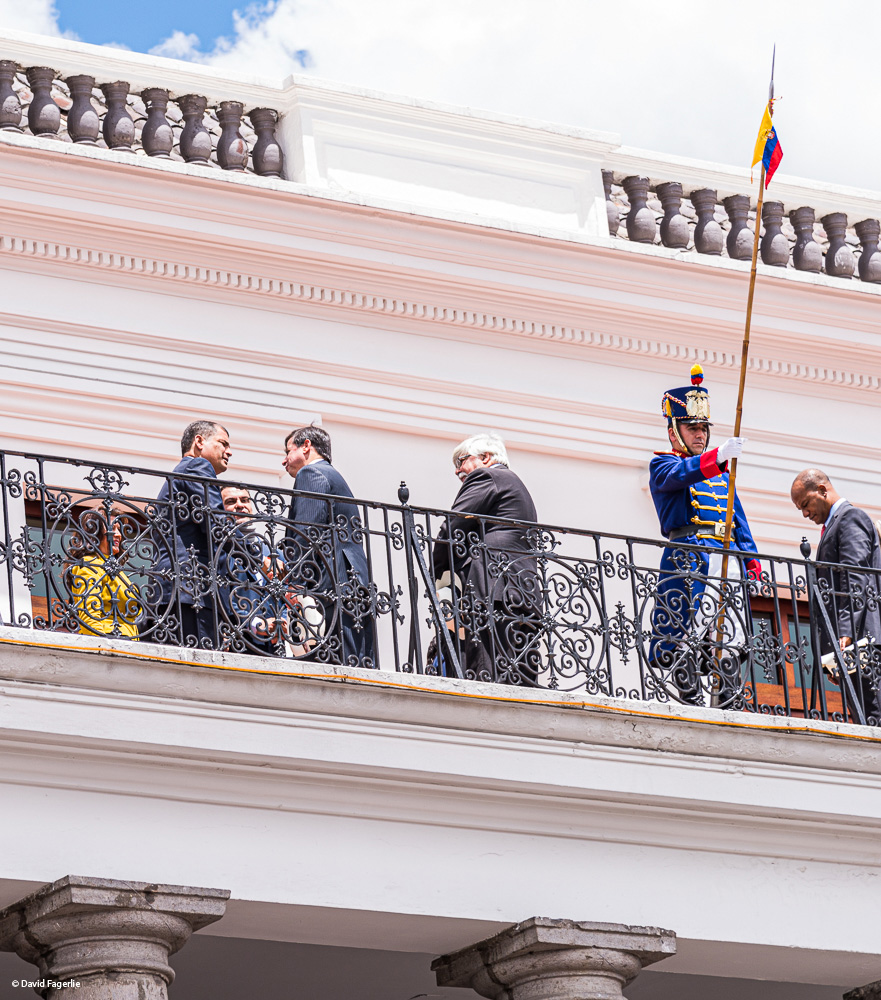 You can see Correa on the balcony in the next two photos.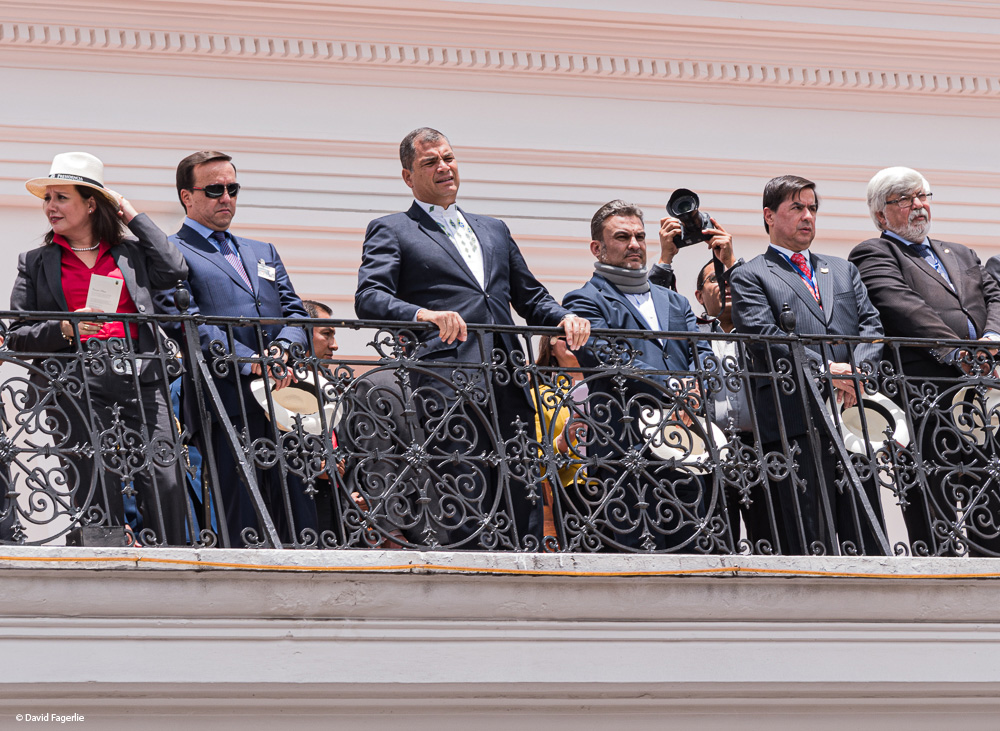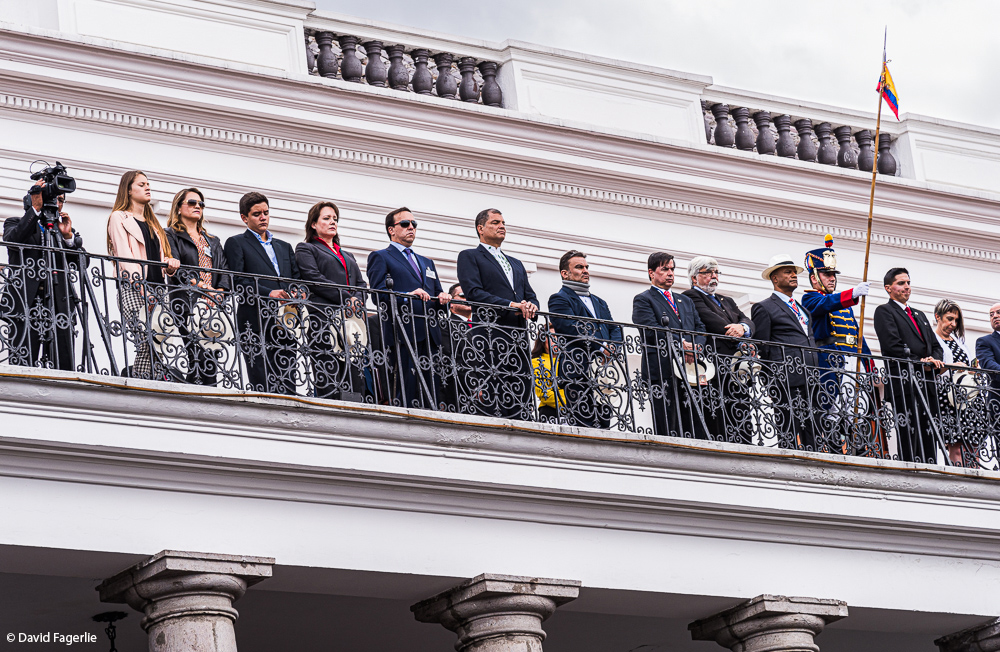 Correa chose not to live at Carondelet Palace and instead believed it should be a museum available for all to see non-restricted rooms. Timed tickets were free at a ticket booth on one side of the palace.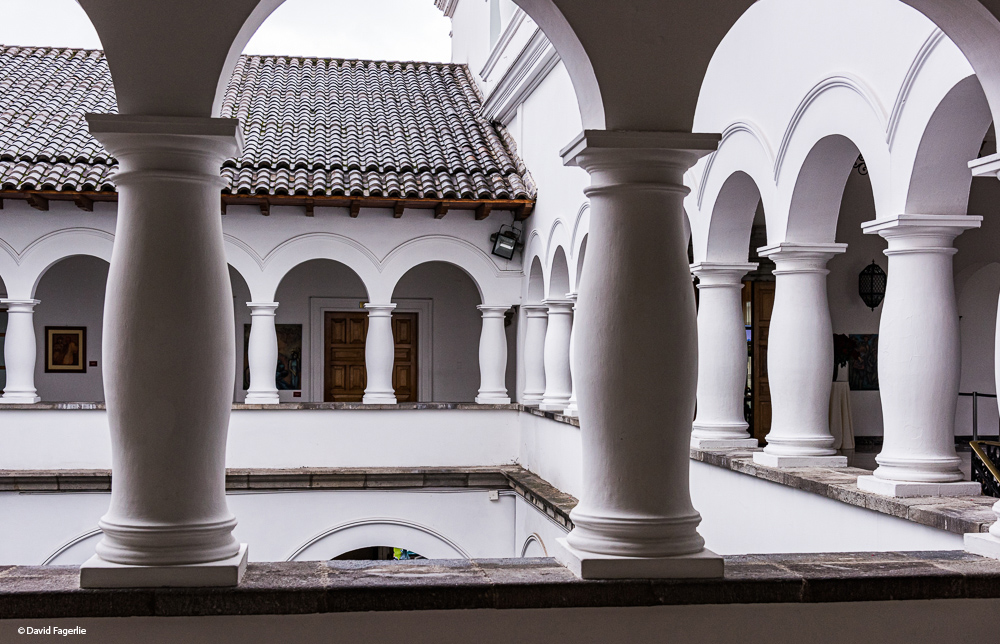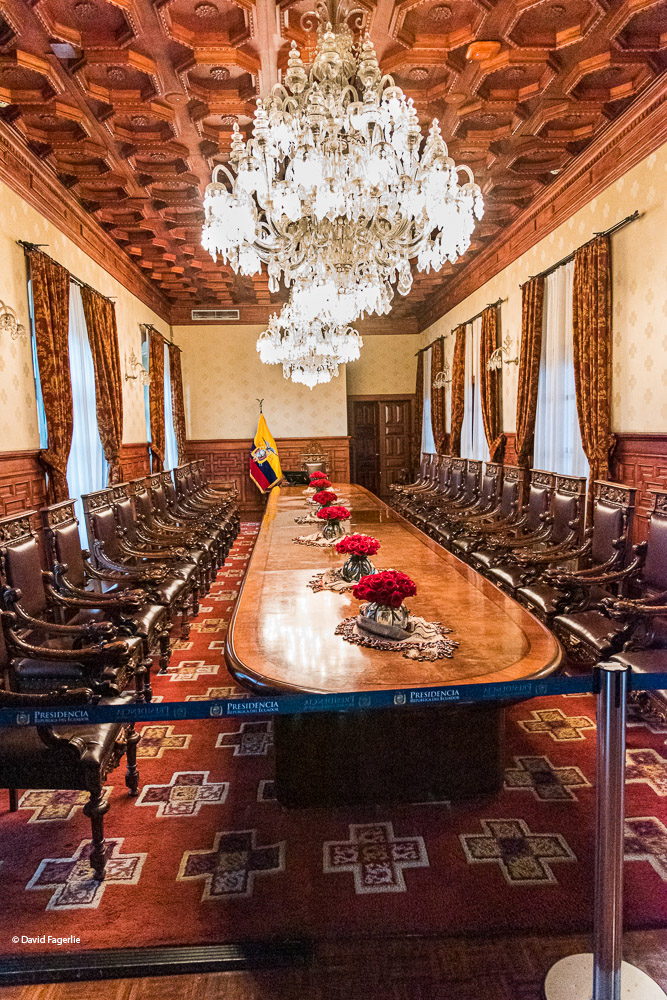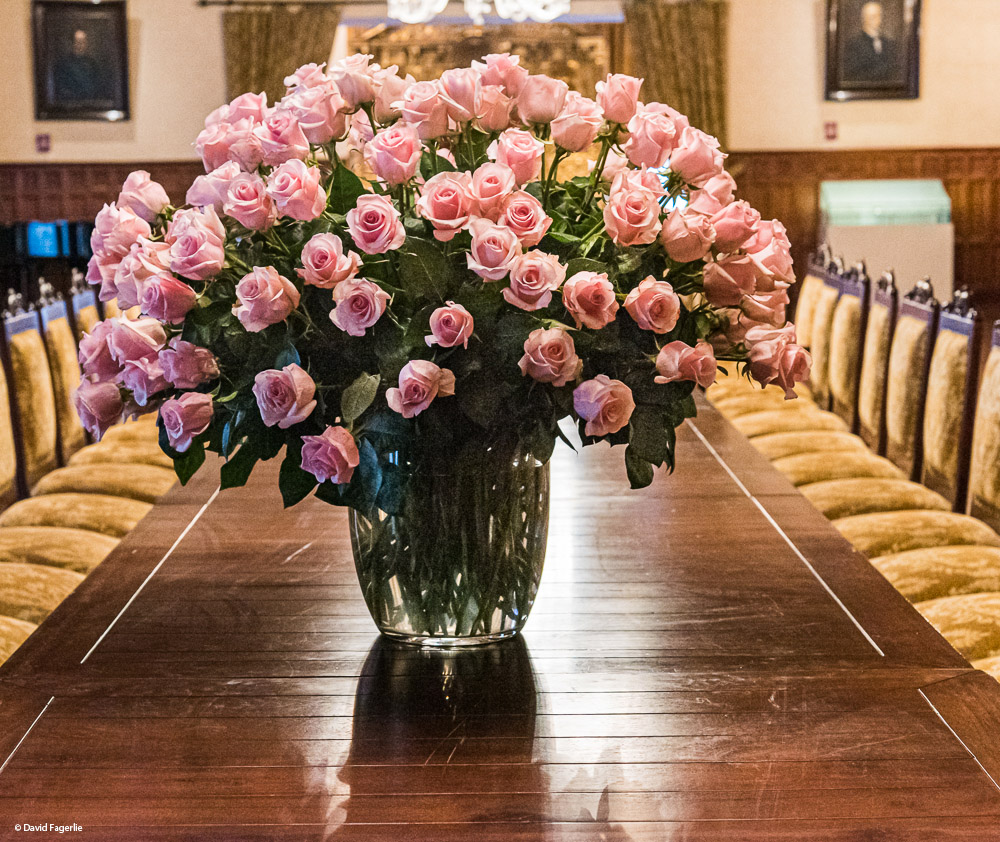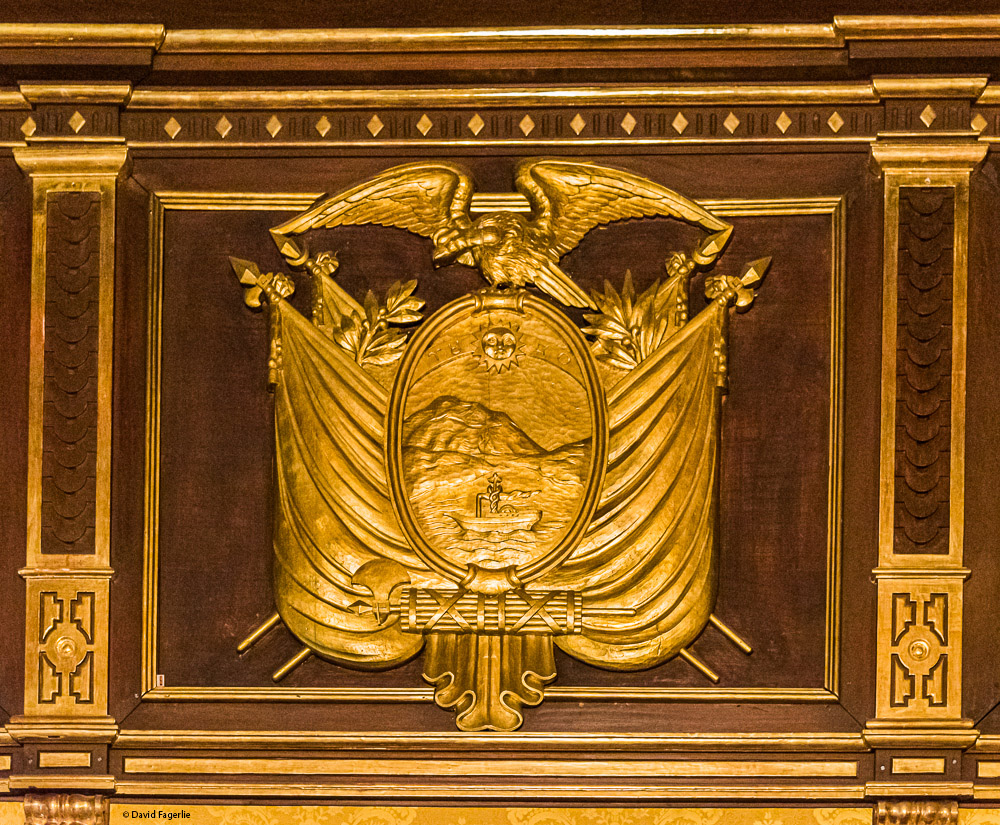 Correa gifted items given to him by foreign dignitaries to the palace. (In the USA, that would be automatic.) Here are a couple of examples.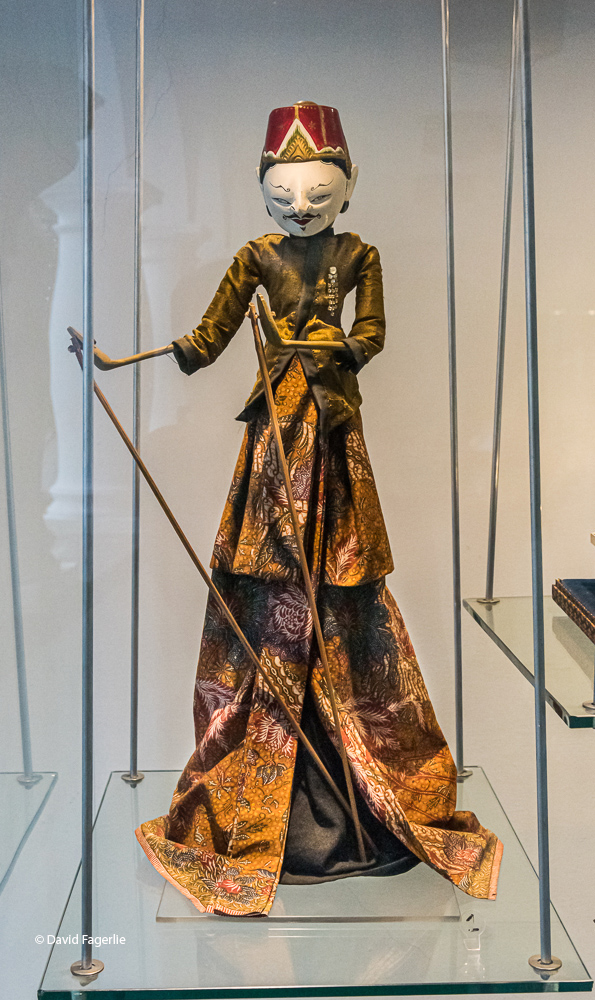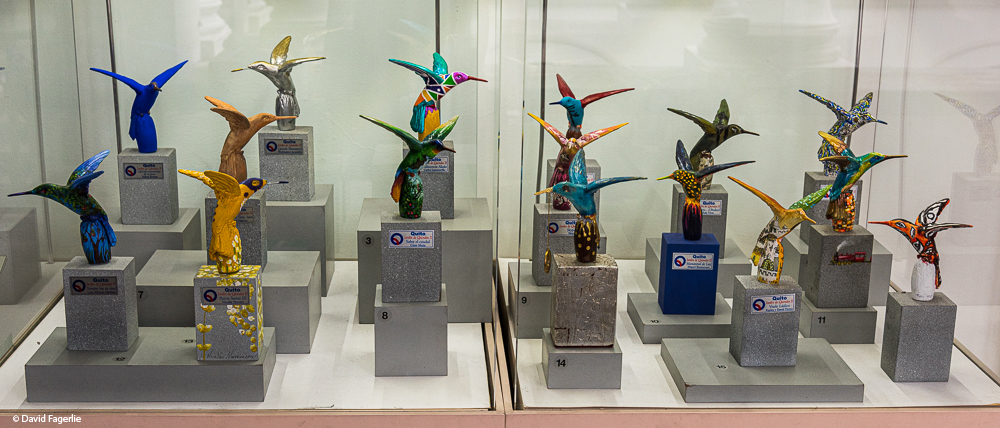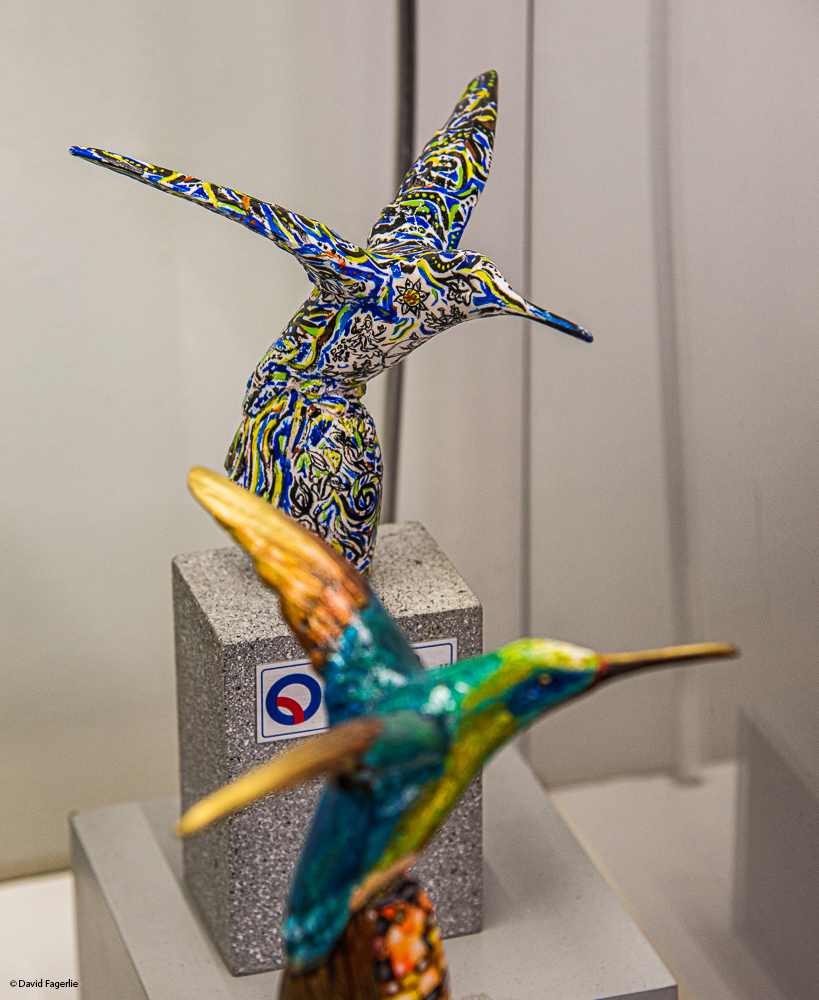 At the time of our visit to the palace we had been in Ecuador less than a month. We knew hardly anything about anything. It was at the palace that we first saw really spectacular murals. These were created in 1960 by Oswaldo Guayasamín, Ecuador's most famous artist. Take a look.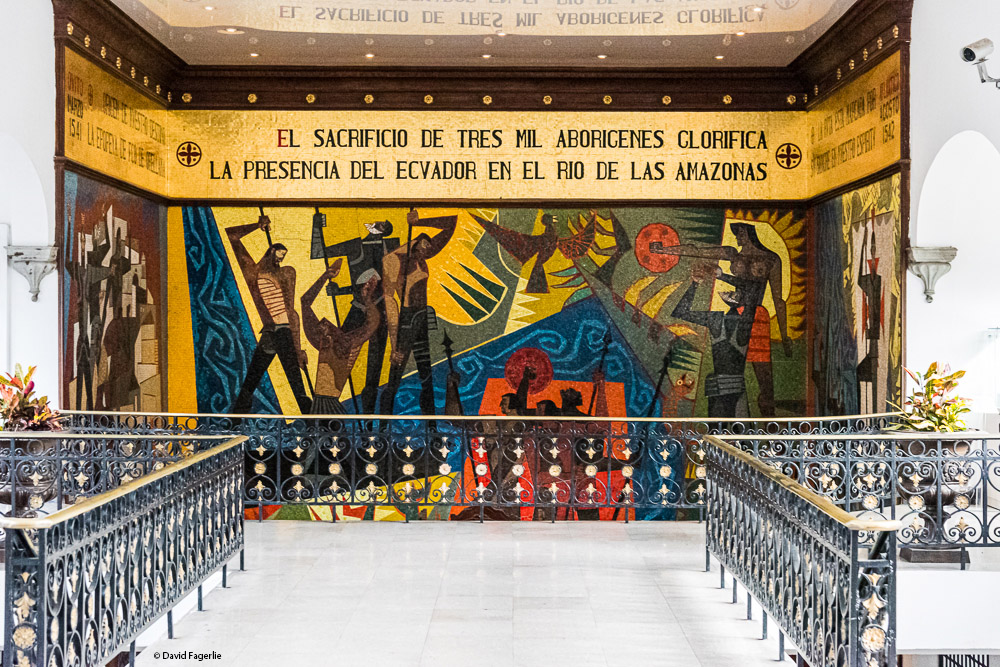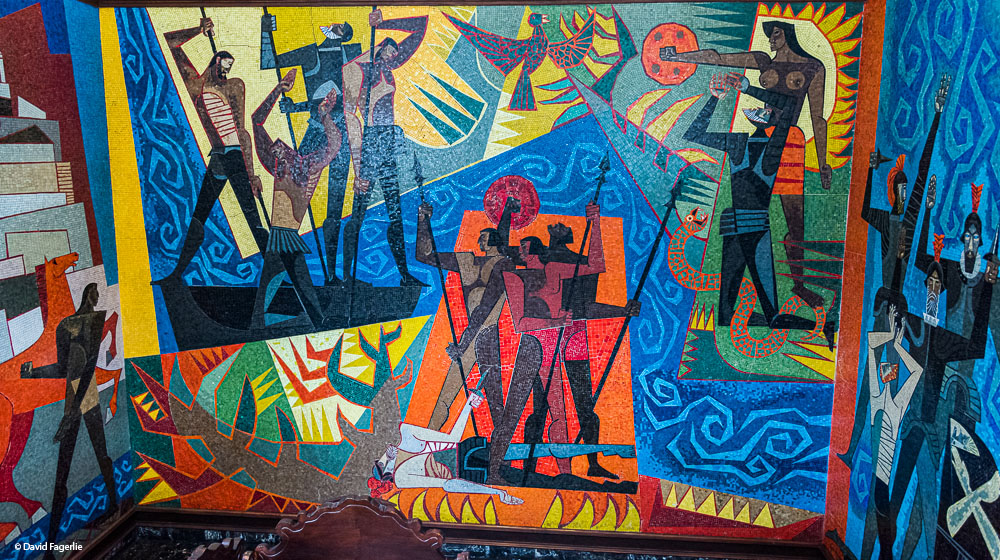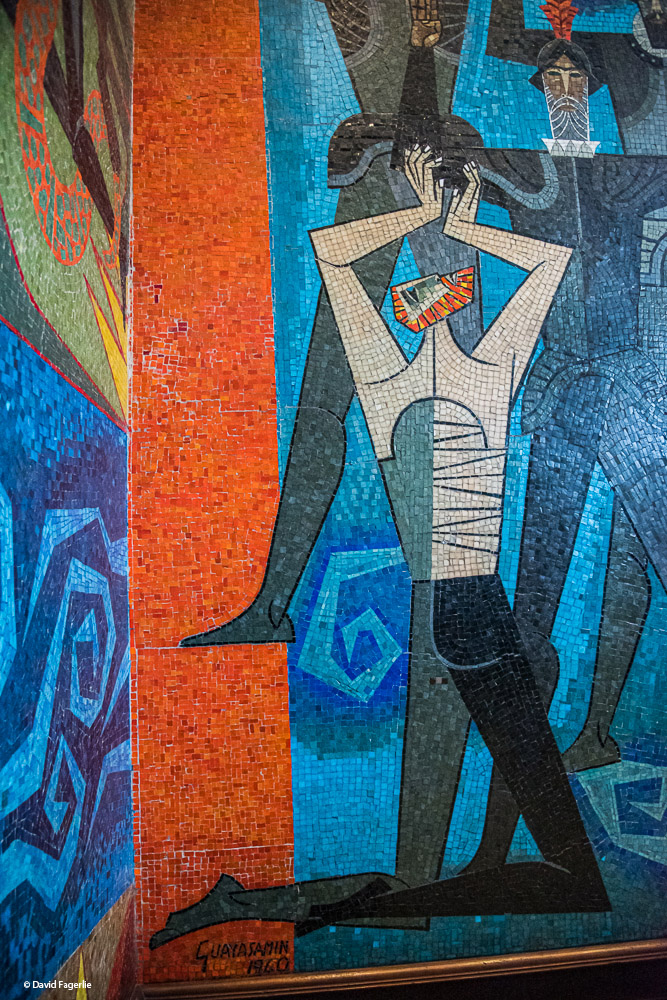 Correa was reelected in 2009 with 52% of the vote. It was the first time a president had been reelected since the 19th century. Correa was embolden and he made very controversial decisions such as firing on protestors objecting to mining in the Yasuni and ending a practice of raises and medals when police officers were promoted. Correa sued the El Universo newspaper for publishing unflattering reviews of Correa, claiming slander. A journalist and three executives received three-year prison sentences. Following wide spread condemnation of the sentences Correa pardoned the four newspaper employees. Correa wanted a public apology from the paper which it refused to provide.
Lenín Moreno
After Correa's third and final term he supported Lenín Moreno to be the candidate for president from Correa's party, the PAIS Alliance.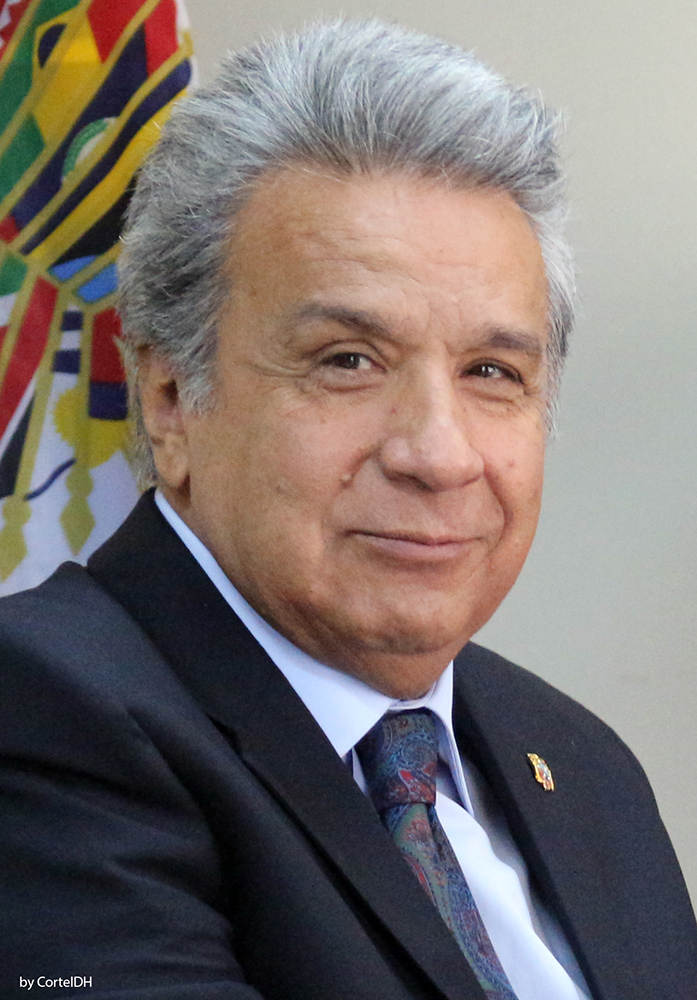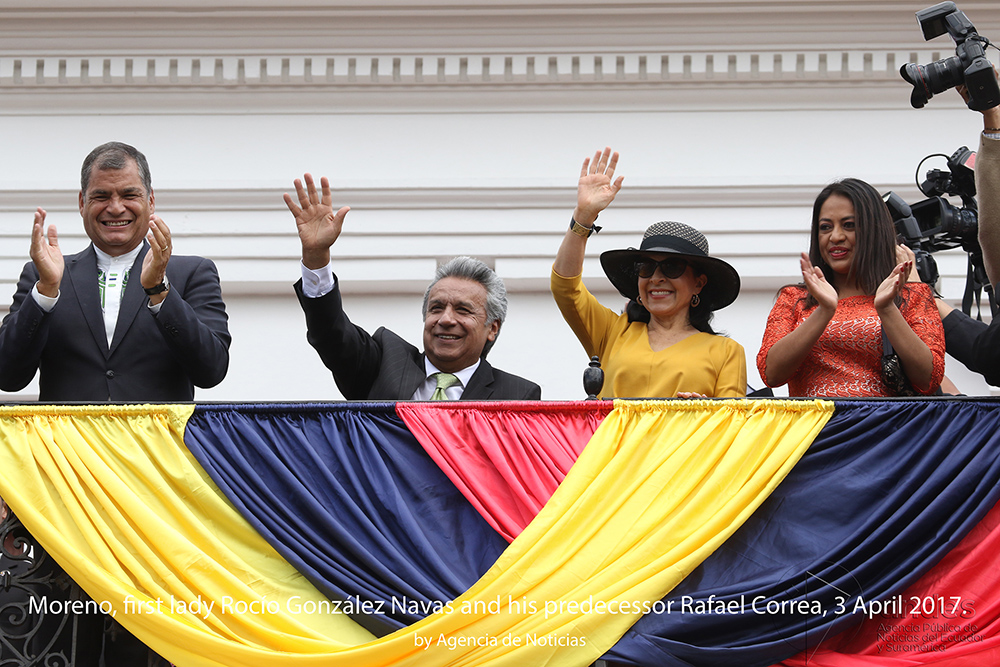 Within months of winning the first and runoff elections Moreno moved away from his leftist platform, infuriating Correa. The business leaders I knew in Cuenca had lobbied hard to support Moreno's competitor, conservative candidate Guillermo Lasso, as they were terrified of more of the same. However, right away, Moreno demonstrated his support for business and his commitment to building Ecuador's economic strength. The people I knew were overjoyed.
Moreno & President Sánches of Spain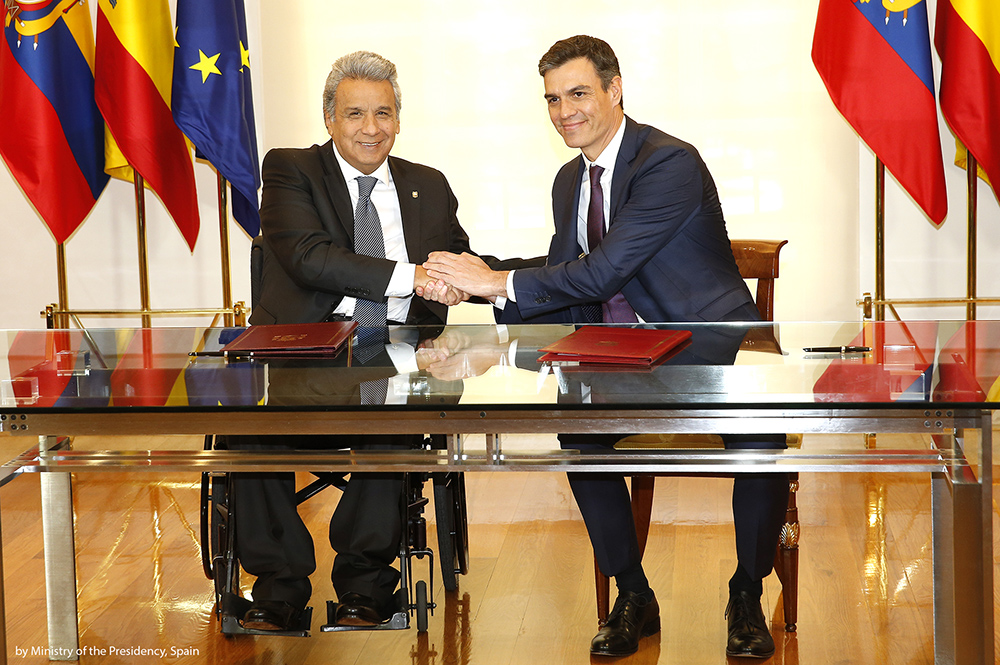 Ultimately, Moreno was kicked out of the PAIS Alliance party in March 2021. It was more of a statement than anything as Moreno had already decided not run for a second term.
Moreno was shot in a burglary attempt in 1998 and has since been confined to a wheelchair. For his advocacy for people with disabilities he was nominated for the 2012 Nobel Peace Prize. In December 2013 United Nations Secretary-General Ban Ki-moon appointed Lenín Moreno as his Special Envoy on Disability and Accessibility.
From 2017 until the time of this writing Moreno was the only head of state to use a wheelchair. During Moreno's first year in office he investigated government support for people with disabilities; he found that the entire budget was $100,000. He increased the budget by fifty fold. "The state currently assists over 600,000 disabled Ecuadorians, and provides housing and income for 15,000 people and prostheses for another 4,000." – Wikipedia
"Moreno's government adopted a conservative policy: reduction of public spending, trade liberalization, and flexibility of the labour code. … With regard to public expenditure, the State can no longer increase public expenditure by more than 3% per year and restricts budget deficits to the repayment of interest on debt. … Moreno announced in February 2019 that he had obtained a loan of more than $10 billion from the International Monetary Fund (IMF) and the World Bank, with which the previous government had broken off, at rates below 5% on average and for terms of up to 30 years". – Wikipedia
In June 2019, Moreno's government faced protests from environmentalist, indigenous and self-described patriotic groups after he permitted the US military to use an airport in the Galápagos Islands.
Protests over the USA landing in the Galápagos were wrong-headed from my point of view. The purpose of the landing rights was so that US surveillance planes could refuel. From the USA's point of view, this agreement allowed surveillance of drug trafficking along the Pacific coast. In return, the USA surveilled for illegal fishing in protected waters around the Galápagos. Most infringements were by Chinese companies. This collaboration netted many interventions saving rare species from becoming food on Chinese tables. While I was in Ecuador this agreement led to seizing vessels illegally in Ecuador's waters and confiscation of a fish-processing ship.
A visit to Quito by Secretary of State Pompeo and a visit with President Trump in Washington D.C. after a long dry spell in Ecuador/USA relations.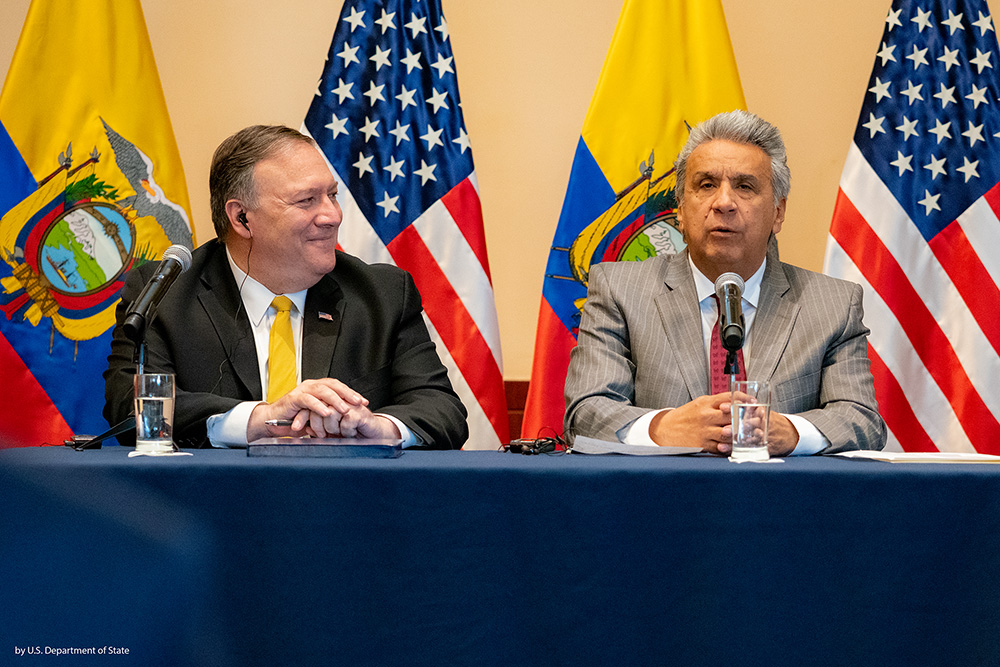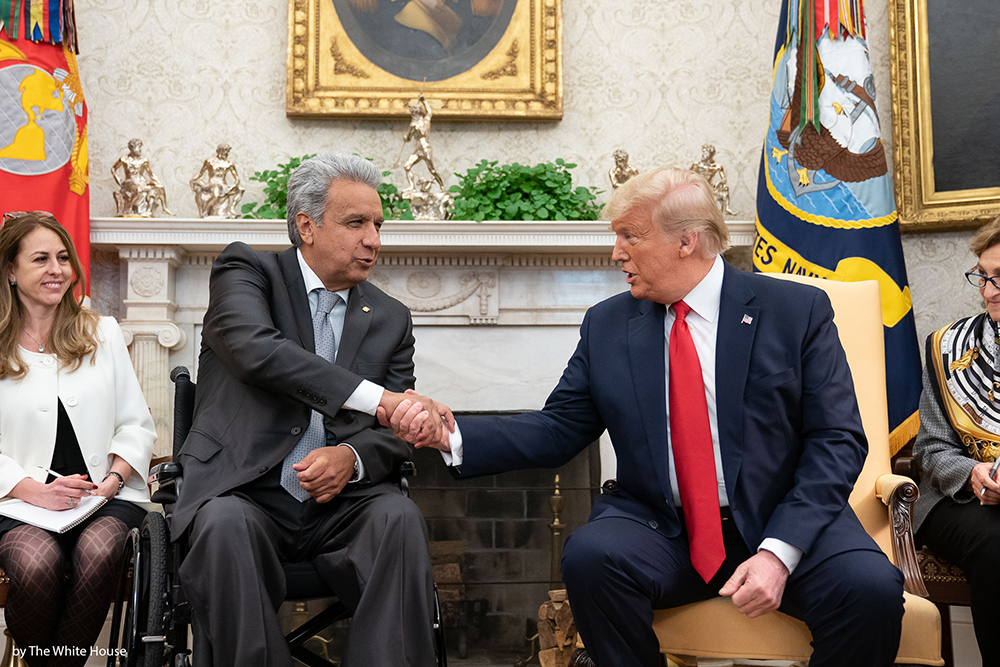 Moreno canceled Assange's asylum on April 11, 2019, allowing British police to take Assange into custody.
Jorge Glas
Jorge Glas served as vice president in Correa's administration from May of 2013 into Moreno's term. (Image low resolution only)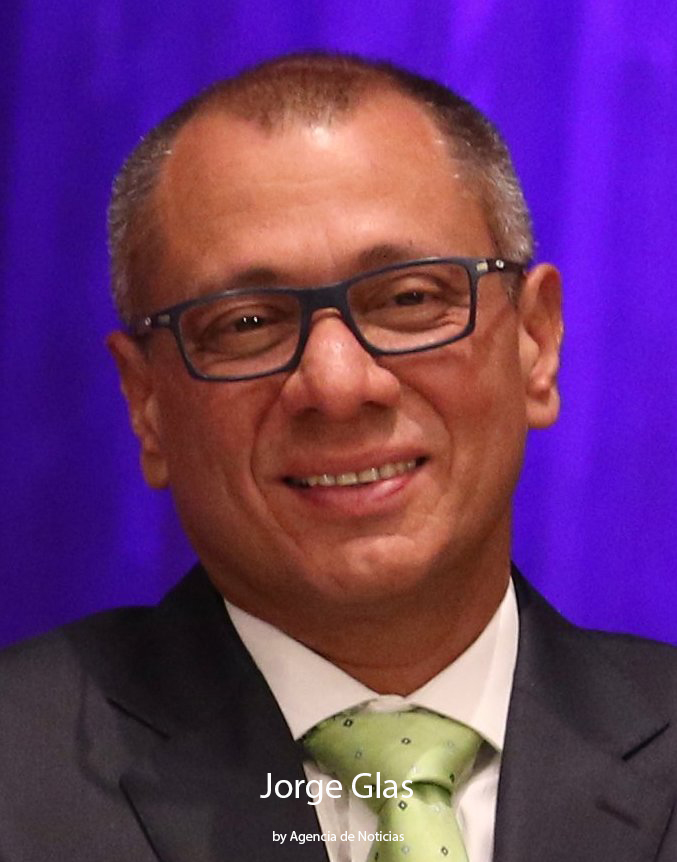 Glas was implicated in a huge scandal involving the Odebrecht company of Brazil. A Brazilian investigation, called "Operation Car Wash," looked for money laundering and paying bribes to achieve construction contracts at inflated amounts. Many company officials are serving prison sentences. It was the largest corruption investigation in Brazil's history. The investigation was called "Operation Car Wash" because it was first uncovered at a car wash in Brasília. While the investigation was happening Moreno suspended Glas from his official duties on August 3, 2017. In December Glas was sentenced to six years in prison for receiving $13.5 million in bribes. On January 2, 2018, under Article 146 of Ecuador's Constitution, as Glas was unable to exercise his official duties for 90 days, he was stripped of his office. Moreno was a strident anti-corruption president and he paved the way for Glas' conviction.
Rafael Correa was also implicated in the scandal, among other charges. He was found guilty of accepting funds from private businesses for his 2013 election campaign in return for state contracts. Ecuador's Attorney General Diana Salazar, an appointee of Moreno, claimed that various businesses paid $7 million in bribes to secure those contracts.
"Correa was in power for 10 years until 2017, when he went into exile in Belgium. He denies any wrongdoing.
The court found him and 19 other defendants guilty of accepting $7.5m (£6m) in bribes from private firms in exchange for state contracts.
Those convicted were also banned from any political role for 25 years." – BBC
Correa was convicted and sentenced in absentia to eight years in prison. So far, Correa has escaped justice; he fled to Belgium with his wife, who is a Belgian citizen.
Ecuador also wants Correa for his involvement in a botched kidnapping attempt of a political opponent. He can not be tried in absentia on that charge. Moreno allowed this "house cleaning" to move forward.
I think one of Moreno's big mistakes was on October 2, 2019 when he announced abruptly the end of the fuel subsidy. In my opinion, he went too far too fast. Ecuador had subsidized gasoline and propane for many years. But, in the context of Ecuador's deep recession, Moreno was right to find ways to control spending and the fuel subsidies were a holdover of a previous era. He was too abrupt in affecting the livelihood of Ecuadorians, from trucking to taxis and cooking and heating fuel in homes.
Protests were immediate and ferocious. Blockades of roads were nationwide. In my universe, it became impossible for supplies to arrive by truck and most roads within Cuenca were blocked at intersections by taxis. I wish I had my camera in hand when I walked downtown passing literally hundreds of taxis that effectively froze all transportation. It was impossible to get to Guayaquil, the most common departure point for international travel from Cuenca. Friends with plane reservations used trusted drivers to sleuth their way to the Cuenca airport for flights to Quito in time to take another flight to Guayaquil. Lines at the Cuenca airport snaked around the block. Grocery store shelves were empty and we became concerned about accessing food. Coral, a large chain of K-Mart-like stores in Ecuador, used helicopters to bring food to their grocery stores.
The office of president vacated its headquarters in Quito and resettled in Guayaquil after losing control of Quito to protesters. The fuel subsidy was restored, ending protests on October 13th.
In late March 2012 Moreno had an approval rating of 91%. After the fuel subsidy protests and initial mismanagement of the covid crisis Moreno's popularity slipped to 5%. Moreno made some mistakes; but, I thought he was an excellent president.
Guillermo Lasso
Lasso is a wealthy businessman, banker, writer and politician. He was elected president of Ecuador on May 24, 2021.
Lasso ran against Correa in 2013 and against Moreno in 2017. I guess the third time was the charm? He narrowly defeated the candidate of the Correa's PAIS Alliance party. The election of Lasso was considered a win by free-market advocates. His election was a gigantic relief to Ecuadorians I knew. The business community was desperate for a pro-business president that supported trade with the United States, among other countries.

"Lasso vowed to uphold a $6.5 billion financing agreement with the IMF and to keep payments on Ecuador's overseas bonds. Lasso also noted that his administration would focus on working with the United States, Chile, Brazil and Colombia while distancing from Cuba and Venezuela.
Addressing the Venezuelan presidential crisis, Lasso invited disputed president Juan Guaidó to his inauguration and not invite President Nicolás Maduro. Lasso also announced that he will seek to regularize the situation of over 400,000 Venezuelan migrants living in Ecuador. While discussing the migration issue with Colombian President Iván Duque Marquez, Lasso said a possible option would be to grant Venezuelan migrants temporary protected status.
On 15 April, Lasso announced that on his first day in office, he will send a tax cut proposal to the National Assembly in which he will eliminate the 2% sales tax on micro-enterprises and the tax on foreign currency outflows. Lasso will try to lower the value-added tax within the economic incentive plan." – Wikipedia
Lasso is the first center-right president since 1996. Recently, President Lasso announced he would end the fuel subsidy. I wish him good luck.
Higher resolution images in this chapter are available by clicking HERE
Next Monday we depart from politics to take a look at Quito, the city. See you on Monday.